ToeGrips® dog nail grips help blind dogs by increasing independence, restoring confidence, alleviating fear, and maximizing safety.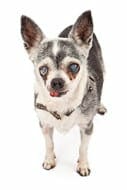 ToeGrips® dog nail grips were designed for senior, arthritic, and special needs dogs. The first to advocate ToeGrips® dog nail grips as a means to help blind dogs with stability and confidence was Cathy Symons, certified veterinary technician and certified canine rehabilitation practitioner, and author of Blind Devotion: Enhancing the Lives of Blind and Visually Impaired Dogs. Here, Cathy describes how ToeGrips® dog nail grips benefit blind dogs, including her own dogs, Booda and Digger:
Generally blind dogs adapt well to new environments, creating a "mental map" of their home and developing reference points or landmarks. As long as owners don't move things around, they are usually able to find their way to these points at will.
Slick floors, such as laminates or hardwoods can be challenging for any dogs but are particularly problematic for blind dogs. Since they cannot see, this "slipping" sensation may create a feeling of falling and take away their confidence. Blind dogs that are limited in their mobility can experience feelings of helplessness, isolation, fear or anxiety.
This was the case with our first dog "Booda" when he went blind at 7 years old. He would sit in one spot and wait for one of us to come get him, or sometimes follow us around as long as we were touching. It took away his independence and he began to show signs of being depressed.
Like many dogs, Booda would not let us put socks or booties on his feet. I loved the idea of ToeGrips as soon as I read about them and tried them on Booda right away.
Digger
ToeGrips take away that "slipping" feeling and give blind dogs a better sense of where their feet are. They increase a dog's function and independence by restoring confidence, alleviating fear, and maximizing safety. This allowed us to provide Booda with more mental stimulation through play and most importantly gave him a better quality of life.
ToeGrips worked so well that I began recommending them to my clients, and of course they are the first thing I bought when we adopted Digger, a blind 6 year old pug.
Read what our customers have to say about using ToeGrips® dog nail grips for dogs with impaired vision…
---

This is 14 year old Zoe. The toegrips helped Zoe so much in her final months. She was having such a hard time getting around. She was blind and also diabetic and was losing strength in her legs.
—Phyllis E Goldstein-Haskins
---
I had ToeGrips put on my senior Lab baby about two weeks ago. She is 13 years old and has trouble slipping on slick floors. She is also diabetic and nearly blind. The grips have made it much easier for her to get up in the morning from my bedroom hardwood floor. No more slipping on our vinyl kitchen floor either. I purchased the ToeGrips from a nearby veterinarian office. They also recommended a harness for my dog to help her walk, as well as get in and out of the car. These two products have made her life so much better. I stumbled upon ToeGrips on the internet and I am so glad that I did. Thank you so much, Dr. Buzby!
—Lisa Webb Needham
---
I know you hear it all the time, but toegrips are completely life changing for my 12 YO Pug. He is visually impaired, and we moved in to a new house with all hardwood. He would move off the area rugs and slip and slide, and then eventually just stand there paralyzed. I ordered the toe grips over socks or boots as he hates stuff on his paws. The change was instant. He walked on the HW floors like carpet. He even gave me a look of thanks that would melt your heart. I can't thank you enough for inventing the toe grip.
Thanks! Mike and Zig
---
Winnie is a 13+ yo ( we think- she was a stray) SF shar-pei mix who has had 2 vestibular episodes in the past year that have left her with balance deficits. In addition, Winnie is losing her vision. The lack of balance and the loss of vision have caused Winnie to become quite fearful. This fear not only affects her mobility, but translates to every part of her life, including how she relates to people (timid), how she relates to other dogs (aggressive), and how she relates to food (panicky). So, in addition to the balance issues seen in Winnie's BEFORE video (you can clearly appreciate the head tilt and the wide based stance), notice her entire expression is one of submission and fear. Her ears are down, her head is down, and I have to pull her on the leash to approach the people behind the camera. Just before the video ends, she is literally shaking with fear.
Winnie's AFTER video shows a confident dog with head up, ears perked forward as she saunters right past the person with the camera. She is clearly moving better, but that enhanced mobility has made her emotional state better too! And this newly gained confidence from ToeGrips has also, without a doubt, improved the other parts of her life affected by fear. She is still affected by her loss of vision, but for sure I can say that she is a "better" dog with her restored balance.
As veterinary professionals and dog lovers, we have all come to recognize how fear can literally ruin a dog's life. In young dogs, we have the ability to modify or modulate behavior through training or environment, or sometimes through medications. But what about our older dogs? What about our dogs that are limited by physical disabilities or cognitive issues or sensory deficits? Can you teach an old dog new tricks?
People who train horses always say the same thing- horses think on their feet. This means that if you want to train a horse, do so while it is engaged in movement. I would say that if you want to teach an old dog new tricks, help it to engage in movement.
ToeGrips do this. ToeGrips are truly a breakthrough for canine geriatric medicine."
Lee Gregory DVM, CVA, CCRT
Certified Veterinary Acupuncturist
Certified Canine Rehabilitation Therapist