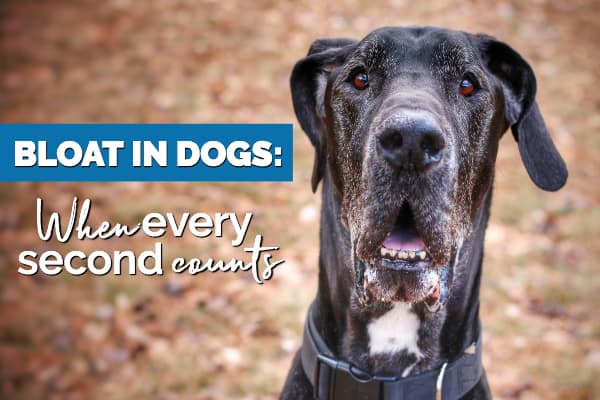 Bloat in dogs. It's one of a very few veterinary emergencies where every second matters. As your dog's biggest advocate, learn the signs, symptoms, and risks associated with this life-threatening medical emergency. Dr. Julie Buzby's veterinary colleague and friend, Dr. Lauren Blackwelder, shares the facts you need to know.
As a veterinarian, very few things send a shiver down my spine more than receiving a phone call like this one…
"I just got home from work and my dog, Koda, doesn't seem right. He keeps retching and nothing comes up. He seems agitated and restless. And his stomach is really bloated."
A few weeks ago, the owner of one of my absolutely favorite Great Danes on the planet left a message like this one. From the moment the phone call came through until the moment Koda's owner brought him in, I was on edge. Was Koda suffering from GDV (gastric dilatation and volvulus), commonly called bloat in dogs? As veterinarians, we get numerous calls a week about "pet emergencies" which are not really life-threatening matters, but bloat in dogs is on the short list of "true and urgent" veterinary emergencies. (As an aside, Xylitol poisoning in dogs also makes my list of serious veterinary emergencies.)
What is bloat in dogs?
The stomach is a busy organ. It stretches to accommodate a meal, grinds up the food, and moves it on through to the intestines. It's constantly expanding and contracting. In some cases, the stomach can stretch beyond its normal means, filling up with huge amounts of food, water, and gas. When this happens, the stomach can twist on itself.
This is a life-threatening emergency for two reasons:
The twisting not only traps all that gas inside but it can pinch off blood flow to the stomach itself.
The bloated stomach can also reduce blood flow to the rest of the body by putting pressure on the vena cava (the main vein supplying blood to other vital organs). This can quickly lead to shock.
Therefore, unless they receive emergency veterinary treatment, dogs with GDV can die within hours.
What are the signs of bloat?
Just like Koda's mom described, symptoms of bloat can be pretty dramatic:
The dog's abdomen usually appears significantly distended. (Hence the term "bloat.")
Typically, the dog repeatedly tries to vomit but is unsuccessful. Since the entrance to the stomach is "blocked" by the twisting, the dog can't bring anything up.
The dog may be restless, uncomfortable, panting, and even drooling.
Any of these signs, particularly in an "at-risk" dog breed, warrant a call to your veterinarian right away.
Is my dog at risk for bloat?
Technically speaking, any dog can potentially be affected. However, there are some factors that make certain types of dogs at higher risk for GDV.
Large breed dogs, especially deep-chested breeds (sometimes referred to as "barrel-chested" breeds) tend to suffer from bloat more than their smaller counterparts because of their build. There's just more room for the stomach to "misbehave".
The following dogs are "poster children" for this condition:
Great Danes (breed with the highest incidence)
Irish Setters
Saint Bernards
Standard Poodles
German Shepherds
Additionally, dogs who eat fast (looking at you, Labradors) might be at higher risk than dogs who take their time with meals. Age is a risk factor for bloat too. I love nothing more than the grey-face and soulful eyes of a big old senior pup; however, they are more likely to bloat than younger dogs. This is possibly because the stomach is suspended between the spleen and the liver, and ligaments in the abdomen become more lax with age. This laxity makes it easier for the organs to stretch and allows the bloated stomach the mobility to move and twist on itself.

Ultimately, family history (aka genetics) is the most important risk factor for bloat in dogs.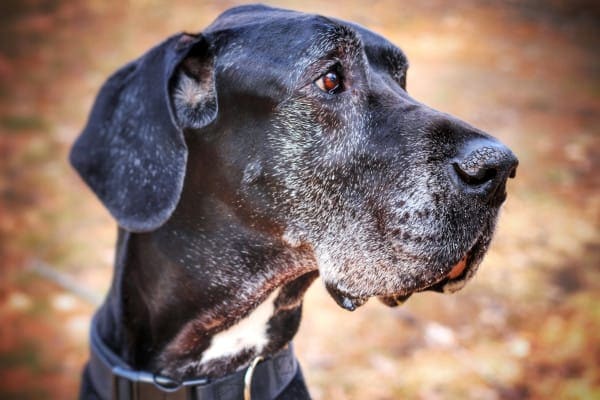 Unfortunately, Koda, a 7-year-old Great Dane who was, let's just say, "food motivated," checked a lot of these boxes. Fortunately, his mom had armed herself with knowledge. She knew his breed was on the "at-risk" list and knew what to watch for.
Her vigilance absolutely saved his life.
How to treat a dog with GDV
Although it seemed like hours, realistically Koda was brought through our hospital doors and into the treatment area within about 20 minutes. X-rays and a physical exam confirmed that his stomach was twisted.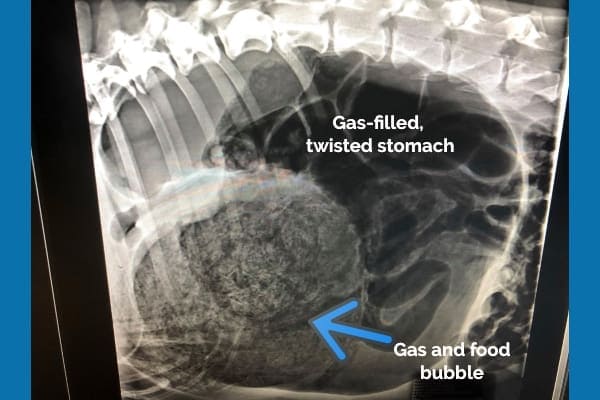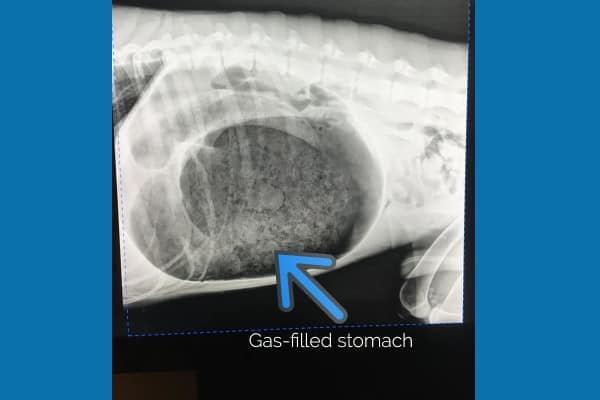 We all knew time was our enemy.
Quickly, we placed an IV, started fluids to treat for shock, and prepped Koda for surgery. He was one of the lucky ones. Although Koda's stomach was definitely twisted, it still looked healthy.
The longer a dog's stomach is without normal blood flow, the higher the risk for a portion of the stomach to become necrotic, or die. Sometimes parts of the stomach, and even the spleen, have to be removed during surgery if they've been deprived of oxygen for too long. Koda's stomach was able to be returned to its correct position and appeared normal.
Unfortunately, dogs who bloat are at a huge risk of bloating again. That's why a veterinarian typically performs a procedure called a gastropexy when she also performs the surgery to untwist the stomach. This involves permanently tacking the stomach to the inside of the body wall. That way, if the stomach ever overfills with gas again, it cannot twist on itself. In dogs with bloat, the most danger lies in the twisting, because blood flow is interrupted.
Can you prevent bloat in dogs?
The most effective way to prevent GDV is a prophylactic gastropexy. In high-risk dogs, there is no need to wait until they bloat to tack their stomachs. A prophylactic gastropexy is a surgery where the stomach is permanently sutured to the body wall to prevent it from flipping if it ever bloats.
If you're worried about your dog's risk for GDV, talk to your veterinarian about this procedure. Oftentimes, the procedure can be performed at the same time as a spay or neuter. Plus, there are minimally invasive techniques that can make it a pretty simple surgery.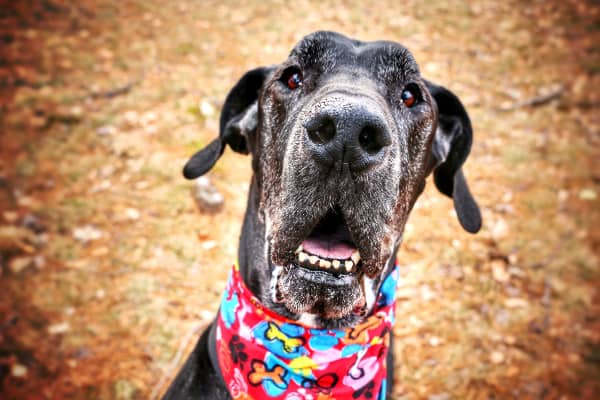 A few weeks after Koda recovered from his ordeal, his mom brought his sister, Scout, to see me. Remember—having a close relative that has bloated is the main risk factor for GDV, and Koda's owner did not want Scout to go through it too. We were able to get Scout in for a prophylactic gastropexy (much less stressful than an emergency one!) and she recovered beautifully.
Do elevated dog food bowls or slow feeders help prevent bloat?
Many concerned dog owners ask me about the effectiveness of elevating the dog's food bowl as a way to prevent bloat in dogs. While this used to be commonly recommended to prevent GDV, more recent studies have actually disproven its effectiveness. The best study we have available showed that elevating food and water bowls was actually associated with an INCREASED risk for GDV. (It's important to mention that elevated food and water bowls can be beneficial for other medical conditions in aging dogs. For more information, read 7 Senior Dog Care Tips.)
Since dogs who eat too quickly may bloat more frequently, trying a slow feeder bowl is a good option. Another feeding strategy to consider is the number of meals per day. Dogs who are fed only once per day are more likely to bloat. Splitting feedings into two or three meals per day is proven to lower the incidence of GDV.
The bottom line on bloat in dogs
As I mentioned, Koda is one of the lucky ones. First, he has a knowledgeable owner who recognized his signs of distress and sought emergency medical treatment right away. Second, we were able to untwist his stomach before any permanent damage had been done. Third, he didn't suffer any ill effects from shock or heart arrhythmias that can go along with this condition.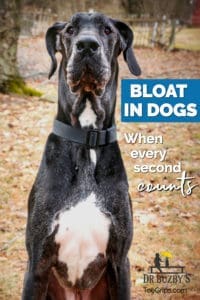 Ultimately, even with prompt treatment, GDV carries a 10-30% mortality rate. If you notice any signs of distress like retching, restlessness, and abdominal distention in your dog, call your vet right away. And if you are the parent of a higher risk dog breed, talk to your vet about ways you may be able to reduce the risk of this happening to your dog.
What questions do you have about bloat in dogs?
Please comment below.