Why nonslip nail grips instead of traction socks or dog booties?
Dog socks, boots, or dog booties have their place in helping our canine companions—namely in protecting their paws. But ToeGrips® dog nail grips are the only biomechanically-correct solution for dogs slipping on hardwood floors and smooth surfaces.
---

The natural advantages of ToeGrips® dog nail grips over dog socks or dog boots…
Dogs are not people. Dogs have four legs and stand on paws, not feet. Dogs have hard, pointy toenails on their paws. This is not by accident.
A dog's natural mechanism to gain traction is to flex the paws and dig in the nails, which act like cleats on earthen terrain. But on hard floors, hard nails can't get any grip.
Young, fit, healthy dogs can typically compensate for their lack of traction on hard surfaces. Senior, arthritic, and special needs dogs often cannot. A smarter traction solution for dogs would use this principle—traction through the toenails—in its design.
ToeGrips® dog nail grips are that smarter, nail-based traction mechanism that works with your dog's biomechanics. ToeGrips® dog nail grips fit onto your dog's nails and the nonslip material grips the floor in a way that your dog's hard nails cannot.
What other advantages do ToeGrips® dog nail grips have over dog socks or booties?
ToeGrips® dog nail grips don't cover the dog's whole paw. A dog's toes contain numerous proprioceptive receptors, which feed information to the brain about the body's spatial position. When the paws are covered by dog boots or socks, this information is altered.
Dogs sweat through their paws. ToeGrips® dog nail grips leave the paws uncovered to breathe.
ToeGrips® dog nail grips are designed for semi-continuous indoor/outdoor use. Unlike dog boots or dog socks, they do not need to be removed daily.
Because they do not contact sensitive tissue (like the paw pads or skin), most dogs tolerate ToeGrips® dog nail grips very well and do not seem to even notice them.
---
Natural, simple, revolutionary, ToeGrips® dog nail grips are the smarter paw traction solution for your dog!
---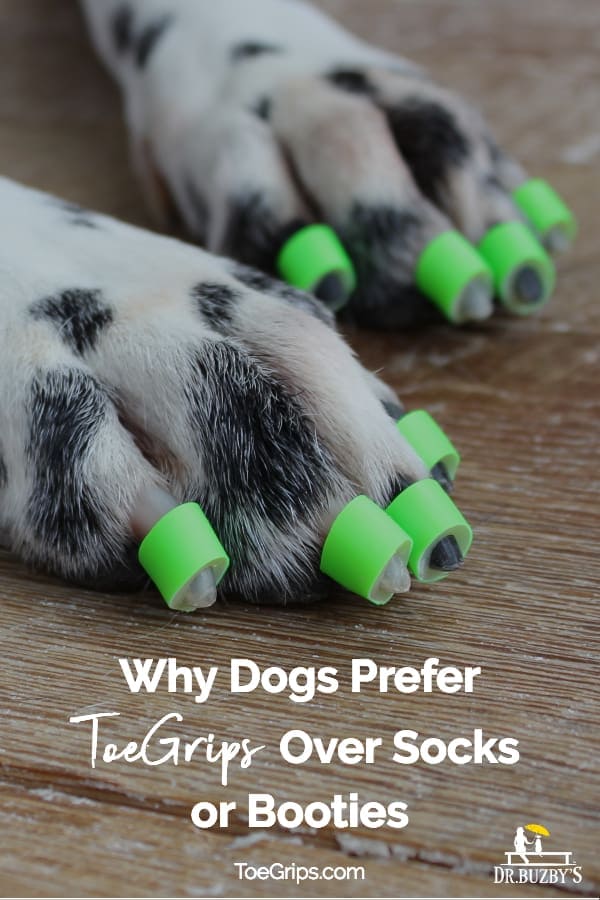 Why do dogs prefer ToeGrips® dog nail grips over socks or booties?
Our customers shared their happy-ending stories…
I know you hear it all the time, but toe grips are completely life changing for my 12 YO Pug. He is visually impaired, and we moved in to a new house with all hardwood. He would move off the area rugs and slip and slide, and then eventually just stand there paralyzed.
I ordered the toe grips over socks or boots as he hates stuff on his paws. The change was instant.

He walked on the HW floors like carpet. He even gave me a look of thanks that would melt your heart. I can't thank you enough for inventing the toe grip.
Thanks! Mike and Zig
---
I've known for years that the hind quarters of my 75 pound lab/shepherd mix would cause her life to end. Healthy and highly alert at 14, my heart was breaking as I watched her starting to loose traction and struggle to get up.
I researched online for solutions, talked to every dog person i know & eventually bought custom fit booties for Lyla. She hated them. We started acupuncture and laser therapy with the wonderful Dr. Lauren Whitley who recommended your product.
As the owner of a successful pet sitting business, I've known thousands of dogs and despite my wealth of 'dog knowledge,' I could not imagine toe grips actually working. Lyla is my heart dog & I'm willing to try anything and everything to improve her quality of life, so I ordered them.
A miracle! Amazing! Those little bits of rubber bought me more time with my sweet girl and I couldn't be happier.
I'm telling everyone I know about your amazing product and I couldn't be more grateful. In fact, I just left a clients house after helping her put them on her very old dog. Same miraculous results! I stood there with tears welling in my eyes because this dog needs to hang around awhile longer since my client lost her life partner in a tragic accident last month. The toe grips will help.
With my most heartfelt thanks,
Heather, Durham, NC
---
To Whom It May Concern:
Truffles (my 14 year, 3 month old) black labrador has had a significant number of joint, hip, and spine issues for a good number of years. She has suffered from "floor phobia" for just as many years, meaning that she is unable to walk normally on most hard surfaces, without slipping, skidding, or just a plain freezing in place.
About 8 months ago, we noticed that she started intermittently "shuffling" he rear legs when she walked, as if she was too lazy to completely lift them up off the floor. She also continued to slip and skid. Two months ago she suffered from a neurovestibular disorder. During her recovery, I was very afraid that any further slippage could cause her significant physical harm. Sure enough, once she started walking, the slipping and skidding intensified.
I purchased some disposable rubber booties to mitigate the problem. Interestingly, they did not provide as much benefit as I thought they would. Furthermore, Truffles could not stand wearing them, as she always hated wearing any manner of footwear. It was a that point that my veterinarian told me about toe grips, stating that it was a relatively new product that I may want to try.
Truffles was fitted for her toe grips yesterday, and to my amazement, her walking immediately improved.
I cannot get over how she completely picks her rear feet up when she walks. No more "shuffling". In addition, the slipping and sliding has stopped. I only wish that Truffles was able to benefit from this product many years ago when she was younger. Her "floor phobia" would have disappeared. At least she is able to effectively walk now, and I do not have to force her into any booties, which she positively dreads. Anyhow, this is a wonderful product and long overdue. Wish I had thought of it.
Sincerely,
Anna Maria
---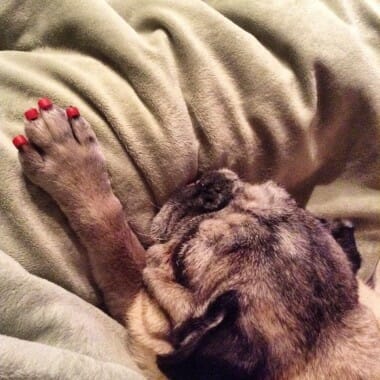 Hello Dr. Buzby!
Your toe grips came in the mail today and we were a bit skeptical as nothing has seemed to work for our senior 16 year old pug from slipping on our hardwood floors, the rubber socks got to be a pain and would twist around and fall off causing him to trip a lot so we resorted to covering our whole place with rugs for him!
I have made two videos today – a before and after so you can see the huge difference. What pressed me to research a new alternative was when we came home one day to find our poor Beethoven stuck on the floor in the kitchen despite the mats he was stuck on a piece of the floor and who knows how long he was there, it was heart breaking and we laid down even more matts so there was no more than a foot of wood floor between them for him to scuttle to!
After this he couldn't walk for a couple of hours had being stuck on the floor for so long when we were out I researched for hours and found your product and quickly purchased them after seeing the reviews.
My god, I just cannot believe the difference they have made in our pug's life! Although 16 he is full of energy and feisty but always scared to go on hardwood and scattered rug to rug.
Now he is so confident and can stand on the floor and walk with ease, at first he wasn't sure and soon enough he realised the difference.
Here are the videos. I cannot thank you enough!!!!
—Tina Lee Robles
---