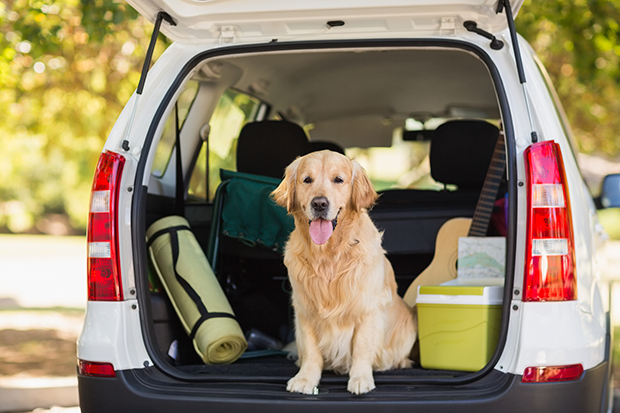 National Pet Travel Safety Day is recognized each year on January 2. From running errands around town to going on long road trips, more and more dog owners are bringing their loyal companions along with them in the car.
National Pet Travel Safety Day: Bringing awareness to safe pet travel
Most of the time, these excursions are completely uneventful. But, according to Colleen Paige, who is the founder of National Pet Travel Safety Day, too many times driving with a pet in the vehicle ends in tragedy.
As a former EMT, Paige responded to countless accidents that happened when drivers got distracted because a pet was unsecured in the car. To increase awareness of the dangers pets face when riding in vehicles and to help educate pet owners about traveling safely with pets, Paige created a special holiday, National Pet Travel Safety Day.
On National Pet Travel Safety Day and every day…
…keep your dog safe no matter how far you're traveling. The majority of pet owners are guilty of driving with pets that are not restrained:
17% allow a dog to sit in their lap
13% of drivers admit to feeding treats to their dog while the car is moving
4% acknowledge they play with their dog while driving.
According to Paige, the number one way to keep dogs safe in the car is by restricting their ability to move. It takes a little planning before you leave the house, but taking time to protect your dog makes the journey smoother.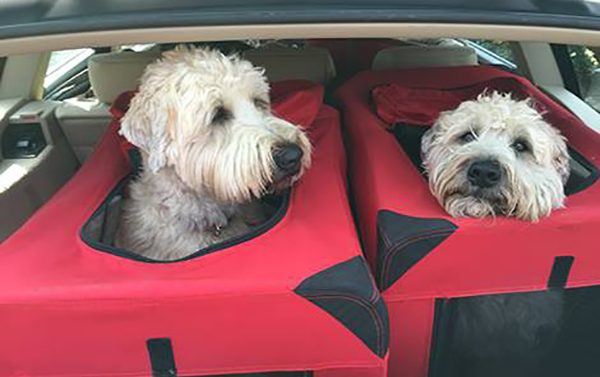 #1 rule: Pets need to sit in the back seat of a vehicle and wear a secured harness or be placed in a crate that is fastened down.
Click To Tweet
Did You Know? National Pet Safety Day facts
The National Pet Travel Safety website reported that even when pet parents drove as slow as 10 MPH, a minor swerve of the car could cause dogs to fly into the dashboard or windshield. And dogs riding in their owner's lap were crushed in accidents that occurred at relatively slow speeds.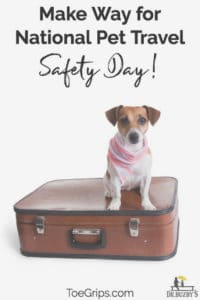 In addition, owners should be aware that some of the features that are built into a vehicle to protect people can be hazardous to small pets. Airbags have proven to be deadly to dogs when they deploy in an accident, especially when the dog is unrestrained.
Paige also warned against using one of the popular barrier systems that are built to keep dogs separated in the back of a vehicle. These barriers are a good way to restrain a dog's movement, and keep them from distracting the driver, but they do not provide protection in the event of a crash.
8 pet travel safety tips for long distance trips
More dogs are traveling with their owners on long distance trips. Here are eight safety tips that will keep your pet safe when you travel many miles:
#1 Microchip, tags, collars and leashes
It's better to be safe than sorry on a long distance trip. New areas can be confusing to your dog and there is the possibility of them running away. Protect your pet by making sure they are microchipped and wearing a collar with a name tag with your current contact information. Be sure your dog's favorite leash is on board your vehicle and carry a spare leash, in case of an emergency.
#2 Dogs and carsickness
Some dogs are prone to carsickness and others get nervous on long trips. Take time to prepare your dog by bringing him or her along in the car with you on several "practice" excursions. Also, speak with your veterinarian about ways to alleviate car sickness or anxiety should either of those situations arise. Your vet may prescribe medications or suggest calming aids such as herbal collars or calming vests.
#3 Bring three days' worth of supplies.
Bring enough bottled water, food and medications to last at least three days.
#4 No heads out the window.
Do not let your dog stick his or her head out an open car window, even if he or she is restrained. Flying debris such as insects or rocks can cause injury to your dog's eyes.
#5 Offer bottled water every 30 minutes
The ASPCA recommends that pet parents bring bottled water on a long distance trip because the additives in city water vary from one location to the next and might upset your pet's stomach.
#6 Offer your dog food every three to four hours.
Regular small feedings will keep your dog feeling full and content. To avoid carsickness, the ASPCA recommends feeding your dog when the vehicle is parked.
#7 Stop for scheduled bathroom breaks for your dog.
The American Veterinary Medical Association recommends pet parents stop every two to three hours so your dog can take a bathroom break and get a few minutes of exercise.
#8 Never leave your dog unattended in the car.
It is dangerous to leave your pet alone in the car. In the summer a car can heat up quickly and cause heat stroke and in the winter a car can quickly turn into a freezer and potentially leave your dog at risk for developing hypothermia.
Be prepared! Create a dog-friendly travel kit
National Pet Safety Day, or any day, is a good time to prepare a travel kit before you head out on the road with your dog. A basic kit includes:
travel bowls
blanket
treats
towels
an extra collar and leash
pet first-aid kit
a soft muzzle for use in case of emergency. Injured dogs who are in pain may be more likely to bite.
In addition, be sure to carry lots of poop bags, familiar toys, and a pet bed or pillow.
It might seem like there is a lot to do before a trip with your favorite pup. But, if you take the time to properly prepare, the trip will be safe, enjoyable, and smooth sailing for everyone.