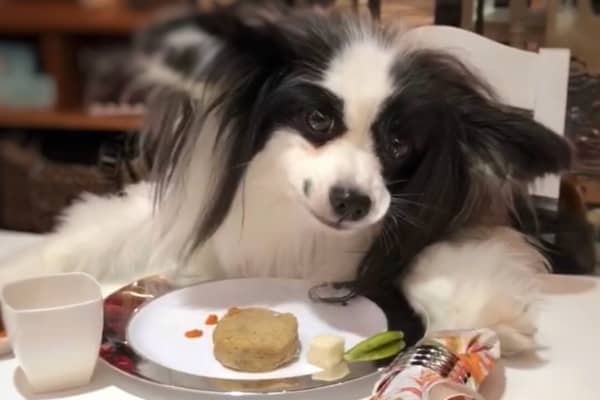 The holidays are just around the corner, and while you're busy making plans to see family and friends (either face-to-face or virtually), we know you'd love to include your dog in the festivities too. Today, Dr. Julie Buzby, integrative veterinarian and founder of Dr. Buzby's ToeGrips®, welcomes dear friend, philanthropist, and devoted dog mom, Jaimie Phillips, to the blog. A resident of Atlanta, Georgia, Jaimie spends her free time volunteering for local rescue groups, attending pet conferences, and (as you'll see) hosting fundraisers to benefit her furry friends. Jaimie adopted her eight-year-old Papillon, Ballet, from Releash Atlanta four years ago, and they've been best friends ever since. Jaimie graciously stops by the blog to share how she celebrates Thanksgiving each year with a dog-friendly twist.
If you're anything like me, you look forward to Thanksgiving all year long—making the journey home, enjoying slower-paced days with loved ones, and sharing a delicious meal full of new recipes and passed-down favorites. But as much as you love gathering with family, you don't want to exclude or overlook your most faithful friend and loyal companion—your dog.
I get it! I feel the exact same way. As a dog mom to my eight-year-old Papillon, Ballet (@iwoofutoo), I've tried over the years to always do something special for her around the holidays—something out-of-the-ordinary to say thanks for being such a meaningful part of my life.
It's that desire that several years ago led a friend and me to create what we now lovingly call "Pawsgiving."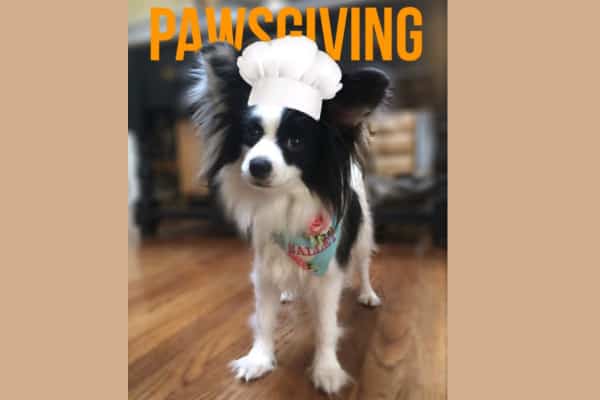 What is Pawsgiving?
Pawsgiving is a simple twist on the traditional November holiday that makes it easy for your dog to join you in the delicious festivities. Even though it may be easy to plop down a plate of leftovers from Thanksgiving dinner, it's not what's best for your dog. You want to make sure the treats you're providing are safe, nutritious, and avoid Thanksgiving foods dangerous to dogs.
If you're ready to welcome your pooch to the table this Thanksgiving, I'm excited to give you four easy and perfectly safe Pawsgiving menu ideas. But first, I'd love to share how this holiday-with-a-twist came to be.
Thanksgiving with my dog
When I was a little girl, I remember wanting to share my Thanksgiving meal with our family's dogs. Always underfoot in the kitchen on Thanksgiving day, my childhood pets enjoyed the delicious smells (and dropped morsels) coming from our bustling kitchen.
But I also remember hearing time and time again not to give our dogs table scraps—that it wasn't good for them and would make them terribly sick.
Later on in life, as a dog parent myself, I discovered that certain human foods were not only safe but also beneficial for dogs. What? How could that be? I was perplexed, curious, and wanted to learn more.
This pursuit launched me into the world of dog nutrition. The more I read and the more lectures I attended, the more I crossed paths with other like-minded dog parents.
How Pawsgiving came to be
A few years ago, mom of @sparklesthediva and I were driving home after a dog-friendly day trip with our pups. We found ourselves talking about all the fundraising activities for dogs during Halloween and Christmas. It dawned on us that there was no such thing for Thanksgiving.
As we chatted, my friend proposed, "We should host a Pawsgiving!"
I knew she was on to something. Instantly, I had the equivalent of an entire Thanksgiving meal for dogs planned in my head. During the remainder of our car ride home, the beginning of the first Pawsgiving, which we decided would be a fundraiser, was set in motion.
The very first Pawsgiving
We hosted the very first Pawsgiving at a local pet boutique. Dog parents brought their pups dressed in their Thanksgiving best to enjoy a plate of dog-friendly delicacies while sitting at a beautiful Pawsgiving set table.
To "paw" it forward, all the proceeds from every Pawsgiving plate purchased went to a local Meals on Wheels for Pets through Senior Services which helps seniors 60+ feed and care for their beloved animals.
The first Pawsgiving was a huge success—so much so that we've done it every year since.
So whether you'd like to plan a similar fundraiser, or simply cook up a special treat for your dog, go for it! It's as easy as choosing a few properly prepared foods and adding them to your dog's plate in the right amounts.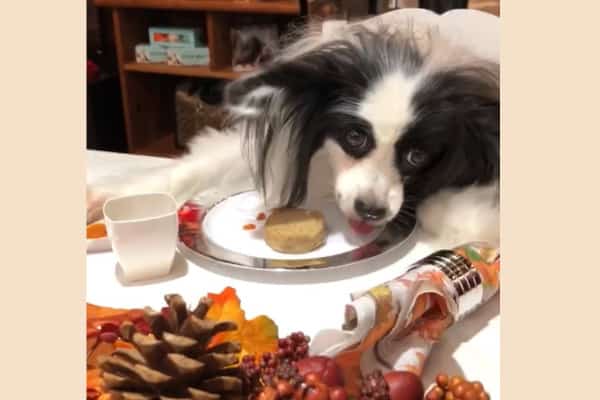 A perfectly safe Pawsgiving menu for your dog
Here are my top selections for a safe and delicious Pawsgiving dinner for your dog.
1. Cooked but unseasoned turkey
Yes! Your dog can get in on the turkey if you take steps to prepare it just right.
If you're cooking a turkey, pull off a few pieces of meat before adding seasonings. Take the portion you set aside, place it in a dish, cover with foil, and pop it into a preheated oven. It'll cook more quickly than your whole turkey since it's a smaller portion, so keep an eye on it and take it out once done.
Some people believe that cooked turkey bones make a perfect Thanksgiving treat for their dogs. This is a dangerous myth! The bones are a choking hazard and could puncture your dog's intestines. In fact, you don't want to give your dog any of the turkey you made for yourself. Remember these two words for Pawsgiving: cooked and unseasoned.
The scoop on turkey from Dr. Buzby's perspective:
"Although every holiday season I hear rumblings that turkey is bad for dogs, that's not universally true. Like any food, if your dog has an allergy or sensitivity to turkey, avoid it. But otherwise, turkey is a tasty high quality lean protein for dogs. As a veterinarian, one of my biggest concerns during the holidays is pancreatitis in dogs, which can be triggered by fatty meals. As a general rule, always remove the skin which is high in fat and feed white meat which is lower in fat than dark meat."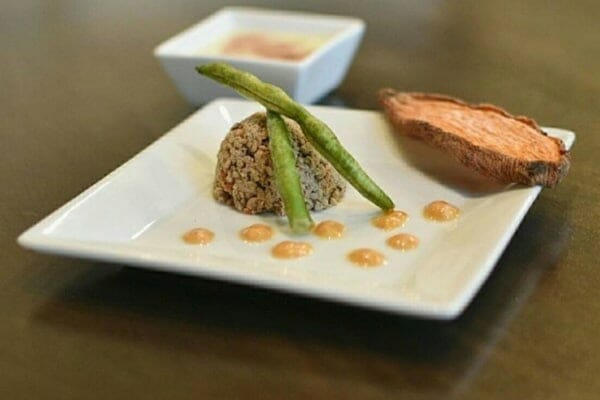 2. Fresh cranberry sauce garnish
In small quantities, cranberry sauce can be added to your dog's Pawsgiving plate as a garnish if you make your own. Simply set some aside before adding any sweetener. Always be sure to avoid the ingredient xylitol since it is highly toxic to dogs.
The scoop on cranberry from Dr. Buzby's perspective:
"While the party line in dog supplements is that cranberry provides vitamins and minerals for bladder health and the prevention of urinary tract infections in dogs, that's not necessarily accurate. The evidence supporting its benefit is weak. However, based upon the research, I do recommend it for my patients who have recurrent urinary tract infections from the bacteria E. coli."
3. Plain, cooked green beans
While green beans are thumbs up, you'll have to skip the green bean casseroles with fried onions, canned soups, and seasonings. If you're a die-hard casserole fan, scoop out some beans for your dog before adding the other ingredients.
The scoop on green beans from Dr. Buzby's perspective:
"I can't say enough good things about green beans for dogs—cooked or raw. Full of fiber and low in calories, they are a 5-star addition to your dog's Pawsgiving and also a perfect treat for overweight dogs year round!"
4. Cooked and unseasoned pumpkin, sweet potatoes, or carrots
Just like the green beans, set aside small pieces of pumpkin, sweet potatoes, yams, or carrots before adding additional ingredients or seasonings. Pumpkin pie has sugar, but if you make pies from scratch, reserve a spoonful of unsweetened pure pumpkin for your dog's plate.
Here's how to turn a sweet potato into a special treat for your dog:
Preheat the oven to 300 degrees.
Wash and dry a sweet potato or yam.
Slice the potato or yam lengthwise for larger dogs and crosswise for smaller dogs.
Arrange on a cookie sheet and place in preheated oven.
Bake for 2.5 to 3 hours.
Store in an airtight container in the refrigerator for up to seven days.
The scoop on the orange trio from Dr. Buzby's perspective:
"While the fruits/veggies above are rich in vitamin C, potassium, fiber, and antioxidants, they should be given in moderation. First, they can potentially change the color of your dog's feces, but this is no cause for alarm. Second, sweet potato is poorly digestible by dogs. This is worth noting because dehydrated chews and chunks can cause gastrointestinal obstruction in dogs who are given too much, especially the commercially available dehydrated sweet potato chews. This would not be a concern with cooked sweet potatoes or yams. Thirdly, canned or cooked pumpkin for dogs has long been recommended by veterinarians as an addition to a dog's diet. The idea is that the fiber will bulk up the stool to help with anal gland issues. Dogs tend to really like the taste, but as noted by Jaimie, it's important that it is unsweetened and unseasoned pumpkin. I usually recommend just a tablespoon or two, based on the dog's size. Finally, just like green beans, in moderation raw baby carrots are a great treat for dogs who will eat them. They offer a low calorie, healthy alternative to traditional dog treats."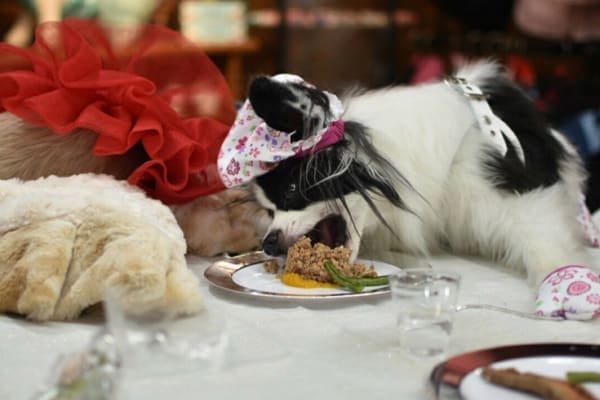 Start small for Pawsgiving success
You want your pup to enjoy his or her special treat without a post-meal tummy ache. So as you dish out the Pawsgiving treats, start small. The general rule of thumb is that treats should not exceed more than 10% of your dog's daily calories. Keep these guidelines in mind as you serve up your dog's Pawsgiving dinner. And if your dog has had previous issues with pancreatitis, food allergies, or has a sensitive stomach, please check with your veterinarian before serving him a Pawsgiving meal.
The holidays are busy, and even with the best of intentions, food-related accidents can happen with your dog. If you think your dog has eaten a poisonous substance, call your vet or the ASPCA's Animal Poison Control Center. (A consultation fee may apply.)
"Paw" it forward this Pawsgiving
Just like Thanksgiving, Pawsgiving is all about giving thanks and giving back. Not all dogs have a place at the table—some don't even have a home, let alone a special Pawsgiving meal.
This year, as you celebrate with your dog, consider how you can adopt, donate, volunteer, or advocate.
Stay safe, and have a happy and healthy Pawsgiving!
How do you celebrate Thanksgiving with your four-legged friends?
Share in the comments below so we can brainstorm together!