We'd love to hear from you!
We will respond within one business day. Looking for instant answers?
Check out our FAQs.
We are located in Beaufort, South Carolina.
Visit our Facebook page to join the fun!
Email: help@toegrips.com
Text Us: (843) 781-6430
Call Us: (843) 694-4468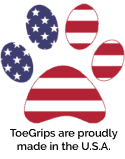 ---
Our Guarantee

When you purchase Dr. Buzby's ToeGrips® dog nail grips, you have access to expert product support from a team who is passionate about dogs. If for any reason ToeGrips® dog nail grips are not the right product for your dog, contact us within 30 days for return authorization.
Returns submitted without prior written authorization and/or postmarked more than 30 days from the date of purchase are not eligible for a refund and will be donated to a rescue or shelter. Fill out the contact form, or email help@toegrips.com for return authorization.