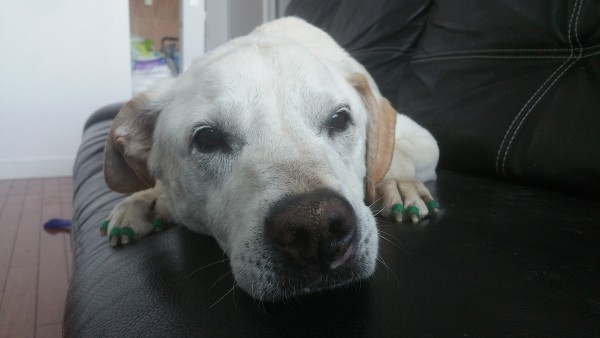 Thomas Neil Rodriguez has been giving Poh, his 15-year-old lab mix, the adventure of a lifetime since the dog was diagnosed with kidney failure and several inoperable tumors.  They have been traveling across the U.S. checking all sorts of sights off their bucket list.  The duo made a visit to meet Dr. Julie Buzby, integrative veterinarian and founder of Dr. Buzby's ToeGrips®.
Poh the Dog: A Diagnosis of Cancer
When Poh was diagnosed last February with terminal cancer, Rodriguez could have hunkered down at home with the dog he adopted as a puppy and loved him until the end.  But that wasn't his plan.  Instead, the celebrity performer, who is also known as DJ Neil Armstrong, decided to take Poh on one final trip from New York to Los Angeles so the dog could dip his paws in the Pacific Ocean.
The pair made it to L.A. and Poh had a great time enjoying his day at the beach.  His health was stable, so Rodriguez decided to continue their adventure with the road trip of a lifetime.  Together they have traveled 12,000 miles and visited 34 cities, seeing attractions like Graceland, the Alamo, the Space Needle, Disney World and even Las Vegas.
Poh the Dog and his dog parent stopped to meet Dr. Buzby
Poh has stopped for veterinary care along the journey and he uses a cart or harness to help him get around in the cities they visit.  Recently Poh and his dad scheduled a stop in Beaufort, SC to meet Dr. Julie Buzby and the ToeGrips team.  Dr. Buzby examined Poh and gave him both an acupuncture and chiropractic treatment and then the team fitted him with a fresh set of ToeGrips® dog nail grips. Both Poh and Rodriguez are big fans of ToeGrips® dog nail grips.
"I laughed when his dad said that he used to be a terror at the veterinarian's office," said Dr. Buzby.  "He was a perfect angel for his acupuncture."
Poh and Rodriguez have become celebrities during their travels with more than 114,000 followers cheering for them on Instagram.  But the fame hasn't gone to their heads.  Rodriguez said he is focusing on happiness with his dog and they will continue checking off goals on their bucket list.  They were headed to Florida after visiting Dr. Buzby.  You can follow Poh the Dog on Instagram.
Poh the Dog Explains ToeGrips® dog nail grips
Below is a video Poh asked his "pop" (Rodriguez) to film so people could see how much better he can walk with his ToeGrips® dog nail grips. Here is what Poh had to say about the experience:
"So everyone keeps asking what are those green rubber bands on my toes. They are appropriately called ToeGrips® dog nail grips by Dr. Buzby, and they are a game changer. Without them on my parents' hardwood floors, I slip and slide because my muscles are just too weak. The ToeGrips give me instant traction. In the top left is me without the grips, I slip and slide until I fall back on my booty. On the top right, my pop just put on the grips and I can stand up straight by myself. And the bottom is me after getting used to the traction. I can walk and pass a sobriety test with flying colors! I recommend them for any of my fellow senior pups who have a difficult time on hardwood and laminate floors."