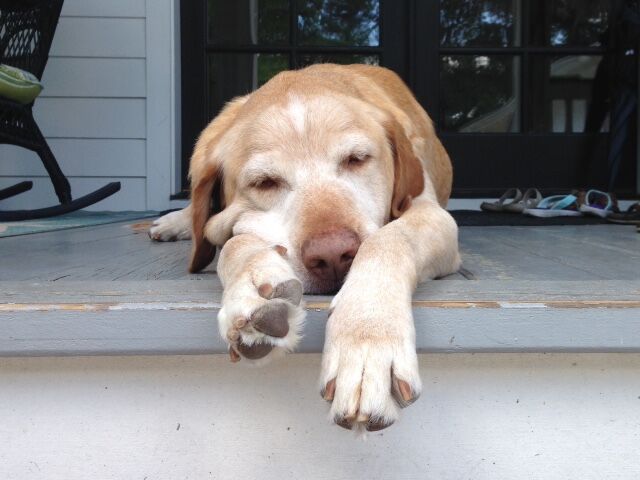 The idea for today's post, How to Communicate with Your Deaf Dog,  came from Diana Trout, a ToeGrips® dog nail grips enthusiast. Diana wanted to share how she is using hand signals to communicate with her older dog Luke who is becoming deaf. If you have a question about your dog's health or a solution for a canine health or behavior problem, we'd love to hear from you for a future blog post.
The Deaf Dog Education Action Fund (DDEAF) reports that dogs lose their hearing for many of the same reasons people go deaf. Genetic defects can cause a puppy to be born deaf and adult dogs can lose their hearing due to chronic ear infections, an injury to the ear, exposure to loud noises, and as an uncommon side effect from ear medications. Seniors dogs like Luke are prone to gradual deafness due to old age.
The most accurate way to determine if your dog is deaf is with the BAER (Brainstem Auditory Evoked Response) test. The procedure uses computers to record the electrical activity of the brain in response to specific sounds and pitches.
Since the BAER test is not available to most of us, DDEAF also recommends this do-it-yourself test to determine hearing loss:
Jangle keys or a can of coins.
Squeak a toy while it is behind your back.
Call your dog's name in a normal voice. Then try yelling the name.
Clap your hands (you should be far enough away so that he doesn't feel air movement).
Turn on a vacuum cleaner (be sure it's far enough away from the dog so that the vibrations or airflow don't reach him).
Ring the doorbell.
If your dog is diagnosed with deafness or hearing loss, you as the pet parent will probably be more upset about the condition than your dog. Dogs are resilient and don't feel sorry for themselves.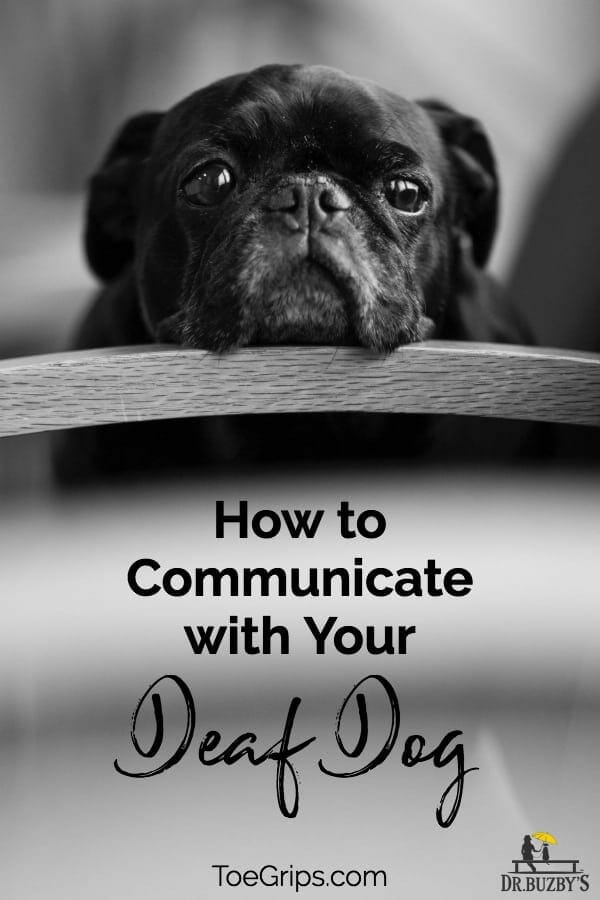 Your biggest challenge will be how to effectively communicate with your dog.
Dogs do not communicate the way humans do; they are not verbal creatures. They tell each other about themselves through visual body cues and scent before adding verbal signs like barking, growling or whining.
That's why DDEAF recommends pet parents use standard obedience training hand signals or learn American Sign Language to communicate with their dog. DDEAF suggests starting with the words: sit, down, stay come, no and stop. Dogs with hearing loss have been known to learn 20 hand signals or more once they get the idea. The secret is to teach clear and consistent hand signals and confirm that your dog understands what you want them to do.
Remember hand signals are for the protection of you and your dog.
Here's a video that shows how to communicate with your deaf dog through basic signals using American Sign Language. Pet parents can pick up the American Sign Language handbook at most book stores or online.
One of the major concerns in owning a deaf dog is keeping them safe. A deaf dog can't hear an oncoming car and won't be able to hear you call their name if they get lost. So it is extremely important to keep your deaf dog inside the house or in a fenced yard while at home or on a leash if you are out in public.
Some pet parents opt for a vibrating collar to get their dog's attention from a distance. Others use a clicker training stick that lights up or a flashlight to alert their dogs to pay attention or come indoors.
One important concern is to prevent startling a deaf dog. Whether they are asleep or awake a deaf dog will not know you are approaching so it is best to tread lightly. DDEAF recommends thumping your foot on the floor so your dog can feel the vibrations when you are walking toward them. If you have to touch your dog to wake them or get their attention, lightly tap the dog on their shoulder to let them know you are there.
With a few adjustments, dogs with deafness can lead normal and happy lives.
Have you lived with a dog with a hearing loss?
We'd love to hear your story! Please comment below.