How to choose safe chew toys for dogs
Choosing safe chew toys for dogs is critical for their health and happiness. However, with so many dog chews on the market, it can be overwhelming and, frankly, sometimes even misleading. Here are my veterinarian-recommended tips to help you "chews" wisely.
What chew toys are safe for dogs?
Chewing is a rewarding activity for many dogs. Gnawing on a chew toy satisfies the dog's natural chewing instincts, benefits the teeth and gums, and keeps jaw muscles strong. However, the wrong dog chew can cause fractured teeth, pose a choking or obstruction hazard, flare up food allergies, and supply unwelcome calories to a dog's diet.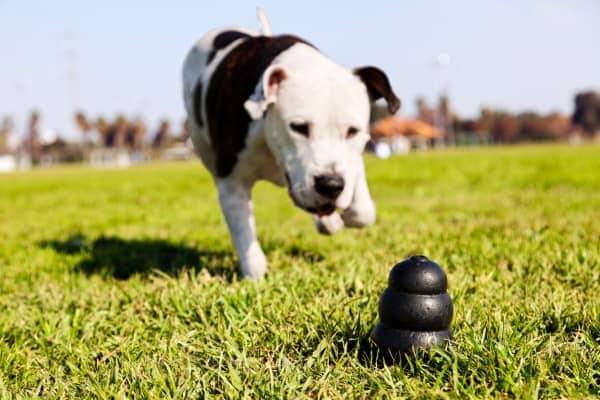 As I general rule of thumb, when selecting dog chews and dog chew toys, your best bet is to take the "above all do no harm" approach. Your dog is counting on you to select chews that both are safe and that satisfy his or her chewing needs. But what dog chew toys or dog chew treats accomplish both? Here is my short list:
Veterinary Oral Health Council approved dog treats and dog chew toys to help control plaque and tartar
Planet Dog rubber dog toys
GoughNuts chew toys
Kong® toys
Zogoflex® dog toys by West Paw.
Dog chews that do double duty
It's worth noting that many VOHC-approved dog chews are a win-win. While they don't stand up very long to tough chewing, Greenies can be both a fun chew treat for dogs and are proven to help reduce plaque and tartar. Also, they have been awarded the VOHC Seal of Approval. However, for a pet on a weight loss program, please be aware that they do contribute calories.
Also, while these options satisfy a dog's need to chew and are helpful for plaque and tartar control, they are not able to treat dental disease. Rather, they are part of a comprehensive oral healthcare program that should include daily teeth brushing and regular professional examinations and treatment.
Finally, with these dog chews or any dog toy, make sure that you select the correct size product for the body weight and size of your dog. And always observe your dog while she or he is playing with a dog chew or toy.
What are the risks of giving a dog a hard chew toy?
Over my 20+ years as an integrative veterinarian and as a mom of eight children and two dogs (and still grieving the loss of our beloved third dog, Luke, who passed from cancer), I have learned (sometimes the hard way) that there's no reason to take chances. Even if trade magazines, product popularity, and social media suggest otherwise, hard chew toys pose risks to your dog that need to be taken seriously. The risks include:
Fractured teeth
Foreign body obstruction in the stomach/intestines that requires surgery
Choking hazards: a chew toy may become lodged in your dog's mouth or thoat
Damage to the hard palate—the roof of your dog's mouth.
What dog chews are unsafe for dogs?
To avoid fractured teeth and trips to the emergency room, your best strategy is to steer clear of dog chews and chew toys that present a potential hazard to your dog. Here is my list of dog chew toys and chews to avoid:
Antlers
Bully sticks
Hooves
Ice
Natural bones
Nylon bones
Pig ears
Tennis balls.
The bad news about bones and antlers
Are you surprised to see bones and antlers on my "avoid" list? I once heard a veterinary colleague say that allowing your dog to chew on bones and antlers is like playing in traffic. You may get away with it for a while, but eventually, something bad will happen. It's worthwhile to share a few more facts about the potential risks of bones and antlers.
Beware of bones
I've seen scores of dogs with broken teeth from chewing on bones. (Yes, raw bones, cooked bones, processed bones, and everything in between.) Bones are notorious for cracking the crowns off of the big upper 4th premolar (or carnassial) teeth in dogs. As the picture below shows, if you lift your dog's upper lip, you can easily identify this tooth on each side. It looks like a miniature upside-down mountain range and it's the biggest tooth in the mouth.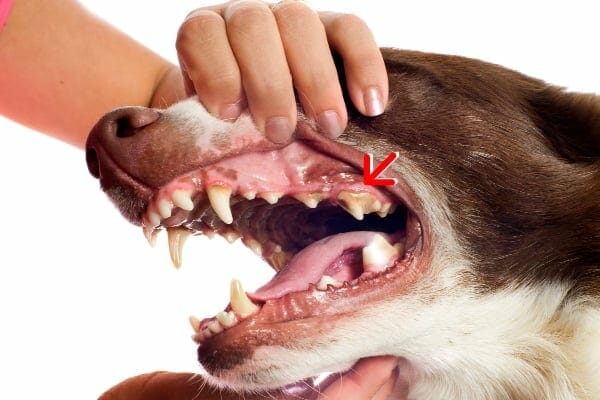 If a dog fractures a tooth, the only way to address it is with a major dental procedure under anesthesia—generally extraction. Left alone, a fractured crown is an abscess waiting to happen and is very painful for the dog.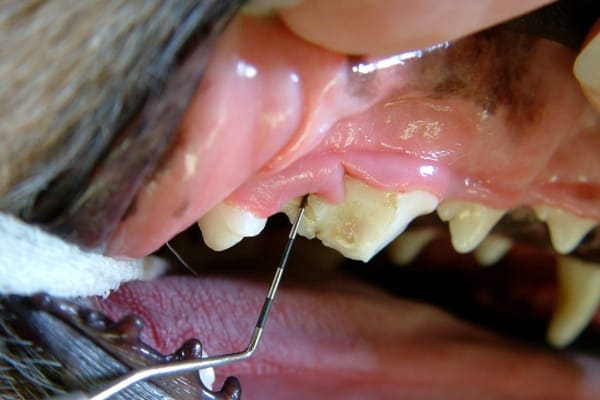 Finally, bones aren't just a pain in the mouth. They can also cause esophageal or intestinal obstruction, perforation, and constipation.
Avoid antlers
As with bones, beware of antler chews. I have a personal vendetta against antlers. They seem to be very popular lately as "natural" chew toys, and I bought into the propaganda. My own young dog, with immaculate healthy teeth, cracked the tips off of five of his premolars in a matter of hours gnawing on an antler. They are absolutely too hard, and this is not just my jaded opinion. You won't find a board-certified veterinary dentist in the country who would give you a "thumbs up" on antler chews for dogs.
How to determine if a dog chew toy is too hard for your dog:
Not sure whether a toy is too hard for your dog to chew? Here are two simple tests you can do on any dog chew toy.
1. The kneecap tap test
Would it hurt you if someone hit you on the kneecap with the dog toy? If so, it's too hard for your dog to chew and, therefore, not a safe chew toy for dogs.
2. The thumbnail press test
Using your thumbnail, can you make an impression on the surface of the dog toy? If not, it's too hard for your dog to chew on.
Use this infographic as your quick-reference guide to dog chews
Now that we've covered all my tips and tricks, I'd like to share this "What Can My Dog Safely Chew?" infographic with you. I hope it will help you "chews" wisely for the health, happiness, and safety of your dog.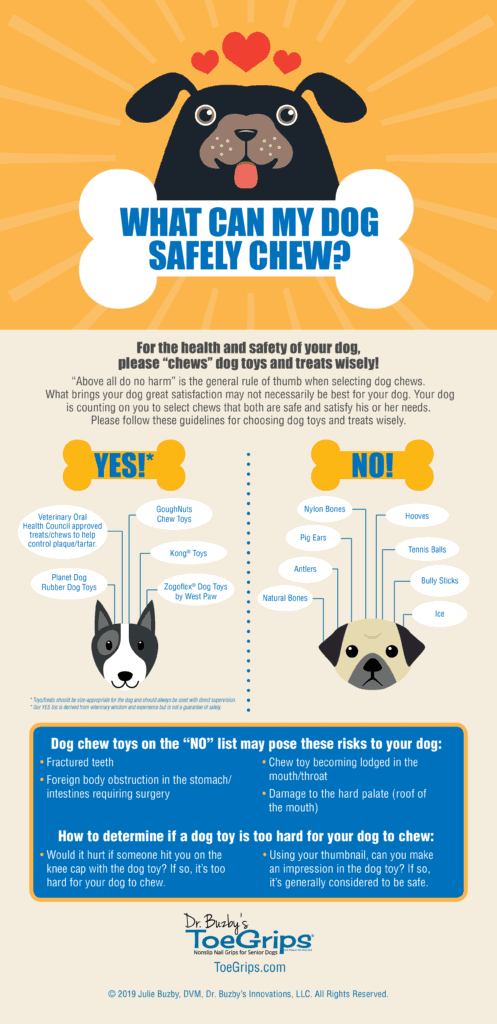 What questions do you have about choosing safe chew toys for dogs?
Please comment below. We can all learn from each other.