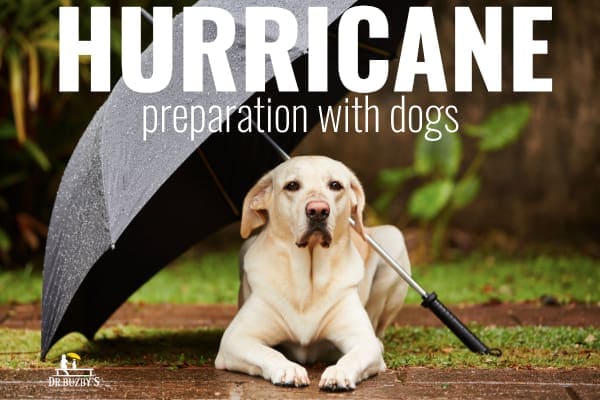 SUMMARY: Especially during a hurricane evacuation or other emergency, your furry family members need your love, care, and attention. Having traveled with her dogs while evacuating for Hurricanes Florence, Irma, and Matthew, integrative veterinarian Dr. Julie Buzby shares 10 tips for preparing your family—furry and otherwise—for a disaster.
According to the National Weather Service, hurricane season occurs from June 1 to the end of November and sharply peaks from late August through September. Stealthily, while parents were busy getting their kids back to school, peak season descended upon us.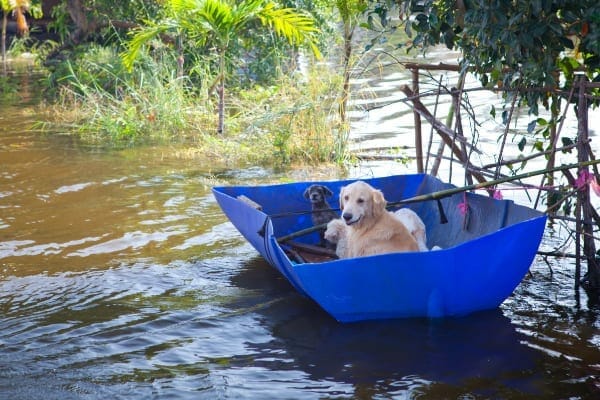 As Hurricane Dorian creeps closer, another evacuation looms imminent for my family and hundreds of thousands of others. People are frantically buying bottled water and plywood. There's the smell of panic in the air, and it reminds me how critical it is to do our disaster preparedness homework ahead of time because it's hard to think straight in the moment.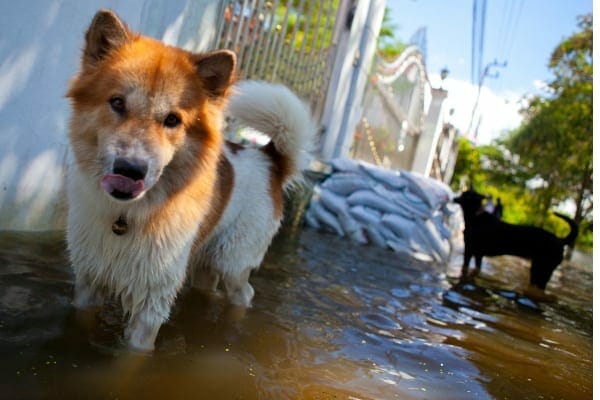 As a veterinarian and a three-time hurricane evacuee, I have real-life experience evacuating with pets (and eight children). I've learned a lot through the process and I've made some mistakes too. By sharing my list of 10 tips for evacuating with pets, I hope it will make your life smoother now (should you be in Dorian's path) and in the future, should you ever need to evacuate due to a hurricane or other natural disaster.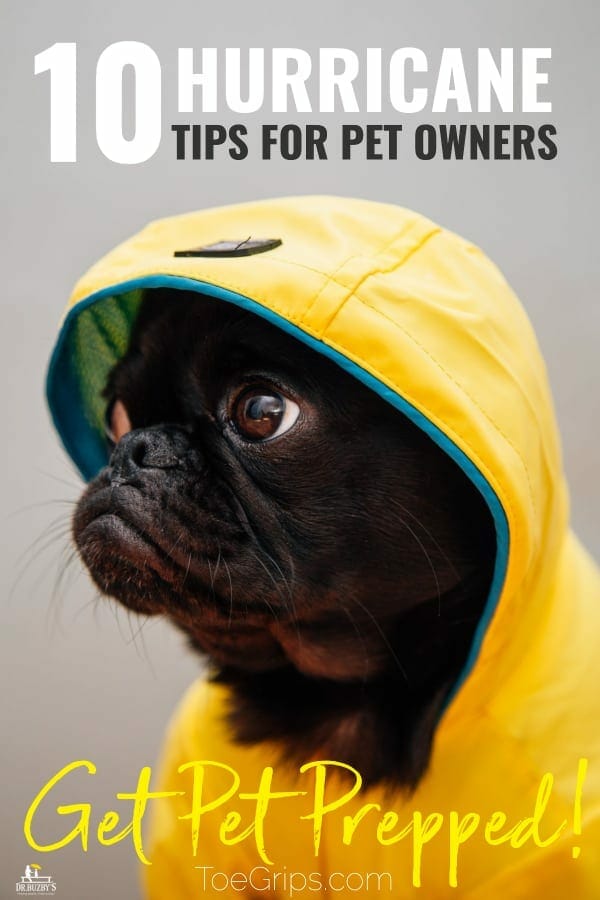 10 things I learned from evacuating with pets
1. Put a disaster plan A (and B) in place for your dog's safety
Dwight Eisenhower said, "In preparing for battle, I've always found that plans are useless, but planning is indispensable."
I don't know that I'd call my plans useless, but certainly, by the time we're actually on the road in our 15-passenger van, I'm usually on Plan F of my "A,B,C,D,E,F…" emergency plans. I'm definitely not running on Plan A! However, that planning process is invaluable, even if the plan changes.
The first two times our family evacuated, we followed our standard evacuation route and plan. However, the third time, the hurricane's path crossed that evacuation route. I failed to have a plan to evacuate in a different direction (south) and it cost me roughly seven hours in researching, emailing, and handling responses. In the end, we landed what appeared to be the last pet-friendly VRBO in Florida. It was an ordeal.
I can't stress enough the importance of planning. I know it's hard. We have busy lives. The last thing we want to do in our precious spare time is put together an emergency plan. But trust me, it is one of the best gifts you can give your family, including your furry family members.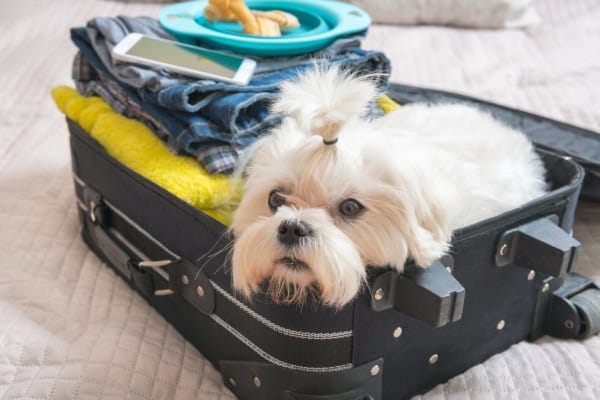 As you plan for a hurricane evacuation or other emergency, here are my suggestions:
Create a list of pet-friendly hotels/motels where you plan to seek refuge. (Consider including VRBOs or AirBnBs in the area too.) Check if the accommodations have any restrictions on number, size, or species of pets. We evacuated with three large dogs. Some places were not willing to work with me on that. However, even if there are restrictions, ask if they'll extend grace during an emergency. Many will.
Keep your list of pet-friendly hotels/accommodations handy with other emergency phone numbers on your phone.
Investigate veterinary hospitals in the area where you plan to stay. If your dog needs medical attention while you're displaced, you'll save time and stress by having the name, address, and phone number handy.
If your dogs cannot stay with you for some reason, have a list of boarding facilities or veterinary hospitals that offer boarding in the area. It's important to call ahead for a reservation as soon as you plan to evacuate because of the high demand.
2. Keep your dog's medical records with you
It's so important to bring a copy of your dog's medical records along when you travel for any reason. You will likely need proof of vaccine history if you board your dog. Keep the records in a safe place. My husband scans them and puts them in his phone. I have a yellow folder in our van's console at the ready.
Your veterinarian will be happy to provide a copy of your dog's health records (generally free of charge) just for the asking.
3. Make certain that your dog is up-to-date on vaccinations
I know it's impossible to predict an emergency, but it is wise to think about contingencies and have a plan. This includes thinking through your dog's vaccinations and discussing them with your vet.
Here's my personal story of how my dogs' vaccinations impacted our hurricane evacuation plan:
Due to my dogs' fairly sequestered lifestyle (no doggie daycare, no dog parks, very few neighborhood dogs, etc.), they don't receive some vaccines that are deemed "non-core." Now please understand, I'm not saying that those are bad vaccines or that you shouldn't get them. What I am saying is that you should talk to your veterinarian about your dog's risk. This is really an individual decision based on the dog's environment and lifestyle.
However, this strategic decision impacted our evacuation plan. The day before we chose to evacuate, my plan was to board the dogs with a colleague at a veterinary clinic near our "safety" destination. However, this became a problem because my dogs had never been given the "dog flu" vaccination, which was required by the vet hospital where they were going to be boarded.

Even if I had them vaccinated immediately, the vaccine doesn't protect them immediately. Also, in the case of influenza, my dogs would have needed a series of immunizations before they were fully protected. Since they wouldn't be fully protected for the few days they would be staying at the vet hospital, I needed to switch to plan B and find dog-friendly accommodations.
4. Have a pet first aid kit packed and ready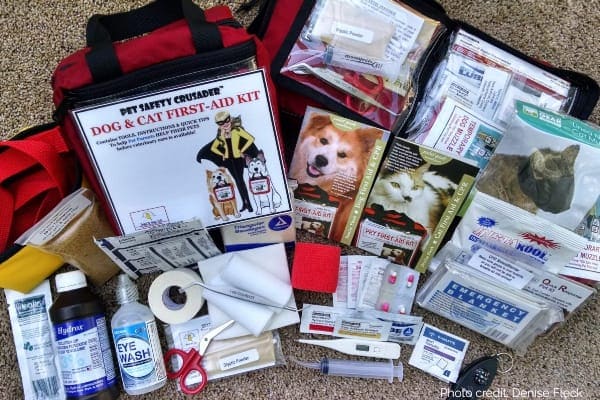 Before evacuating with your pets, remember to pack your canine first aid kit. If your dog gets lacerated at a rest area, you will need material to stop the bleeding. If your dog's face swells up from a bee sting, you'll need to be prepared. At your next vet visit, ask your veterinarian what she or he recommends including in an emergency kit for your dog.
I have two pet first aid kits. I keep one in the car and one at home. My travel first aid kit includes all the "at-home" emergency items plus essentials for on-the-road pet emergencies. If you're preparing your pet first aid kit as part of your hurricane evacuation plan, here is an easy checklist to follow:
On-the-go travel kit safety items for the vehicle:
Flares
Flashlight
Safety vest
Blanket
Muzzles (Yes, you should keep a muzzle for your dog. Painful dogs often bite, and keeping the caregiver safe is a priority.)
Leash
Dog first aid kit items for your home or for your home-away-from-home:
A copy of your dog's medical records
Extra leash and collar
Treats
Benadryl (Include the appropriate dosing size for your dog. For example, you may choose capsules for big dogs and children's liquid for small dogs. Check with your vet for proper dosing. Also, check the label and make sure medications do not include xylitol, which is harmful to dogs.)
Exam (disposable) gloves
Scissors
Bandage material–4×4 gauze pads, 2 compressed gauze bandage rolls
Telfa pads (specialized gauze pads used for wound care)
4″ elastic bandage (think Ace wrap)
Elasticon (cotton elastic tape with a rubber-based adhesive)
Vet wrap
Medical adhesive tape
Saline eye rinse
Tweezers
Tick remover
Instant cold pack (the squeeze-and-go type that doesn't require refrigeration)
Thermometer and KY jelly for insertion
Hydrogen peroxide
Muzzle (I keep one in both kits. Even at home or at your home-away-from-home, a painful dog can bite.)
Phone number for animal poison control (For the ASPCA Animal Poison Control phone number, click here.)
5. Create a list of all the physical necessities
Having a checklist of all your dog's supplies will keep you organized when it's time to evacuate. An emergency preparedness list of your dog's daily care necessities may include:
Dog food
Water
Food and water bowls
Treats
Medications
Collar and leash with proper identification
Poop bags
Blanket
Crate or travel kennel
Disaster kit, emergency kit, or first aid kit
Emergency contact information including phone numbers
6. Protect your dog by teaching crate training
I strongly recommend having a crate or pet carrier for each of your dogs and crate training them. It's a "life skill" dogs need to know.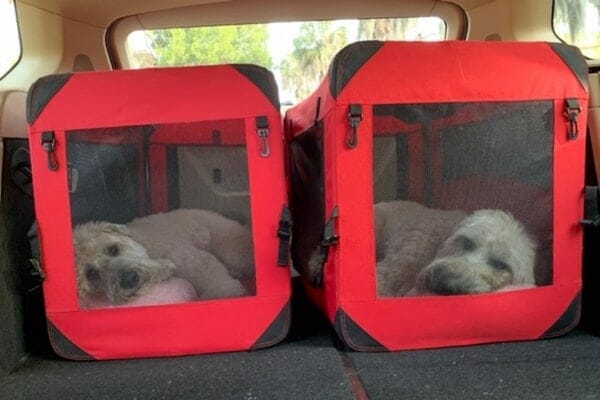 Teaching your dog to feel at home in a crate can be a tedious process. I've crate trained several dogs. It can take some time, some energy, and some patience. However, the fact that my dogs are crate trained is a huge asset for travel, for emergencies, and even if they would ever have to be hospitalized at the vet clinic in a cage.
It's critical that when you evacuate for a hurricane (or any time you travel with your dog), that you have a way to safely secure your pets—whether it be a crate/carrier or a doggie seatbelt. Even with the frantic, hurried stress that an evacuation brings, please don't throw them in the car, shut the door, and drive away. Many, many, many accidents are caused by dogs not being restrained in vehicles. Not to mention, if there were an accident, the unrestrained dog would be in grave danger.
So I'm a huge fan of crates and pet carriers. Keep one in your vehicle or include it on your packing checklist.

7. Plan for your dog's "emotional" necessities
Your dog's emotional well-being is as important as his or her physical well-being. Change is hard on all of us. Your dog will perceive your stress and be affected by disruption of his routine.
As you make hurricane preparedness plans, anticipate your dog's emotional state. Is your dog more anxious during travel? How is your dog going to travel best? Are there any parts of your dog's schedule that you can maintain?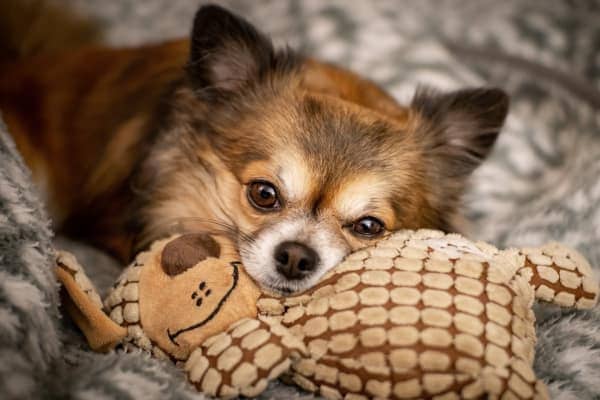 Keep your dog as calm and relaxed as possible by remembering to include his or her go-to snuggle items. This may be a favorite blanket or a toy.
By bringing along the comforts of home and by keeping the family pack together (humans and pets), you're helping your dog stay emotionally healthy through a difficult situation.
8. Safeguard your dog with proper identification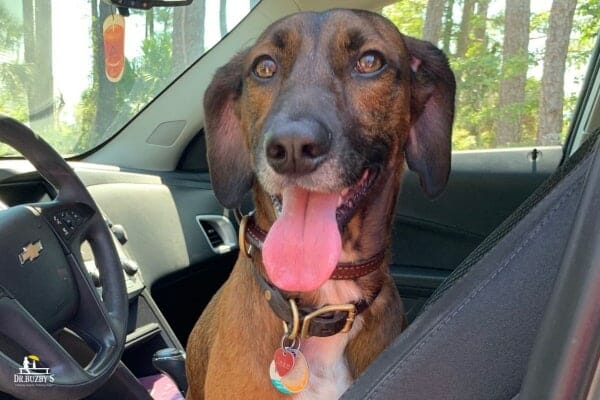 Heaven forbid, in the process of evacuating—stopping at rest areas, stopping at gas stations, car doors being opened and shut, hotel doors being opened and shut—your dog could bolt and become lost. If that happens, you want to make sure that your dog not only has some sort of permanent identification like a microchip, but also a collar and tags with current contact information. For more tips on how to prevent accidental separation from your dog, please listen to my podcast, Lost Pet Prevention with Lori Clemens from PetHub.
Also, make sure that you have a current photo of your dog. For most dog owners, they have plenty of pictures handy on their phones. Heaven forbid, if your dog happens to get separated from you, you'll have a current photo to share on social media or on posters.
9. Discuss what to do if you're out of town
Here's another important scenario to include in your emergency preparedness plan that most people don't consider. What would you do if you were out of town and your dog was staying at the vet or a boarding facility and a mandatory evacuation was issued? As a veterinarian, I've seen this unfold first hand.

It's important to have a pre-arranged plan with someone who will be responsible for picking up your dog in the event of any sort of disaster. Be sure to leave this plan with the emergency volunteer's contact information in your dog's records in your absence.
10. Speak with your veterinarian
If you know that your dog doesn't travel well, speak with your veterinarian in advance about prescription options to include in your first aid kit. And if you need a refill on an emergency basis, please be understanding that it may take longer to fill than normal. Your veterinarian and the staff will be helping a lot of people refill medications for their pets before a storm hits while facing evacuations for their own families and the families of their staff.
If you're planning to evacuate for Hurricane Dorian (or even considering it) and your dog needs prescription medications for anxiety/travel, please don't wait. Contact your veterinarian NOW.
Get pet prepped!
A hurricane evacuation is a perfect storm (no pun intended) for unforeseen disasters for pets and people. Please take some time out of your busy life to think through your disaster plan. I encourage you to write some things down, talk with family members, get in touch with your vet, and really lay out the details for your pet's well-being, as well as your own!
I hope that by sharing my top 10 tips, I've helped you and your beloved dog stay protected from danger. Ultimately, my passion is helping you help your dog. And helping you care for your pet in the event of a hurricane evacuation or other natural disaster is an important part of that mission.
How do you prepare your pet for a hurricane or natural disaster?
Please comment below. We can all learn from each other.