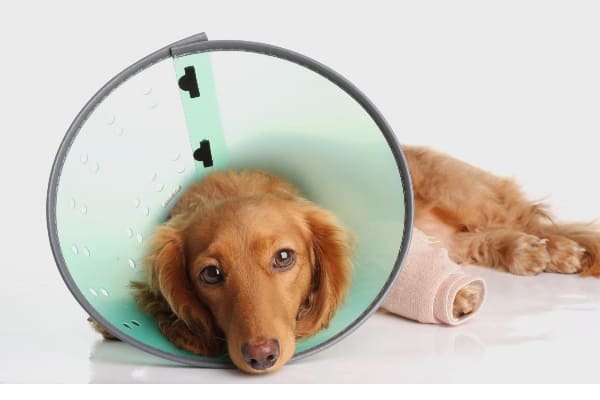 Pain in Dogs: An Expert Interview
Dr. Ralph Harvey and Dr. Julie Buzby discuss chronic pain and pain management in dogs
If your canine companion has ever experienced pain, you understand how important it is to manage both the physical discomfort and emotional stress associated with it. I had the great pleasure of interviewing Dr. Ralph Harvey about chronic pain in dogs while attending a veterinary conference where he was a guest lecturer on this subject.
I'm blessed to introduce to you Dr. Harvey, who teaches anesthesia and pain management in the Department of Small Animal Clinical Sciences at the University of Tennessee College of Veterinary Medicine. With 33 years of experience, Dr. Harvey offers a wealth of wisdom and knowledge about managing pain in dogs. He is an expert authority for anyone who wants to learn more about the stress, fear, and anxiety associated with a painful dog.
Through my conversation with Dr. Harvey, I hope to pass along to you important tips on understanding chronic pain in dogs, how to recognize when a dog is suffering, and insights on the emotional component of pain.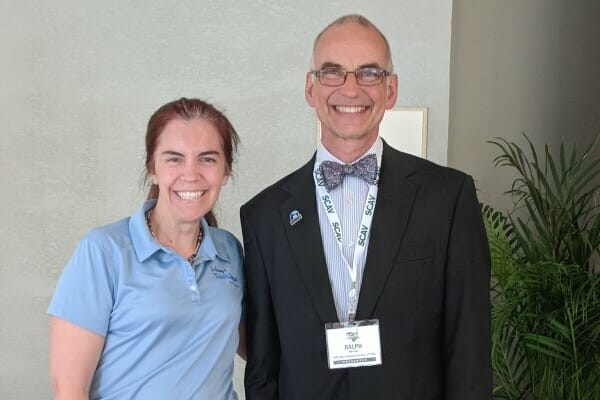 1. Chronic pain in dogs differs from pain in humans
Dr. Julie Buzby:  Could you please share your thoughts on how chronic pain in dogs is defined and explain how it differs from pain in people?
Dr. Ralph Harvey:  Thank you, Dr. Buzby. You and I share a lot of similar viewpoints along with a passion for taking care of our dear old patients. It's an honor to be interviewed for your podcast and blog.
As you mention, chronic pain in dogs is often defined a little differently than it is in human medicine. In humans, chronic pain often encompasses things like neuropathic pain–a pain that exists in the absence of real tissue pathology. It may be phantom limb pain. It may be residual back pain that plagues a patient for years after what may have been a minor injury. But the residual pain is in excess of the underlying tissue pathology.
When we talk about chronic pain in dogs, we more often talk about chronic diseases that are concurrent with the pain. For example, the pain of osteoarthritis, the pain of degenerative joint disease, and the pain of cancer. We look for sources of the pain. Sometimes it's something that we can definitively treat. In other cases, it's a lifetime illness. With osteoarthritis, for instance, pain management is an integral part of managing that disease. Our therapeutic modalities are often related to the disease process.
Using the example of osteoarthritis, one of the mainstays of therapy is nonsteroidal anti-inflammatory agents. Additionally, our goal is to get the patient moving.  We want to keep the dog trim so that he or she can get exercise. Our ability to improve the dog's mobility is key to keeping them functioning. There's an old saying with regard to old age and degenerative joint disease:
Rest is rust and motion is lotion."
As long as dogs can move, they will move. Once they can no longer comfortably move, they become inactive. That leads to more and more disuse.
Dr. Buzby:  I love that saying. I have a passion for maintaining mobility in dogs. One of my products, ToeGrips® dog nail grips, helps senior dogs that struggle with slipping on smooth surfaces like hardwood floors. It's so critical to get these dogs re-engaged with their families. If they're afraid of walking on the floors in their home, if they've isolated themselves to a throw rug or a bed, they're no longer engaged. The emotional aspect is critical.
2. Pain in dogs is both an emotional and sensory experience
Dr. Buzby:  In veterinary medicine, so much attention has been given to quantifiable metrics and measurements and biomarkers, but you talked about the emotional impact of pain. Specifically, could you speak to the continuum of fear, stress, and anxiety in relation to how a dog perceives pain? What is the emotional impact of pain in dogs?
Dr. Harvey:  Thanks for bringing that up. While the emotional aspect of pain in dogs is not a new topic, it is one that is so important and it has not received the attention that it deserves. Pain is both an emotional and a sensory experience associated with tissue pathology or the potential for tissue pathology. It includes the emotional as well as the sensory components. It is easier to measure the sensory components and more difficult to quantify the emotional components.
The IASP, International Association for Study of Pain, defines pain in dogs as 'both an emotional and sensory experience associated with tissue pathology or the potential for tissue pathology.'

Click To Tweet
Both components are included, but the emotional aspect is difficult to quantify.
 Dr. Franklin McMillan, a veterinary specialist, has been speaking about the emotional component of pain for a long time. He asserts that the emotional aspect of pain is the most important component that veterinarians treat in animals. We need to get dogs engaged in life. Chronic pain interferes with that. One of the quotes from his discussions is by Sigmund Freud:
The man with a toothache cannot be in love."
In other words, chronic pain in dogs interferes with the human-animal bond.  We need to alleviate the animal's emotional component–the suffering component– of pain. When we do that, then dogs are more motivated to engage in life, engage in the human-animal bond, and move around.
Veterinarians are working toward strategies to clearly evaluate the emotional component of pain. One of the aspects that I hope to weigh in on in the future, with full respect and admiration for those who evaluate the somatic component of pain, is the continuum of fear, anxiety, stress, and pain. Some aspects are easier to measure. Some are more difficult. It's challenging to quantify the emotional component to suffering, and yet we know that it is so important.
3. Recognize the signs that your dog is in pain and share this information with your vet 
Dr. Buzby:  Yes, I think it's often the dog owner who is attuned to and intuitively knows how their dog is feeling. Can you help dog owners know what to look for as signs of pain in dogs?
Dr. Harvey:  Dog owners can look for changes in their dog's normal behavior. Often dog owners will pick up on variations in appetite, mood, or response to being petted. Some dogs will become inappropriately aggressive or stressed. Other dogs show signs of pain by being slow to rise, reluctant to go for walks, or by tiring more readily. The dog owner who shares this information with his or her vet can really help. Here are some questions a dog owner can answer to evaluate whether his or her dog is in pain:
Has your dog's food consumption decreased?
Has your dog lost interest in play behaviors? Is your dog less interested in playing with other dogs? Even old dogs will continue to play if they're comfortable.
Is your dog willing to go on walks?
Does your dog tire readily?
What is your dog's exercise tolerance?
Has your dog become reluctant to go outdoors because he has to walk down a landing or walk downstairs?
Dr. Buzby: Thank you, Dr. Harvey.  I encourage dog owners to watch for these signs and disregard them as "my dog is just getting old." There is so much that can be done. Diagnostics are the first step. There are many treatment options–from Western traditional medications to complementary therapies like acupuncture, chiropractic, and rehabilitation medicine. There may be a solution that can help your dog live a happier, healthier, longer life. Be proactive about having these conversations with your vet.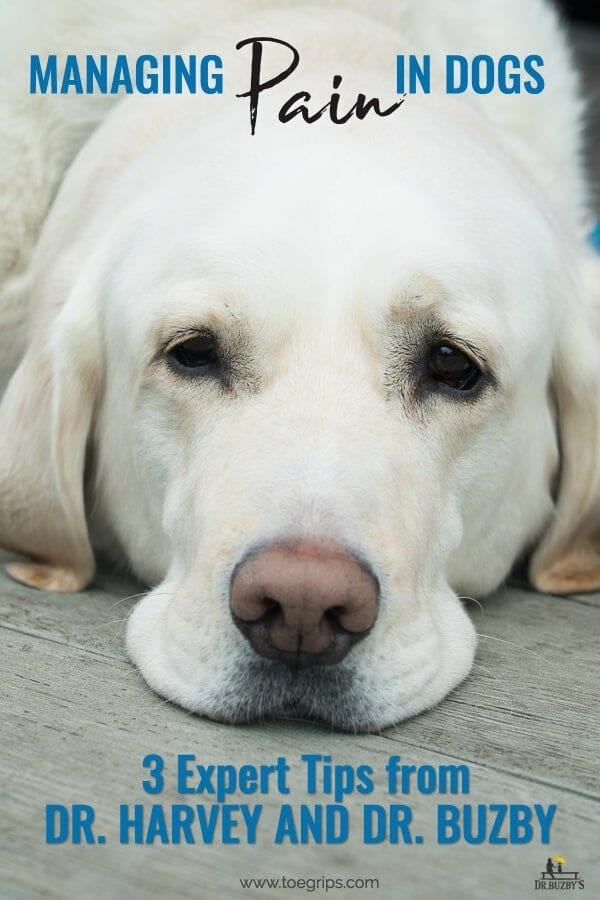 Final thoughts: Treating pain in dogs through multi-management has a synergistic effect
Dr. Buzby: Certainly, no discussion of understanding pain in dogs would be complete without mentioning the synergistic effects of multi-management. In other words, one plus one can equal three. By combining certain drugs, supplements, or modalities, the whole is greater than the sum of the parts. For example, a dog who is taking a Western medication for pain may also take a joint supplement and acupuncture or a cold-laser treatment.
For dogs with chronic pain (like osteoarthritis, neurologic pain, or any ongoing pain), it is crucial to speak with your veterinarian about implementing a multi-management approach. If your vet doesn't offer solutions such as acupuncture, cold-laser therapy, class four or class three therapeutic laser options, you can ask for a referral.
Dr. Buzby: I can't thank you enough for joining us, Dr. Harvey. I'm so honored that you've taken the time to share your wisdom so that dog owners can make informed decisions on how to help manage chronic pain in dogs.
Do you have questions about managing pain in dogs? Please comment below.
For even more information, please listen to my entire podcast: Managing Pain in Dogs with Dr. Ralph Harvey  You can find all of my latest podcasts on The Buzby Dog podcast page.