Wondering if PawZ Dog Boots could be a good addition to your arsenal of dog care supplies? Integrative veterinarian Dr. Julie Buzby reviews these rubber dog boots and explains why she decided to give them a 5-star rating. Plus, she describes five situations where these rubber dog boots can be helpful and gives some tips and tricks for using them safely.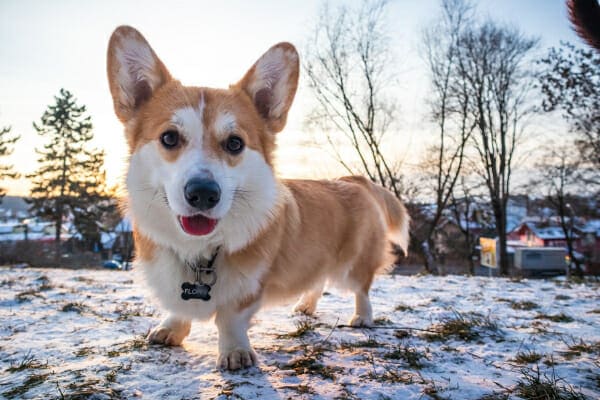 Recently I had a colleague ask me to compare PawZ Dog Boots to Dr. Buzby's ToeGrips® dog nail grips. She had never used either and assumed that PawZ, like ToeGrips, were used for traction.
Before I get into the meat of this story, I must disclose that ToeGrips is my patented product. I'm unapologetic in my view that they reign supreme when it comes to providing instant traction for dogs who struggle on hard-surface floors.
But I'm also an integrative veterinarian who loves having as many tools as possible in my toolbox. There are certainly times when I believe PawZ boots are the best option for my patients. So, I do find myself recommending PawZ…although not for traction.
What are PawZ Dog Boots?
Picture a floppy, round, latex balloon with an oversized neck that has no air in it. If you do that, you have a pretty good idea of what PawZ Rubber Dog Boots look like. Later on in this article, I will share the five uses for Pawz Dog Boots that earn them a 5-star rating in my book. But first, let me explain why I don't recommend them for traction. In my book, they fall into a completely different category than ToeGrips.
What are ToeGrips dog nail grips?
Before I explain why ToeGrips are THE solution for traction, I need to explain the concept of nail-based traction.
Dogs use their toenails for traction. They flex their paws and engage their nails like soccer cleats digging into the ground. But hard nails can't grip hard floors.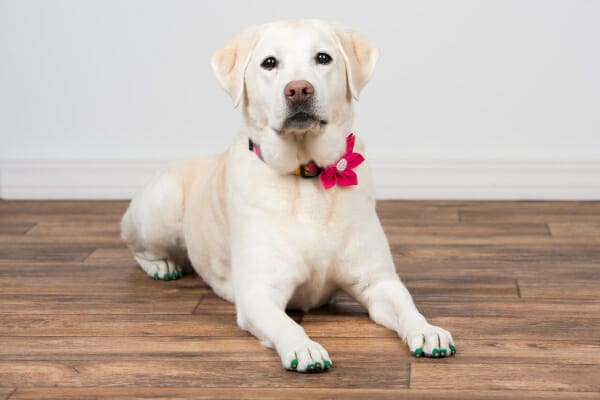 ToeGrips are a nonslip material that fit on a dog's toenail tips to enable the toenails to grip as they were intended. They provide instant traction. This can be life-changing for senior or special needs dogs who struggle on smooth surfaces like hardwood floors.
This is in contrast to the other school of thought—boot-based traction. For this approach, a boot is placed over the dog's whole foot, much like we would put on a pair of hiking boots. Boots are a great traction aid for people. But not so much for dogs, as we will discuss later on.
So if we boil it down, people tend to fall into the nail-based traction camp or the boot-based traction camp.
Unsurprisingly, I'm willing to die on the hill of nail-based traction, which is how ToeGrips work to help dogs. In the story of ToeGrips, I share a bit more about how I discovered the idea of nail-based traction and soon fell in love with this approach.
Socks and boots, including PawZ boots, cover and effectively "disable" a dog's paws and nails. However, ToeGrips enable a dog's paws and nails to grip the floor with every step…naturally.
Clean PawZ not grippy PawZ
The good news is that best I can tell, I don't think I'm going to have to die on that hill. The PawZ boots team understands their product's strengths and don't seem to be chasing the traction dream. Instead, on their website, their tagline claims, "Your Dog's Good Health Starts with Clean Paws."
I don't necessarily know that I agree that your dog's good health starts with clean paws. I can think about 999 other things to put in front of clean paws to give your dog good health. But if I'm needing my dog to come in from romping outdoors with clean and pristine paws, this product would be my go-to choice. Mind you, I have eight kids and a few dogs, so nothing in my life is clean and pristine.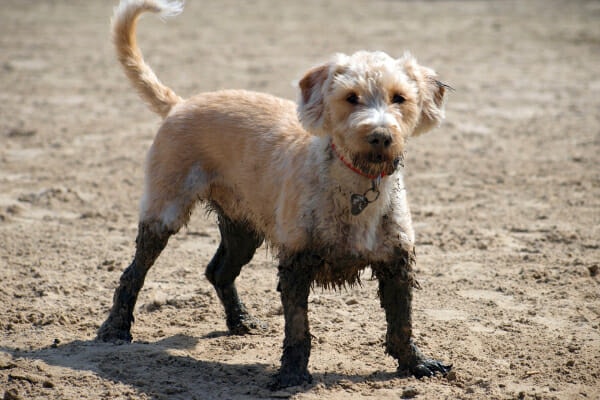 5 Reasons I recommend PawZ Dog Boots
I have already alluded to one of the reasons PawZ can be useful for some dogs. But let's take a closer look at five reasons these waterproof, disposable, rubber dog boots have their place in my toolbox.
1. PawZ keep the paws from getting wet
PawZ boots are waterproof, which makes them handy in the elements! Keeping your dog's paws dry can be more than just a cleanliness issue. A dog might have a wound on a paw that must stay clean and dry for proper healing. The moisture barrier feature is a true asset in PawZ waterproof dog boots.
2. PawZ protect the paws from hot pavement
On hot summer days, dark asphalt roads absorb a ton of heat. It's General Science 101. I'm sure you've heard the expression that you could fry an egg on the road. It's true, and your dog's paws can suffer thermal injury too. PawZ boots can protect your dog's paws from painful burns.
3. PawZ prevent icy paws
Snow, ice, sleet…on the opposite end of the spectrum from sizzling paws are freezing paws. One of my main concerns here is preventing ice balls forming on furry dog paws. PawZ boot are a good solution for this problem.
4. PawZ provide a barrier for injured paws
This is probably the most common reason that I find myself recommending PawZ boots to a client. When I see a dog with a paw pad cut or abrasion, or even a nail bed injury, I'm always concerned about secondary infection. Especially because dog paws are in constant contact with the ground. So this is a place where cleanliness matters to me.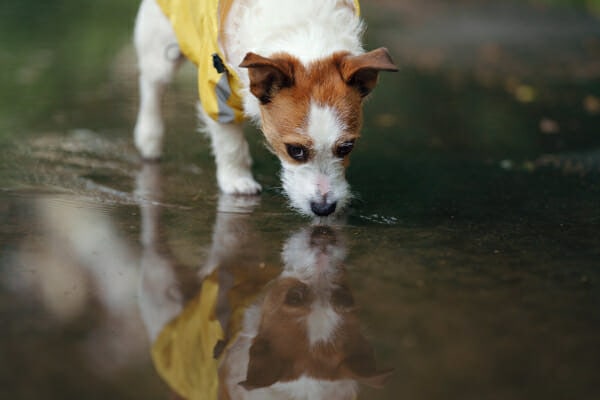 PawZ boots can act as a simple (yet temporary) "band-aid" covering over the wound during the healing process, where a normal bandage would never stay on.
As a word of caution, I don't recommend leaving the PawZ boot on 24/7 like you might do with a regular bandage or your own band-aid. Instead, use the PawZ to keep the foot clean and dry while your dog is outside. Then take it off again as soon as you get inside. Since dogs sweat through their paws, leaving a rubber boot on for an extended period of time may trap moisture (i.e. sweat) against the foot. Additionally, the neck of the boot could decrease circulation (more on that soon). Both of these situations might slow the healing process.
5. PawZ protect the paws from exposure to chemicals
Whether it be ice melt products in the winter or lawn fertilizer in the summer, there are times when you don't want your dog's paws in contact with potential hazards. This is not only relevant because of the topical exposure to skin and pads, but also because you don't want your dog to go home and lick those substances off of the paws. Using a disposable product like PawZ boots can be the perfect solution.
How to put on PawZ dog boots
One of the more common questions I get is how exactly to get PawZ on a dog's paws. The good news is that although looking at them in the packaging may seem daunting, they are actually fairly simple to get on and off your dog's paws. The process is intuitive. Just imagine stretching the neck of a latex balloon and pulling it up over the paw.
A word of warning
I was first introduced to PawZ boots while at a veterinary school, where I went to present ToeGrips to the animal rehabilitation department. After my demonstration, we "talked shop" for a bit. As part of that, the professors took me over to their cabinets and showed me all the products that they recommended as assistive devices for their patients.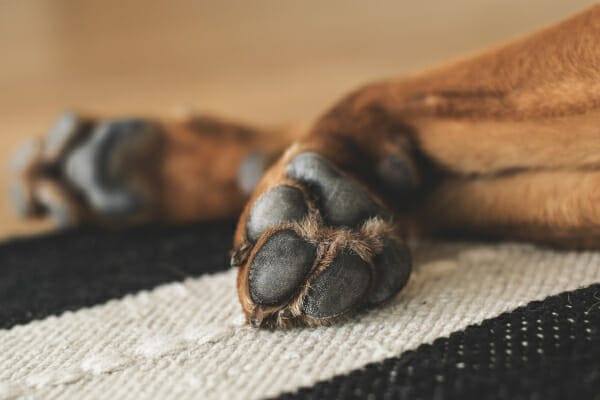 PawZ dog boots was in their "veterinary toolbox," but they issued me a warning. If the top of the boot—which corresponds to the mouth of the balloon—is too tight around the dog's leg, in a fairly short amount of time, it can cause severe tissue damage.

Important PSA message: PawZ boots are not a product designed to be left on for long periods of time because they have the potential to impact circulation and cause serious harm.
PawZ Dog Boots are great—but aren't for traction
For these reasons—their design for short-term use, the superiority of nail-based traction, and the need to frequently take them on and off—I do not consider PawZ dog boots to be an indoor traction product. Because they are made of rubber, I'm sure they do function to improve the traction of a dog. However, the ideal traction product for dogs has to travel with the dog and stay on continuously. (Which is exactly why I love ToeGrips—they provide constant traction that travels!)
However, I do routinely recommend PawZ dog boots for outside activity because of the five reasons above.
Why "less is more" when it comes to dog boots
I must confess I really love that these boots are so thin and simple. Granted, this probably contributes to them wearing out or tearing out quickly and earning their "disposable" status.
But other types of dog boots tend to be bulky and obtrusive. With a more cumbersome dog boot, the dog has to adjust his or her gait to compensate for the added bulk on the paws. This can be a problem for senior or special needs dogs who are already dealing with frailty, balance issues, or pain. Their nervous systems do not need any more obstacles to overcome.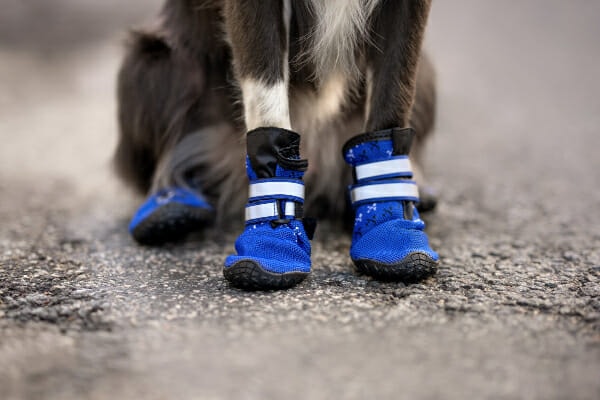 Additionally, boots of any type affect proprioception in dogs—the ability to know where the body is spatially in relation to gravity. This is because boots cover over the abundance of receptors in the dog's toes which feed the brain critical information. All dogs, but especially senior dogs or those with special needs, require that information to safely and successfully navigate their environment.
(To learn more about why I generally am not a fan of dog booties or socks, check out my article Dog Boots: 7 Truths Dogs Wish You Knew.)
Since PawZ Dog Boots are a thin sheet of natural rubber, they are barely there compared to a "traditional dog boot." This helps minimize their effects on a dog's gait and proprioception and allows the dog to still somewhat feel the ground.
5 Stars for PawZ Dog Boots
Besides not interfering with a dog's natural movement as much as other boots, PawZ Dog Boots have the potential to protect and preserve the paws. They can also provide a moisture barrier if the paw pads or skin are injured. Plus, you can put them on your dog after applying topical medication to the paw(s) to prevent a dog from licking it all right off.
So if you're looking for a light, simple cover for your dog's paws, my professional endorsement goes to PawZ Dog Boots. Just remember my PSA above—only use them for short periods of time and ensure they are not obstructing your dog's circulation.
But is your goal is gaining traction, I'm steering you to the patented design of ToeGrips dog nail grips. While PawZ boots have a lot of benefits, they simply can't compete in that area.
If you have any questions about which of these products is right for your dog's situation, please reach out to your veterinarian. You can also gain useful information from talking with the customer service team for each product. Both PawZ and ToeGrips hold a special place in my "doggie solutions toolbox" and I hope that they will come to have a place in yours too.
Have you tried PawZ Dog Boots for your dog?
Please share your experiences below.