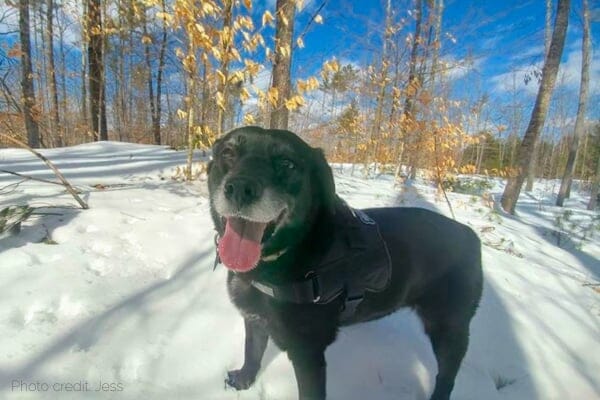 Preventing Dog Falls: A Dog Mom's Small But Mighty Discovery
When Jess, a conscientious mom of an 11-year-old Lab mix, noticed her aging dog beginning to slip on stairs and hardwood floors, she knew there had to be a solution to preventing dangerous dog falls. Rather than risk an accident, Jess took action to help her dog regain stability. When she shared her "small but mighty" solution with us via Facebook Messenger, our entire team cried happy tears.
It is our pleasure to share her story and interview with you as a real-life example of how you can prevent dog falls on stairs and hard floors.
Jess, can you tell us a little about your dog?
Dixie is the absolute perfect dog. She is patient and kind and tolerant. As a puppy, she was very high energy and loved playing fetch and being my running buddy. She is very special and has an uncanny sense of the world around her. When a dog would approach us on a run, she had an amazing ability to defuse any tension.
Living in rural New Hampshire means that we share our world with coyote, bobcat, and bear. Dixie has always been my eyes and ears when out hiking and running. When my son was about 18 months old, Dixie refused to run on next to the stroller. Sure enough, the next day there were bear tracks and scat along the road. Who knows how long it had been there, but from that moment on I trusted her judgment.
Last year we were snowshoeing and a coyote came in behind us and cut us off from the trail home. Dixie and our Border collie mix, Lexi, were the first to notice. They flanked me tightly as the coyote yipped warning. I leashed them and we hiked out to the road.
Other dogs would have charged, growled, or barked. But our Dixie came in tight. The eye contact with Lexi was incredible and I know there was a whole conversation happening.
What more could you want from a dog?
How did you meet Dixie?
Dixie and her sister were transports from Indiana, and they were painfully shy. They were at the local Humane Society for months because they would not interact and were so shy. By the time we found Dixie she was six months old. At that time we were building our house. (My husband and father are carpenters so we did it ourselves board by board.)
I happened to see the sign for the local Humane Society. We'd had dogs my whole life, so I knew that as soon as we were in the house, it would be time to find our dog.
When I walked up to the outdoor kennels this small black puppy would follow me along the fence line and whine when I was beyond the limits of her pen. I went in and asked about her—the staff could not believe she wanted to engage with me and were blown away when they saw it. They asked when I could bring my husband back.
We did not make it back for a few days and that little black dog was adopted by another family. But she had an equally adorable sister (our Dixie). They brought her into the little visitation room. We sat down on the floor and this fearful dog, who would not interact, jumped all over us giving kisses—and she curled up and slept in my husband's lap. This was a dog that was painfully shy and fearful of men.
She was meant to be our girl.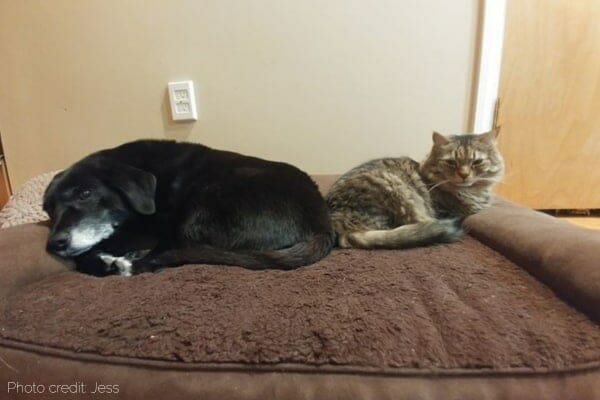 We brought her home two days later, and she transformed as we brought her everywhere. She was present for most of the house build and never flinched with noisy drills and nail guns being used all around her. There was a period of time that she walked around with cream and tan stripes on her sides while we were painting. We still have dog hair in the paint in most of our rooms right at Dixie height. 🙂
When did you notice your dog slipping and become concerned about preventing dog falls?
About a year ago, Dixie was diagnosed with stenosis in her spine. It was causing pain in one of her front legs and the opposite rear leg. Her vet put her on medication to help with the nerve pain and she rebounded quickly. But there was some atrophy and she had lost some of her strength.
We spent last winter snowshoeing daily hoping to rebuild some of the strength in her legs. It worked, but arthritis kicked in and—while she was in great condition—her gate became stiff. And with less flexibility, we noticed her slipping on the hard floors more.
This past winter we noticed she would tire quickly and was sore after our walks and hikes. She was placed on a low dose anti-inflammatory and found her spunk again. But now we noticed more slips and stumbles after exercise or exertion.
I bought what is essentially hand lotion for Dixie's paws to help her pads stay soft and supple. While it helped, I was still concerned about my dog falling on the wood stairs.
How did you discover ToeGrips® dog nail grips as a solution for improved stability in your dog?
I must have googled "stability and slipping in older dogs" enough for your ad to pop up in my Facebook newsfeed. I messaged a few dog friends, and talked to my vet. There was a general sense that your product would work, but no one had made the leap yet. I messaged your team and they helped me understand how it may help Dixie.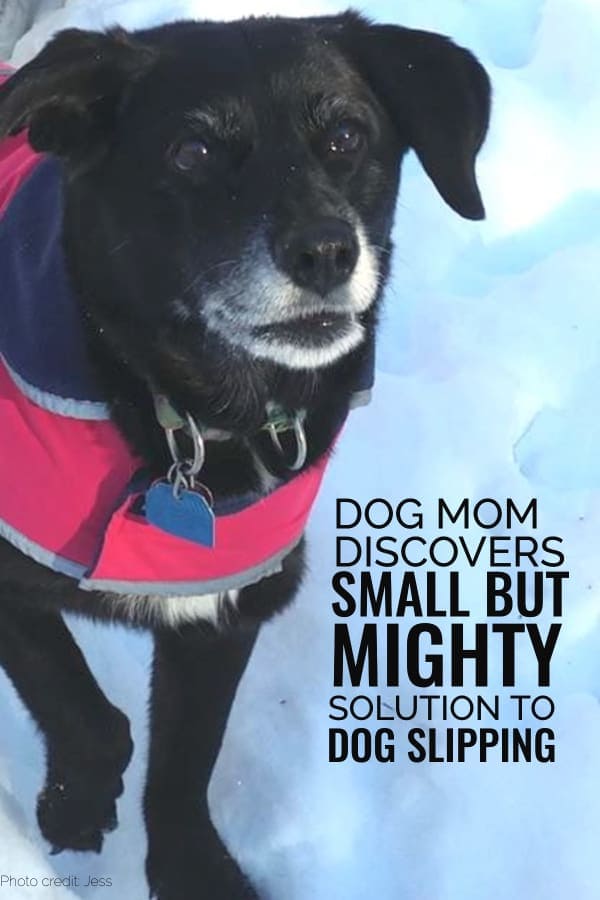 How long has Dixie been wearing ToeGrips® dog nail grips?
Dixie has been using the toe grips for about a month. She was not thrilled to have me pushing them onto her nails so I started with her weakest legs, and then did every other toe on her "good" legs.
How did your dog respond to wearing ToeGrips® dog nail grips?
The look on her face was priceless. She stood up and sniffed them, licked them, and then took a lap around the kitchen.
She grabbed her stuffed moose and started tossing and running after it—a game she would only play in the carpeted rooms of our house.
What has been the biggest change for Dixie?
The biggest change I noticed is coming up and going down the stairs. Going down the stairs, she used to take them one step at a time, firmly planting one foot at a time, and even then she would sometimes slip and have to use all her strength to regain her grip.
Going up the stairs was the most worrying for me. She did not seem as hesitant and her back leg would often go out, leaving her gripping the step above trying to get that back leg back under her.
After toe grips, she tested each step and started walking up and down stairs with her head up and with a much more natural gait.
While Dixie was not as limited as some of your client's dogs may be, I see toe grips as a way to prevent injury. And with her walking properly, she's utilizing her muscles correctly, reducing atrophy and soreness.
How have ToeGrips® dog nail grips improved Dixie's quality of life?
Dixie has shown more energy during our daily one to two-mile walks. And she has started showing excitement at meal times, as well as more playfulness. She had been on the anti-inflammatory for several weeks before we tried toe grips, so there is no doubt in my mind that toe grips along with her current meds have helped her gain confidence in her feet again.
I am also confident that they (ToeGrips® dog nail grips) will prevent a fall and additional injuries. Our vet has told me that as long as we can keep Dixie moving…she will be able to enjoy the years she has left.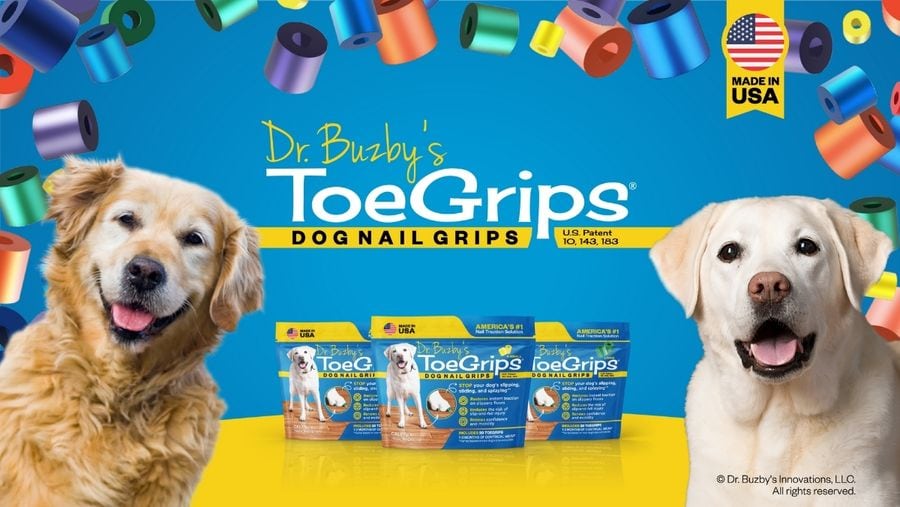 How have ToeGrips® dog nail grips helped prevent falls for your dog?
My healthy active almost 12-year-old no longer hesitates at going up and down our wood stairs, she plays and patrols without skids and slips. While her life was not restricted in any way, now we can move forward without the worry of slips and falls that were creeping into her every day life.
Prevention matters just as much as intervention sometimes.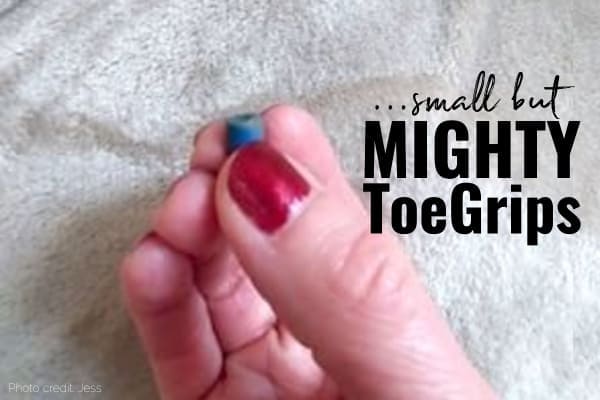 What would you tell other dog owners about ToeGrips® dog nail grips?
After about three to four weeks, they will fall off as the nail grows out and you will find them around the house. Trim the nail and reapply. Or, if they are worn and stretched, use a new one.
I think the biggest thing is that, while not horribly expensive, there is a cost associated. It is worth the price and is a good value. I made a commitment to buying 20 a month (one package). But in reality, for Dixie's needs, I will likely get two months out of one order.
Eventually, Dixie may need to wear all of them at once. But for now, ensuring her weak legs have full coverage and her other two legs have a few on seems to work well.
Also, your dog doesn't need to be struggling immensely to try these out.
In your opinion, why is dog fall prevention so critically important?
Fall prevention brings quality of life. ToeGrips® dog nail grips may be needed for your dog's life (like for Dixie) or for a short period of time.
I fostered a greyhound who was terrified of hard floors because he had never walked on them before. Toe grips would have helped him in a huge way as he settled into the life of a pet versus working dog. I have had dogs with injuries or illness that has caused instability on hard floors. Having toe grips as an option would have helped in that recovery.
Did you have any apprehensions about trying ToeGrips® dog nail grips?
My worry was that this would be one of those internet products that you pay for, then they take forever to arrive, and don't work well—with no customer service support.
That is not the case. They arrived quickly, applied easily and worked well. When I was not sure of sizing, I messaged you [the ToeGrips team] and they did a great job getting back to me quickly.
Is there anything else you'd like to add?
I love seeing the grip zone wear on the grips that fall off. It shows me they are working. Just like tires or running shoes, they (ToeGrips® dog nail grips) show wear because they are working correctly.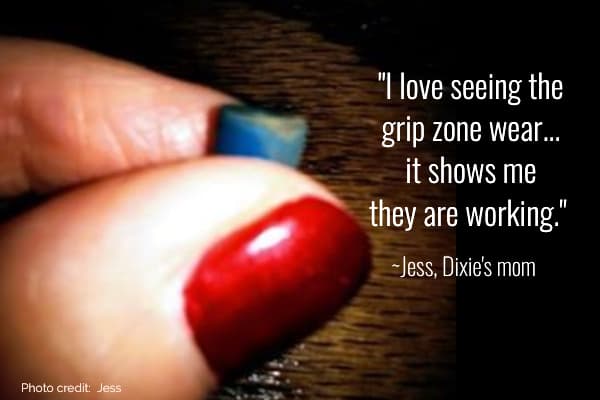 Look at the wear in the grip zone! (See photo above.) No wonder my Dixie adores these little "sneakers"— mini running shoes for my old faithful running buddy. "
Celebrating Dixie and her mom
Every member of the ToeGrips team celebrates Dixie's success and Jess' love for her dog. As Jess so eloquently explained, preventing dog falls and injuries is critical for happier, healthier, and longer lives for our canine companions.
Finally, we're glad ToeGrips® dog nail grips can play a "small but mighty" part in keeping Dixie out on the hiking trails with Jess, so that they can continue enjoying many more adventures together.
Every dog has a story. We'd love to hear yours!
If you'd like to be featured in an upcoming article, please share your dog's story in the comments section below. We celebrate every ToeGrips® dog nail grips success story and may choose yours to appear in an upcoming post.