Do you want answers on how to relieve arthritis pain in dogs? Many of our senior dogs deal with mobility issues and joint pain from arthritis. But what is good for arthritis pain in dogs? What are the best medications? Integrative veterinarian Dr. Julie Buzby shares her multi-modal approach to pain management for canine arthritis. Your ultimate guide to medications, supplements, diet, and at-home modifications is here. Let's get started.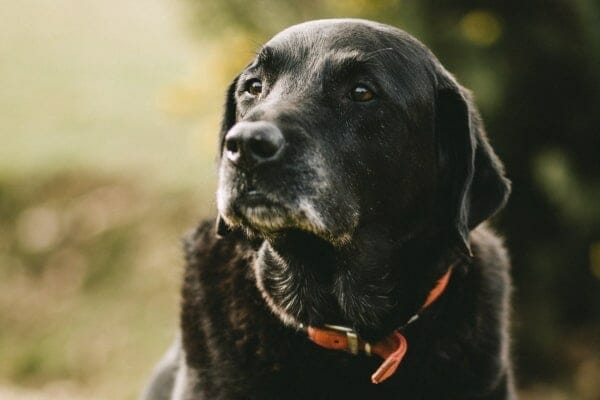 I recently acupunctured a 13-year-old Sheltie whose mom had heard that acupuncture was an effective way to relieve arthritis pain in dogs. I sat with the Sheltie lying at my feet as her mom described the dog's "clicking" in the hind legs and difficulty getting up off the floor. One of the questions I asked was, "Is your dog on a joint supplement?"
When her mom responded with a no, I had to conceal my excitement. The only place we had to go with this dog was UP!
Though I did perform acupuncture on the dog that day, we also talked about a host of other options for treating her senior dog's arthritis pain including supplements, medications, and alternative therapies. Why? Because the ideal way to relieve arthritis pain in dogs is through a multi-modal (or combination) approach.
Relieving arthritis pain in dogs: Why a multimodal approach is critical for your arthritic dog
I like to explain "multi-modal" as taking a "1 + 1 + 1 equals 5" approach. In other words, by using a combination of therapies for canine arthritis, you can supercharge the outcome through a collective effect. It's harnessing the power of synergism.
In our culture, the knee-jerk reaction for treating a painful condition such as arthritis—also known as osteoarthritis (OA) or degenerative joint disease (DJD)—is taking medication to alleviate discomfort. And while medication is absolutely an important part of relieving arthritis pain in dogs, there are so many more options that can help dogs feel and move better.
Since arthritis in dogs is not a curable condition, a flexible approach that incorporates medications, supplements, exercise, diet and weight management, and alternative medicine is optimal. Ultimately, the goal is excellent quality of life and good mobility with minimal pain for your dog.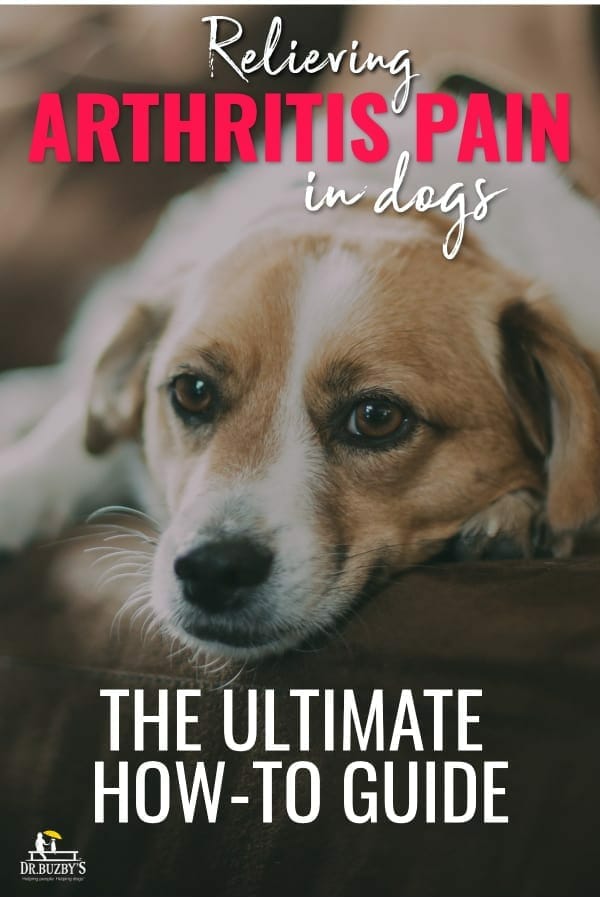 As promised in Part I of our series on signs of arthritis in dogs, I'm following up with the heart of the message—how to relieve arthritis pain in dogs. I'd recommend grabbing a cup of coffee and propping up your feet for this thorough overview.
Medicine for arthritis in dogs
First, let's discuss medications for dogs with arthritis as part of a multimodal approach to therapies.
Non-steroidal anti inflammatories (NSAIDs)
NSAIDS are the oldest and most frequently used medications for primary treatment of arthritis in dogs.
At one time, over-the-counter aspirin was regularly prescribed for dogs in pain. And you can still find it available through online pet pharmacies, which frankly causes me distress. This is because more potent and safer canine-specific medications have largely replaced the use of aspirin in veterinary medicine.
Aspirin inhibits platelets, which are cell fragments critical to blood clotting. The anti-clotting effect of aspirin lasts a week or longer. Aspirin can also interact with the medications veterinarians use and lead to GI ulceration. So if a client gives aspirin at home—even one dose—I'm hindered from prescribing safer, more effective veterinary NSAIDs for 7 to 10 days AFTER the last aspirin dose.
If you take away nothing else from this article, remember this: Do not administer aspirin to your dog for pain!
NSAIDs work by downregulating inflammatory mediators in the body called prostaglandins. PGs, as they are known, are responsible for many normal body functions. PGs regulate acid secretion in the stomach and blood flow to the kidneys, as well as mediate inflammation.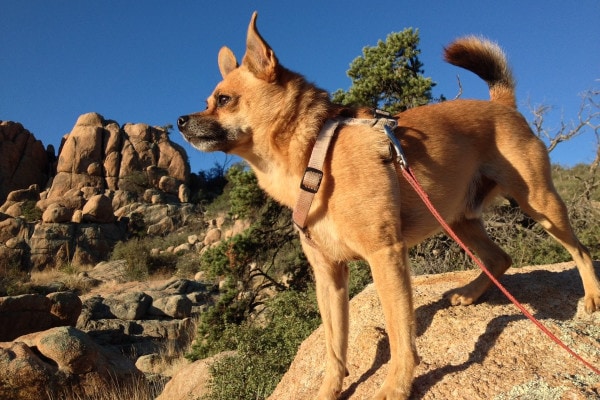 Common NSAIDs for relieving arthritis pain in dogs
NSAIDs are very effective at controlling pain. The most common ones in veterinary medicine include carprofen, meloxicam, deracoxib, and firocoxib. These work by decreasing inflammatory prostaglandins. The problem with these helpful drugs is that they can also downregulate the good PGs that are needed in the body—the ones that impact the stomach and kidneys. This explains why tummy upset/ulceration and impaired kidney function are the two main side effects of NSAIDs that vets worry about.
If your dog is placed on one of these medications long term, your veterinarian will likely want to monitor kidney and liver values, as well as blood cell counts, at least every six months. While these drugs are considered very safe overall, it is important to monitor for changes and be proactive about addressing concerns.
Galliprant®
A focus of NSAID research is finding drugs that specifically target the inflammatory mediators and do not interfere with the other "good" PGs. A newer medication on the market, Galliprant® (grapiprant), is very specifically targeted at a particular inflammatory mediator called EP4 PG. Thus, this drug is considered to be more gentle on the kidneys.
Since it is newer to the marketplace, Galliprant® remains under patent, so only the brand name is available. While expensive, it can serve as an excellent choice for dogs with preexisting organ dysfunction or in cases where ongoing monitoring is not feasible.
It's important to note that while NSAIDs are frequently the first line of treatment for arthritic and painful dogs, this is not necessarily the best first step. Motivated by compassion and concern, we often seek a "quick fix" for what ails our beloved canine companions. Unfortunately, there is no quick fix for arthritis.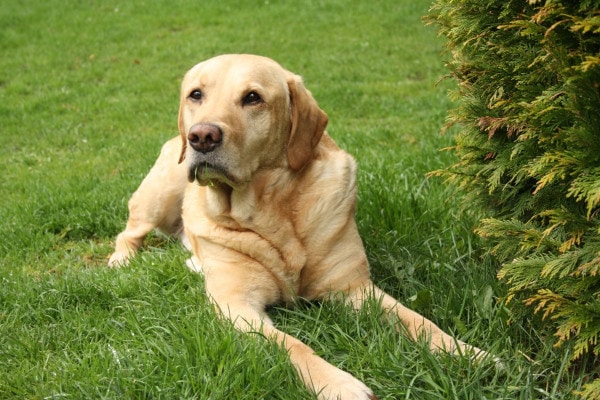 While NSAIDs may play an important role in treatment, dietary changes, exercise, modifications of your dog's environment, and additional medical therapies can all be helpful BEFORE NSAIDs are prescribed. Some studies have even shown that NSAIDs may destroy chondrocytes—the cells responsible for producing joint cartilage. This can actually cause arthritis to worsen.
Other medications
Gabapentin
Frequently used in human medicine to control seizures and treat nerve-related pain, gabapentin for dogs has been making waves in the veterinary medicine scene over the past decade. It has proven excellent in a variety of ways, including as a sedative for stressful procedures and possibly as adjunctive pain control.
The mechanism of action by which it treats pain is not fully understood, but it seems to help dogs most with pain from the nervous system (neuropathic pain). I especially love it for medical management of intervertebral disc disease (IVDD). Also, it has a large safety margin, so the dose can be adjusted according to a patient's needs.
Tramadol
In recent years, the effectiveness of tramadol for pain control in canines has come into question. Tramadol mimics the activity of opioid medications like morphine, as it binds to the same receptors in the central nervous system. Because of this, it is classified as a controlled substance like opioids. It is questionable whether dogs can metabolize tramadol into its active form, which is what imparts the pain control effects.
According to recent studies, tramadol for dogs may not provide adequate pain control when used as a single agent. However, it may provide more benefit when used in conjunction with other pain medications as part of a multi-modal pain management protocol.
In a recent interview with Dr. Ralph Harvey, a specialist board certified by the American College of Veterinary Anesthesia and Analgesia, he explains how tramadol may have a different mechanism of action to help dogs. For more information, please listen to my podcast, Managing Pain in Dogs With Dr. Harvey.
Polysulfated glycosaminoglycan
Polysulfated glycosaminoglycan (Adequan for dogs) is an injectable medication that supports cartilage health. Cartilage lubricates joints, and breakdown of cartilage leads to arthritis. Polysulfated GAG has been shown to reduce inflammation and potentially slow the progression of arthritis by reducing cartilage breakdown. These injections can play a beneficial role in a multi-modal pain management protocol for arthritis in dogs.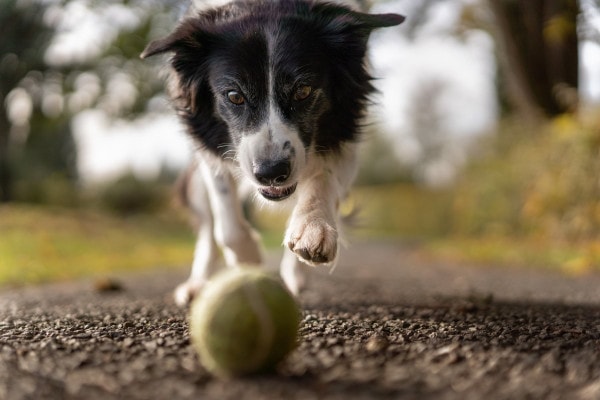 Amantadine
You might be surprised to read that amantadine is actually an antiviral agent against Influenza A in humans. As it turns out, it also has nMDA antagonist properties, which seem to make it helpful in combating discomfort. nMDA receptors are found throughout the central nervous system. When neurotransmitters bind these receptors, chronic pain can be worsened.
Amantadine antagonizes those receptors and theoretically downregulates the sensation of pain. It is thought to be most helpful in chronic pain states, which is what arthritis and joint pain in dogs represent. Studies are lacking in veterinary medicine. But in cases where the pain is poorly controlled with conventional treatments (NSAIDs and opioids), amantadine might be a useful addition to other medications.
Supplements for managing arthritis in dogs
Next, let's look at supplements as part of our multimodal approach to managing arthritis pain in dogs.
Glucosamine Chondroitin
Much has been made of this supplement in both the human and veterinary worlds. There is scientific debate whether oral glucosamine and chondroitin, the two most common ingredients in joint supplements, are absorbed and improve joint mechanics. Personally, I believe the case is strong that these compounds increase the production of joint fluid and promote health of the cartilage that line the joint surfaces.
While glucosamine and chondroitin aren't necessarily "the magic bullet," they are an important component in the multi-modal management of arthritis in senior dogs. Further, because the two supplements are virtually harmless, there is no reason not to try them, either as a preventative or treatment. I'm a big fan of "can't hurt, might help" therapies.
Dogs may respond differently to different products, expressing a type of individual variation, much like humans. Some people respond better to certain supplements or medication than others. Once starting a product, I recommend a 30-day trial for my patients. There are several options when you purchase a "joint supplement" and quality varies significantly.
Quality matters, so consult your veterinarian before choosing a joint health product. In addition to the active ingredient list, there are also other bioactive compounds which can be present and helpful along with glucosamine and chondroitin, such as MSM (methylsulfonylmethane), avocado/soybean unsaponifiables (ASU), and herbs.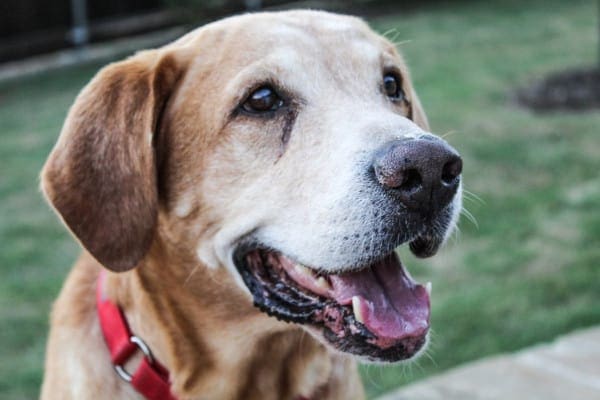 Omega-3 Fatty Acids
Omega-3s reduce inflammation throughout the body, benefiting skin, eyes, bladder, brain, and joints. Their anti-inflammatory properties make them appropriate for many conditions. I recommend Omega-3 supplements for all of my arthritic patients. Multiple scientific studies have shown that dogs with chronic osteoarthritis who were fed omega-3 fatty acids demonstrated improvement in their pain levels and arthritic conditions.
Turmeric
While you might think of turmeric in terms of the kitchen, there is plenty of research in human medicine to support its anti-inflammatory effects. Currently, there is not much literature on the use of turmeric in dogs. However, it is anecdotally reported to be a useful adjunctive therapy. In other words, one that "assists" the primary treatment.
As with all supplements, sourcing turmeric should be done through a company with good internal quality control. Choosing a veterinary product is important. Speak with your vet about which turmeric supplements he or she recommends, and remember not to give your dog over-the-counter medications or supplements without veterinary guidance.
Diet and weight loss to help manage arthritis pain in dogs
Next, let's look at the importance of diet and weight loss. Maintaining your dog at a healthy weight is imperative for managing pain. Excessive weight on joints can exacerbate arthritis.
But how do you know if your dog needs to lose weight? Purina offers the Body Condition Score chart, which you can find in my article on how to canine body condition score your dog along with my video demonstration.
In general, when lightly running your fingers along your dog's ribs, you should be able to feel them. The same is true for the spine—you should be able to palpate the spines of the vertebral bodies with gentle downward pressure (press very gently if your dog may have back pain!). Lastly, when looking at your dog from above and behind, he or she should have a tapered waist.
This varies by breed, of course. A Labrador Retriever at a healthy weight will not have as clearly defined a waist as a Greyhound. So please keep in mind that these are generalities. Your veterinarian can help guide you in proper body condition for your dog.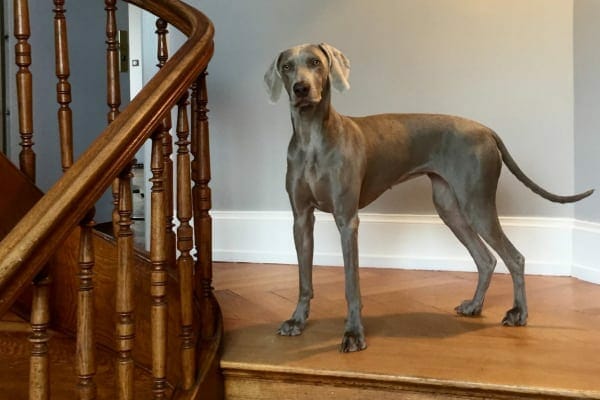 Gentle, regular exercise
If weight loss is in your dog's future, there are two important approaches. The first is gentle and regular exercise. Exercise actually helps arthritis by preventing the dog's joints from becoming stiff. Avoid becoming a weekend warrior, however, as this can cause pain for your dog. Exercise should be daily and at a consistent pace that your dog will tolerate.
Diet restriction
Diet restriction is the second important step in keeping your dog slim as a way to help manage arthritis pain. An easy way to reduce calories is to avoid unhealthy dog treats. Many widely available dog treats are the "McDonald's" of dog food—delicious but full of empty calories.
Sharing our food with our dogs may seem like a kind thing to do, and it can be hard to say no to those pleading puppy dog eyes, but try to refrain from giving your pup a whole lot of people foods. Commercial dog food is well balanced—it has all the nutrients your dog needs. Adding in people food can pack on the pounds. Also, remember that not all human food is safe for dogs to eat.
Talk to your vet about treat alternatives that are safe and healthy.
Caloric restriction can also help. The Pet Nutrition Alliance is an excellent resource for a weight loss plan, although any plan should only be undertaken with veterinary supervision. Thankfully, there are many excellent weight loss diets on the market for our dogs.
Making home modifications to help ease your dog's arthritis pain
Now that we've covered medical management, let's look at what you can do at home to help your arthritic dog. Slick surfaces like hardwood and tile floors, stairs, and furniture can prove difficult for painful pets. You can make your dog much more comfortable by considering some simple home modification approaches. Even something as simple as a soft dog bed to lie on can help.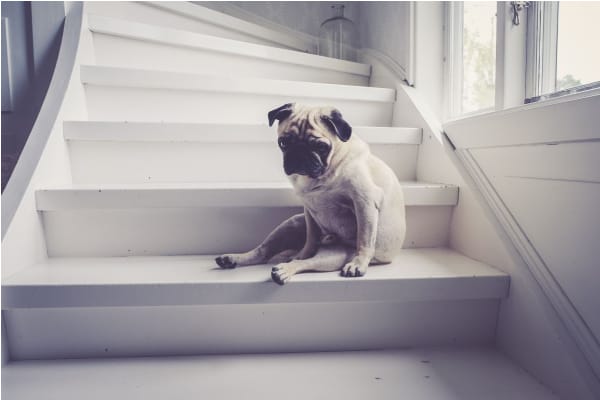 Here are five at-home tips if your dog is suffering from arthritis:
If you have steps in your home, consider "taping" the edges of all of them. The tape will serve as a visual guide for your dog.
At night, leave a nightlight on if your dog is prone to wander. Older dogs may have a harder time seeing in low light conditions.
If your dog likes to sleep on the bed or couch, purchase a set of dog stairs to make access easier. Jumping on and off furniture can be painful and dangerous, especially for dogs with back problems.
Outside the house, you can use short ramps to lessen climbing onto or off of porches, as well as to help your dog into the car.
If your senior dog slips on the slick floors of your home, ToeGrips® dog nail grips may be the ideal solution. Slipping and sliding not only takes a toll on a dog's body, but walking on hardwood and tile floors can become intimidating, which clearly impacts quality of life. Applied to the dog's toenails, ToeGrips® dog nail grips help a dog walk on slick surfaces and can dramatically improve mobility. For more information, please read ToeGrips reviews from dog parents like you.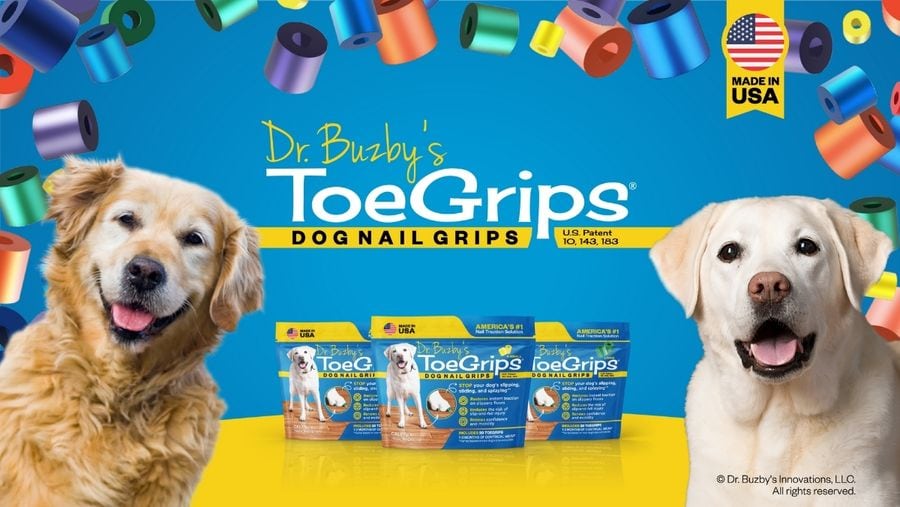 Alternative therapies: Taking a holistic approach to managing arthritis pain in dogs
Alternative therapies such as physcial therapy and acupuncture are an important aspect of taking a multi-modal approach to relieving arthritis pain in dogs. Let's take a look at these therapies next.
Acupuncture
Acupuncture is a large part of traditional Chinese medicine, and it is used the world over.
The theory behind acupuncture relies on energy flowing through the body (qi). It is aligned along meridians. Using needles, these meridians can be stimulated to impact the flow of qi. While this belief system is controversial, there is scientific explanation behind it, such as stimulation of nerve receptors in the region to relieve discomfort.
As a veterinarian who practices acupuncture, I believe that—like all pain management—it should be used in adjunct with other treatments. For more information on canine acupuncture, please visit the International Veterinary Acupuncture Society's website. (As an aside, IVAS is also the organization where I received my training.)
Physical therapy and rehab
This might be one of the most helpful and underutilized tools available in treating arthritis in dogs. Thankfully, it's one of the fastest growing aspects of veterinary medicine. Veterinarians are quickly recognizing the benefits of physical therapy for animals—which includes weight loss and mobility management for arthritic dogs.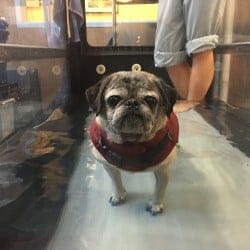 Underwater treadmill therapy is a gentle form of exercise that helps with mobility and pain. The therapy allows the dog to exercise without overdoing it because the water supports the dog's body mass as he or she is walking.
More and more rehabilitation centers are becoming available for pets. You can search for one near you on the American Association of Rehabilitation Veterinarian's website.

Canine arthritis home assessment tool
The website, Canine Arthritis Management, is a top-notch, extensive resource developed by a veterinary surgeon. Its mission is to help practitioners and pet owners treat dogs with arthritic pain. It approaches the multi-modal management strategy using an excellent pyramid-based outline. Additionally, you will find tools to help you assess your dog at home. (The site also provides guidance for veterinarians.)
Speak with your veterinarian about canine arthritis pain management
Finally, please find comfort in the fact that arthritis pain in dogs, while not curable, can be managed effectively. Your dog does not have to suffer! Talk with your veterinarian about the different treatment options available. A multi-modal approach that includes pain medications, supplements, weight management, and alternative therapies can often lead to significantly reduced pain in our arthritic dogs. Improving the quality of life for your beloved canine companion is possible.
What questions do you have about how to relieve arthritis pain in dogs?
Please comment below.