Should I Brush My Dog's Teeth? 7 Tips and a Helpful How-to Video
By Wayne Lilley and Zeppo, a dog who learned to love toothbrushing
"Should I brush my dog's teeth?" If you're debating whether a toothbrushing regimen is important (or even necessary) for your dog, please look to Zeppo for the answer. My dog will proudly show you his pearly whites! Zeppo excels in the "white teeth" department! It turns out that good old-fashioned tooth brushing was the dental care answer for our canine companion—as is the case for most dogs.
However, since very few dogs are known to have brushed their own teeth, we need to help them!
Should I brush my dog's teeth? A life lesson that I learned the hard way
Years ago, my wife and I learned the importance of dental care for our dog the hard way. It was a sad day when our vet described our elderly dog's teeth as beyond hope and possibly painful to him. From that difficult life lesson with our beloved senior dog, we resolved to start young Zeppo on a toothbrushing regimen at an early age. We made it part of our daily routine and faithfully brushed Zeppo's teeth each day at bedtime. Now, Zeppo loves the taste of the poultry-flavored dog toothpaste and he enjoys the daily toothbrushing routine.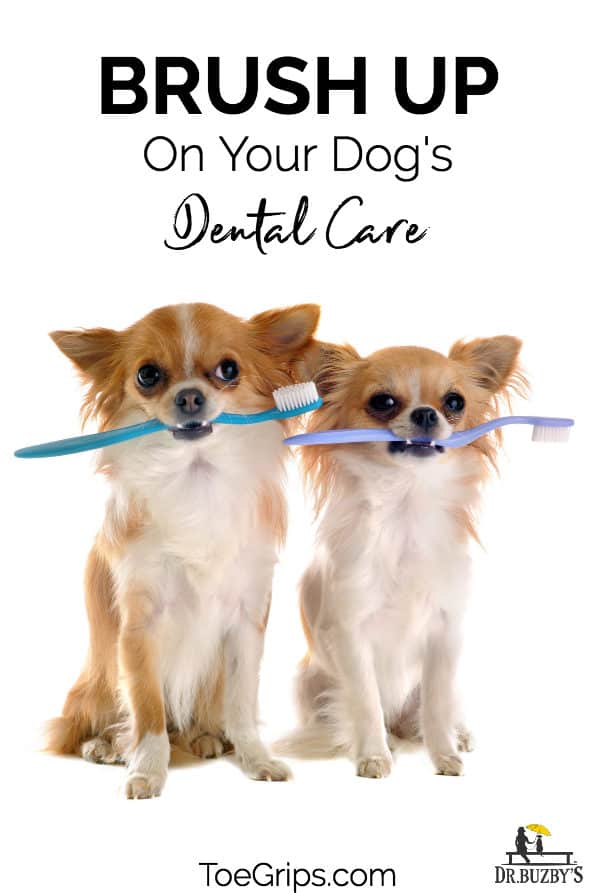 Seven dental care tips for brushing your dog's teeth
If you are ready to brush up on your dog's dental care, here are seven toothbrushing tips shared by Dr. Jan Bellows, owner of All Pets Dental in Weston, Florida. Additionally, Dr. Bellows is a consultant on the Veterinary Information Network and a mentor to Dr. Julie Buzby.
1. What should I use to brush my dog's teeth?
The key to brushing your dog's teeth is to get coverage and friction. To do this, you may choose to brush your dog's teeth with a toothbrush or a pet dental cleansing pad. Even plain gauze or Q-Tips are effective. Dr. Bellows prefers pet dental brushing pads, which provide a good source of friction. In deciding which tool to use for brushing your own dog's teeth, select the one that is most comfortable for both you and for your dog. Remember, the key to success is both friction and frequency.

2. What type of paste should I use to brush my dog's teeth?
You should choose a pet-safe toothpaste that is formulated for dogs. Most pet stores carry dog toothpaste or you can check with your veterinarian. While dog toothpaste is often "enzymatic," Dr. Bellows knows of no proof that this type of toothpaste is more effective. While the flavor of the toothpaste itself (Zeppo likes poultry flavor) helps your dog tolerate the brushing experience, it is the mechanical action of brushing that produces 95% or more of the results.
3. Can I use human toothpaste to brush my dog's teeth?
DO NOT use human toothpaste to brush your dog's teeth. Most kinds of toothpaste formulated for humans contain fluoride in high enough concentrations that, if swallowed daily, would be toxic to your dog. (Human toothpaste is not intended to be swallowed by anyone—humans or pets.) Additionally, human toothpaste may also contain Xylitol, a sugar substitute that is a dangerous and life-threatening toxin for dogs.
IMPORTANT ALERT ABOUT HUMAN TOOTHPASTE:
DO NOT use human toothpaste to brush your dog's teeth. It may contain substances which are toxic to dogs, including Xylitol.
Dogs will ingest toothpaste during toothbrushing.
4. How often should I brush my dog's teeth?
It is ideal to brush your dog's teeth two times daily after meals. One time a day is good. Two times per week is the absolute minimum to have any proven benefit. Also, keeping a routine is important to dogs. Tooth brushing is best done at the same time each day.
5. Which teeth should I brush?
Brush only the outside of your dog's teeth. Brushing inside and/or the biting surfaces will not hurt, but is unnecessary as unwanted plaque buildup in these areas is unusual.
6. How long should brushing my dog's teeth take?
Brush the outside surfaces of all teeth until you have brushed, wiped, or somehow applied a little friction on all of them. Typically, the process takes one minute or so.
7. What if brushing isn't enough?
When all else fails and you can't make brushing work or brushing is not enough, a water additive can help. The Vet Oral Health Council recommends dog::ESSENTIAL healthymouth™ anti-plaque water additive.
What else can I do to keep my dog's teeth healthy?
In addition to establishing a daily toothbrushing routine, Dr. Bellows shared the following important message about your dog's dental care:
"Avoid hard treats! Anything which is not flexible and a little bit soft does not belong in a dog's mouth. Hard dog treats break teeth!"
Click To Tweet
Ouch…I just threw away a few of Zeppo's toys! Sorry, Zep!
Finally, there is a side benefit of regular brushing! Your dog's oral exams, whether at home or are at the vet, are easier and more comfortable for him or her. Our at-home preventive care routine for Zeppo means his vet visits are easier, too!
---
Please watch this video of Zeppo demonstrating proper toothbrushing techniques:
Today, Zeppo loves brushing and will not go to bed without this important (and tasty!) part of his routine. It was not always easy, so we are happy to share our techniques with you!
Do you brush your dog's teeth?
We'd love to hear. Please comment below.
---