You love your grey-muzzled companion and want to give him or her the best life possible. But where do you find the best things for senior dogs that will help them through their golden years? As an integrative veterinarian with over 20 years of experience caring for aging dogs, Dr. Julie Buzby shares her "A list" of 10 essentials for senior canine companions. Help is here.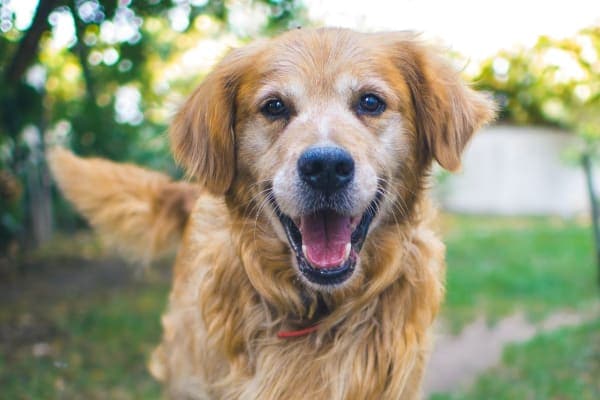 Raindrops on roses and whiskers on kittens…
Maria's not the only one with a list of favorite things.
If you share your heart and home with a senior dog, you probably already have your own list of favorite things that improve your dog's quality of life.

Since I'm certain you'd be willing to do almost anything to help your dog, I'm hosting a virtual "idea swap" of favorite things for senior dogs. Please join the conversation by sharing your ideas in the comments section below. I'll start by sharing my list.
This list represents the 10 essentials that I recommend almost universally for my geriatric patients.
Dr. Buzby's Innovations only endorses products we use and recommend. When you buy through our links, we may earn a commission.
My list of 10 favorite things for senior dogs
1. Orthopedic dog bed
Orthopedic beds make my list of favorite things for senior dogs because adult dogs spend over half of their lives sleeping. These dog beds can be very helpful for old, arthritic bones and joints. When you are 90 years old, would you rather sleep on a rug on the floor or on a supportive mattress?
My favorite dog bed for seniors is the memory foam style. But it's not my opinion that matters, it's your dog's! So there may be some trial and error in finding that "can't-live-without" dog bed for your grey-muzzled companion.
Most of my veterinary clients describe their dogs as having one particular favorite, which I can only assume is because it is comfortable. Often these are expensive memory foam dog beds. My clients consistently report that when they invest (and yes, these things are pricey!) in a high quality, supportive bed, their old dogs sleep more soundly through the night.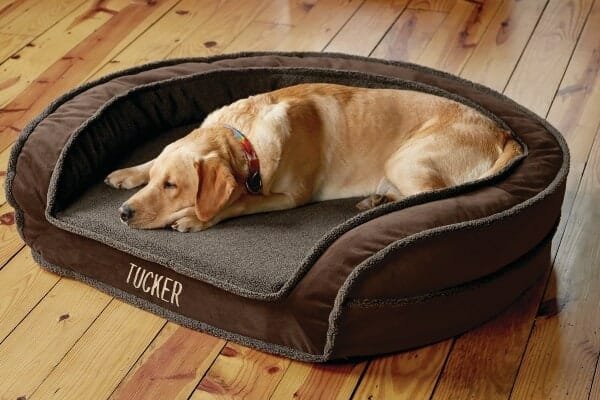 When choosing a dog bed, make sure to buy one that has a zip-off cover which is machine washable. Beds are available from many retailers, but Orvis has a great selection, great quality, and is a favorite with my clients.
For more options, check out this review from PetKeen on best orthopedic dog beds.
2. Stairs and ramps
Old dogs, old joints, old spines. Let's revisit the analogy of you navigating your home at 90 years old. Would you prefer to use a stool to get down from a high bed or simply hop off and hope for the best?
For many of my arthritic patients, jumping up on beds and couches is no longer possible, which can impact quality of life. But, jumping down is my bigger concern. I treat injuries in senior dogs' legs, necks, and backs that are related to jumping down and landing wrong. I had one poor senior patient rupture the cruciate ligament in her knee when she jumped out of the back of her SUV in our veterinary clinic's parking lot. (For the complete story, read Torn ACL in Dogs: From Diagnosis to Recovery.)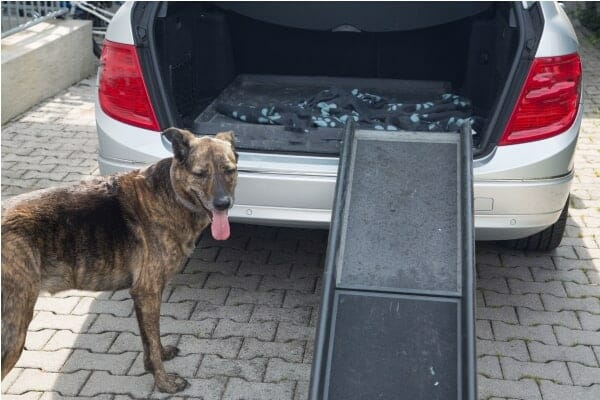 Using dog steps (or ramps) to get on and off furniture and dog ramps to get in and out of the car are practical tools that prevent injury and facilitate your dog's freedom of mobility.
3. Support and lifting harnesses
A towel.
That's what we used to assist aging dogs with mobility issues years ago. Then some innovative person, probably with chronic back pain from "toweling" their dog said, "We can do better!"

Dog lift harnesses make my list of favorite things for senior dogs for the sake of the dogs and their people. Here's why:

1. A lift harness helps the dog enjoy more mobility and activity. (Obviously the goal!)
2. The harness also helps prevent the pet parent from injury. (Ergonomics matter when helping dogs maneuver.)
For those of you who live with older dogs who need a lift to get up off the floor, or assistance walking, chances are you've already done damage to your back, and you've jury-rigged some type of system for helping your dog.
Good news! There are several harnesses on the market that take the "home remedy" aspect out of the equation. The two that I recommend for my patients are the GingerLead® Support and Rehabilitation Harness, and the Help 'Em Up® Mobility Harness. Both are well made and offer a patented design to help dogs with weak legs have more freedom and mobility.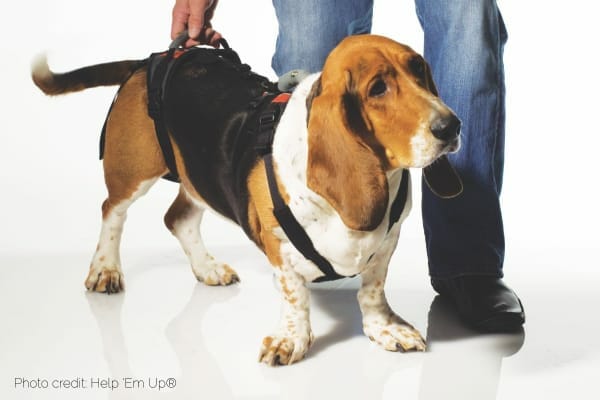 The Help 'em Up® harness is a lifting aid that straps around a dog's torso and legs and is designed to be worn all day. The GingerLead® dog support and rehabilitation harness is a walking aid that is quick and easy to put on and take off for support on-demand, but not intended to be left on the dog.
When I have canine patients who can't get around by themselves and require significant help to rise, I recommend the Help 'Em Up® harness as a semi-permanent accessory. For dogs that just need hind end support when rising or gaiting, the GingerLead® is a quick, comfortable, on-and-off solution.
4. Omega-3 fatty acids
With few exceptions, omega-3 fatty acids are safe and beneficial for dogs, especially seniors. Omega-3s reduce inflammation throughout the body, benefiting everything from hips to brain (plus the joints and organs in between). I recommend this supplement for my canine patients with arthritis, doggie dementia, kidney insufficiency, heart disease, and skin problems/allergies.
Omega-3 fatty acids are not often considered a "first string" choice for the management of arthritis in dogs. However, I contend that perhaps it should be. There is scientific data to back the anti-inflammatory effects of Omega-3 fatty acids, and you have virtually nothing to lose by trying them.

The only contraindication is that fatty acids can increase blood clotting times. For this reason, I recommend stopping them a week or two before a planned surgery and not using them if your dog has a bleeding disorder.
5. Senilife® for the older dog's aging brain
Over the years, I've had clients joke about their older dogs having dementia or senility or sundowner's syndrome, not realizing that they're probably exactly right!
Canine cognitive dysfunction (senility) is a bonafide diagnosis for senior dogs. It impacts quality of life for the dogs and their caretakers because symptoms include pacing, restlessness, and inability to settle at night. Their owners are often exhausted from the intensive care their canine companions require, especially overnight. Every little bit helps in improving quality of life for these dogs.
Years ago, I remember a well-respected veterinary colleague saying in one of her conference lectures that Senilife® was a game-changer during her own dog's golden years. I began using it in my practice shortly thereafter with good results. It contains Phosphatidylserine, Pyridoxine, Gingko Biloba, Reservatrol, and D-alpha-tocopherol (Vitamin E). These antioxidants have a protective effect in the central nervous system to reduce symptoms of "cognitive decline." Senilife® can start to improve symptoms in as few as seven days. Also, it is considered safe, even if your dog is on other medications or supplements.

According to a 2007 study in the Journal of Applied Animal Behavioural Science, "Dogs treated with Senilife® showed a highly significant difference…Preliminary results from dogs on Senilife® showed a marked improvement of cognitive dysfunction syndrome related signs, even if the dogs failed to show a complete remission of symptoms."
I think this translates to mean: Senilife® may not be a miracle cure, but the product does help as claimed. And that's why it makes my list of favorite things for senior dogs.
6. Glucosamine and chondroitin (joint supplements)
There is significant debate in the scientific community over whether glucosamine supplements (and their "kin") provide any benefit to people and animals. I think advocates on both sides of the argument would agree that additional clinical studies would be ideal because the results are mixed.
However, I personally believe the scientific evidence which concludes that oral glucosamine and chondroitin, the two most common ingredients in joint supplements, are absorbed as intact molecules and improve joint mechanics. These compounds are thought to increase the quality of joint fluid and promote the health of the cartilage that lines the joint surfaces. To be more specific, glucosamine affects collagen production in cartilage and may actually have some anti-inflammatory properties while chondroitin counters enzymes that cause damage to joint cartilage.
I start my own dogs on glucosamine and chondroitin when they are middle aged to help protect their joints. But these supplements are even more important for aging dogs with degenerative joint disease. I tell my clients that it may take up to four to six weeks for results, but most see improvement within two weeks. Every single one of my patients with arthritis is on a joint supplement because there is potential for significant gain with very little risk. I've seen a few dogs experience mild gastrointestinal upset (like diarrhea and gas) from glucosamine supplements, but the vast majority tolerate them very well.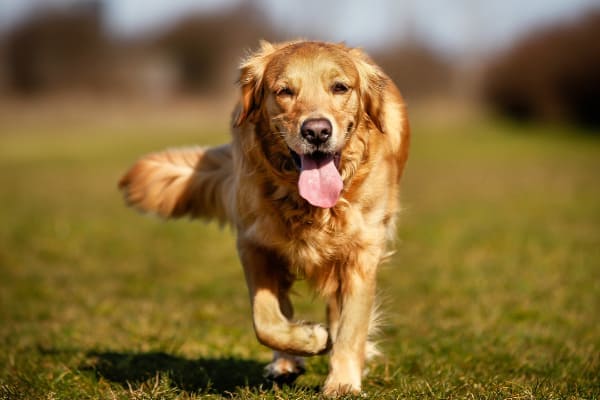 Because joint supplements are just that…supplements…they are not regulated by the FDA. This means that manufacturers don't fall under the strict regulation that drug manufacturers do, so what's on the label may not be what's in the bottle (in terms of quantity of active ingredients). Thus, quality varies significantly. I really think when it comes to choosing a joint supplement for your dog, it is "buyer beware."
Here's some general advice on choosing a joint supplement for your dog:
It's not necessarily wrong to use human joint supplements on your dog, but the dosing can be confusing.
Quality is key. More than likely you get what you pay for. High-quality products produced carefully are expensive. If you're getting a month's supply of something for $11, I'm worried.
Most joint supplements recommend starting with a "loading dose" for four to six weeks, and then reducing to a "maintenance dose." For my patients with severe joint disease, I keep them on the loading dose indefinitely.
Ask your veterinarian's opinion on which joint supplement she or he recommends and why. The major veterinary brands of glucosamine and chondroitin products tend to be of good quality, produced under strict standards, and tested in controlled studies.
There are other compounds that can be present in joint supplements, such as MSM (methylsulfonylmethane), avocado/soybean unsaponifiables (ASU), green-lipped mussel, and herbs. These can also be beneficial for your older dog.
7. Nonsteroidal anti-inflammatory drugs (NSAIDs) and other medications
I would NEVER advise giving Ibuprofen/Advil® to a dog, but this is the category of drug to which I'm referring when I use the term NSAIDs.
As an integrative practitioner who's certified in animal chiropractic and veterinary acupuncture, I'm here to tell you that sometimes medications are appropriate and necessary in the multimodal management of pain and mobility for senior dogs. I've seen first hand the giant leap of improvement dogs can make when they are given the opportunity to experience "better living through chemistry."
Veterinary science considers NSAIDS the gold-standard treatment for dogs suffering from musculoskeletal pain like arthritis. Starting your dog on veterinarian-prescribed NSAIDs can instantly "take years off his life." Of course, they are not without side effects and even contraindicated for some patients. In the article "What Are the Benefits of Long-Term NSAIDs?", Veterinary Practice News does a thorough job of discussing the pros and cons of long-term NSAID use for older dogs.
The concept of multimodal pain management—other options
Often used in combination with NSAIDS, pain medications like Tramadol, Gabapentin, and Amantadine can be helpful in restoring comfort and quality of life for "creaky" older dogs. If you live with a senior dog who is slowing down and is not on any medications, I would strongly recommend initiating a conversation with your veterinarian about your options…because there are many!
Related: How to Relieve Arthritis Pain in Dogs
8. Purina Bright Minds® nonprescription, over-the-counter dog food
I normally don't discuss pet food brands, but this one deserves a spot on my A-List of essentials for senior dogs.
Purina's website claims that Bright Minds® contains "enhanced botanical oils shown to promote alertness and mental sharpness in dogs 7+, with visible results within 30 days." I can't disagree with their claim. I've seen some pretty amazing changes in older dogs once starting this diet, though not all respond.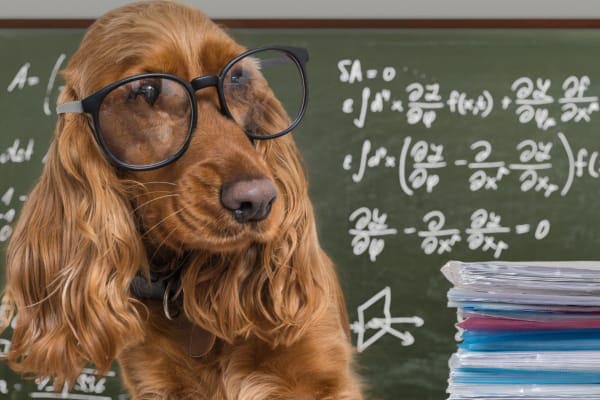 The premise of the diet, which was supported by a scientific study on aged beagles, is that when feeding a diet rich in MCTs (medium-chain triglycerides), the brain runs on an alternate energy source—ketones—and mental function improves. A 2010 study published by the British Journal of Nutrition described the mental acuity in dogs on this diet as "significantly better" over the control group. Interestingly, a 2015 study published by the same journal showed improvement for dogs with epilepsy fed a similar MCT-rich diet.

Although there are other diets on the market with a similar formula, namely Purina ProPlan NeuroCare® and Hills b/d™, I choose Bright Minds® because it is the only over-the-counter dog food of its kind. The others are veterinary prescription diets. It's important to note that the diet should be fed exclusively and not mixed in with regular dog food.
9. Dr. Buzby's ToeGrips® dog nail grips*
Dogs use their nails for traction. On earthen terrain, they flex their paws and dig in their nails like cleats. But on hard floors, their hard nails can't get a grip. Young dogs generally compensate, but due to muscular weakness, joint disease, and slower reflexes, older dogs often struggle to compensate. Slipping is scary and takes a toll on both mind and body.
For several reasons, I don't approve of dog boots/booties/socks as a traction solution for dogs. Throw rugs and runners, placed strategically throughout the home, used to be my recommendation for my slipping patients. But inevitably, the dogs would still go lie on cold hard floors and later face the challenge of getting up off those floors.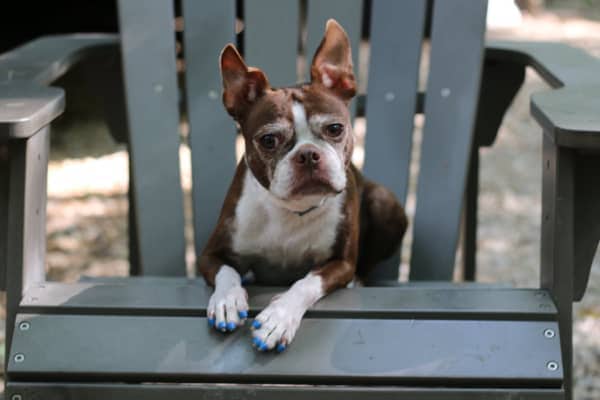 Then a client of mine presented me with the idea of using rubberized grips on dogs' toenails, leveraging the dog's natural traction mechanism. ToeGrips® were born—nonslip nail grips that fit onto dogs' toenails to enable traction, reduce the risk of slip-and-fall injury, and improve mobility and stability. ToeGrips have transformed my patients' lives and restored their freedom of mobility to enjoy their family uninhibited by slippery floors!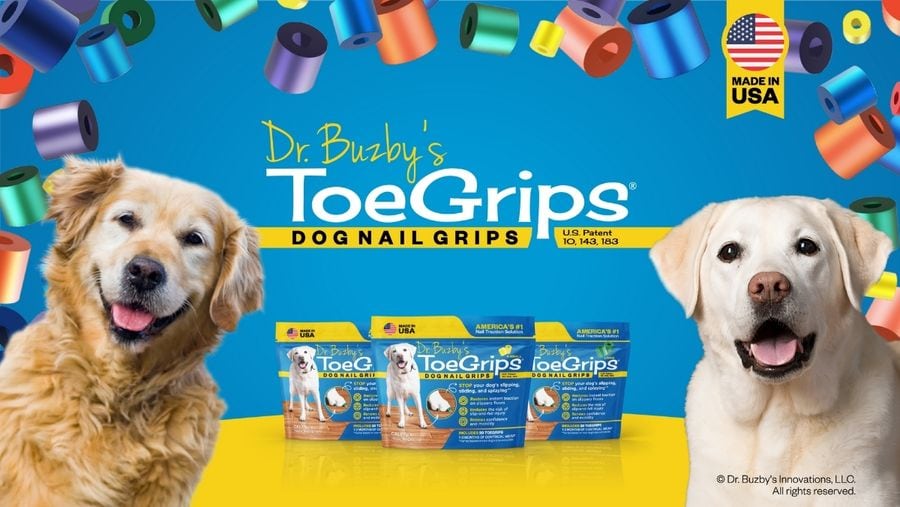 10. An abundance of love and companionship
While I'm sure I'm preaching to the choir, your love and companionship go a long way in keeping your older dog happy and content. Yes, walks may be shorter. Head rubs are gentler. But your dear old friend still loves every moment shared with you.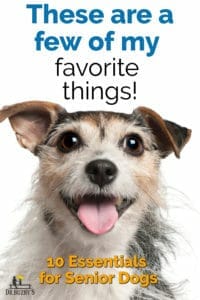 What things for senior dogs are on your list of must-haves?
Now it's your turn! Many innovative tools and products for older dogs are available to help you care for your grey-muzzled canine companion. Plus, it seems new inventions are coming on the market daily. Please share your favorite things for your aging dog in the comments below, so we can learn from each other. Swap and go!
*Disclosure Statement

ToeGrips® for Dogs—#9 on this list—is my patented product. I founded the company because they so dramatically improved the lives of my senior patients.
I am not paid to "endorse" any of the products on this list. This is my honest review and what I recommend for my geriatric patients.