Bringing a Stray Puppy Home: The Story of Jake the Hound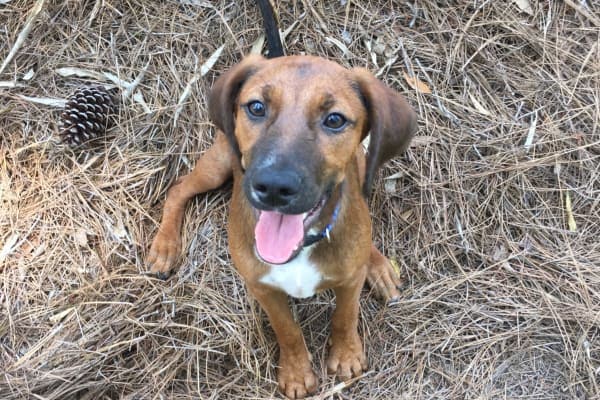 It began with a phone call from our new neighbors: "We found a stray puppy, actually two stray puppies, running down the road on our way home from work. What do we do?"
The puppies were in poor condition. Skinny and bony. Covered in fleas and ticks. And they had scaly, scabby skin issues.
In our neighborhood, dog owners know that they can call me when they need advice. While I'm an integrative veterinarian and founder of ToeGrips, I'm just as happy to be "the vet next door." I gave the new neighbors several suggestions for good rescues along with our local animal control—as the last option. It was important to get the stray puppies the care that they needed and a good long-term home.
Fortunately, the new neighbors didn't need to locate a rescue. They had friends who quickly offered to take the stray puppies. A private adoption was in the works. The puppies would begin a new life with a new family in Tennessee!
At least that was the plan.
Sometimes change is a window of opportunity…
One morning as I looked out my window, I saw puppies in my backyard. They looked strikingly similar to the stray puppies that were on their way to their new home. My kids and the dogs were all happily rolling around in our yard.
I called the new neighbors and learned that the adoption had fallen through. Animal control would be picking up the stray puppies soon. But, just as life has twists and turns, so did the journey for these two hounds. Through a chance conversation the new neighbor had with a coworker who happened to be looking to adopt, the two red pups would have homes again!
Now, mind you, all this time these adorable stray puppies were in my backyard. I had done a good job at emotionally distancing myself since I knew they were already adopted. Not to mention, I have eight kids and two dogs. Our house was full.
But that begs the question—are our houses or our hearts ever really full? For those of us who have had one dog and then two, or two dogs and then three, I don't need to tell you that there's always room for one more. And the other thing I don't need to tell you is that it's never the right time. Just as there is never the right time to have a baby, there's never the right time to adopt a new dog. You just have to jump in with both feet.
A temporary home in my backyard…
Our neighbor said that the soon-to-be owner was on her way to pick up the dogs, but asked if the two little tail-waggers could stay in our yard for another hour or so until their new owner arrived. I was happy to do that. My kids were really happy to do that.
The two strays, a boy dog and a girl dog, looked to be Redbone Coonhounds. For those of you who are familiar with the book Where the Red Fern Grows (one of my favorite reads as I was growing up), they looked like Little Ann and Old Dan.
Feeling a bit in love with the two pups, I recalled childhood memories of reading that book 78 times. (Incidentally, if you've never read the book, it's a must-read for dog lovers. I'd give it a five out of five tissue box rating. There's your fair warning.) As I watched the stray puppies (who were about five months old based on their puppy teeth), I observed their personalities:
The girl was spunky and off getting into trouble. She would wander off and my kids would follow her to bring her into the fold. She was the explorer.
The boy was a lovebug. He wanted to cuddle and be carried around by my kids.
My eldest daughter was observing the two stray puppies and said,
Mom, this little guy has a phenomenal temperament. He's just so sweet. I really think we should think about keeping this dog."
Wait! I was supposed to be babysitting these dogs for 60 minutes until their soon-to-be mom came to get them! At this point, I was still standing on the porch, so I headed down to the yard and met the two pups. I held the wriggling pups and loved on them. I agreed with my daughter. This boy was special.
We played for a little bit more, and then my husband came out on the porch, and I said…
"Honey, can we get another dog?"
I called the new neighbor back and explained the situation to her. We'd fallen in love with the boy dog. How would the soon-to-be-owners feel about adopting one dog? While our new neighbor knew the soon-to-be-owners had planned on adopting both, we decided I should simply call them.
"I know this is strange, and I don't want you to feel put on the spot. Obviously, whatever you feel is best is fine. But my kids have fallen in love with one of the dogs. I'm wondering how you'd feel about adopting just one?"
And she said, "Oh, honey." (Mind you, I live in the South.) "Oh, honey, that would be perfect. We only wanted one dog anyway."
So, I think she was being a good Samaritan when she had planned to take both puppies! And then she said,
"But here's the thing. My family really had their hearts set on the girl dog."
I think I screamed in her ear as I said, "We had our hearts set on the boy dog. This is perfect."
And I don't know what came over me, but I asked this lady…
"Do you believe in God?"
And she said, "I sure do."
And I said, "Well, me. too. And I think this is nothing short of a miracle."
The road to good health: What to expect when bringing a new puppy to the vet
Before bringing our new puppy (soon to be named Jake) into our home, I took him to the veterinary hospital where I practice and I gave him a really, really good warm bath. I picked all the ticks and fleas off of him. It was important to start him on the path to good health. If you're adopting a puppy, a visit to the vet is critical. Here's what you might expect:
1. Checking a stool sample and deworming
It's very common for puppies to have worms. Puppies can get worms or other parasites in utero or from the mother's milk. It's important to know that certain types of internal parasites in dogs, namely roundworms and hookworms, are transmissible to humans through a puppy's feces. Sometimes parasites may even be transmitted to humans by stepping barefoot in soil where feces (which could contain hookworm larvae) has been.
When you bring a new puppy into your home, typically your veterinarian will do a series of deworming. It's extraordinarily safe, dirt cheap, and a really good insurance policy. If you're adopting a dog and the previous owners say that he "got dewormed once," that's not enough. For my patients, I check a stool sample. However, even if it's negative, my policy is to do a routine prophylactic deworming, especially since internal parasites are zoonotic, meaning they can be passed from animals to people.
2. Starting on a heartworm preventative
Since our new puppy was around five months old, I started him on a heartworm preventative right away. Theoretically, he couldn't have any adult heartworms in his body. (It takes about six months to complete the lifecycle—for adult heartworms to grow from microfilariae in the blood.) So I didn't need to test him. Most monthly heartworm preventatives not only protect against heartworm disease, which is so important, but they also protect against most internal parasites. A monthly heartworm preventative is key. For more information about heartworm disease, please check out 10 Heartbreaking Heartworm Myths and the Truth Dog Owners Need to Know.
3. Starting a regimen of oral flea and tick medication
As for all the fleas Jake had, I gave him a product called Capstar, which is a quick-kill for fleas. It kills them within 30 minutes. However, it doesn't last long. So I followed up with another oral flea and tick medication called NexGard. It's my preferred flea and tick medication because it works so well. Since my kids are always hugging, sleeping with, and spooning the dogs, I prefer oral medications to spot-on products that are applied to a dog. I don't want my kids' faces in those chemicals, let alone on the dogs. With oral flea and tick medication, there is the possibility of it upsetting a dog's stomach. But I think serious side effects are pretty uncommon.
4. Giving your new puppy time to adjust
Certainly, there's stress in transition. Change is hard on all of us. Before I put more things in Jake's system to make him a healthy little puppy, I let some things clear out of his system. Additionally, it took several months for his skin disease to completely heal and for him to gain muscle in place of the bony skeletal look that he had. It was our honor and our privilege to give him a home. Now he has such a happy life with six boys who love to take him in the woods to go exploring.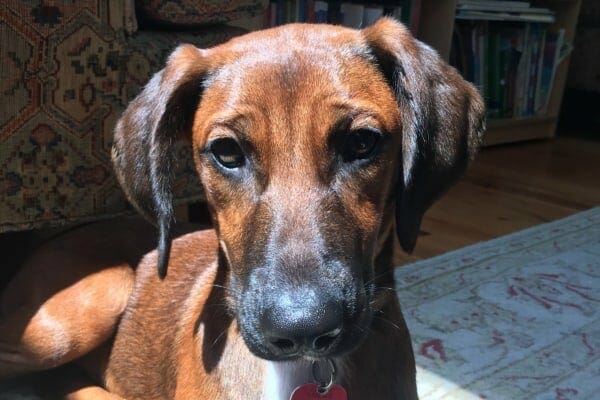 You've found a stray puppy? Here are 3 tips for bringing a dog into your home
1. Taking time to quarantine: Do not expose the stray puppy to other dogs in your household until you're sure he's healthy
Before you bring a new dog into your home, please quarantine him or her. I did not expose Jake to my other dogs until I had gone to the veterinarian. I gave him a complete physical exam, gave him basic blood tests, took a stool sample, dewormed him, and treated his fleas and ticks. Even then, when we brought Jake into our house, we kept him quarantined from the other dogs for a few days. It was important to know that he was not harboring any disease. If you're bringing a new dog into your home, please quarantine and make sure that he or she is fully healthy before introducing other canines.
2. Visiting your vet: Begin good preventative care immediately
Take the dog to your vet and begin good preventative care. Getting your new dog started off on the right foot will improve your dog's overall health and quality of life. (For more tips on making the most of your vet visits, please check out my podcast, Fear Free: Easier Vet Visits, Happier, Healthier Pets with Dr. Katie Berlin, and my blog post, 6 Secrets For Happier Vet Visits.)
3. Scanning for a microchip: Make sure the stray puppy doesn't already have a home
Finally, I want to mention microchipping. At the office where I practice, we have a universal microchip scanner. We scanned Jake thoroughly to make sure there was no evidence of a chip. He wasn't wearing any tags, he didn't have any tattoos, and he was in such horrible condition (as was his sister), that we think the two pups had been on the road for quite a long time.
If you find a dog, please have him or her scanned for a microchip. Make sure that you're not adopting a dog that already has another home. That would be a tragedy.
BONUS: Crate Sweet Crate
I'm a huge fan of crate training dogs. Our family has crate trained all of our dogs that we've rescued. They had zero socialization and zero care. Yet with some TLC, treats, and common sense, they crate trained over the course of days to weeks. Why am I such a big proponent of crate training?
If a dog ever has to be hospitalized, he or she is going to be in a crate–possibly hooked up to IV fluids. It's critical that the crate is a relaxing, familiar place for the dog. A crate trained dog has one less stress at the hospital.
Happy endings…
Finally, this story, which I also shared on The Buzby Dog Podcast, is dedicated to my eldest daughter who said to me…
Mom, I love that you do podcasts because when you're dead, I'll be able to listen to you talk for hours. But your stories are often about diseases in animals. Can you talk about something happier?"
And so this indeed is a happy-ending story especially for her.
To listen to my podcast, please tap the green play button below.
Do you have a question about bringing a new dog into your home? I'd love to hear. Please comment below.