Do you know why many vets call Addison's disease in dogs "the great pretender"? It's because this concerning condition can have very vague signs that look like a lot other diseases or sometimes like nothing in particular. Integrative veterinarian Dr. Julie Buzby invites emergency veterinarian Dr. Kathryn Williams to the blog to take an in-depth look at the symptoms, risk-factors, diagnosis, treatment, and prognosis of Addison's disease in dogs.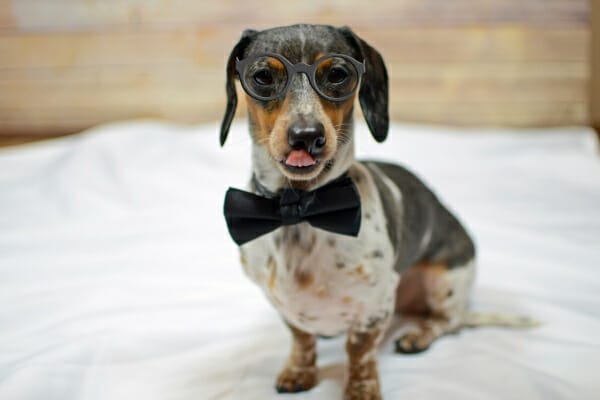 When people have visions of emergency cases, they may think of horrific wounds, CPR, and emergency surgical procedures. But in reality, the vast majority of my patients in the emergency room are there for vomiting and diarrhea. The list of potential causes for GI symptoms is long—pancreatitis, parasites, indigestion from eating something new, and many other things. Many times finding the cause is pretty straightforward. But, there are always cases like Annie's that remind us vets to stay on our toes.
Annie has a stomach ache (Or so I thought)
Annie was a 6-year-old female spayed Border Collie mix who presented for an emergency vet visit. Her parents reported that Annie had profuse vomiting and diarrhea overnight and seemed very lethargic. While going over her history, it quickly became evident that her parents took excellent care of her. She was up to date on vaccines, preventatives, and had no other health issues.
However, her dad sheepishly mentioned that she got ahold of a piece of bacon while they were out on a walk the day before. He had tried to get it out of her mouth but was unsuccessful.
On her exam, you could tell Annie did not feel well. She was very quiet and just wanted to lay on the ground. Her gums were tacky (sticky) and when I tented her skin, it stayed where I left it instead of snapping back into place. This meant she was severely dehydrated. Her belly was tense and uncomfortable on palpation. That wasn't surprising given her history of vomiting and diarrhea.
At this point, I was fairly certain this was either a severely upset stomach or a more serious condition called pancreatitis in dogs that was triggered by the bacon. I often treat vomiting and diarrhea as an outpatient case. But Annie was so lethargic that I recommended we keep her in the hospital for fluids and supportive care.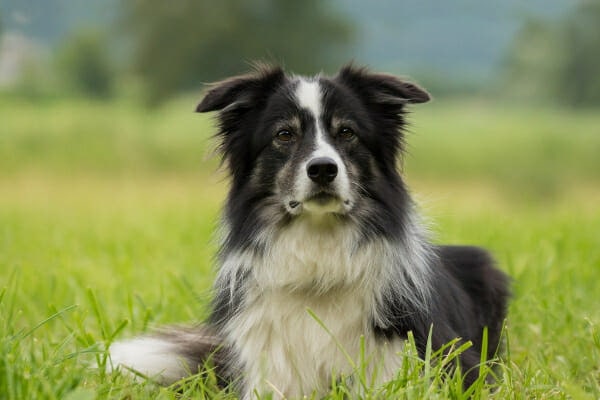 I also wanted to do X-rays in case she'd managed to snag something in addition to the bacon that was causing a blockage in her intestines. Plus, I thought it would be good to run blood work to check her red blood cells, white blood cells, blood sugar, electrolytes, and the health of her organs including her liver and kidneys.
The great pretender is revealed
I started Annie on IV fluids at a fairly aggressive rate while I waited for the laboratory results. When I got the results, her X-rays were perfect, and her blood work was, well, boring. In fact, a little too boring for a dog who was acting so sick. Interestingly, the only abnormality at all was that the levels of one of her white blood cells, the eosinophils, were high. These cells can become elevated with allergies, parasites, and, yes, Addison's disease!
I called the owner and recommended we do an in-hospital screening test for Addison's disease called a baseline cortisol. Of course, her parents agreed. I did let them know that this test only helps me eliminate Addison's disease from the list of possible causes. Reaching a definitive diagnosis requires another specialized diagnostic test.
After several minutes of waiting (and me staring down the machine to encourage it to go faster), I had the result. Her baseline cortisol was extremely low. Therefore, Addison's disease was moving higher on my mental list of culprits.
What is Addison's disease in dogs?
As you may have gathered, patients with Addison's disease have low cortisol levels (and often also low aldosterone levels, which we address soon). In fact, "low cortisol" is included right in the technical name for Addison's disease which is hypoadrenocorticism. "Hypo" means low, "adreno" refers to the adrenal glands, and "corticism" refers to cortisol production. To understand this disease a bit better, you need to first understand a bit about the adrenal glands and their function.
The paired adrenal glands, located next to the kidneys, are responsible for producing different hormones. These include glucocorticoids, such as cortisol, and mineralocorticoids, such as aldosterone.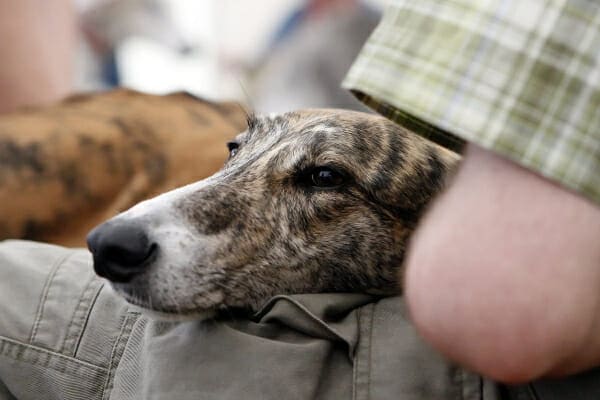 The role of cortisol in the body
You may have heard of cortisol, the "stress hormone," that helps your body get ready to burn fat and sugar in "fight or flight" scenarios. Like anything in the body, too much or too little cortisol is a bad thing. If the dog produces excessive cortisol, he or she has Cushing's disease in dogs. On the other hand, dogs who produce too little cortisol have Addison's disease.
The role of aldosterone in the body
One of the other main products of the adrenal glands, aldosterone, helps regulate important electrolytes in the body such as sodium and potassium. This hormone is equally important during times of stress because it causes the body to control electrolytes (mainly sodium) that would normally help the body retain water. This serves to stabilize blood pressure in case of injury.
As a result of their low cortisol and low aldosterone, dogs with Addison's disease cannot physically respond to stress in an appropriate manner. This can trigger a crisis when they go through a stressful period.
Atypical Addison's disease
Some dogs are deficient in both cortisol and aldosterone. This is the "classic" or "typical" form of Addison's disease. However, other dogs only have low cortisol. Their aldosterone levels are still normal. In that case, we say the dog has "atypical" Addison's disease.
What causes Addison's disease?
Auto-immune destruction of the adrenal glands (i.e. destruction by the dog's own immune system) is the most common cause of Addison's disease. In rarer cases, a tumor or damage to the pituitary gland (i.e. the structure in the brain that sends the signals to the adrenal gland to stimulate them to produce cortisol) can cause Addison's disease.
Additionally, medications that treat Cushing's disease such as trilostane and mitotane may overcorrect the body's excessive steroid production. This can lead to low cortisol levels. For this reason, and others, routine appointments for Cushing's disease monitoring are so important for dogs taking those medications.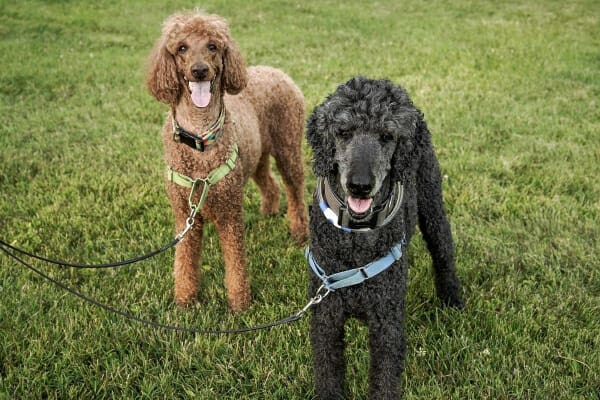 Who is at risk for Addison's disease?
Hypoadrenocorticism is most common in young to middle-aged female dogs. In fact, over 80% of dogs diagnosed with Addison's are less than 7 years old, and 70% are female. Any breed or mixed breed of dog can develop Addison's disease. However, it is more common in the following breeds:
Portuguese Water Dogs
Bearded Collies
Standard Poodles
Nova Scotia Duck Tolling Retrievers
Leonbergers
Great Danes
Labrador Retrievers
West Highland White Terriers
Rottweilers
Great Pyrenees
Pomeranians
Cairn Terriers
American Cocker Spaniels
What are the symptoms of Addison's disease?
There is a reason this disease is infamously known as "the great pretender." It has notoriously vague symptoms that can look like a host of other diseases. To make things more difficult, the symptoms can wax and wane, which can make it seem as if the patient has recovered even though the disease is still present.
Signs of Addison's can include:
Anorexia (i.e. lack of appetite)
Weakness
Collapse
Shaking/trembling
Mental depression
Weight loss
Poor body condition (Check out Dr. Buzby's blog Your Dog's Body Condition Score (BCS) to learn how to assess your dog's body condition)
Vomiting
Diarrhea, sometimes with blood
Increased thirst and urination
Abdominal pain
Dehydration
Melena (i.e. digested blood in the stool)
Weak pulses
Prolonged capillary refill time
Slow heart rate (To discover how to take your dog's heart rate and other vial signs, read Dr. Buzby's blog Keeping a "Pulse" on Your Dog's Vital Signs)
Low body temperature
Shock (i.e. a state of low blood pressure where the body isn't getting enough oxygenated blood to meet demands)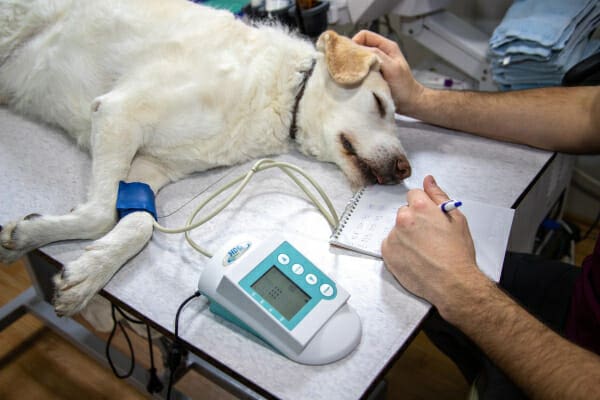 How is Addison's disease diagnosed?
As you learned in Annie's story, sometimes a vet will perform a basal (i.e. resting) cortisol level if he or she suspects Addison's disease. A basal cortisol level less than or equal to two mcg/dL is suspicious for Addison's disease. The next step would be to perform an ACTH stimulation test to definitively confirm the diagnosis. (This test is further explained in an article published in the Journal of Veterinary Internal Medicine on the use of basal serum cortisol concentration as a screening test for hypoadrenocorticisim in dogs.)
For an ACTH stimulation test, first the vet will draw blood to establish the baseline level of cortisol. Then, the vet will inject a synthetic hormone, Cortrosyn, into the vein and draw a second blood sample an hour later. The Cortrosyn mimics ACTH, the hormone produced and released by the brain to tell the adrenal glands that they need to produce more cortisol in a time of stress. In a healthy adrenal gland, the body will react accordingly and increase cortisol. Addisonian adrenal glands, however, will not respond sufficiently and cortisol levels will remain low.
It is important to run these tests prior to starting treatment, however, because the assay will read most steroids as cortisol. Dexamethasone is the only steroid that the test does not detect so your vet can safely give it prior to an ACTH stimulation test if needed.
Dogs who have the "typical" form of Addison's disease are also deficient in aldosterone. Since aldosterone normally excretes potassium and conserves sodium, dogs who lack aldosterone will have high blood potassium and low blood sodium. This typically shows up on routine bloodwork. Thus, diagnosing this aspect of Addison's disease does not usually require specialized testing.
What is the treatment for Addison's disease?
For a patient like Annie, who presents in a crisis, Addison's disease can be life threatening. The initial focus of treatment is to stabilize the patient.
Dogs with Addison's are often in shock and have low blood pressure, making fluid therapy a critical part of treatment. This will replace the fluid lost through vomiting and diarrhea and also help bring blood pressure back to normal. Often these dogs need hospitalization and IV fluids. They cannot physically drink enough water to make up for what they lost.
Dogs who have low aldosterone also often have dangerously high levels of potassium in the blood. Sometimes fluid therapy is enough to correct electrolyte imbalances. In other cases, the dog may need additional medications such as sodium bicarbonate, insulin and dextrose (a type of sugar), or calcium to help bring the blood potassium back to normal.
Also, Addisonian dogs often need some sort of IV steroids since their cortisol is so low. There are several steroid options available. If the vet is treating presumed Addison's based on a single baseline cortisol level, they need to remember to either run the ACTH stimulation test prior to giving steroids or to use dexamethasone, which is less likely to interfere with an ACTH simulation test.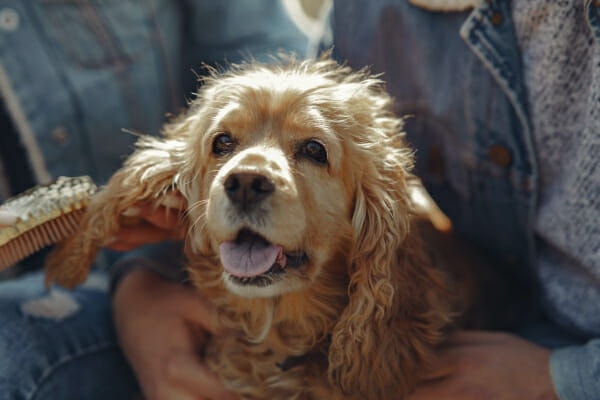 Long-term therapy
As you can imagine, medical treatment for Addison's disease is lifelong as the adrenal glands are unlikely to start working correctly again. Dogs will typical Addison's will need aldosterone and cortisol supplementation. These dogs may receive an injection of Desoxycorticosterone pivalate (also known as DOCP, Percorten, or Zycortal) every 25 to 30 days. This is a mineralocorticoid that helps regulate sodium and potassium by taking the place of the body's normal aldosterone production.
In other cases, your vet may decide to put your dog on oral fludrocortisone instead of DOCP. This medication has mineralocorticoid activity like DOCP and also some glucocorticoid activity (i.e. ability to replace cortisol).
When treating typical Addison's, all dogs on DOCP and approximately 50% of dogs on fludrocortisone also will need cortisol supplementation. Often, your vet will prescribe steroids such as prednisone for dogs to replace cortisol in the body. The goal is to taper these synthetic steroids to the lowest effective dose.
During times of stress such as travel or boarding, your dog may need more steroids (i.e. cortisol replacement) than during day-to-day life. Your vet can help you figure out how much you can or should increase your dog's prednisone during those times of stress.
Dogs with atypical Addison's have normal mineralocorticoid levels, so they only need cortisol supplementation. The same guidelines apply to them in terms of getting to the lowest effective dose of prednisone and increasing it during times of stress.
What does the future look like for dogs with Addison's disease?
The good news is that, overall, dogs with Addison's disease tend to do very well on the appropriate therapy. However, it can sometimes take months to get their sodium, potassium, and cortisol at the correct levels.
Dog parents need to be prepared financially and mentally for repeated trips to the vet for monitoring tests, rechecks, and DOCP injections (if that is how the vet decided to do mineralocorticoid replacement). Additionally, they need to be committed to lifelong medications such as fludrocortisone (if that was the mineralocorticoid replacement choice) and prednisone.
Parents of Addisonian dogs also should be on the lookout for return of the clinical signs of Addison's disease. This may indicate that the mineralocorticoid and/or glucocorticoid levels are becoming too low again. It is important to stay in close contact with the vet and promptly report any changes. Dog parents should be extra aware of situations that might be stressful for their dog and follow the vet's guidelines for increasing the prednisone dose during those times.
Despite all this, dogs with Addison's can live a very happy and normal life. So if your dog was recently diagnosed with Addison's, don't lose heart. There can still be many happy days in your future!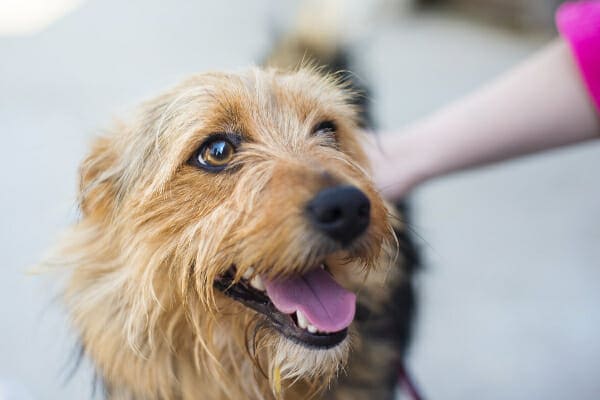 Back to Annie
You might be wondering what happened to Annie, and I am pleased to report that, like many dogs with Addison's disease, her story has a happy ending.
Annie's parents gave me permission to perform the ACTH Stim test to confirm that she had Addison's disease. It would take a couple of days to get the results back from the lab. In the meantime, I went ahead and started treatment for Addison's disease because I knew it would do more harm to wait than to move forward with treatment before an official diagnosis. Annie responded well to treatment in the hospital with fluids, steroids, and supportive care.
A couple days later, I got Annie's ACTH stimulations results. Both her pre- and post-ACTH cortisol levels were low. Annie was definitively an Addisonian. When I called her dad, he happily reported that Annie was thriving after treatment and enjoying the remainder of her vacation. In fact, she was back to her normal self!
I braced myself to deliver the news that she had Addison's disease and would need lifelong medication and careful monitoring. Thankfully, Annie's parents weren't phased by this news.
In fact, they had been reading up on Addison's disease while they waited for the results, and proactively scheduled an appointment with their regular vet. That way they could establish a game plan for longer term management when they got home from vacation.
Annie was a lucky pup to have proactive parents who took her to the emergency room when she was sick and took her diagnosis in stride. I am honored to have been part of giving her a new leash on life!
Have you faced an Addison's disease diagnosis with your own dog?
Please share his or her story.