A lethargic dog should stop devoted dog owners in their tracks — lethargy in dogs is often one of the earliest clues that something isn't quite right. Integrative veterinarian Dr. Julie Buzby shares 10 medical reasons why your dog may be lethargic and gives you the guidance you need if your beloved canine companion ever seems unusually tired, sluggish, or inactive.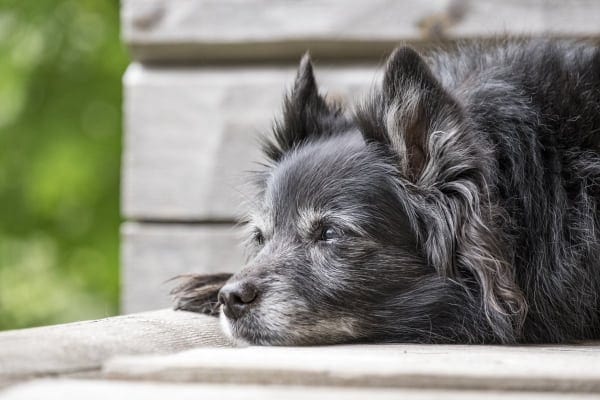 From a wagging tail to pleading eyes, your healthy dog is skilled at telling you how he feels without using a single word. But did you know your dog is also communicating with you when he's feeling lethargic?
It turns out that sluggishness, listlessness, and loss of energy are your dog's ways of telling you that he may need more than just a nap.
Is your dog lethargic or tired?
Of course, a little laziness here and there is nothing to be overly concerned with, but if you see a sudden shift in your dog's energy level, it may mean a trip to your vet is in order.
First, let's look at a few symptoms of a lethargic dog. Then I'll share 10 reasons why a senior dog—or any dog— might be lethargic.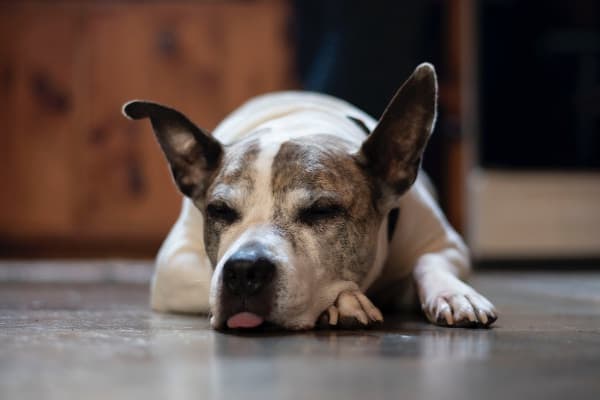 Symptoms of a lethargic dog
Lethargy in dogs is a general lack of energy or a feeling of sluggishness. Here are a few visible indicators of a lethargic dog…
Your senior dog hesitates to go for his usual walk outside.
He ignores his favorite toys and has no desire to play.
When you call him, he fails to come.
He stays in one place for a prolonged time.
Your old dog is not eating like normal.
Your dog sleeps more than usual.
Lethargy can be a sign of illness, which is why veterinary staff will often ask about your dog's energy levels when gathering a medical history.
If your dog has some of the symptoms listed above, consider that one or more of the 10 common medical problems listed below could be the culprit.
Why is your dog acting lethargic? 10 possible causes
1. Anemia
Anemia, or a low red blood cell count, is a common blood disorder. Red blood cells carry oxygen to the rest of the body, so a low count means your dog's body doesn't have the oxygen it needs. To conserve what little oxygen is available, your dog will feel tired, causing him to rest more than normal.
Kidney disease and immune-mediated diseases (diseases where the immune system destroys red blood cells) can cause anemia. So can toxin ingestion, certain parasites, and blood loss due to trauma or cancer such as hemangiosarcoma in dogs.
2. Anxiety
Anxiety is another cause of lethargy in dogs. It may seem counterintuitive at first, but it makes sense when you understand how exhausting it can be to be constantly on edge.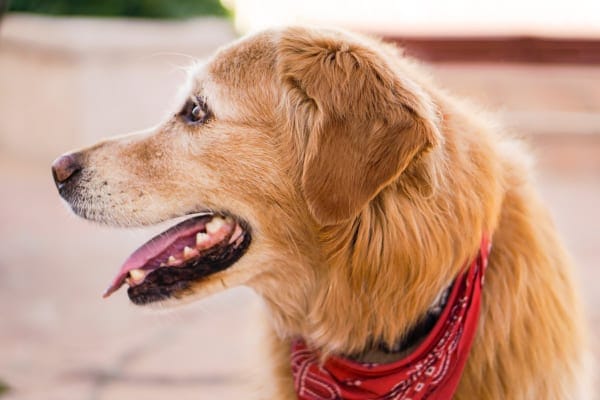 Dogs who are anxious may pace, act restless, pant excessively, and engage in destructive behaviors. Heart beating rapidly, anxious dogs are in a permanent state of "fight or flight," which expends a lot of energy.
This is especially true for dogs with separation anxiety because they experience these feelings all day long. Anxiety can wear dogs out and may explain why your dog seems tired once you've come home.
Learn more about panting and restlessness in my article: Why is My Dog Panting and Restless? 7 Concerning Causes.
3. Allergies
Have you ever felt exhausted by seasonal allergies? The same thing may happen to your dear dog. Something as simple as ear infections in dogs or skin infections can be a sign of canine allergies.
Dogs can be allergic to grass, weeds, trees, dust mites, or other things in their environment. Dog food, human food, and fleas can also trigger your dog's allergies, resulting in intense itching and scratching.
If your dog spends all of his day feeling miserable and itchy, he may be exhausted by the end of the day! The good news is there are a myriad of effective allergy medicines for dogs.
4. Respiratory infection
Coughing and sneezing are signs your dog may have a respiratory infection. Kennel cough and canine influenza are two of the most common causes of respiratory infections in dogs. Both are highly contagious.
In severe cases, these respiratory infections can lead to pneumonia which makes it very difficult for your dog to breathe. Dogs with respiratory infections, therefore, may appear lethargic.
5. Liver disease
The liver has many jobs including the storage of a compound called glycogen. Glycogen is converted into glucose — an energy source for cells. If your dog's liver is impaired, there will be a lack of stored energy leading to lethargy.
Liver disease in dogs can be caused by infection, chronic inflammation, toxin ingestion, congenital diseases, and tumors. Besides lethargy, liver disease can also cause vomiting, diarrhea, lack of appetite, and sometimes jaundice (yellowing of the skin, eyes, and gums).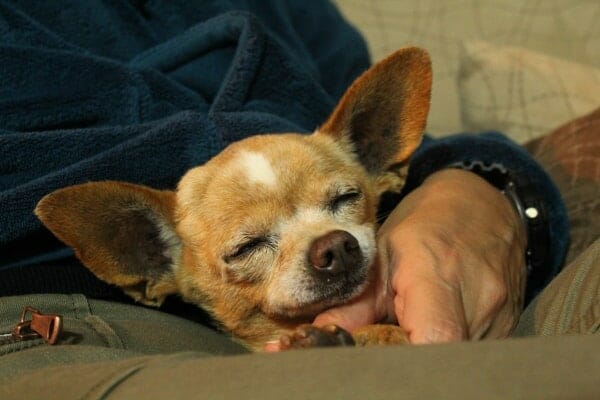 6. Kidney disease
Kidney disease is one of the most common disorders affecting senior dogs, however, kidney problems can occur at any age. Damaged kidneys begin to function poorly and cannot excrete as many toxins and waste products as they normally would.
When these compounds build up in your dog's bloodstream, he begins to feel sick and lethargic. Clinical signs like weight loss, vomiting, diarrhea, and loss of appetite also commonly occur.
Causes of kidney damage include infection, toxin ingestion, chronic inflammation, cysts, congenital disease, and the development of kidney stones.
The good news is that diet can help successfully manage chronic renal disease. For more detailed information, please read Nutritional Management of Chronic Renal Disease by the Veterinary Medical Teaching Hospital (VMTH) at UC Davis.
7. Heart disease
The heart is an important organ because it continuously pumps blood to the rest of the body. When a dog develops heart problems like heartworm disease in dogs or congestive heart failure, the heart cannot pump as effectively as it should. This results in low levels of oxygen throughout the body. Weakness, coughing, exercise intolerance, lethargy, and collapse are all signs that indicate your dog may have heart disease.
8. Endocrine disease
The endocrine system produces and secretes hormones through the body to control various processes. When there are too few or too many hormones being secreted, it can lead to diseases like hypothyroidism in dogs, diabetes mellitus, and Cushing's disease in dogs.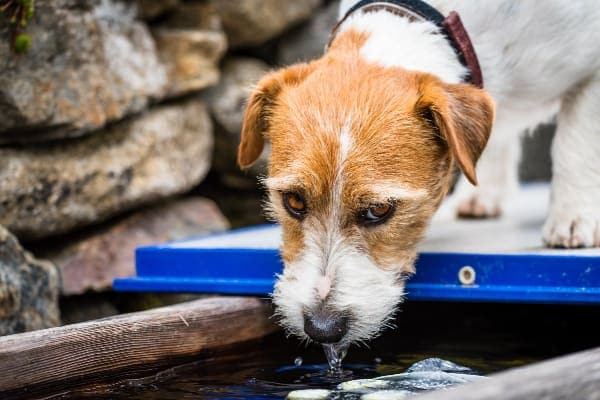 If your dog has one of these illnesses, you may notice an increase in his thirst, urination, and appetite. He may also pant more than usual and appear restless or lethargic.
9. Cancer
There are numerous types of cancer which can affect soft tissue or bone and may be very painful. If the cancer has affected the lungs or the heart, your dog won't be able to oxygenate well. When the intestines are affected, he cannot absorb nutrients properly and will feel tired as a result. Dogs with cancer won't have as much energy as they used to, and they tend to sleep more.
As an aside, while cancer is a scary diagnosis, there is reason for hope. In my podcast on cancer in dogs, Dr. Sue Ettinger, a board certified veterinary oncologist, breaks down the myths and misconceptions.
10. Arthritis
Arthritis in dogs is one of the most common causes of lethargy. Joint inflammation is painful and leads to a breakdown of the cartilage meant to act as a shock absorber. Painful joints can definitely slow down even the most active of dogs.
Learn more in my post: Is it Canine Arthritis or Aging? Learn 7 Signs of Arthritis in Dogs.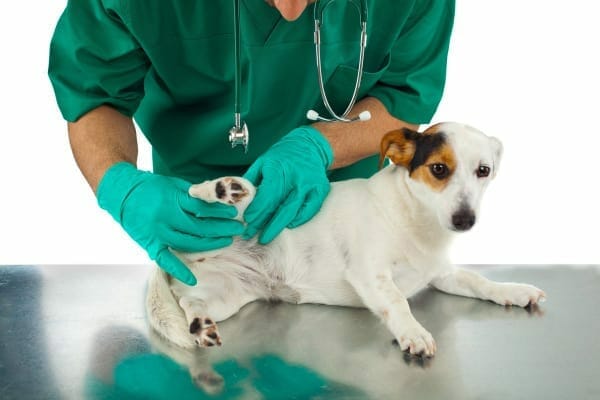 How can you help your lethargic dog?
A tired, sleepy dog for a day or two is not always a cause for alarm, but if your dog goes from carefree and active to sleepy, apathetic, and uninterested in life, there may be an underlying medical condition going on.
If you are worried about your dog, make an appointment with your vet and share your observations. You'll feel relieved, and your dog will know you hear him when he communicates in his own clear, but unique way.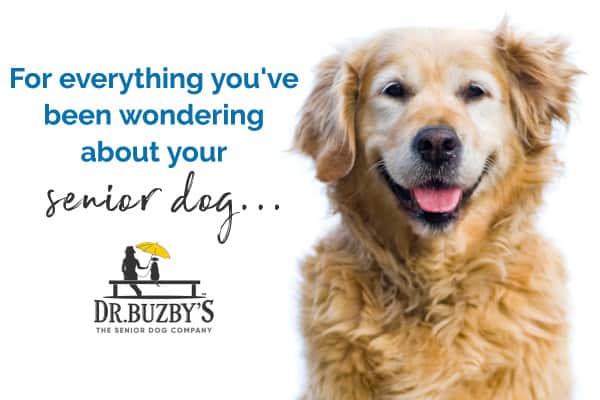 What do you do when you notice your senior dog is tired?
How can you tell the difference between a sluggish day and something more concerning? Share your experience in the comments below.