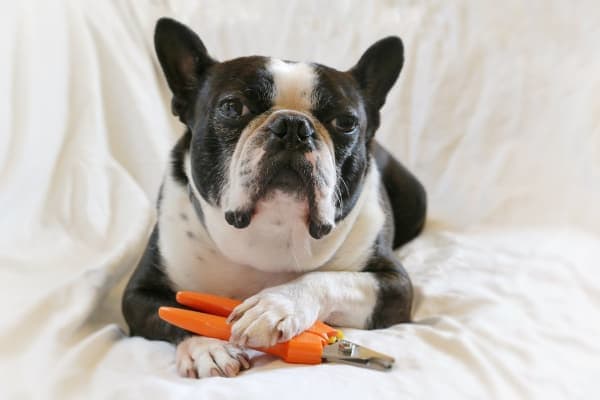 SUMMARY: Which dog nail clippers are the best? Easiest to use? Cut like a knife though warm butter? As an integrative veterinarian who has trimmed thousands of nails, Dr. Julie Buzby shares which type of dog nail clippers she not only recommends, but also carries in her own purse for dog nail trimming emergencies. 🙂
By virtue of the fact that you're interested in the best nail clippers for dogs, I'm guessing that you've got the following three things going for you:
you're a hands-on dog owner who wants the very best for your canine companion
you're eager to learn new things
you're not intimidated by the thought of working with your dog's paws
One of the reasons I'm passionate about writing this "expose´" on the best dog nail clippers for DIY dog owners is because I've trimmed thousands of dog's nails over the past 20 years using a variety of tools. So I have a pretty strong opinion on what constitutes the best (and why).
The other reason I'm sharing my recommendation with you is that I'm a DIY dog mom too. I understand how valuable it is to read a nitty-gritty, honest review on a key piece of equipment for dog owners—dog nail clippers.
5 Criteria for the best nail clippers
First of all, I want to reassure you that if you've had a bad dog nail trimming experience, it may be because you were using suboptimal dog nail clippers. The wrong nail trimming tool can splinter the toenail, crush the nail rather than clip it, or worse yet, create a false sense of security causing you to cut too much of the nail and hurt your dog. But it doesn't have to be that way. Here are my five criteria for choosing the best dog nail clipper for nail trimming success:
1. Guillotine versus scissor-style dog nail clippers
A well-designed nail clipper is essential for keeping your dog's nails trimmed. I recommend using a large nail clipper that resembles a mini pruning shear.
Let me be blunt. I passionately despise the guillotine dog nail trimmer. First of all, many people use them incorrectly and hold them upside down. The cut is supposed to be done with the fingers squeezing the hinged handle while the fixed handle is held in the palm of the hand.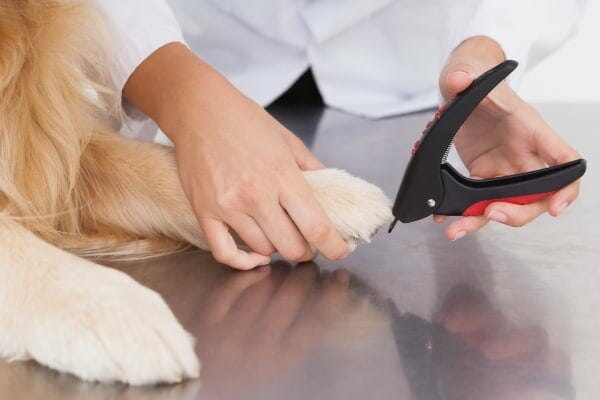 But even when used properly, the guillotine clipper doesn't give you control over the angle at which you're cutting the nail. They're designed to function like this: stick the dog's nail straight in the hole and give one squeeze. It's a "one-size-fits-all" experience that I give two thumbs down. Here's why:
The shapes and sizes of our dogs' nails are as varied as the shapes and sizes of our dogs. You can do so much better than a "one-size-fits-all" experience. And once you grasp how to trim nails using an angled cut to take off as much nail as possible without hitting the quick (the blood and nerve supply) and sculpting the sides for a short, rounded nail tip, you realize that it's impossible to do this with a guillotine-style nail trimmer. The best nail clippers for dogs are scissor-style.
2. To guard or not to guard? Is that even a question?
I'm sure you're familiar with the little guard piece on some nail trimmers. Theoretically, the guard is meant to prevent you from trimming the nails too short and hitting the quick. However, it can lead to a false sense of security. It's like assuming that because you are wearing an apron you can't get burned in the kitchen.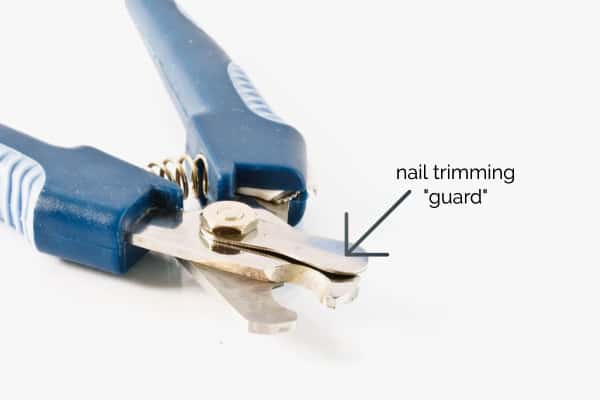 There is no such thing as a guarantee that you won't hit the quick based on a non-adjustable metal guard controlling how much nail is inserted into the trimmer. Here's why:
Just as every dog has a unique and different nose print, every dog's quick extends to a different location in the nail. On the flip side, using dog nail trimmers that have a guard often means not enough of the nail is removed. I see no benefit (and a lot of downside) to a guard on dog nail trimmers. The best nail clippers for dogs will not have a guard.
3. Cut versus crush
Most nail trimmers eventually become dull. This results in crushing the nail rather than cleanly cutting it. Dogs really hate "crushing" pressure on their nails and they will fight it. One of the ground rules of nail trimming is to keep the experience positive, positive, positive. Another basic principle is to cut the nails cleanly. Dull nail trimmers fail at both of these goals. The best nail clippers for dogs cut cleanly, like a knife through warm butter.

4. Quality and longevity
My favorite nail trimmers are made in Italy. They are stainless steel. They have a quality hinge and stay sharp. They may very well last you not only your dog's life span but your life span too. The best nail trimmers for dogs stay sharp for a long, long time.
5. Comfort for the dog owner
I think it's really important that the nail trimmer feel comfortable in your hand. From my experience, if the nail trimmer handles are too narrow, I find them "wobbling" as I apply pressure to make the cuts. If they are too small, I don't feel like I have good control. It may surprise you to learn that for every pet—from Irish Wolfhounds to kittens—I use the same nail trimmer. The best dog nail clippers are user-friendly…for both ends of the leash.
Which dog nail clipper makes my final cut?
And the winner is…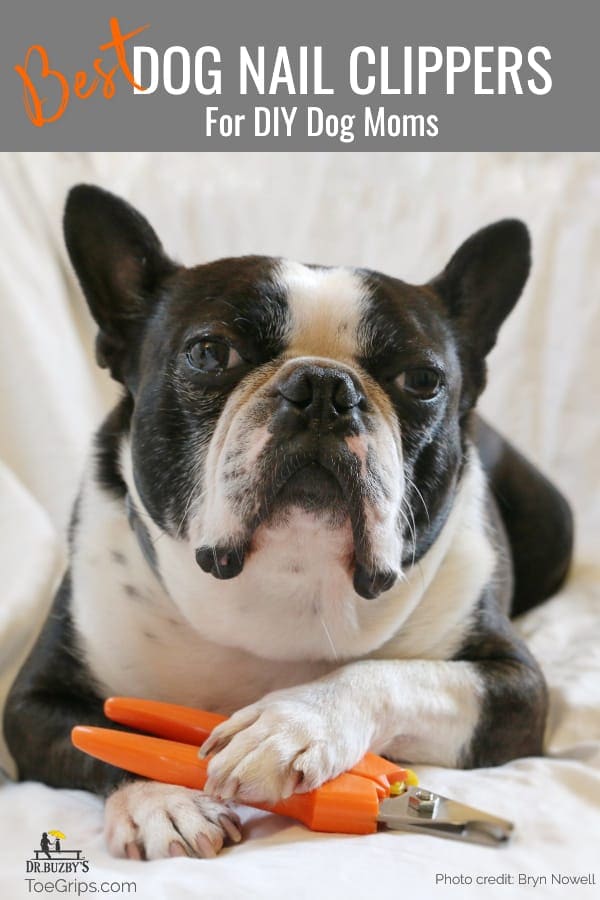 …Miller's Forge dog nail clippers!
The nail trimmer that has been my tried-and-true standby for most of my 22-year veterinary career is the Miller's Forge, orange-handled large trimmer. My sister prefers the smaller version, so I'm sure there's some individual preference, but this brand and style is the hands-down winner!
Besides offering it for sale in my online store as a convenience for our customers, I receive no compensation for this endorsement. It is my honest opinion and I'm happy to share it with you.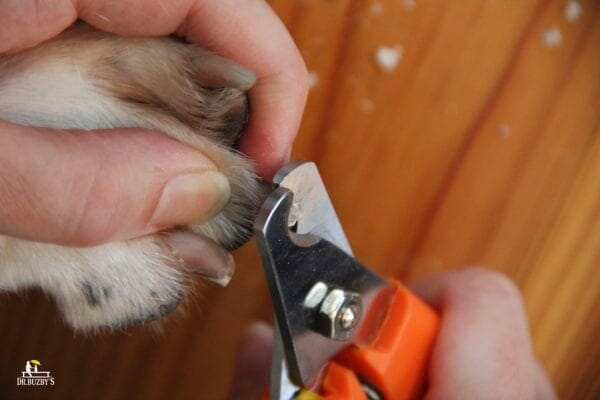 Even with the best dog nail clipper on hand, I recommend having styptic powder nearby when trimming your dog's nails. I think it's Murphy's Law that by having it out and ready, you won't need to use it!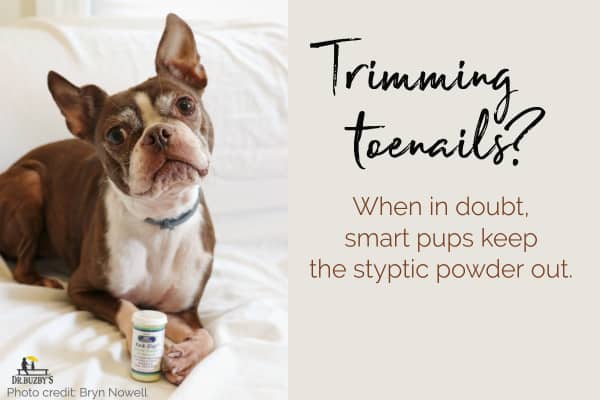 But what if you do trim your dog's nail too short? You can learn my tried-and-true tips for how to stop your dog's nail from bleeding by checking out my companion article: Clipped Your Dog's Toenail Too Short? Here Are Sure-Fire Tips.
Why I prefer nail clippers over a nail dremel
I think it is important to include a note here about dremeling. The nail dremel is a high-speed rotary tool and another way to shorten a dog's toenails. Frankly, it's a great technique. It's just not my technique. Just like every fine artist has a preferred medium—some choose acrylic, some watercolors— there are different ways to shorten your dog's nails and still achieve a lovely end result.
I prefer dog nail clippers over the nail dremel for three reasons:
Dog nail clippers are very portable. I carry a nail trimmer in my purse. It doesn't require any electricity or batteries. If I see a dog with long toenails who needs an intervention, I can whip out my clippers on the spot. 🙂

The dremel is a high-speed, rotary tool. I've heard horror stories of people getting their hair caught in it or dogs getting their fur caught in it. I just don't want to take any risks. I like the simplicity of my dog nail trimmers.

Lastly, the dremel in action creates dust. When using it, you really should be wearing protective eyewear as well as a mask. I don't know many people who do this in the real world, but these are the optimal safety precautions.
The advantage to the dremel is that it cauterizes as it shortens the nails. This means you're less likely to see bleeding, but you can just as easily hit the quick and cause the dog (bloodless) pain. Please don't be deceived into thinking that the nail dremel is the panacea of nail trimming. You still have to know your landmarks and be careful not to hurt the dog.
Finding the best tool for the job
I like to make it very easy for my customers to get the best products possible for their pets, so I carry my preferred dog nail trimmer in our online store: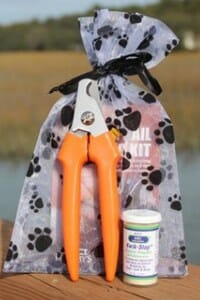 With the right tool for the job, you can feel more confident and tackle nail trims without fear. I believe in you. You can do this!
Additional resources for happier dog nail trims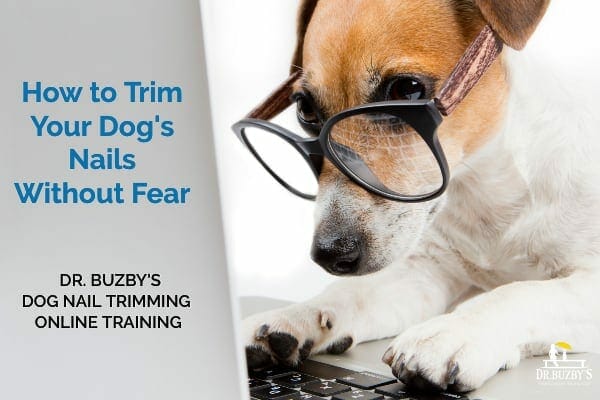 Finally, now that you know which dog nail clipper is the best tool for the job, you may be ready to discover the best nail trimming technique. I'd love to help you. That's where my online training, Dog Nail Trimming Without Fear, comes in. If you'd like to learn how to achieve high-performance nail trims for your dog, I invite you to check out my easy, step-by-step dog nail care video series. With the right tools and training, you and your dog are sure to enjoy a lifetime of happier nail trims.
What nail clippers have you tried? What did you learn?
Please comment below. We can all learn from each other.