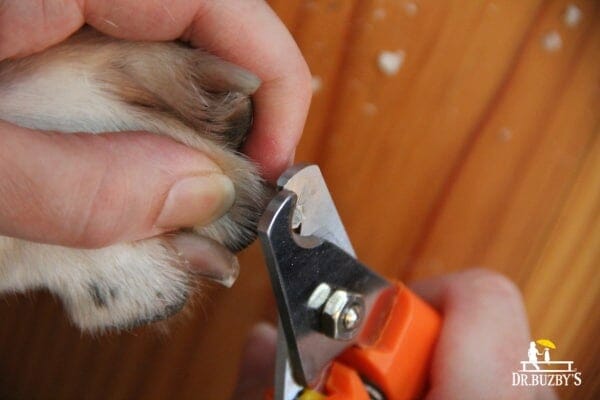 How to stop a dog's nail from bleeding in 3 steps
You are trimming your dog's nails and you accidentally cut the quick (the blood and nerve supply in the dog's toenail) with your nail trimmers. How do you stop a dog's nail from bleeding?
The good news is that when you clip your dog's toenail too short, you can stop the bleeding in three easy steps.
The bad news is that hitting the quick is painful for your dog, nerve-wracking for you, and a bloody mess.
However, as an integrative veterinarian with 20+ years of experience (including teaching countless dog owners how to trim dog nails), I can assure you that you can avoid future nail trimming mishaps and confidently trim your dog's nails again. You'll find solutions at the end of this post.

Step 1: First and foremost, remain calm. Do not panic.
If you panic, your dog will read you like a speed reader whipping through a Dick and Jane book. Your canine companion will sense that you are stressed and will mirror your attitude. Blood pressure will climb—both for you and for your dog. (It is a natural physiological response to stress.)
What does this mean for your dog? As a dog's blood pressure rises, the blood is pumped harder and faster out of the cut vessels in the toenail, worsening the situation.
Yes, I've done it myself.
Years ago, as a newly minted veterinarian, I volunteered to trim the nails of my aunt's uncooperative dog, who had long, black talons, during a family reunion over the Christmas holidays.
I remember successfully trimming the nails on about 14 toes when…
I hit the quick.
First, blood started to pour forth. As a result, all the family members (who had been standing around watching this as prime-time entertainment) started to panic. My aunt let go of her dog, whereby he zoomied around the room several times, spewing blood all over the floor and carpet. Spoiler alert: This story had a happy ending. At the end of the day, the dog recovered quickly, and my pride was the only thing that suffered lingering injury.
Please learn from my experience and do your best to keep everyone involved calm. A healthy dog will not bleed to death from a cut toenail—not even close! While it is unfortunate that you've hurt your dog (which none of us wants to do), and while it may be a bit messy, this is not a serious injury. (And, if your house looks like a murder scene, you may need to take my word for this.)
Remember! Keep your dog calm and relaxed. It will help lower his blood pressure and the bleeding will stop sooner.
Click To Tweet
Step 2: Apply direct pressure.
As taught in basic human first aid, apply direct pressure to your dog's bleeding toenail. You can use anything from a clean paper towel to facial tissue to the hem of your shirt (if you are in a real pinch). Granted, your dog may be a bit gun-shy about you pressing on that freshly-injured nail. However, if you remain calm, this is a doable and helpful step.
Step 3: Apply a clotting substrate to the end of the dog's nail.
Kwik-Stop Styptic Powder is my clotting substrate of choice. It has a bit of a numbing agent in it for pain, though its main claim to fame is promoting clotting. (If you have ever cut yourself shaving and used a styptic pencil to stop the bleeding, this is a similar concept.)
Turns out, the Boy Scout motto serves dog owners well too! By being prepared for hitting the quick, I think Murphy's Law dictates that you are much less likely to do so!
Before beginning the nail trim, pour a bit of the powder onto a paper plate. Be sure to put the plate within your reach; however, keep it away from your dog so it doesn't get knocked over.
Dr. Buzby's INSIDER TIP: By using a paper plate to hold the styptic powder, it is easy to return the unused portion back into the container. Simply fold the paper plate and "pour" the unused powder back into its vial. One container of styptic powder should last for years.
How to apply styptic powder to your dog's nail to stop the bleeding:
You can "dip" your dog's bleeding toenail into the powder, which is a common procedure. However, I prefer the following method to stop a dog's nail from bleeding:
Take a pinch of the powder between your thumb and forefinger.

Press it directly into the end of your dog's nail.

Apply direct pressure to the toenail for a few minutes while being careful not to squeeze your dog's toe.
Essentially, you are "packing" the clotting agent into the end of the nail while applying pressure to stop the dog's nail from bleeding. It is doubly effective.

In a bind, if you don't have dog-specific styptic powder on hand, you can use these home remedies:
a moistened human styptic pencil

cornstarch.

Use either of these substitutions in the same way as described above to stop a dog's nail from bleeding.
Need more help learning how to stop a dog's nail from bleeding?
A picture is worth a thousand words: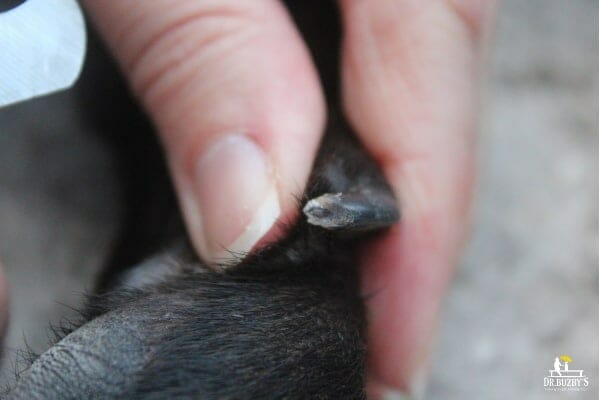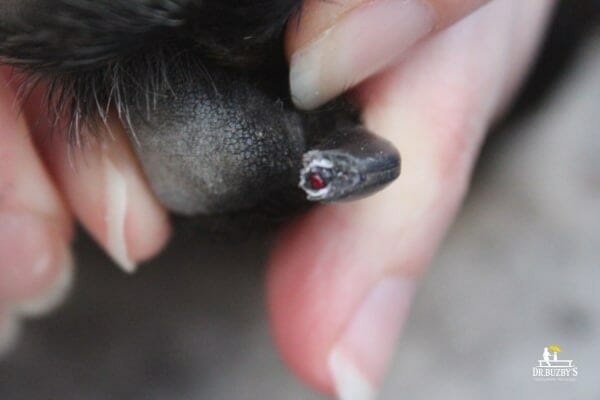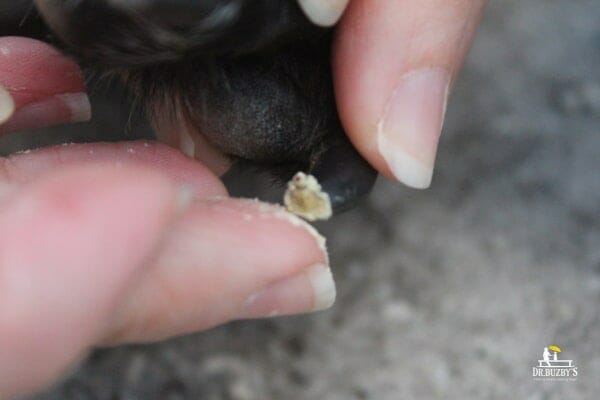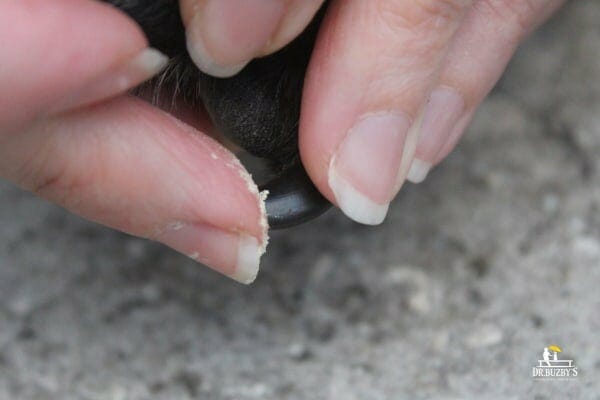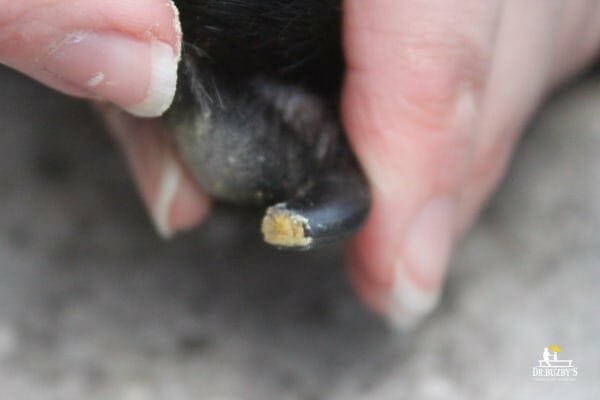 Important disclaimer: If your dog's nail does not stop bleeding in 10 minutes OR if your dog has completely or partially torn off a toenail (resulting from an injury), please seek veterinary care.
Setting yourself up for dog nail trimming success
I can almost guarantee that you are more upset about this nail trimming mishap than your canine companion. The unfortunate thing is not so much the present situation for your dog, but rather, future nail trimming sessions. Our four-legged friends have very long memories when it comes to pain, so hitting your dog's quick will likely negatively impact your next nail trimming experience. However, you can work through it and ease your dog's fears with patience, positive reinforcement, by taking it slow, and having the tools and techniques that make nail trimming easy.
Stopping your dog's nail from bleeding is half the battle. Let's make sure you have the right tool for the job!
Using the right tool for the job can greatly increase your nail trimming success. Over the course of my 22-year veterinary career, I have discovered the gold standard of dog nail clippers. In fact, not only do I recommend them to my veterinary clients, I carry them in my purse for dog nail trimming emergencies.
If you're using dog nail trimmers that crush the nail, have a safety guard (a "guide" that gives you a false sense of security), or don't give you enough control as your trimming, I understand how frustrating it can be. Please don't give up! I invite you to learn more about my dog nail trimming kit, which includes nail trimmers that cut like a knife through butter, styptic powder, and my 7-step reference guide on nail trimming with confidence. I'm confident that with the right tool and a little know-how, you can do this!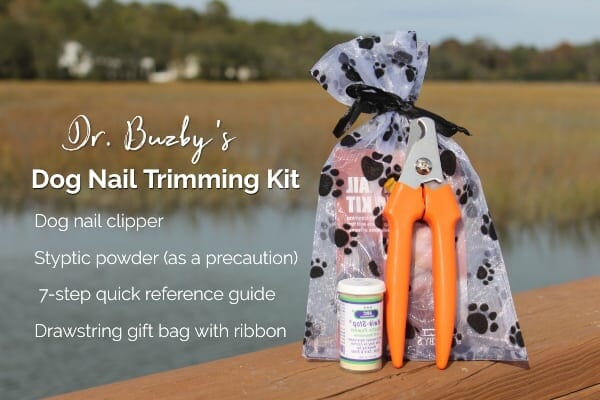 More ways to avoid future dog nail trimming mishaps
That Christmas holiday gathering when I clipped the quick on my aunt's dog's toenail is still a vivid memory. My Uncle Kippy still enjoys teasing me about it, twenty years later! However, it positively shaped my passion for perfecting the art of dog nail trimming and developing a formula for efficient and pain-free nail trims. Here are more helpful tips and resources on how to trim your dog's nails:
What concerns do you have about cutting your dog's nails too short?
Please comment below. We can all learn from each other.