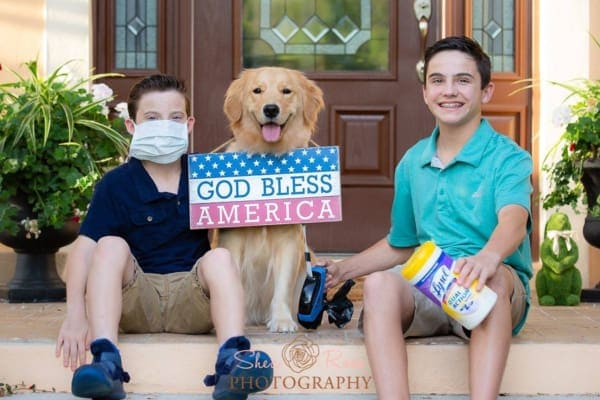 Life seems surreal right now. We worry about ourselves, our families, and our pets contracting COVID-19 (coronavirus), a condition that wasn't even on our radar last year. Dr. Julie Buzby, integrative veterinarian and founder of Dr. Buzby's ToeGrips®, has curated timely information from credible sources in the veterinary community to answer your question, "Can dogs get coronavirus?"
One of the hardest parts about life during the coronavirus outbreak is the unknown. How long will we be in isolation? How serious will it be for our community? How will it impact our loved ones? The "unknown" factor is exhausting. I don't have the answers to the big questions. But if "Can dogs get coronavirus?" is one of your questions, I can help.
Can dogs get coronavirus? The short answer
Let me give you the short answer to that question, which is good news! Then I'll give you an in-depth "behind-the-scenes" answer.
Dogs cannot contract or transmit COVID-19 (based on the information we know today). The most up-to-date information can be found on the CDC (Centers for Disease Control and Prevention) website, under the section heading DAILY LIFE COPING >> ANIMALS.
While this is the concise answer, I imagine that you—as your dog's caretaker and advocate—are searching for more. Here are comprehensive answers to the question, "Can dogs get coronavirus?" along with other questions you may have—all explained by the veterinary community. I've curated answers from my veterinary colleagues on the front lines from across the globe.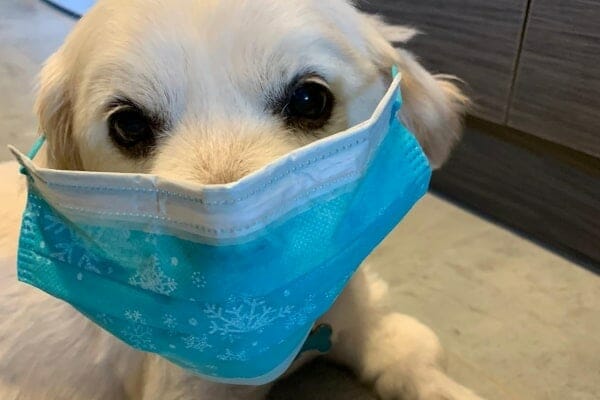 Can dogs get corona? Encouraging words from Dr. Behravesh
Dr. Casey Barton Behravesh, MS, DVM, DrPH, DACVPM is the Director of CDC's One Health Office in the National Center for Emerging and Zoonotic Infectious Diseases. She had these encouraging words to share this week in answer to the question, "Can dogs get coronavirus?"
"We do not have evidence that companion animals, including pets, can spread COVID-19.
There is no reason at this time to think that any animals, including pets, in the United States might be a source of infection with COVID-19.
To date, CDC has not received any reports of pets or other animals becoming sick with COVID-19 in the United States."
Fomite transmission: Can I get coronavirus from virus particles that might be on my dog's fur?
Another point of concern that dog owners have, and one that I mentioned in my previous article on coronavirus and dogs, is the idea of fomite transmission. This implies that the virus particles could be carried on your dog's fur to infect you or your family.
The good news is that Dr. Behravesh believes this scenario is unlikely. Other infectious disease experts seem to concur. Dr. Behravesh writes,
"According to CDC, 'the transmission of novel coronavirus to persons from surfaces contaminated with the virus has not been documented. Transmission of coronavirus occurs much more commonly through respiratory droplets than through fomites…'"
For more information, please read this article from CDC.gov, Cleaning and Disinfection for Households.
That's all good news!
So what are we to make of the headlines about dogs being infected in Hong Kong?
To get a global perspective on this critical question, I reached out to Dr. Jane McNae. She is a veterinary colleague and friend, currenly living and practicing in Hong Kong. She had this to say on April 1, 2020…
---
"Current controls for COVID-19 in Hong Kong are by contact tracing of affected (positive) persons and hospital / or government quarantine of those persons testing positive. Hence, pets are often cared for in government kennels and also undergo testing.
As of today, in addition to two dogs, we now also have one cat in Hong Kong which has tested positive, again no disease. Their human has tested positive also (hence the cat was tested).
It's a fluid situation shall we say!"
---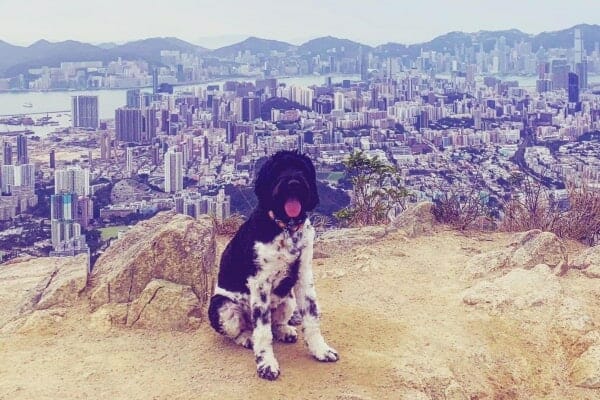 Dr. McNae also passed along this informative press release from the Hong Kong Veterinary Association.
A press release on corona and pets from the Hong Kong Veterinary Association…
---
"Since the beginning of March, 2020, the AFCD has quarantined 17 dogs and 8 cats from owners who had been infected by the Covid-19 virus. Of these, only 2 dogs initially tested positive on nasal/oral swabs using a PCR test, a test which detects the actual virus. The first dog, a Pomeranian, eventually tested negative on days 16 and 17 of its quarantine. The second dog, a German Shepherd, tested negative on day 6 of its quarantine. Neither dog ever showed symptoms of the disease.
The Pomeranian also tested weakly positive on a serology test, while the serology test for the German Shepherd is pending. The serology test showed the Pomeranian had been exposed to the virus and its immune system had mounted a mild response to it. This indicates that the virus was not simply sitting on the surface of the dog's nose/mouth. It would appear the virus can infect dogs but it is not very good at it and the viral load involved is likely too low for dogs to be infectious to people. It would also appear infections in dogs do not last very long. The Pomeranian was 17 years old and was on treatment for both heart and kidney problems and unfortunately died several days after being released from quarantine.
None of the animals quarantined in Hong Kong have shown any clinical signs and there is no evidence that any of the animals are infectious to people. All of the evidence suggests the 2 dogs which tested positive were infected by their owners.
There has been only one case of a cat, reported recently in Belgium, which is believed to have become infected and showed clinical signs. It is believed the cat was infected by its owner. Infection has not been confirmed and information about this case is still forthcoming.
During the SARS outbreak, the SARS virus was found on the coats of some pets of infected persons, however the animals were not considered infectious due to the low viral load.
Pet owners are urged to wash their hands and face before and after playing with their pets. When walking your dog/s, please attempt to minimize contact with other dogs and people. Remember the most likely way pets are going to be exposed to the virus is from their owners or other people they come in contact with. There is no cause for alarm, and you may still safely interact with your pet."
---
"Replicates poorly" in dogs
I found one more source for you that answers the question, "Can dogs get coronavirus?" It's critically important that I share the following caveat: this information is hot off the press and has not been peer-reviewed and officially published yet. Why does this matter? Until a research study has gone through the rigorous critical review process by experts and been published, it is not (yet) as credible as other sources that have passed through the process. With that caveat in mind, the document, which you can read in its entirety here, concludes: "We found that SARS-CoV-2 [the official name of the virus that causes COVID-19] replicates poorly in dogs, pigs, chickens, and ducks…"
"We found that SARS-CoV-2 [the official name of the virus that causes COVID-19] replicates poorly in dogs, pigs, chickens, and duck, but efficiently in ferrets and cats."
4. Lions, Tigers and COVID-19: USDA Statement on the Confirmation of COVID-19 in a Tiger in New York
Can dogs get coronavirus? My own summary
I've sought to share depth and breadth of information from a lot of sources. Let me summarize by saying that there is currently no cause for alarm when it comes to dogs and the SARS-CoV-2 coronavirus. I think that's the universal message.
What about the headline that a Belgian cat was infected with corona?
You may have read or heard about a Belgian cat and coronavirus. On March 27, The Brussels Times published an article that told the story of a cat being infected with COVID-19 by its owner and developing clinical signs of vomiting/diarrhea and respiratory distress.
However, The World Organization for Animal Health (OIE) is the reporting body for officially tracking and logging confirmed COVID-19 infections in animals. On their website, they have downgraded the listing from "infected" to "suspected to be infected" for this cat. Why?

Because the samples that were collected for laboratory testing did not come directly from the cat's body. Rather, they were collected from the bodily output (vomit and stool) of the cat from within the home. This opens the door to the possibility that the virus may have already been on those surfaces (from the infected human in the home) and the vomit and feces were effectively "contaminated" with the virus.
Are there any animals susceptible to this deadly strain of coronavirus?
"Yes" is likely the answer to this question.
Ferrets are one of the species of higher concern. This is because of the way certain receptors in their body present for coronaviruses, which is similar to humans. Similarly, ferrets can also contract influenza from humans.
There are no reported illnesses yet in ferrets.
The recommendation to veterinarians is to fully investigate any abnormal illnesses (in any species!)
UPDATE: Our first confirmed animal case of COVID-19 in the United States was reported 4/5/20 — a tiger at a zoo in New York who is sick with respiratory symptoms consistent with the human version of COVID-19 infection. For more information, please read the USDA statement on the confirmation of COVID-19 in a tiger in New York.
I know I'm preaching to the choir when I make the following statement, but I feel it is necessary to include: please do not abandon your pets during this time. Local animal and rescue officials are concerned that misinformation will cause owners to surrender their family pets, which would be both cruel and unnecessary. We're already seeing this trend in other countries.
Hope. Help. Healing.
Yes, there is much to be concerned about. Questions swirl across the entire globe. As Dr. McNae said, "the situation is fluid." Fluid is the opposite of static.

Static: fixed, stable, steady
Fluid: moving, unstable, unsteady

I'm sure you're well aware that information is being updated and changing daily. Some recommendations that I was following a week ago are now obsolete.

However, when it comes to the questions about your beloved dog's coronavirus risk, you can lay your fears to rest. By getting down to the nitty-gritty, I hope you've found some peace and comfort during this uncertain time.
Searching for more information on COVID-19 and dogs?
Please read my article, Navigating COVID-19 with Your Dog: 5 Coronavirus FAQs. You'll find answers to frequently asked questions about how to safely work with your dog's healthcare team during the coronavirus pandemic.
What other questions do you have about coronavirus and dogs?
Please comment below. We can all help each other during this difficult time.