Looking for a delicious homemade holiday dog treat to stuff in your dog's stocking? Wishing your dog could have his or her own holiday-themed cut-out cookies? Look no further! Integrative veterinarian Dr. Julie Buzby shares her favorite pup-kin dog cookie recipe. This recipe has been reviewed by a board-certified veterinary nutritionist and also got "four paws up" from our canine taste testers.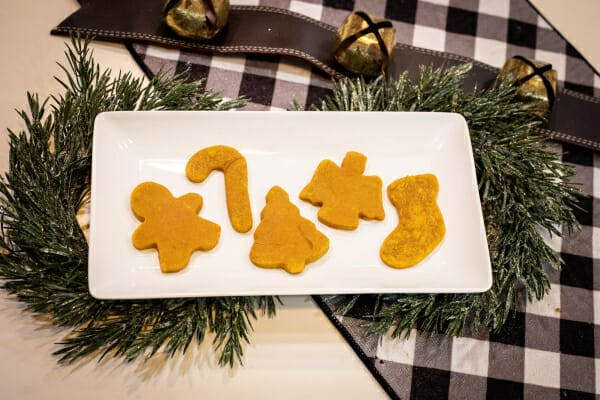 There are so many different ways we can show our dogs how much we love them. Maybe it is a game of fetch and a brisk walk for an activity-loving dog. Or a leisurely stroll with lots of time for sniffing then a long snuggle session on the couch for a dog who prefers a more laid-back lifestyle.
While physical activity and attention are fantastic ways to tell your dog "I love you," I understand that sometimes you may also want to show your love through treats. This is especially the case during the holiday season. After all, our culture does tend to equate food with love. This is where my homemade pup-kin holiday dog treats come in.
Why choose these pup-kin holiday dog treats?
There are several reasons that the recipe I'm going to share with you is one of my favorite treats to make for my dogs. First off, they contain a generous helping of pumpkin. Canned pumpkin for dogs has many wonderful health benefits, especially for the digestive system. It is rich in fiber, vitamins, and minerals. Plus, it is tasty!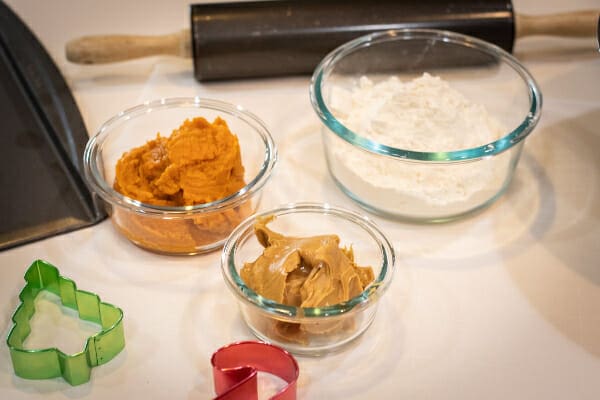 Second, it is easy to make these treats holiday-specific. You can use Christmas cookie cutters, Valentine's Day cookie cutters, Easter cookie cutters… you get the idea. Your dog may not notice that he or she is eating a Christmas tree-shaped cookie or an egg-shaped cookie. He or she will just know that it is yummy. But you can take satisfaction in having a tin of cute holiday-themed cookies for your dog.
Pup-kin holiday dog treat recipe
So without further adieu, here is my pup-kin cookie recipe: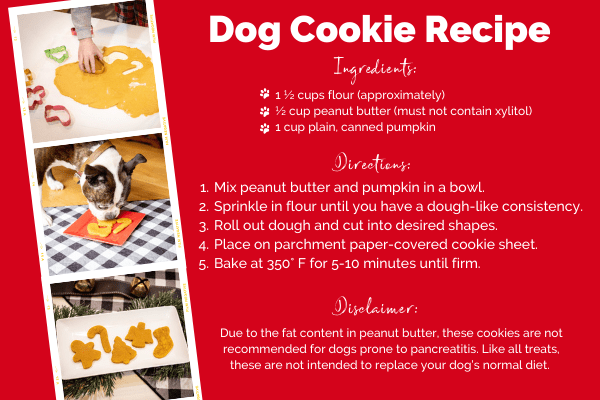 Dog Cookie Recipe
Prep: Preheat oven to 350° F
Ingredients:
1 1/2 cups flour (approximately)
1/2 cup peanut butter (must not contain xylitol)
1 cup plain, canned pumpkin
Directions:
Mix peanut butter and pumpkin in a bowl.
Sprinkle in flour until you have a dough-like consistency.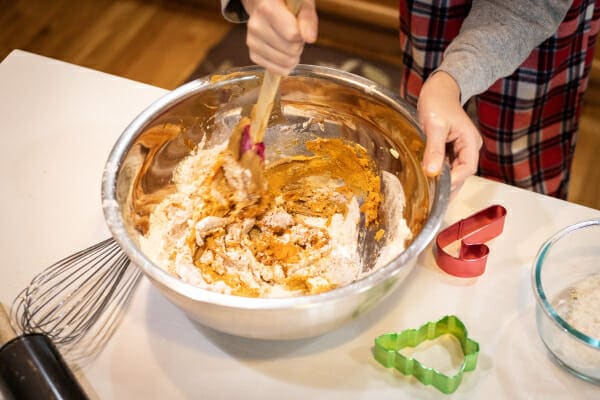 3. Roll out dough and cut into desired shapes.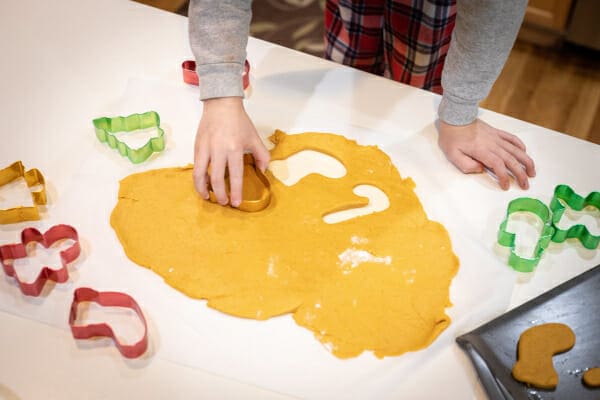 4. Place on parchment paper-covered cookie sheet.
5. Bake at 350° F for 5-10 minutes until firm. (Baking time may vary by oven and cookie size.)
Note: Due to the fat content in peanut butter, these dog treats are not recommended for dogs prone to pancreatitis. Also, like all treats, these are not intended to replace your dog's normal diet.
Nutritional information
As part of our commitment to provide accurate, veterinarian-approved information, we asked a board-certified veterinary nutritionist to review the pup-kin holiday dog treat recipe. He approved the recipe and provided the nutritional information. By his calculations, if a batch makes 25-30 cookies, each one would contain approximately 50-60 kcal (what we call calories).
This calorie count can be helpful if you are trying to help a dog lose weight. It is also good to know if you are being careful to maintain your dog's slim figure. Keep in mind that calories from treats should not exceed 10% of the daily caloric intake. For a tiny dog, this may mean that you will want to either find a small cookie cutter or only give your dog part of a treat each day.
Additionally, you do need to do some label reading when picking ingredients. Occasionally, some brands of peanut butter contain the artificial sweetener, xylitol (i.e. birch sugar). Xylitol is toxic to dogs so you must ensure you use xylitol-free peanut butter. You also want to use plain canned pumpkin, not pumpkin pie filling. This is because pumpkin pie filling may contain xylitol or other ingredients and spices that may not be good for your dog.
Finally, if your dog tends to be prone to pancreatitis in dogs, these treats may not be the best choice as they are not a low-fat food due to the peanut butter. Extra snuggles or your dog's tried-and-true low-fat treats might be the safest ways to show a pancreatitis-prone pup some love.
Happy baking!
I hope your dog enjoys these pup-kin holiday treats as much as mine do. And don't feel like you can only make these for recognized holidays. You can celebrate "Dog Appreciation Day" anytime you want!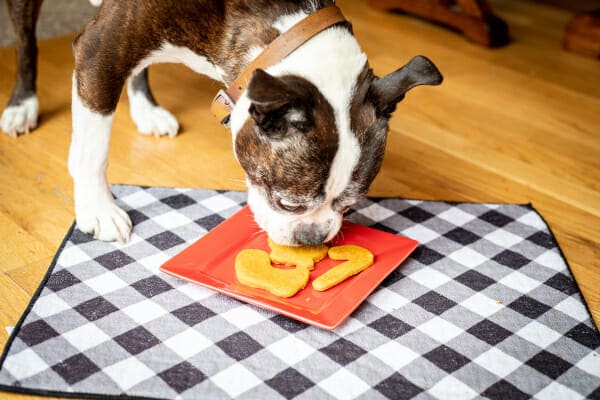 What's your dog's favorite treat?
Please comment below.