Canned pumpkin for dogs can be a fun—and healthy—treat for many pups. Integrative veterinarian Dr. Julie Buzby shares the health benefits of canned pumpkin along with how it can help manage some cases of constipation and diarrhea. As an added bonus, she also gives you a recipe for pumpkin dog treats that are sure to make your dog's tail wag.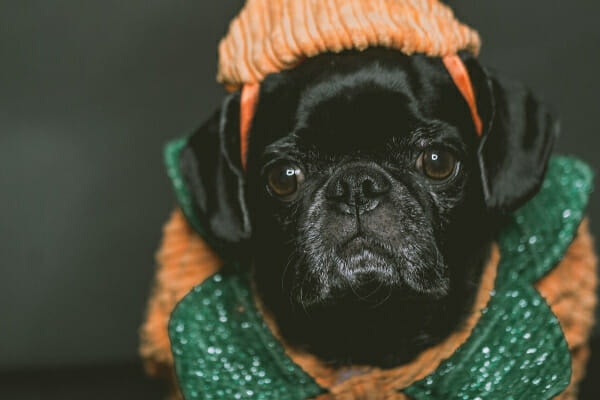 Recently, a client mentioned to me that she was making pumpkin bread and her Toy Poodle, Toby, kept staring at her with his big, brown eyes. She could tell that he was enjoying the smell of pumpkin as much as she was. He obviously wanted a taste of whatever smelled so good. So she asked me about making pumpkin treats for Toby.
I thanked her for asking, explained a bit about the benefits of pumpkin for dogs, and gave her my favorite pumpkin dog treat recipe. (You'll find at the end of this article.)
The next time I saw her, she told me that she'd made the treats and Toby gave them an enthusiastic "four paws up." (She also said she didn't feel nearly as guilty eating her pumpkin bread once Toby had a pumpkin treat of his own.)
This conversation made me realize that the various uses of canned pumpkin for dogs would make a perfect blog post topic. So let's dive into my client's questions about canned pumpkin in more detail.
Is canned pumpkin good for dogs?
The most basic answer to this question is, yes, canned pumpkin is good for dogs! However, like most things, moderation is important too. More on that in a bit. First, let's talk about the benefits of canned pumpkin.
Canned pumpkin has a high water content that can help with hydration and digestion. Since there is so much water in pumpkin, this also means that it is less calorie dense than some other human foods you might consider giving your dogs.
It also is rich in vitamins A, C, and E. These vitamins play important roles in the body.
Vitamin A is an essential vitamin for dogs. It helps a dog's muscles and nerves function properly and helps keep his or her fur coat healthy. Beta carotene, the pigment that gives pumpkin its orange color, is a good source of Vitamin A. Incidentally, it may also give your dog's poop an orangish hue.
Vitamin C is very important for your dog's immune system and acts as an antioxidant.
Vitamin E is another antioxidant that is important in your dog's body. If vitamin E is too low in your dog's diet, it can lead to eye, muscle, and reproductive problems.
Canned pumpkin also contains multiple beneficial minerals like iron and potassium. Additionally, one of the main reasons dog parents like to use canned pumpkin is because it is high in fiber. Just like in our diets, fiber is very important for your dog's digestion and overall health.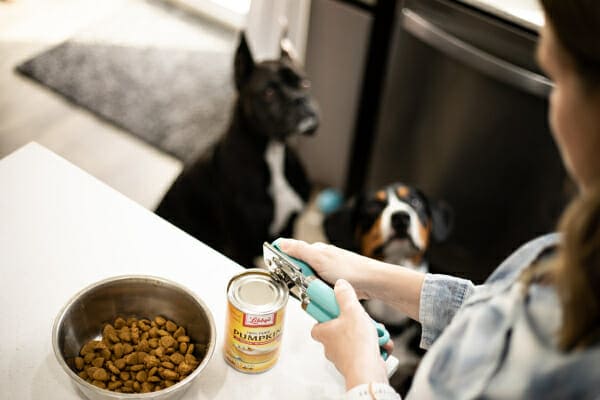 Finally, there are decent amounts of PREbiotics in canned pumpkin. Many people are familiar with PRObiotics, which are the helpful gut bacteria. Their lesser-known companion, prebiotics, like those in canned pumpkin, are the "food" that helps the good bacteria grow. As such, prebiotics also have a role in aiding in digestion. (For more on the science behind prebiotics and probiotics, check out the Veterinary Information Network's article: Probiotics, Prebiotics, and Synbiotics.)
What are the uses for canned pumpkin?
Canned pumpkin does have many attributes that make it healthy for dogs, so it would make sense that it has a variety of uses as well.
Canned pumpkin for dog constipation
As I mentioned, canned pumpkin naturally has a high water content. Plus, the fiber in canned pumpkin absorbs even more water. As a result, canned pumpkin can make your dog's stools bulkier and softer. This "fluid and fiber boost" may be useful for a dog or cat who tends to suffer from mild constipation. It is important to note two things:
Canned pumpkin is not the solution for all cases of constipation. If your dog is excessively straining to poop, vomiting, or is a lethargic dog, you should schedule a visit to your vet promptly. Sometimes foreign material (bones, grass, etc.) in the poop or compression of rectum by a mass or enlarged prostate may also cause a dog to have difficulty passing stool. These are problems that require veterinary attention.
Too much pumpkin can actually cause the other problem—diarrhea. Since pumpkin may increase the fluid content of the stool, too much of it can tip the scales toward diarrhea.
Canned pumpkin for dog diarrhea
So, if canned pumpkin helps constipation and too much can cause diarrhea, you may be wondering how it can help improve diarrhea too? One reason is because it contains prebiotics which help promote healthy bacteria in the gut. Additionally, the soluble fiber in canned pumpkin adds bulk and helps absorb water. This can concentrate the contents in your dog's digestive system and help "firm things up." The key is knowing how much to give and when.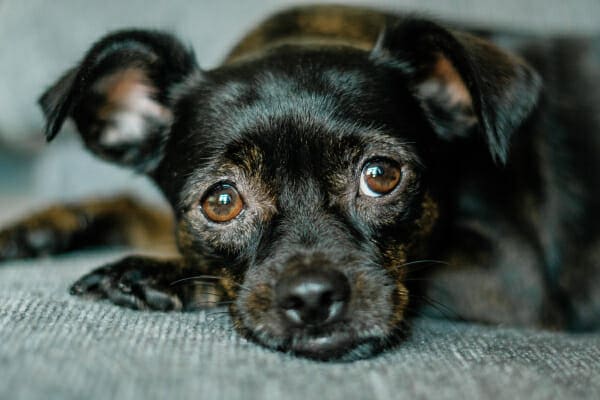 It is important to note that just like with constipation, canned pumpkin is not the solution for all cases of diarrhea. You need to make an appointment with your veterinarian if your dog is:
Having bloody diarrhea
Experiencing profuse watery diarrhea
Vomiting
Acting sick
Having diarrhea that lasts for several days without responding to a bland diet and canned pumpkin
Dogs can have diarrhea from GI parasites, parvovirus or other viral conditions, fungal infections, overgrowth of harmful bacteria, toxins, inflammatory bowel disease (IBD) in dogs, and many other causes. These must be addressed by a vet.
Canned pumpkin may be part of the treatment but is unlikely to fix those issues on its own. Seeking veterinary care in those situations is important because diarrhea can lead to dehydration. This can sometimes be life-threatening in young puppies or frail seniors.
Canned pumpkin for good health
As mentioned above, canned pumpkin is very high in soluble fiber which bulks up stools. Additionally, the fiber is readily converted to products that help healthy bacteria grow (i.e. prebiotics). This bacteria then aids digestion by promoting healthy tissue in the digestive tract, specifically the colon, and improving immune health.
Since the canned pumpkin is improving gut health, it can also help promote a healthier dog. As you have probably heard your own doctor say, a healthy gut is very important. This is why both our diet and your dog's diet matter so much.
Canned pumpkin for doggie weight loss
A healthy digestive system is very important and can help with weight loss. However, this does not mean that the canned pumpkin itself causes weight loss. Since it is fairly low in calories, small amounts are not likely to contribute significantly to weight gain.
Using canned pumpkin by itself or in a treat recipe can be a great way to make homemade low-calorie treats (assuming you pay attention to the calorie content of the other ingredients in your recipe). This is a good alternative to store-bought treats, which are often very high in calories and can pack on the pounds over time.
Dogs who are on a weight loss diet also may enjoy having a bit of canned pumpkin added to their regular food. The high fiber aspect helps keep them feeling full and also promotes digestive health.
If you are wondering if your dog needs to lose some weight, you can use my easy three-step method to determine your dog's body condition score (BCS). Additionally, you can, and should, consult with your veterinarian about your dog's weight. If your dog does need to lose some weight, the tips found in these two articles may be helpful: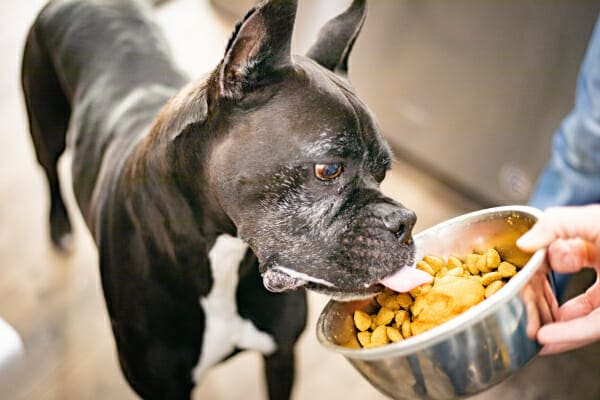 How much canned pumpkin should I give my dog?
When using canned pumpkin, it is important to remember that just because something is "natural" or "healthy" doesn't meant that it can be used without caution. There can still be too much of a good thing.
So, how much should be given? Just like any time you introduce a new food to your dog's diet, it is important to do so slowly. A rapid change could cause an upset stomach. Usually, it is recommended that you give your dog about one to four tablespoons of canned pumpkin a day.
This amount of pumpkin varies with the size of dog. Therefore, small dogs usually need less than big dogs. It also can depend on why you are giving your dog canned pumpkin. If you are using it as a treat or to help with weight loss you won't want to use as much as if you were trying to treat constipation or diarrhea.
It should be noted that there is no "perfect amount" or "dosage" for canned pumpkin use in dogs either. Using the pumpkin is not an exact science and might require some trial and error. This is why it is so important to consult with your veterinarian about your dog's specific circumstance to develop a plan that is best for your dog.
Pumpkin precautions
Along the same lines, there are a few things to keep in mind before opening that can of pumpkin and plopping a spoonful on your dog's food.
The first thing is that more fiber equals more poop. As you are figuring out an amount that is ideal for your dog, be prepared to take your dog on more walks or let him or her outside more frequently to go to the bathroom.
It is also important to consider what type of pumpkin you are giving your dog.
Plain canned pumpkin (i.e. pureed pumpkin) is the best and safest option to give your dog. It will have less sugars and additives than other options you may find at the grocery store.
You can use fresh pumpkin, but it is not usually as nutrient rich as canned pumpkin. This is because it contains significantly more water than canned pumpkin. Also, you have to be very careful to ensure that fresh pumpkin is not spoiled or moldy. This could make your dog sick (or sicker if you are trying to treat diarrhea or constipation). If you give your dog fresh pumpkin, please ensure that your dog only gets the fruit. The pumpkin stem and seeds could cause an upset stomach.
The most important thing to remember is to never use pumpkin pie mix. This product often contains extra ingredients that can be toxic to your dog. One of the most concerning is xylitol, an artificial sweetener which is extremely toxic to dogs. Xylitol and dogs don't mix. It can cause low blood sugar, which is called hypoglycemia. If you are not sure if the pumpkin you are buying has xylitol or not, read the label to be safe.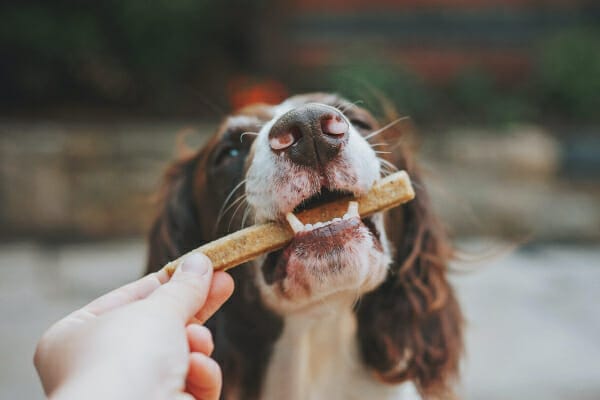 "Pup-kin" treats for dogs
As promised, here is the pumpkin dog treat recipe that Toby so thoroughly enjoyed.
You will need:
1 ½ cup flour
½ cup peanut butter
1 cup plain, canned pumpkin
Mix all of the ingredients in a bowl very thoroughly. When you are making the treats, add the flour slowly. You may not use it all, because you only need enough to make the ingredients stick together and have a dough-like consistency. Then, use the mixture to form whatever shape treats you would like. Place the treats on a cookie sheet with parchment paper. Bake them at 350° F for 5-10 minutes until the treats are firm. Cooking time and temperature can vary depending on your oven and the size of the treats.
DISCLAIMER: These treats are not as low-calorie as some other options and are not intended to replace your dog's normal diet. Also, while the amount of peanut butter (a high-fat food) in a few of these treats isn't a problem for most dogs, they could potentially create issues for dogs who are prone to pancreatitis in dogs. Finally, you should always check the label to ensure the peanut butter you use does not contain xylitol.
Final thoughts on canned pumpkin for dogs
If you are going to use canned pumpkin at home, remember to keep these important details in mind:
Never use pumpkin pie filling! It might contain toxic xylitol and the added spices can be problematic for your dog too.
If you are making pumpkin treats, check all the ingredients for xylitol or other additives that could be harmful to your dog. If you are not sure if something is safe, please consult with your veterinarian.
Start out slow. You can overdo it and give too much canned pumpkin.
More fiber = more poop.
Please consult your veterinarian if you have any questions or concerns, especially if you believe your dog is feeling sick. While canned pumpkin can help with some stomach problems, it isn't the answer for everything. (And on a side note, neither is Pepto Bismol for dogs.)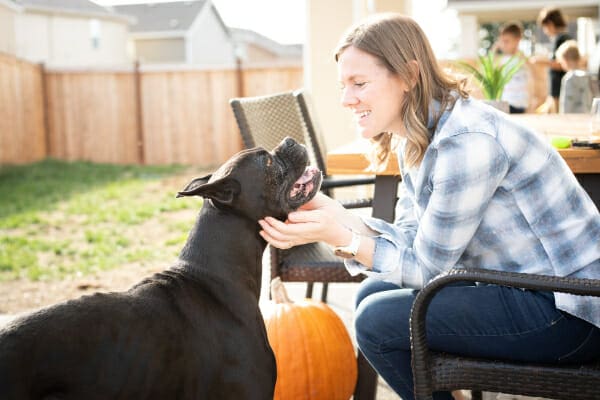 Whether you are in the midst of a fall frenzy filled with pumpkin bread, pumpkin spice lattes, and pumpkin patches or it is any other time of the year, keep this information in mind. Just like I told my client, canned pumpkin is fine to feed your dog in moderation, and it may even help improve his or her digestive health. So why not whip up a batch of pumpkin bread (or donuts, pancakes, muffins, etc.) for yourself and some pumpkin treats for your pup!
Have you given your dog canned pumpkin? What did he or she think of it?
Please comment below.