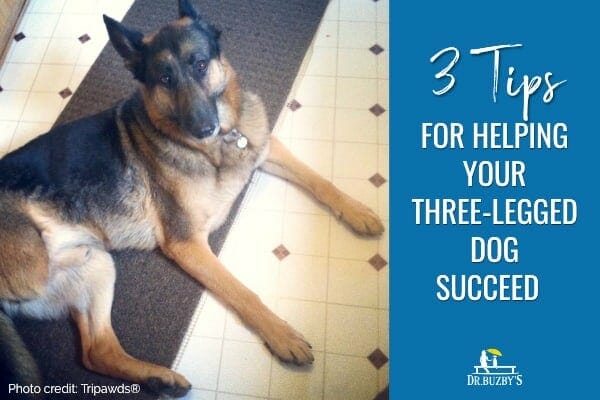 SUMMARY: If your dog has had a leg amputated, keeping them safe is key to his or her health and happiness. Integrative veterinarian Dr. Julie Buzby invited Rene Agredano, co-founder of Tripawds.com, to share three tips for helping your three-legged dog maintain mobility and live life to the fullest.
There's never a good time for your dog to lose a leg. Our pup Jerry lost his to osteosarcoma just months after we installed beautiful hardwood floors in our home. It didn't take long for us to learn why three-legged dogs on slippery floors is a bad combination.
We learned what three-legged dogs need for safety
It's natural to pity a pet who is missing a limb. But look into their eyes and you'll see that they're not sitting around feeling sorrow or regret, they just want to move on with life. Once the haze of post-surgery pain medication wears off, most dogs who have had a leg amputation will try to pick up where they left off. Jerry was no exception. But the first time he fell on our hardwood floors, we knew we had to make changes in our home.
Rubber-backed throw rugs seemed like a logical choice, so we laid out a mish-mash of runners. Jerry quickly realized that his safety depended on where his paws landed. But he rarely ventured off the path we laid, and it restricted his freedom to roam in our house.
Despite the new limitations, Jerry's amputation was one of the best things that ever happened to our pack and amputee pets around the world. He inspired us to start Tripawds.com, which is now the world's largest support community for amputee pets and their people. He also changed our existence. In 2007 we took Jerry on the RV road trip of his life, where he thrived and defied his six-month prognosis for two amazing years. Jerry taught us to seize the day, and we still live and work on the road in our RV, now with Tripawds® Spokesdog Wyatt Ray.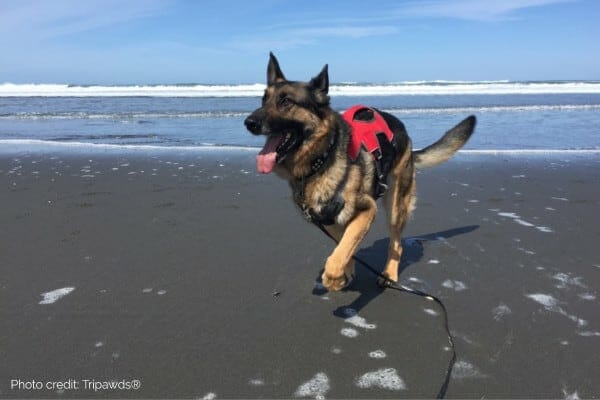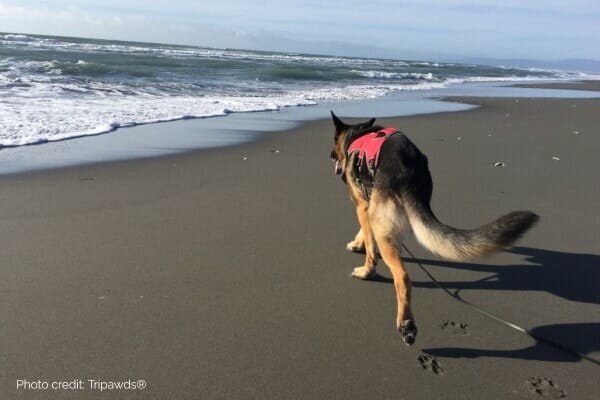 How to make it easier for 3-legged dogs on slippery floors
As part of our mission for the Tripawds community, we talk to vets like Dr. Buzby and canine rehabilitation therapists about the health and happiness needs of three-legged animals. These experts tell us that yes, dogs and cats can get around well on three legs, but adding traction to their environment is one of the most important steps we can take for their long-term health. Here's why:
Three-legged dogs naturally compensate for the missing limb
They shift their weight to the remaining limbs, which changes their center of gravity to an unnatural position. The way in which they walk, run, and stand changes dramatically.
As a result, when you put three-legged dogs on slippery floors, it's like us humans trying to ice skate barefooted. Sure, we might be able to run across the ice, but think about how tightly you must clench your muscles to keep from falling. Now, imagine holding that muscle tension every day, all day, as you walk across slippery floors. Eventually, your muscles will develop painful knots and cramps. This is exactly what happens to three-legged dogs over time, and it's amplified in those who walk on slick surfaces at home.
If your dog has had (or is facing) a limb amputation, here's what you can do to help their body stay injury-free.
3 tips for keeping your three-legged dog injury-free
1) Buy a stack of non-slip rugs for your home.
Just make sure the corners lay flat to reduce the chance you or your pets will trip on them.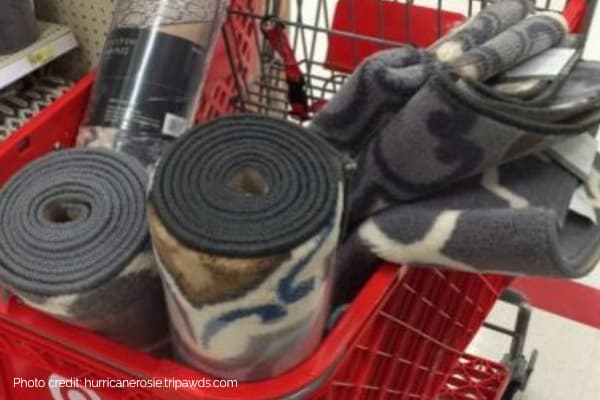 2) Keep your three-legged dog's nails trimmed.
Don't forget to trim your dog's paw fur too. Overgrown nails and tufts of fur act as barriers between the floor and your dog's paw pads, preventing them from making solid contact with the ground. (Also, if your dog is fearful slippery floors, please read: Why Your Dog Is Afraid of Hardwood Floors: 5 Practical Solutions.)
Educate yourself on the pros and cons of other tools for Tripawds® on slippery floors.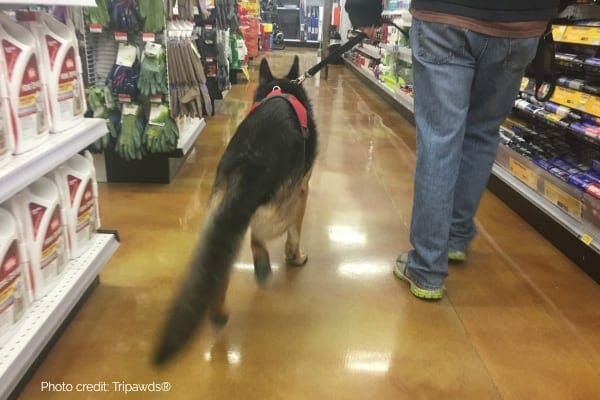 There's no shortage of boots and paw socks for dogs on the internet, but don't go out and get them just yet. Sure, they can protect a three-legged dog's feet from snow, mud, and heat, but here's why they must be used with care:
For starters, dogs perspire through their paw pads. When they wear boots every day, problematic yeast growth can occur. And when it comes to boots and non-slip socks, the reality is that many dogs are just uncomfortable wearing them.
Next, we must remember that dogs instinctively want to feel the ground when they walk. When they cannot, their sense of balance and foot placement is greatly diminished—and the risk of falling increases.
Finally, ask yourself if it's realistic for you to remember to apply those boots or non-slip socks to your dog's feet every day. Most of us would say "Nope!"
3) Add confident mobility with Dr. Buzby's ToeGrips® dog nail grips.
Once glued to a Tripawd dog's nails, ToeGrips® dog nail grips are the most non-invasive way to add safety for three-legged dogs on slippery floors. They are the only product to allow your dog's paws to breathe and their paws to directly touch the ground.
Master the art of ToeGrips® application on a three-legged dog and you'll give your amputee hero the greatest gift there is: confidence. An amputee dog who can move on any surface of their choosing is a happy and healthy dog who proves to the world what we like to say at Tripawds®: It's Better to Hop on Three Than to Limp on Four™.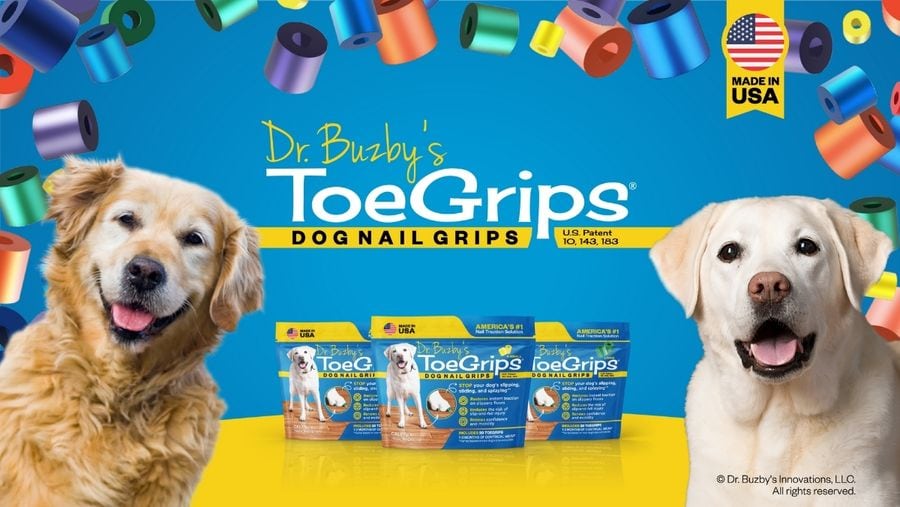 Would you like to learn more about caring for three-legged dogs? Please listen to Dr. Buzby's podcast, The World of Three-Legged Dogs, with experts Rene Agredano and Dr. Elizabeth Chosa.
About the author: Rene Agredano is the co-founder of Tripawds.com, the world's largest support community for three-legged pets and their people.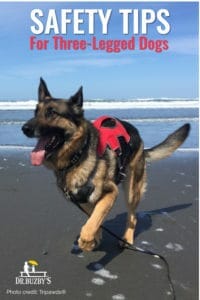 Do you have more safety tips for three-legged dogs?
We'd love to hear. Please comment below.