If your dog is living in fear of hardwood floors help is here
SUMMARY: Is your dog afraid of hardwood floors? Dogs who are slipping on smooth surfaces live in fear. So much so, that the dogs' fear of walking from point A to point B in their homes can affect the way they interact with their families. Learn why dogs are fearful of hardwood floors and get five practical solutions from integrative veterinarian Dr. Julie Buzby.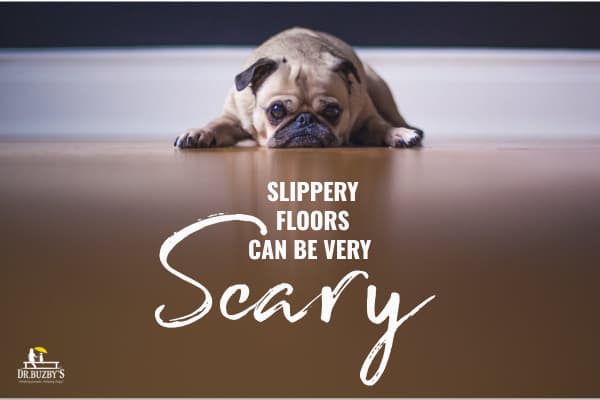 Are hardwood floors and smooth surfaces fear-inducing for your dog? If this is the case, let's dig into understanding how a dog's fear of hardwood floors changes daily routines, lowers confidence, takes a toll on the dog's body, and clearly impacts quality of life.
When a dog's afraid of hardwood floors: a common and heartbreaking scenario
When a dog is afraid of hardwood floors it means the dog is afraid to traverse some areas of the home. He often isolates himself to a throw rug, area rug, or a bed in the house. This is distressing for the dog because canines are pack animals. Your dog doesn't want to be isolated. But he is physically unable to safely join the family fun if it is occurring in a room with slick floors. In addition to the physical impact of slipping, it takes an emotional toll on both the dog and his people.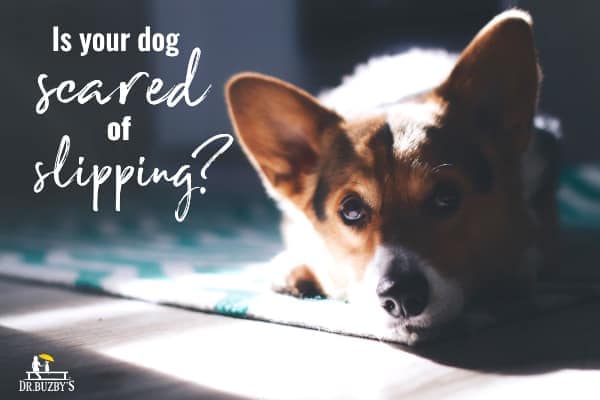 I remember having a conversation with another veterinarian about this years ago. My argument: when a dog is afraid of hardwood floors in the home it impacts his or her confidence.

At the time, there was such an emphasis on physical well-being that emotional words like "confidence" sounded out of place in a discussion about dog health. My colleague, an excellent practitioner, retorted that my concern about "confidence" was frivolous, almost anthropomorphic.
But it's not. Confidence and fear are opposites. Both are obvious in the posture and body language of dogs. And I'm convinced that lack of confidence impacts quality of life.
Understanding what is behind the fear: why dogs slip
So why does your dog slip on hardwood floors?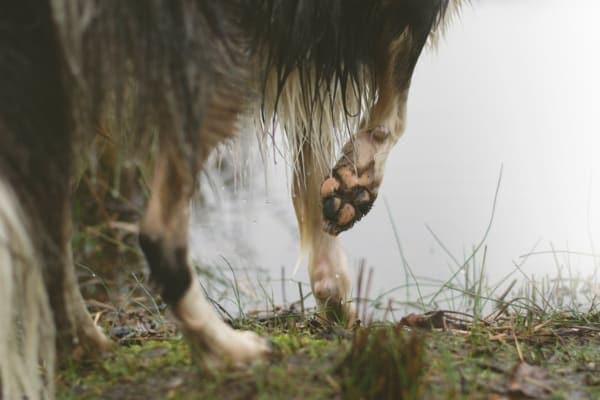 Your dog's paws were made for gripping the earth. The nails "dig" into the ground for traction like soccer cleats.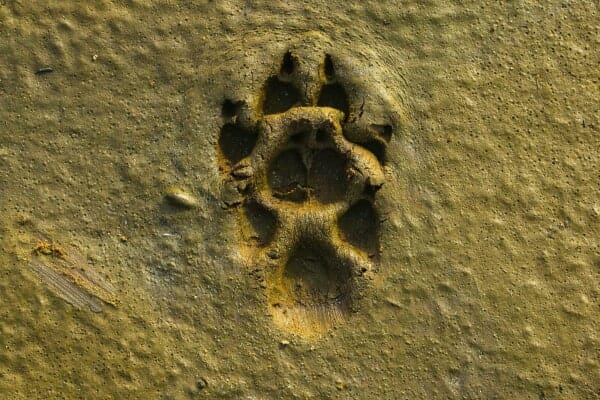 But hard nails can't grip hard floors. On smooth surfaces, when a dog tries to "dig" the nails into the slippery floor for traction, it just makes matters worse. You may have seen this scene at your vet's office: a dog frozen in fear, standing on his "tippy toes" in the middle of a slick (and therefore easily disinfectable) floor in the reception area. Without grip, panic sets in.
Slipping on a slick floor resembles hydroplaning on a wet road
I liken it to the terror that instantly washed over me when the SUV I was driving began hydroplaning on a rain-soaked road. I had lost control of the vehicle and the mechanisms that I trusted to keep me in control—the steering and brakes—failed me.
When the dog instinctually engages his mechanism for traction—flexing his paws and gripping with his nails—and it doesn't work, it can be absolutely terrifying for the dog. This is especially true for senior and special needs dogs who don't compensate as well as younger dogs.
Senior and special needs dogs are especially prone to slipping
I'm not saying slipping isn't dangerous for dogs of all ages, but usually young dogs can compensate. If they slip and slide on hardwood floors, they have the balance, the muscle strength, and tendon and ligament function to avoid wiping out.
However, this may not be the case for older dogs. Much like older people, our grey-muzzled companions often lack balance, their reflexes aren't as sharp, and their muscles are atrophied. This puts these dogs at a real disadvantage in their struggle against gravity.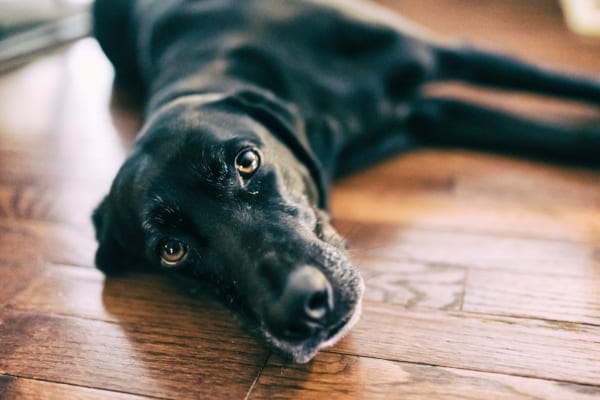 Additionally, senior dogs have more difficulty going from a lying down to standing position. Slipping during the act of rising compounds the problem by several magnitudes. When these dogs sense that they are falling and try to "catch" themselves, they can be injured in the struggle to stay upright.
Dogs remember past experiences of slipping
And dogs remember. As a self-preservation mechanism, dogs remember the experience of falling or slipping on the hardwood floor, and that fear of falling again takes an emotional toll. In many cases, fear of slipping from a prior bad experience is the "why" behind your dog's fear of hardwood floors and other slick surfaces.
So, how can you help your dog in a way that supports his natural reflexes and abilities? Here are five solutions to help your dog gain confidence on hardwood floors.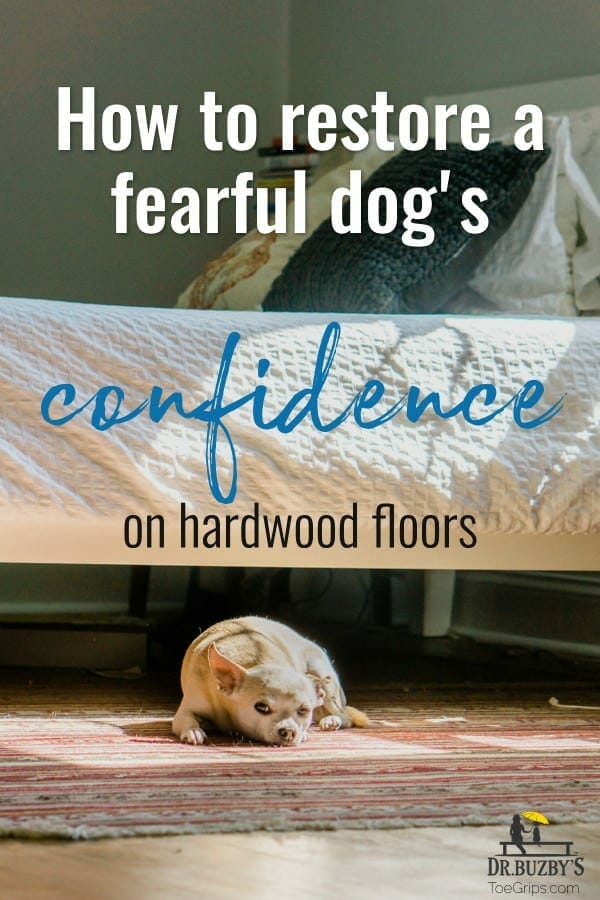 If your dog is afraid of hardwood floors, here are 5 steps you can take right now
1. Speak with your veterinarian about underlying medical conditions
If your dog has a fear of hardwood floors, it's important to talk with your veterinarian. For young dogs, a fear of hardwood floors that comes on suddenly could be a clue to an underlying medical or behavioral condition.
For elderly dogs, underlying medical conditions could be the root cause of his or her reluctance to rise and walk on hardwood floors. Common conditions in senior dogs such as arthritis, thyroid disease, hip dysplasia, and Cushing's may contribute to difficulty navigating slippery surfaces.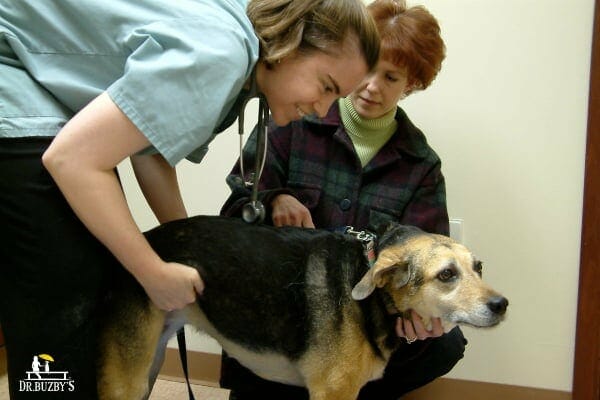 Additionally, dogs suffering from impaired vision or blindness are prone to slipping on hardwood floors. Blind dogs who are limited in their mobility can experience isolation, fear, and anxiety. If you have concerns about your dog's vision, be sure to mention it to your veterinarian.
Related article: 7 Tips for Living with a Blind Dog
2. Commit to keeping your dog's nails trimmed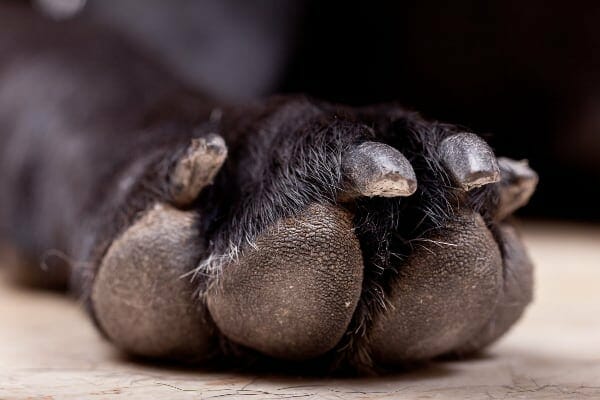 If your dog has long nails, when he or she flexes the toes in an attempt to gain traction on hardwood floors, the excess nail length interferes with the biomechanics of the paw. This decreases your dog's traction and increases the risk of a slip-and-fall injury. Long nails negatively impact a dog's posture and gait. If you have a nail trimming routine in place, that's great. If you're ready to learn how to trim your dog's nails in the comfort of your own home, please check out these additional resources:
3. Make sure your dog is maintaining a healthy weight
Not only has research shown that dogs who maintain an ideal weight can live two years longer than their overweight counterparts, maintaining a healthy weight puts less pressure on dogs' joints. Just like humans, overweight and obese dogs are more sedentary and may struggle to walk, especially on slick flooring. Weight management is key to keeping your dog moving, and mobility is essential for your dog's long-term health.
4. Keep the fur trimmed on your dog's paw pads
If your dog is sitting by you as you're reading this article, you can check this right now. Examine the bottom of your dog's paw pads. Do they look more like furry slippers than paws? If so, it's time to either schedule a visit to your groomer or trim the hair that grows around your dog's paw pads yourself. Keeping the fur trimmed on the underside of the paws is an effective and simple way to help reduce slipping and improve your dog's traction. If you're unsure of how to trim your dog's paw pads, my colleagues at Preventive Vet offer tips. You can learn more by clicking here.
5. Give your dog instant traction with ToeGrips® dog nail grips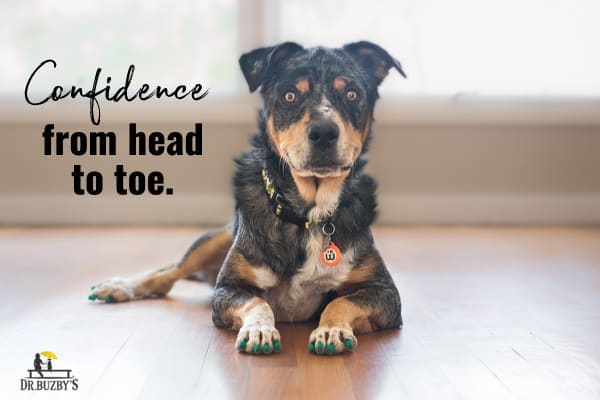 If your senior or special needs dog slips on the slick floors of your home, ToeGrips® dog nail grips may be the ideal solution. Applied to the dog's toenails, the non-slip grips enable traction to help the dog walk on slick surfaces and can dramatically improve mobility.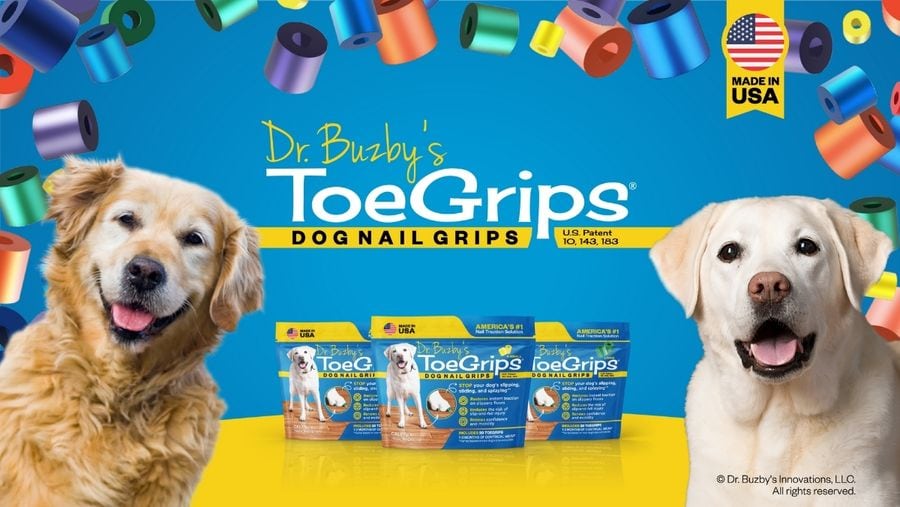 How Gibson overcame his fear of hardwood floors
My customers' stories and reviews are more powerful than my words. If your dog is afraid of hardwood floors, you may relate to this true story of a dog named Gibson who was also fearful of hardwood floors.
Gibson's parents shared his story with me and described how he suffered from anxiety and fear of walking on hardwood and slippery floors. Gibson went from throw rug to throw rug so his feet wouldn't touch the hardwood floor. He'd even stopped greeting his pet parents at the door when they came home. But that changed when Gibson tried his first pair of ToeGrips® dog nail grips.
Watching Gibson's happy transformation illustrates how real fear and confidence are for dogs. Both can be seen clearly in this short video.
I receive many happy-ending stories like Gibson's every day from ToeGrips® believers. Each success story touches my heart and makes me even more passionate about my mission to help dog owners help their dogs restore confident mobility. I'd welcome the opportunity to help your dog too! If your dog is afraid of hardwood floors, please leave a comment below and I'll be sure to reply.
Is your dog afraid of hardwood floors?
Please comment below. I'd like to help.