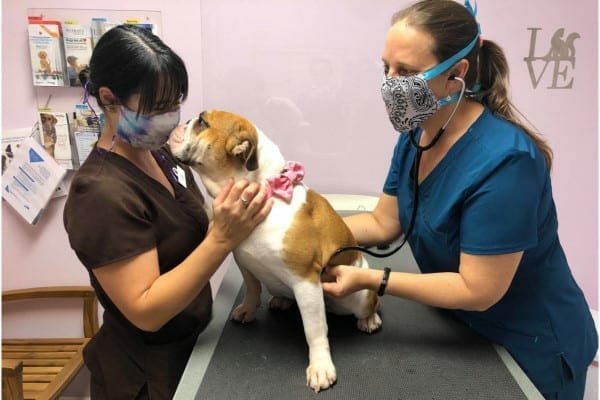 If you're seeking care for your dog, veterinary telemedicine may be an option you hadn't considered…until now. Dr. Julie Buzby, integrative veterinarian and founder of Dr. Buzby's ToeGrips®, recently met with Dr. Shlomo Freiman, veterinarian and co-founder of telehealth platform Petriage, to discuss the advantages of using telemedicine for pet health care and why COVID-19 is ushering in a new era.
Over the past week, I have heard from nearly every single member of my husband's former fantasy football league. Mind you, I haven't spoken to them in over a decade, since we moved out of the state. But I can imagine the conversation in their homes…
"Why do our dogs always get sick on Friday night? Or Mother's Day? Or during a COVID-19 lockdown? Do we know anyone who is a vet?"
"Oh, wait, isn't Tim's wife a vet?"
"Tim? The guy who took the trophy in fantasy football every year even though he just let the computer pick his team?"
"Yeah, I'm pretty sure his wife is a vet. I'll text him!"
I get it. As a veterinarian for 20+ years, it still brings me joy to be able to share a little bit of my expertise with someone who is concerned about their dog's health. Our pets are precious, innocent family members and seeing them suffer can send us into a panic.
The last thing anyone needs right now is more panic.
A sustainable idea for vet care during quarantine
I shared with them—and I want to share with you—a sustainable idea for seeking care for your dog from home: the concept of veterinary telemedicine.
Veterinary telemedicine has been around for many years as the illegitimate stepdaughter of veterinary medicine. It had never been invited into the spotlight so the pet health industry could admire its beauty and potential.
That all changed last month when veterinary telemedicine got invited to the ball.
Sequestered at home, pet owners needed new ways to seek care for their furry family members—ways that can happen from their kitchens and living rooms.
Enter veterinary telemedicine in perfectly fitting glass slippers.
What is veterinary telemedicine?
Veterinary telemedicine, by simple definition, represents a veterinarian interacting with a client with whom they have a relationship to provide advice and guidance on a pet's health (a.k.a. veterinarian client patient relationship or VCPR).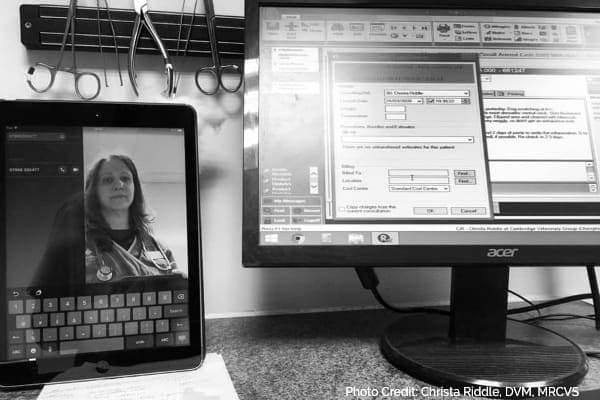 It's done within the context of intimacy—the VCPR—which serves to establish mutual trust in the relationship and also serves to satisfy the legal requirement for maintaining the vet's license in good standing.
A huge percent of veterinarians are now scrambling to provide this technology for their clients. Veterinary practices have three critical reasons to make it happen quickly:
to help their patients
to protect their clients and staff from non-essential human-to-human contact
to keep their businesses "open"
On April 18th of 2018, Dr. Jessica Vogelsang, veterinary thought leader and founder of pawcurious.com, started a private Facebook group for veterinarians interested in telemedicine. She wrote this "internal note" for the handful of vets who joined her initially: "This is going to be a placeholder for a little bit until we're ready to take over the world, so please remain seated with your seatbelts fastened until the ride is ready for liftoff." The group then lay dormant for two years.
On March 18th of this year—one short month ago—she opened the group to the veterinary community at large and wrote, "Wow, I really didn't know just how much of a liftoff this was gonna be…"
The group has exploded to 2700+ members in four weeks.
How a dog named Bodhi inspired veterinary telemedicine
Like Dr. Vogelsang, there were other veterinarians who had the foresight to see the future and adapt. Dr. Shlomo Freiman, practicing veterinarian and co-founder of Petriage.com, is one of them.
He tells the story of getting a call in 2015 from a friend/client on his way to the emergency room. The friend's young lab mix, Bodhi, had just experienced a seizure. Understandably, the client panicked and rushed the dog off to the ER. He called Dr. Freiman on the way, for moral support as much as anything. Vets are master interrogators. Dr. Freiman began asking questions, one of which was, "How does Bodhi look now?"
The answer: "Perfectly fine!"
Dr. Freiman asked the client to pull over and take a deep breath. Then he walked him through a series of questions to triage the emergency. Though watching your dog have a seizure is terrifying, the fact is, because of the answers Dr. Freiman received from his friend, the seasoned vet was able to determine that this was likely not a life-threatening emergency. The owner, armed with new information, elected to go home and monitor Bodhi.
One small step for Bodhi, one giant leap for dogkind
Dr. Freiman was a hero for that client. He saved the owner hundreds or even thousands of dollars (depending on whether or not an MRI would have been performed), allowed the happy dog to return home without further stress, and was able to make an appropriate diagnosis the next day…all by being able to triage the dog on the phone.
Which made Dr. Freiman think, "Why can't I do something like this for all my clients?"
He knew it wouldn't be practical to give out his cell phone number to thousands of clients for 24/7 access. But he also recognized that he could do more than the current model of "turning over the phones" to the standard fare emergency message after hours.
In a twist of fate, Bodhi's dad was also inspired to help other pet parents and was uniquely qualified to do so as a data geek and Ph.D. Harvard grad. Petriage.com was born in 2016 to provide telemedicine for Dr. Freiman's clients and later morphed into an app for all veterinarians to better connect with their clients.
Today the app features an automated, AI-powered "symptom checker" that allows any pet owner to triage their pet's issues from home. This valuable tool was developed specifically to give an assessment of urgency (not a diagnosis), similar to what Dr. Freiman did for Bodhi on that fateful day. (You can download Petriage's "Pet Symptom Checker" mobile app for iOS or Android. It's free.)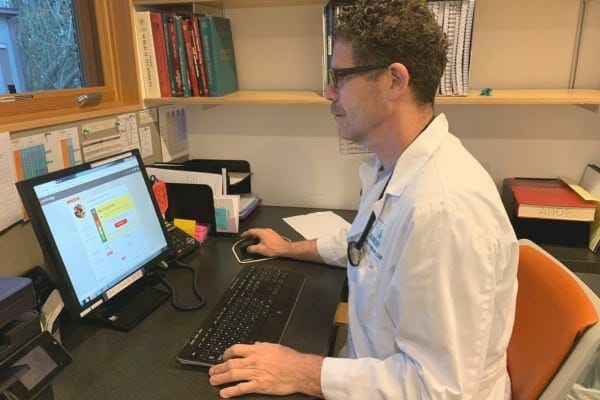 Remember the private FB group I mentioned? I met Dr. Freiman through that group and was so impressed with his level of technical expertise and practical experience with telemedicine, that I asked for his help crafting this blog post. I have no financial association with his company; I've simply learned a ton from him and am eager to share it with you.
Telemedicine in humans versus pets
Many Americans have participated in some sort of telehealth consult with a medical provider for their own health. Our local urgent care offers this convenient feature. Humans can establish a relationship with a new doctor over the phone (called the patient-doctor relationship, which is the MD version of the VCPR). Almost all states allow the establishment of a patient-doctor relationship remotely. Spoiler alert: veterinary medicine is different.
As Dr. Freiman explains, "We are in a unique situation because our patients don't talk. So we can't just adopt the model from the human side because pets don't tell us where it hurts and so on. It's hard enough at times to come up with a diagnosis when you have your hands on the pet, listening to the patient's heart and lungs and palpating their abdomen. It's even harder remotely."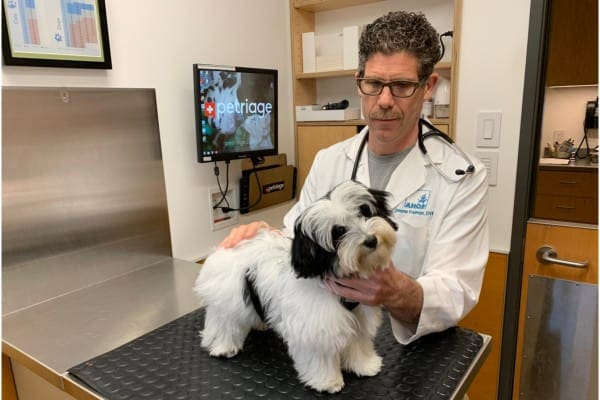 The distinction between teleconsultation and telemedicine
Dr. Freiman makes a clear distinction between teleconsultation for animals that are not established patients and limits the depth of advice that can be provided versus telemedicine, which presumes that the VCPR exists. For the latter, vets already have a baseline on the pet's health and a relationship with the client. In those cases, more "medicine" can be practiced, including establishing a rule-out list for possible diagnoses and a treatment plan.
When I fielded questions from the fantasy football league, I opted for teleconsultation since I had never examined their pets. I offered advice, referred them to specific blog articles for additional information, explained what to watch for, but I didn't make a diagnosis or prescribe drugs over the phone.
Veterinary medicine is ultimately Lady Justice holding her scales. We're always trying to balance risk versus reward for the good of our patients. And in the face of COVID-19, the rules of engagement have to include allowance for common sense. Turns out, even the government agrees!
The Government and the VCPR
Amid the COVID-19 crisis, the US government took an unprecedented action of "rolling back" certain aspects of the federal VCPR requirements for vets to care for pets. If you saw that headline on the morning talk shows, unfortunately, it only told part of the story.
Ultimately, it's up to the states to determine what portions of their veterinary-client-patient-relationship standards they will enforce. If vets are scrambling, veterinary state boards seem to be scrambling all the more. It's the wild, wild west as veterinarians pioneer into uncharted territory.
Regarding writing guidelines to accommodate for telemedicine, Dr. Freiman says, "Before COVID, things were changing but very slowly. State boards, as well as the American Veterinary Medical Association, were reactive not proactive."
Veterinary telemedicine guidelines vary widely state by state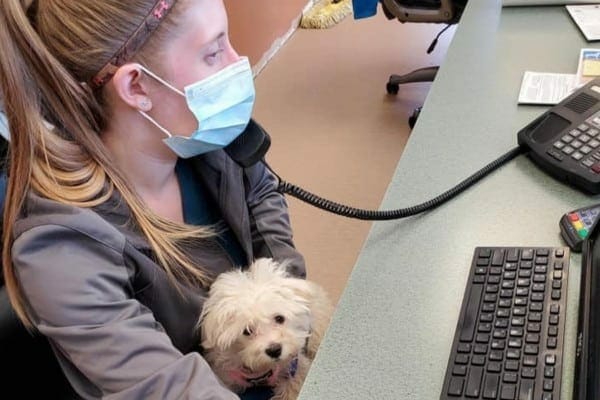 The standards are changing so fast that my head is spinning. Here are some examples of what's going on around the country:
Oregon was one of the more progressive states even before the coronavirus crisis. If a veterinarian had access to a pet's medical record that included an exam performed within one year, even if the vet wasn't the one who did that exam, the vet could prescribe medication for said pet. But on March 19th, the Oregon Veterinary Medical Board issued a statement from the governor which removed the requirement of a VCPR altogether for telemedicine so as not to "prevent, hinder, or delay mitigation of the effects of the COVID-19 emergency."
A month ago, the North Carolina State Veterinary Board strictly forbade the practice of veterinary telemedicine. However, on March 18th, they pivoted to relax the standard.
On March 21st, The New Jersey Veterinary Medical Association released a statement saying that they agreed with the AVMA position that telemedicine is a useful adjunct for providing care to patients that already have a physically-established VCPR. "New Jersey veterinarians may look at the state's proposed telemedicine rules which, although not adopted yet, have been approved for adoption by the state Board. Veterinarians should comply with the specifics in the unadopted regulations, but generally, veterinarians should determine if they can provide services through telemedicine to the same standard of care as they would if those services were provided in person. If they cannot do so in their professional judgment, they should not provide services through telemedicine."
On March 31st, the governor of Michigan made a bold statement in an executive order: "…all veterinary services, essential and non-essential, must be performed by telemedicine to the fullest extent possible."
Interestingly, unlike any other state, in the face of COVID-19, California has chosen to enforce a harder line and cripple veterinarians' ability to effectively use telemedicine. (Read California's standards: Telemedicine Requires an Established VCPR.) Their stance lacks common sense and places undue hardship on pet owners and veterinarians. Dr. Jessica Vogelsang is leading the charge for change through a petition.
Triaging pets is where the value lies
In a recent article Dr. Freiman wrote for Today's Veterinary Business, he explained, "Obviously, telemedicine's advantage in today's COVID-19 world is that it's available remotely and can help the veterinarian continue to provide pet care without an office visit and at the same time triage patients that must come in."
Dr. Freiman's singular vision is to help pets, and often that help is as simple as telling their owners: "That can wait 24 hours." His story about Bodhi illustrates this. And it's also my own personal truth. Assessing urgency is what every vet does when a relative or friend from across the country calls for emergency pet advice.
In fact, the Petriage app has developed this scale for the task:

"Emergency" means pack up and leave now. "Urgent" means your pet needs to be seen by a veterinarian within 12-24 hours, and so on…
This was certainly the value I provided to the football guys when they texted me. The first call that came in was on behalf of Lola, a 2-year-old bulldog with bloody diarrhea. The family had been working closely with their local vet but the practice's hours were disrupted by the pandemic.
After asking questions to determine the backstory, I walked them through a hands-on assessment, which began by referring them to my blog post on assessing your dog's vital signs. I asked them to call me back after obtaining Lola's temperature, pulse, respiratory rate, gum color, and capillary refill time. This would provide an objective snapshot of her health status.
I didn't ask for them to send pictures or a video, but that is one of the foundations of telemedicine. For example, I could have asked for a video of Lola's breathing, a picture of her gums, or even a picture of the bloody stool.
This family wasn't looking for me to treat the dog from 700 miles away. They needed me to help them determine if this was a "pack up and leave now" emergency.
It wasn't, but by learning how to assess Lola's vital signs and rechecking them throughout the day, they later determined that an ER visit was warranted. I'm happy to report that Lola got the care she needed and her story has a happy ending.
Bringing vet med to your living room
Dr. Freiman stresses, "What we're doing with telemedicine is not a substitution for the brick and mortar veterinary hospital; it's in addition to it. We need to be in our clients' living rooms. Even before COVID-19, it was an outdated model to ask clients to come to our space for everything."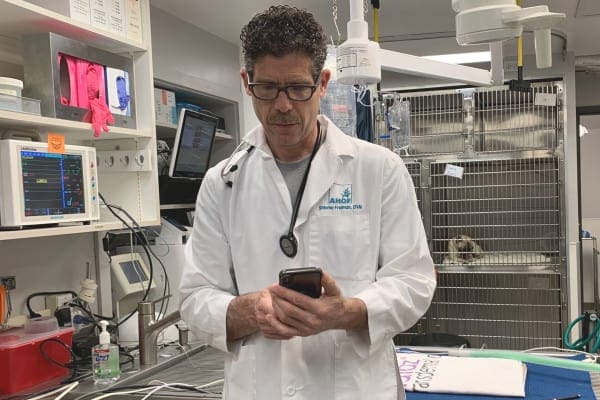 He wants to see colleagues transition to become "brick-and-click vets." Depending on the animal, the situation, and the chief complaint, a case may be best suited to "click" (telemedicine) or "brick" (the veterinary practice). But it doesn't have to be an exclusive proposition.
According to Shlomo Freiman's data, 60-70% of cases which start as telemedicine workups end up in the brick and mortar hospital for hands-on care. But here's an interesting statistic: only 7% of Petriage cases are deemed true emergencies. Most of the cases are classified as "worrisome," meaning the client has a couple of days to deal with the issue. Understanding in real time which category your pet "emergency" falls under is hugely valuable information.
Telemedicine services for senior pets
Dr. Freiman pointed out that veterinary telemedicine is a great option for senior pets because so much value can be derived from remote interaction with existing clients. This model assumes that the veterinarian has examined the dog in person and has current lab work to guide the treatment plan.
Telemedicine means that senior pets can receive quality health care for issues like pain and mobility management without having to be loaded up and transported to the vet as often. If you've ever had to help your large-breed senior dog in and out of the car, you understand that on this point alone, telemedicine provides immense value. And for senior pets on hospice care, it's an excellent way of keeping in touch with a veterinary provider.
What does the post COVID-19 world of vet med look like?
Right now, pet parents don't necessarily want to take their pets out of the home, many veterinary hospitals are short-handed, and certain procedures have been tabled as non-essential (For more info, please read my previous blog post, Navigating COVID-19 with Your Dog.) But even when all of those factors "normalize" again, you don't have to be Dr. Freiman to realize that the world will be forever different after this quarantine. What Zoom calls are doing for business meetings, telemedicine is doing for the practice of veterinary medicine. It will become a permanent standard, in one form or another, in progressive pet care.
Dr. Freiman asserts that moving forward, telemedicine will be much more integrated into the workflow of the brick and mortar veterinary practice. He's already mastered this in his own practice. COVID-19 will usher in a new era for pet health care, rooted in veterinary telemedicine. And I propose that represents a win-win-win for the client, the patient, and the practice of veterinary medicine.
Searching for more information on COVID-19 and dogs?
If you're seeking at-home health care tips for your dog during the corona crisis, please read my latest article, Pandemic Life & Your Dog: 5 Tips for Health & Happiness.
Stay informed with the latest news about COVID-19 and dogs…