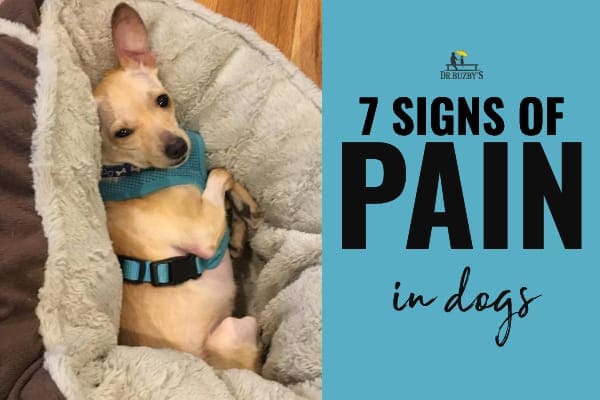 This is the real-life story of a dog named Howard who demonstrated initially subtle (but rapidly escalating) signs of pain associated with a sudden tear of his stomach. The videos below (along with pictures and descriptions) are a powerful illustration of signs your dog is in pain.

Howard's backstory
Weeks prior to this episode, Howard had experienced unexplained back pain. (For a deep dive into the anxiety-pain connection, please read my article: Chronic Pain in Dogs—An Interview with Dr. Ralph Harvey. ) His critical care veterinarian (who also happens to be his owner) took Howard to a neurologist for advanced imaging in the quest for a diagnosis.
Our little protagonist had three MRIs, cerebrospinal fluid taps, and extensive bloodwork. Everything came back normal. His diagnosis remained a mystery, yet Howard continued to deteriorate.

A painful dog and a mom's quick actions
Finally, Howie's pain became so severe that he started biting his humans. Humane euthanasia was on the table due to the intensity of Howie's pain, but neurologist Dr. Lauren Marini proposed administering immunosuppressive doses of prednisone and a chemotherapy drug called Cytosar.

Six hours into the 24-hour infusion of Cytosar, Howie was almost back to normal. In light of the progression of disease and his remarkable response to chemotherapy, he was given the presumptive diagnosis of MUE—meningitis of unknown origin, formerly known as GME (granulomatous meningoencephalitis).

The first video below of Howie (wearing a red harness) was taken immediately after he perforated his stomach. Just 30 seconds prior, he had been totally normal—playing and jumping.
When he became acutely painful, his mom began videotaping the episode, thinking it would be helpful for the neurologist to see Howie's behavior. She had no idea what was really wrong with her dog.

Howard's painful condition quickly escalated
But after he vomited, his astute ER vet mom realized that his symptoms were pointing to an "acute abdomen" (translated as belly emergency). In hindsight, the high doses of prednisone had likely predisposed him to this issue.

His mom's decisive, quick actions saved his life. She rushed him to the specialty facility where she works; he was in surgery within three hours of the video footage that was captured of him (see below). The stomach tear was identified and repaired.

Three days later, Howie was back home with his family.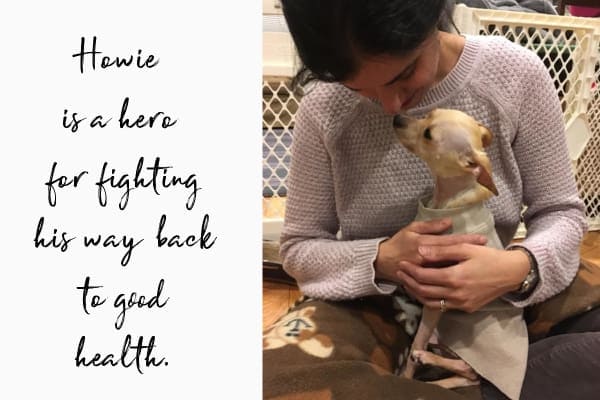 7 Signs of pain in dogs
We can learn a lot from Howie's story and his videos. Recognizing signs your dog is in pain and promptly seeking veterinary care might just save your dog's life one day.
1. Disengaging from the family and decreased activity level
Dogs may exhibit signs of pain by secluding themselves, often subtly, as a means of protection. Watch for:
Apprehensiveness about being held
Hiding behind or under furniture
Unwillingness to be part of family activity
Reluctance to rise, lie down, and/or walk
Avoiding or struggling on stairs
Reluctance to jump up on couch/beds
2. Change in facial expression and ear carriage
While dogs can't tell us where it hurts, they do express pain through their facial expressions and ear placement. In the photo below, Howie is exhibiting classic signs of pain through his facial expression. In your dog, watch for:
Ears laid back
Eyes hard or squinted
Pupils dilated
Grimacing consistent with facial muscle contraction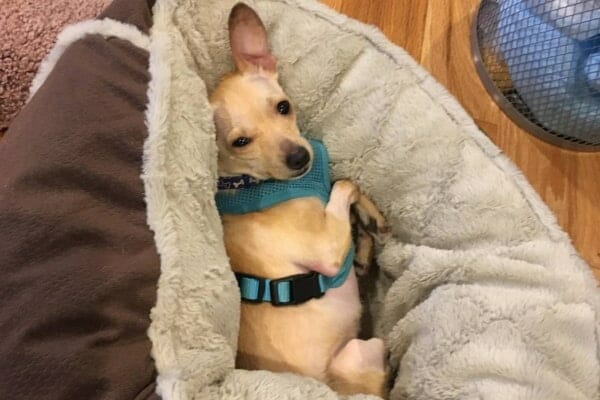 3. Abnormal posture and gait
Your dog may exhibit physical signs of pain through a change in posture or the way he carries himself. In the video below, Howard's tail is flexed. Watch for these changes in your dog's physical appearance:
Tail tucked or held awkwardly
Hunched appearance or curved topline
Abnormal stretching (as seen in the video)
Inability to sit or lie comfortably/restlessness
Limping/favoring a leg
Unwillingness to lift head or turn neck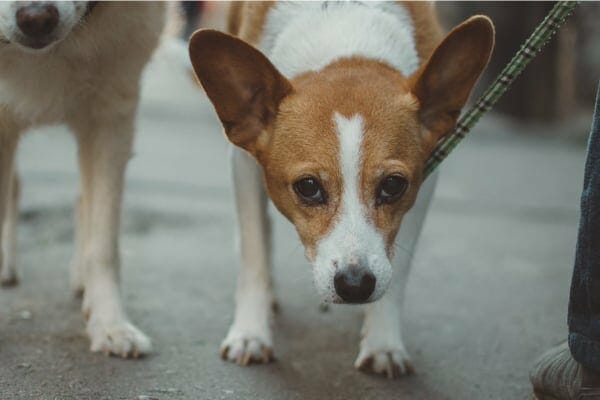 4. Vocalizing: The pinnacle of pain in dogs
Please note that points 3 and 4 in this list of signs of pain in dogs are placed in this order on purpose. When I initially saw Howie's video above, I knew it was the perfect way to visually dispel the myth that a dog in pain will cry or moan. Granted, this does happen, as exhibited in the next video of Howie, but a dog crying in pain is the exception to the rule, not the rule. Most dogs suffer silently.

However, if you do observe the following vocalizations from your dog, contact your veterinarian immediately:
Dog crying in pain
Dog howling, groaning, or whining in a way that is consistent with distress
Dog whimpering in pain
Howard showed signs that his pain was becoming more severe and began vocalizing in distress.
Please note, the following video may be disturbing to watch. Howie's mom captured the video to share with the neurologist before she realized how serious his condition was. Again, if you find this disturbing, you may want to skip this video which illustrates a dog crying in pain.

WARNING—Graphic Video: Dog vocalizing in pain
5. Changes in behavior or habits

Changes in your dog's behavior are worth noting. When a dog stops doing something that he's always done, or starts a new behavior out of the blue, it's important to pay attention. These changes are often rooted in pain or illness. Changes in your dog's behavior that may indicate pain include:
Change in appetite (typically decreased)
Uncharacteristic signs of aggression
Loss of housebreaking
Sleep/wake cycle changes/restlessness at night
Shaking or trembling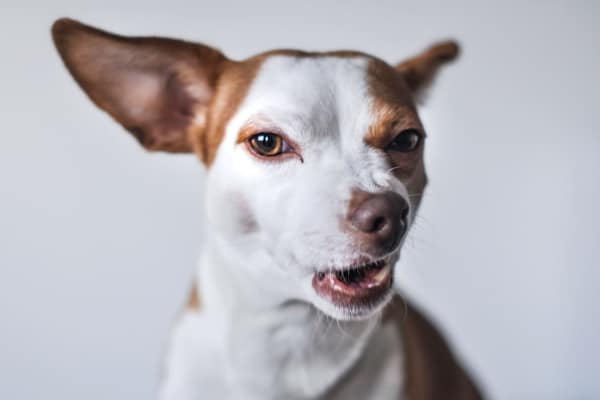 6. Self licking or biting

In the videos, you may have noticed Howie turning to nip at his flanks. Dogs often bite at, gnaw on, or lick parts of their bodies that hurt. Here are some examples:
Dogs with arthritis may obsessively lick painful joints or limbs.
In some cases, lick granulomas (a self-inflicted sore from incessant licking) can be linked to nerve pain. For example, lick granulomas on the front legs may be linked to cervical disc disease.
Dogs can bite at their tail as a response to pain in the hind end.
7. Increased heart and respiratory rates
The previous six points are all subjective, meaning that they are based on human opinion. Heart rate and respiratory rate are objective measures of pain in dogs. They can be quantified and aren't affected by human bias.

When a dog is in pain, his or her heart rate and breathing will increase. If you've ever been in acute pain, you recognize that the same is true for humans. Dogs in distress often pant.

To learn more about your dog's normal vital parameters so you can recognize abnormalities, please check out my podcast: Learn Your Dog's Normal Vital Signs.

A happy ending for Howard
As you can see in the video below, Howard recovered quickly and is playing again—without pain!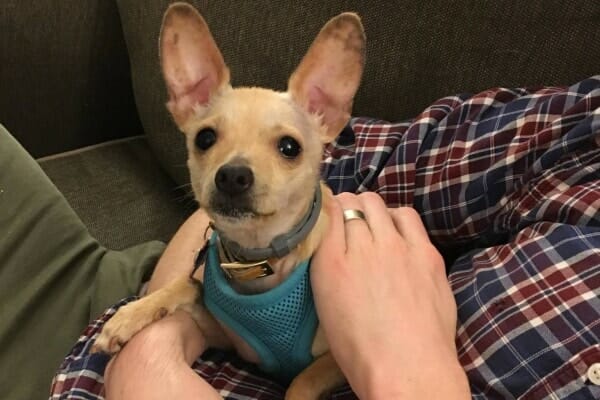 A letter to Howard from his family
Thanks to Howie's mom's swift action, the numerous veterinarians who provided him excellent care at Ocean State Vet Specialists and Bay State Veterinary Emergency and Speciality Services, and the deep pockets of pet insurance, Howie made a full recovery. I absolutely love this note that his family wrote him on social media:

Dear Howard,
Thank you for not dying from MUE or your septic abdomen.
Love,
Your Family

Howie is a hero for fighting his way back to health and for exemplifying signs your dog is in pain. His mom, Dr. Shelly Pancoast, and I post his story and videos here in the hope that they will help other dog owners recognize and react quickly to pain in their own dogs.
What questions do you have about signs of pain in dogs?
Please comment below. We can all learn from each other.