How can you keep your old dog comfortable as he or she ages? Integrative veterinarian Dr. Julie Buzby shares 15 practical senior pet care tips that you—as your dog's biggest advocate—can put in place now. Making small changes around the house can have a big impact on your dear old dog's happiness and comfort.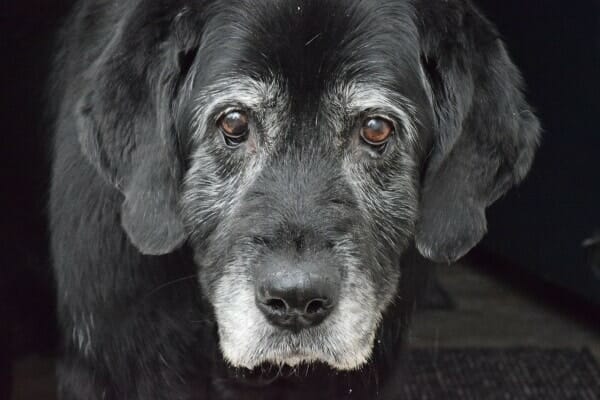 Although my senior dog patients come to see me for a variety of reasons, one common thread is a focus on keeping aging dogs comfortable and maintaining quality of life. Whether we are battling chronic health conditions, mobility issues, or just general signs of aging, pet parents across the board share a focus of minimizing their older dogs' discomfort and stress.
Naturally, treating any medical conditions is a priority; that's where teaming with your veterinarian is critical. Also, as a veterinarian, I stress the importance of home care and environmental adaptations. Simply making a few small modifications can bring extra comfort throughout your dog's golden years.
Offering comfort for senior dogs at home
While senior dog care is very individualized, I can share some ways that you can make your dear old dog comfortable and happy based on my experience with my own canine patients. Surprisingly simple modifications can make your home more accessible for your senior dog.
Keep in mind these are general tips for your dog's daily comfort. They work in tandem with other components of senior dog care and wellness, including:
15 tips for making your dear old dog comfortable
Next, let's move on to 15 tips that may help make your senior dog comfortable.
1. Teach your dog how to use a dog ramp before it's needed.
I've found that most people who are concerned about their dog's joint mobility ask me about their dog jumping up—onto furniture, up into the car, etc. They are usually surprised to hear that I'm far more concerned with their dog jumping down. Adding gravity to the dog's body weight places a lot of stress on aging joints.
Senior dogs with elbow, shoulder, spine, or neck conditions are particularly susceptible to injury from jumping down.
That's why I recommend dog ramps as a home adaptation for older dogs. Ramps can aid dogs when getting in and out of cars, on and off of beds, and up and down from furniture. (Stair steps are an appropriate alternative to ramps. However, the ramp is definitely one of my favorite things for senior dogs because its the simplest for the dog's body and brain to navigate.)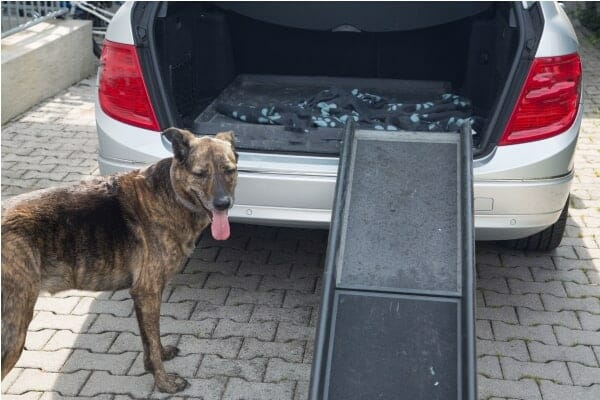 It's important to note that it's better to start teaching your dog to use a ramp before he or she needs it. Using a dog ramp does require some training. Yet, with practice, it's a practical way to keep your senior dog safe when moving from higher to lower heights (and save your own back!).
2. Choose a dog stroller or dog wagon for your senior dog.
Just because your dog is dealing with stiff joints doesn't mean your days of taking strolls together have to come to an end. You can still enjoy outside time together by adding dog wagons and dog strollers to your routine. Getting your dog some wheels can allow him or her to experience all the sights and smells of a good walk without worrying about it being cut short by aches and pains.
3. Provide a comfortable dog bed for your aging dog.
Making sure your dog has a comfortable and supportive place to rest is even more important as he or she ages. Most of my grey-muzzled canine patients have some degree of arthritis pain in dogs. Laying on hard floors can put pressure on sore joints, so I always recommend a quality dog bed.
Shopping for a dog bed may seem overwhelming with the number of available choices. I like to make sure the bed has adequate padding that will hold up without going flat, is relatively easy to clean, and is durable. If you want my recommendation, check out Orvis dog beds. But there are a lot of beds out there that will fit the bill.
4. Make sure your dog has access to areas that have comfortable temperatures.
Older dogs are more susceptible to temperature extremes. Cold temperatures can exacerbate achy joints and pose risk of hypothermia. Senior dogs are also at a greater risk of overheating in warmer weather. If your dog is spending time in the elements, it is imperative that he or she have access to areas with more comfortable temperatures.
Pay close attention to your dog's body language outside. If he's shivering and is walking a little more stiffly, he's probably too cold. If he's panting heavily and slowing down, he may be starting to overheat. Addressing temperature issues before they get too severe can keep general discomfort from developing into a life-threatening emergency (i.e. heat stroke in dogs).
Your senior dog should be offered frequent breaks in a temperature-controlled shelter (ideally an air conditioned or heated house) to maintain a normal body temperature.
5. Put grooming care alterations in place for your aging dog.
If your senior dog has the type of fur that requires grooming (haircuts, not just routine baths), you and your groomer may have to make some adjustments.
Dogs' skin loses elasticity as they age, so we need to take extra care to not nick the skin with clippers or scissors.
I encourage pet parents and dog groomers to be mindful of the sometimes unnatural positions they have to place dogs in (such as extending the legs) in order to access all the parts of the body that need groomed. As we know, older dogs often have some degree of arthritis, so moving them slowly and gently, being mindful of achy joints, can make grooming easier for them.
Also the grooming facility itself—with its unfamiliar sights, smells, and sounds—can be a stressful environment for older dogs. The sound of blow dryers can be very stressful, and some dogs don't like getting wet in the bath.
Even dogs who have historically done well at the groomer may become confused and agitated in such a stimulating environment, especially if they're developing early signs of canine cognitive dysfunction. Talk to your veterinarian and your groomer about ways you can work together to minimize grooming stress for your dog.
One thing I want to make clear is that I am certainly not suggesting you stop grooming your senior dog. Unkempt coats can lead to matting, which is very painful. Your dog's grooming routine should be maintained as he or she ages—it just may require a bit of modification.
6. Add safety features to your senior dog's bath time routine.
Not all dogs go to a professional groomer. For those dogs that are bathed at home, we want to make sure to be as careful as possible to prevent stress and injury.
If your older dog struggles to stay upright on all four paws or has decreased muscle strength, standing in a slippery tub for a bath can be a terrifying experience. Placing a dog in a tub instantly changes the way a dog's paws interface with the "ground." If a dog doesn't feel stable, the dog's entire body tenses. His or her pupils may even get bigger, triggered by the hormones associated with stress.
The fight-or-flight reflex sometimes results in a scramble, which means slipping and sliding in the tub. Not only is this anxiety-inducing for your dog, but it can also result in injury.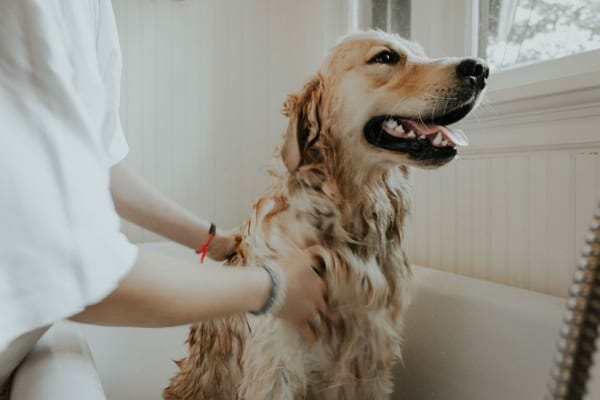 To help keep your senior dog comfortable (and this is true for all dogs), place a non-slip bath mat in the bottom of the tub. Alternatively, placing a non-slip bath mat in a shower and showering with your dog is a creative solution for large breed dogs.
7. Speak with your vet about your senior dog's diet and nutrition.
You may know that dogs at different life stages have different nutritional requirements. Commercial dog foods are balanced and labeled for those stages to provide the nutrition your dog needs. Just as puppy food is formulated for growth, senior dog food takes into account a slower metabolism, reduced activity level, and digestive health. Most senior dog foods have added nutrients to support joint health as well.
If your dog is getting older, you may find yourself wondering at what age do I feed senior dog food? This answer can vary by dog size, breed, and activity level.
I recommend discussing nutrition with your veterinarian at every routine (usually annual or maybe twice yearly in older pups) physical exam, and anytime there's an issue such as digestive troubles. Trust me, your veterinarian will be absolutely willing and happy to answer nutrition questions, and glad you're asking them for guidance instead of consulting "Dr. Google."
One of the most common conditions I see in my senior patients, in addition to arthritis, is dental disease in dogs. Even with routine care, some senior dogs can develop painful periodontal disease that may affect their ability to eat hard food. Talk to your veterinarian about whether your dog would benefit from eating soft food, or even whether you should moisten their regular hard food to make it easier to chew.
8. Elevate your senior dog's food and water bowls for comfort at mealtime.
If your geriatric dog has cervical disc issues (neck problems), back problems, or front-end lameness, elevating food and water bowls is a simple modification that often yields immediate results. It prevents the chronic, repetitive straining motion of bending down again and again to floor level to pick up bits of kibble from the dish.
This senior dog care tip creates an easier, safer way for an older dog to enjoy meals while keeping the neck in a more neutral position.
Incidentally, I have seen this simple change help my grey-muzzled patients who had stopped eating completely. The elevated dish adaptation took the pressure off—literally—and restored comfort and dignity to dinner.
9. Consider senior dog supplements as a way to make your dog comfortable.
We all want the best for our dear old pups. Balancing the benefits of medications with potential risks and side effects can be tricky. Senior dog supplements can be a nice middle ground treatment, or can be used in conjunction with medications. Supplements can help relieve symptoms of joint pain, dental disease, digestive problems, and may even help brain function.
I do advise caution, because nutraceuticals are not subjected to the same safety and efficacy standards that true medications are. In general, I recommend never starting your dog on an OTC supplement or medication without first talking to your veterinarian.
10. Make your couch or your dog's favorite chair more accessible.
Does this scenario sound familiar to you? Your aging dog wants to get on the couch. It's her favorite spot. However, her hind limbs are getting weaker, she has joint pain, and jumping up and down is not only difficult physically, but emotionally frustrating.
My clients have shared with me creative solutions to help their beloved dogs, and I'd like to pass them along to you. In fact, one client simply lowered the couch by removing the couch legs! That's a devoted dog dad!
While you may not be ready for something that drastic, you can come up with ideas by looking at your dog's environment and being creative. One simple alternative is to move some couch seat pillows to the floor, which effectively "lowers" the height of the couch while simultaneously providing a "step" up to the couch. Or your dog may just be content to lie on the pillows now at floor level.
Pet stairs are another great alternative to make beds and couches more accessible.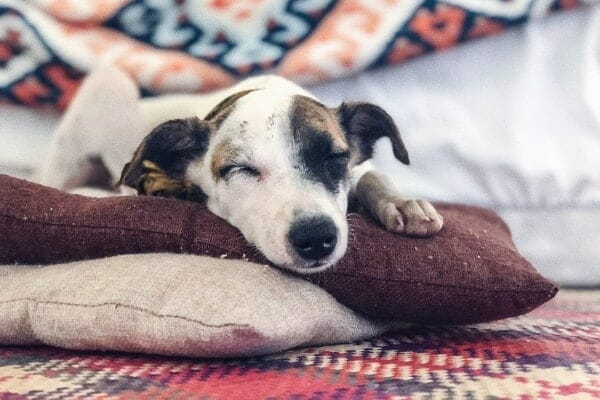 11. Keep a nightlight on for your senior dog.
As dogs age, their vision becomes less accurate. In some cases, this is due to cataracts in dogs, but more often than not the cloudy eyes in dogs is caused by lenticular sclerosis. Lenticular sclerosis is a change in the dog's lenses that occurs with age. It is not considered pathologic, and your veterinarian would be able to distinguish the two.
However, as your dog's vision begins to diminish, it can be fear-inducing for your dog and even can cause a fall or injury. Low-light conditions can be especially problematic. For this reason, I strongly recommend that you add a nightlight to your dog's sleeping area and in the hallways of your home.
If your dog wakes at night, which is common for senior dogs who suffer from doggie dementia, the light will help contrast the darkness. Your dog will feel more comfortable and be safer too.
12. Add reflective tape to stairs.
While we're on the subject of vision, let's imagine what it is like for a dog with poor vision to stand at the top stairstep and look down over a flight of stairs. Often, it is difficult for a senior dog to determine where one stairstep ends and another one begins, not to mention they may be intimidated physically by the prospect of climbing stairs. We need to give them all the help and support we can in navigating the obstacle.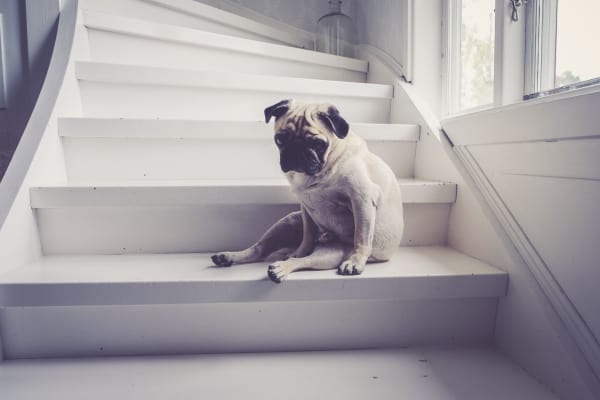 Adding reflective tape to the front edge of each stairstep is a simple home modification that will help your dog differentiate between each stairstep. Making this adaptation not only helps keep your dog safe, but it also helps increase your dog's confidence when moving from one floor of your home to another.
13. Reduce the chance of slip-and-fall injuries by adding traction to your dog's paws.
Now that you've helped create definition between each stairstep by adding reflective tape to the stairs, let's go one step further and help your dog navigate slippery surfaces like hardwood floors.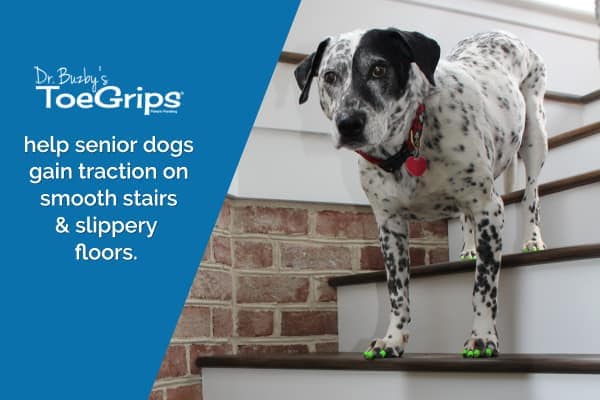 Asking a senior dog with signs of arthritis to navigate hardwood floors may be asking the impossible. Our grey-muzzled companions do their best to comply, but it takes a toll on them physically and emotionally. Dogs don't complain. But getting up from and walking on hard, slick surfaces puts them on a trajectory for slip-and-fall injury on stairs and floors and drains dogs of their confidence.
If your older dog struggles to walk on hardwood floors, I recommend ToeGrips® dog nail grips. Because a dog's natural mechanism for traction is to engage the nails like soccer cleats, dogs don't slip on grass or dirt. But hard nails can't grip hard floors. The non-slip nail grips fit on to your dog's toenails to provide instant grip. This simple adaptation gives your dog the traction needed to walk confidently on smooth floors like hardwood or tile.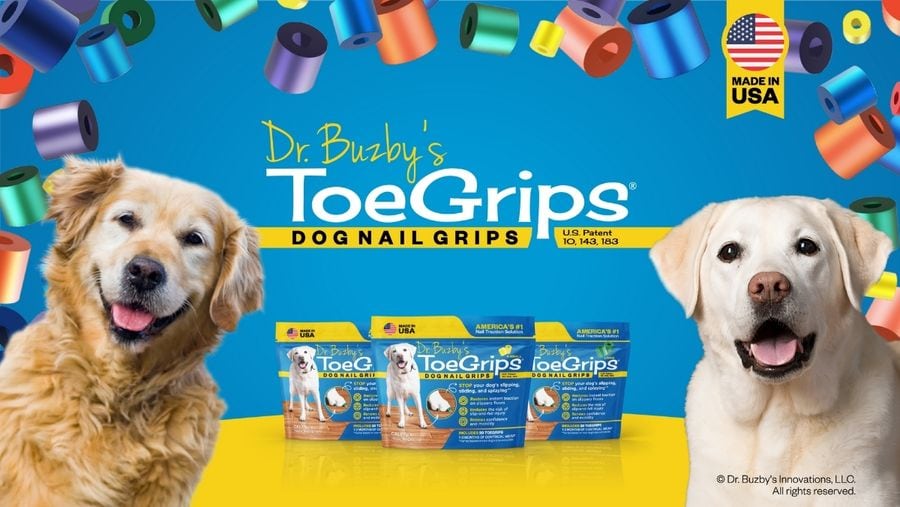 In full disclosure, ToeGrips are my patented product. I founded the company because this simple idea so dramatically improved the lives of my senior patients. However, a picture is worth a thousand words. To see the results, watch these ToeGrips videos and reviews shared by happy dog parents around the globe.
14. Learn how to detect changes in your senior dog's health.
When I think about maintaining comfort in geriatric dogs, an important consideration is noticing changes as early as possible. When you see your dog every day, subtle changes in their overall pain, gait, demeanor, and energy level may go unnoticed until they are dramatic.
To keep a pulse on your dog's health and comfort, I recommend weekly tip-to-tail health scans. These checks are simple and easy to perform yourself at home. Check out The Tip-to-Tail Dog Health Scan Master Course to learn how you can identify small changes before they become big obstacles for your aging dog.
15. Offer mental enrichment as a way to make your senior dog comfortable.
Sometimes older dogs appear restless for seemingly no reason. Once we rule out physical discomfort and neurologic issues such as canine cognitive dysfunction, we may want to take a look at types of enrichment being offered. In other words, if it seems your dear old dog can't get comfortable, he or she may simply be bored.
As joints become stiffer, physical enrichment—like long walks, hikes, playing ball, etc.—may become more restricted. This may mean longer days at home without much stimulation. Don't forget that mental enrichment can be just as important as physical enrichment!
New toys, particularly puzzle toys or snuffle mats, can stretch your dog mentally without excessive physical strain.
Contrary to the old wives' tale, old dogs can learn new tricks, and working on teaching your dog new commands or games can provide mental enrichment and reinforce your bond with him or her.
Enjoy happier golden years with your senior dog
Sharing your heart with a senior dog is one of the most rewarding experiences in life. Helping your dog navigate their environment by making home modifications is part of the journey.
If even just one of the senior dog care tips on this list helps you help your dog live more contentedly, comfortably, or safely, then it's a win. You've made the journey through your dog's senior years happier…for both ends of the leash.
What adaptations do you make for your dear old dog's comfort, health, and happiness?
Please comment below. We can all learn from each other.