Integrative veterinarian Dr. Julie Buzby shares seven practical senior dog care tips that you—as your dog's biggest advocate—can put in place now. By the end of this article, you'll be equipped with home modification tips for making your dear old dog comfortable and happy.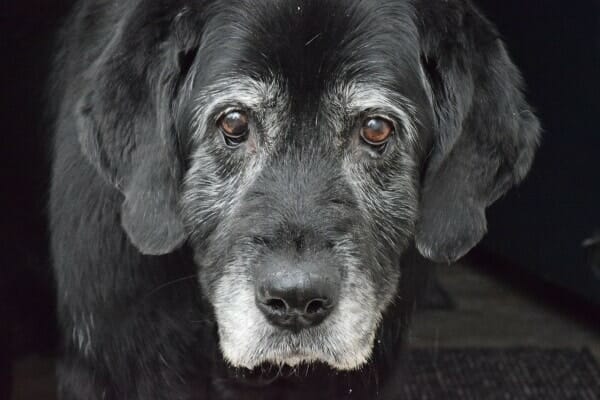 If you share your heart with a senior dog, then you know that your journey together means having a "Plan B." Of course, we would all prefer to follow "Plan A" in all aspects of our lives (marriage, career, health), but that is simply not the way life works. One of the ways we can find contentment in life is learning to be at peace with plan B, C, D, and beyond. This includes making adaptations for your senior dog that will bring extra comfort throughout the golden years.
Senior dog care at home
While senior dog care is very individualized, I've discovered seven ways that you can make your dear old dog comfortable and happy based on my experience with my own patients. These are simple modifications you can make in your home. Maybe only two or three of these "plan B" adaptations will resonate with you today. In another year or two, perhaps others will help you help your grey-muzzled dog.
Also, these are tips for your dog's daily comfort. They work in tandem with other components of senior dog care and wellness, including:
7 tips for making your dear old dog comfortable
1. Teach your dog how to use a ramp before it's needed.
I always tell my clients that a dog jumping up concerns me, but a dog jumping down scares the dickens out of me. When dogs jump down and are subjected to the laws of gravity, it can be a recipe for disaster.
Aging dogs with elbow, shoulder, cervical spine, or neck conditions are particularly susceptible to injury from jumping down.
That's why I recommend dog ramps as a home adaptation for older dogs. Ramps can aid dogs when getting in and out of cars, on and off of beds, and up and down from furniture. (Stair steps are an appropriate alternative to ramps. However, the ramp is my favorite because its the simplest for the dog's body and brain to navigate.)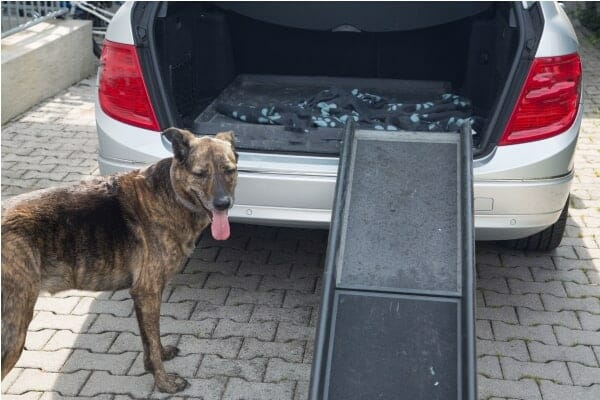 It's important to note that it's better to start teaching your dog to use a ramp before he or she needs it. Using a ramp does require some training. Yet, with practice, it's a practical way to keep your senior dog safe when moving from higher to lower heights (and save your own back!) Having this plan B modification in place before it is needed alleviates fear for your dog and the potential for injury in the future.
2. Add safety features to your senior dog's bath time routine.
If your older dog struggles to stay upright on all four paws or has decreased muscle strength, standing in a slippery tub for a bath can be a terrifying experience. Placing a dog in a tub instantly changes the way a dog's paws interface with the "ground". If a dog doesn't feel stable, the dog's entire body tenses. His or her pupils may even get bigger, triggered by the hormones associated with stress.
The fight-or-flight reflex sometimes results in a scramble, which means slipping and sliding in the tub. Not only is this anxiety-inducing for your dog, but it can also result in injury.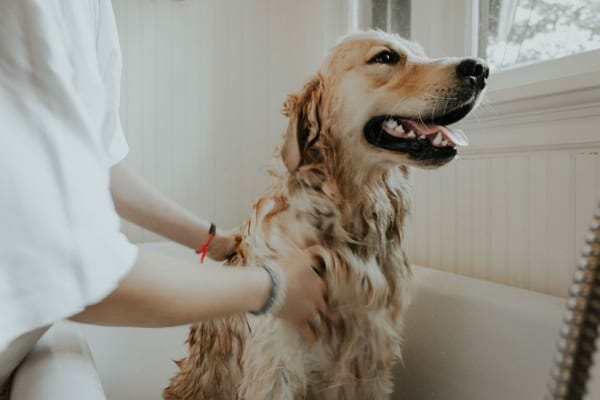 To help keep your senior dog comfortable (and this is true for all dogs), place a non-slip bath mat in the bottom of the tub. Alternatively, placing a non-slip bath mat in a shower and showering with your dog is a creative solution for large breed dogs.
3. Elevate your senior dog's food and water bowls.
If your geriatric dog has cervical disc issues (neck problems), back problems, or front-end lameness, elevating food and water bowls is a simple modification that often yields immediate results. It prevents the chronic, repetitive straining motion of repeatedly bending down to floor level to pick up bits of kibble from the dish. This senior dog care tip creates an easier, safer way for an older dog to enjoy meals while keeping the neck in a more neutral position.
Incidentally, I have seen this simple change help my grey-muzzled patients who had stopped eating completely. The elevated dish adaptation took the pressure off, literally, and restored comfort and dignity to dinner.
4. Make your couch or your dog's favorite chair more accessible.
Does this scenario sound familiar to you? Your aging dog wants to get on the couch. It's her favorite spot. However, her hind limbs are getting weaker, she has joint pain, and jumping up and down is not only difficult physically, but emotionally frustrating.
My clients have shared with me creative solutions to help their beloved dogs, and I'd like to pass them along to you. In fact, one client simply lowered the couch by removing the couch legs! That's a devoted dog dad! While you may not be ready for something that drastic, you can come up with ideas by looking at your dog's environment and being creative. One simple alternative is to move some couch seat pillows to the floor, which effectively "lowers" the height of the couch while simultaneously providing a "step" up to the couch. Or your dog may just be content to lie on the pillows now at floor level.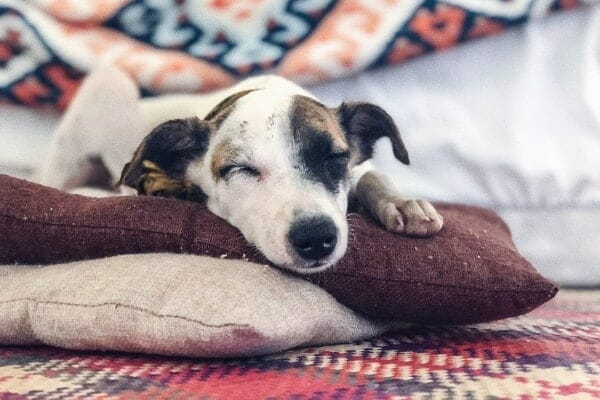 5. Keep a nightlight on for your senior dog.
As dogs age, their vision becomes less accurate. In some cases, this is due to cataracts, but more often than not the cloudiness is caused by lenticular sclerosis. Lenticular sclerosis is a change in the dog's lenses that occurs with age. It is not considered pathologic, and your veterinarian would be able to distinguish the two.
However, as your dog's vision begins to diminish, it can be fear-inducing for your dog and even cause a fall or injury. For this reason, I strongly recommend that you add a nightlight in your dog's sleeping area and in the hallways of your home. If your dog wakes at night, which is common for senior dogs who suffer from doggie dementia, the light will help contrast the darkness. Your dog will feel more comfortable and be safer too.
6. Add reflective tape to stairs.
While we're on the subject of vision, let's imagine what it is like for a dog with poor vision to stand at the top stairstep and look down over a flight of stairs. Often, it is difficult for a senior dog to determine where one stairstep ends and another one begins, not to mention they may be intimidated physically by the prospect of doing stairs. We need to give them all the help and support we can in navigating the obstacle.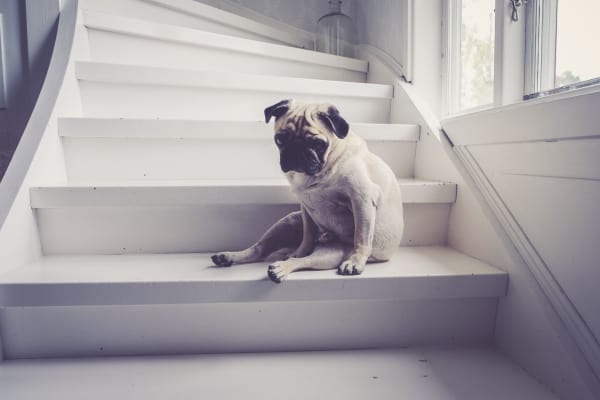 Adding reflective tape to the front edge of each stairstep is a simple home modification that will help your dog differentiate between each stairstep. Making this adaptation not only helps keep your dog safe, but it also helps increase your dog's confidence when moving from one floor of your home to another.
7. Reduce the chance of slip-and-fall injuries by adding traction to your dog's paws.
Now that you've helped create definition between each stairstep by adding reflective tape to the stairs, let's go one step further and help your dog navigate slippery surfaces like hardwood floors.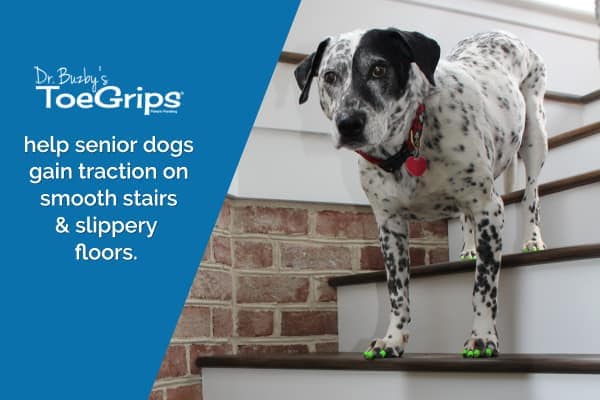 Asking a senior, arthritic dog to navigate hardwood floors may be asking the impossible. Our grey-muzzled companions do their best to comply, but it takes a toll on them physically and emotionally. Dogs don't complain. But getting up from and walking on hard, slick surfaces puts them on a trajectory for slip-and-fall injury on stairs and floors and drains dogs of their confidence.
If your older dog struggles to walk on hardwood floors, I recommend ToeGrips® dog nail grips. Because a dog's natural mechanism for traction is to engage the nails like soccer cleats, dogs don't slip on grass or dirt. But hard nails can't grip hard floors. The non-slip nail grips fit on to your dog's toenails to provide instant grip. This simple adaptation gives your dog the traction needed to walk confidently on smooth floors like hardwood or tile.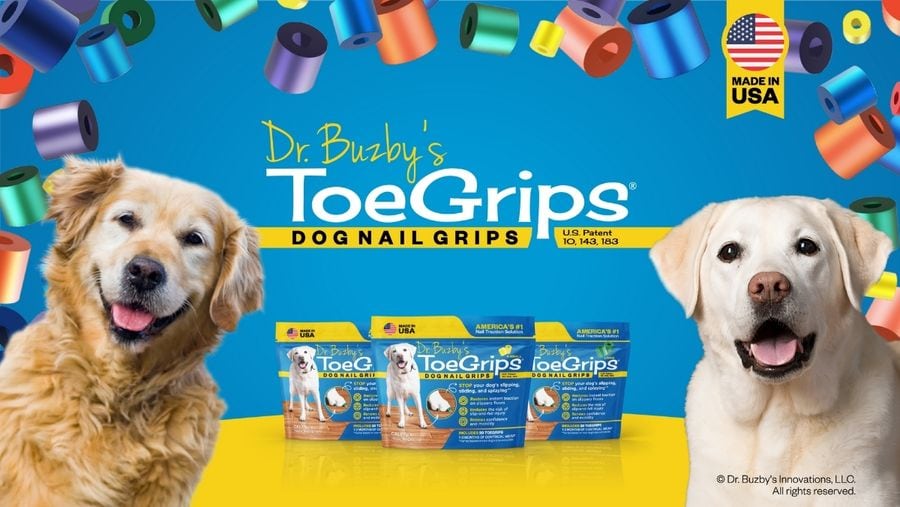 In full disclosure, ToeGrips® dog nail grips are my patented product. I founded the company because this simple idea so dramatically improved the lives of my senior patients. However, a picture is worth a thousand words. To see ToeGrips® in action, watch these videos and reviews shared by happy dog owners around the globe.
Enjoy happier golden years with your senior dog
Sharing your heart with a senior dog is one of the most rewarding experiences in life. Helping your dog navigate "Plan B" by making home modifications is part of the journey. If even one of the senior dog care tips on this list helps you help your dog live more contentedly, comfortably, or safely, then it's "Plan B" for the win. You've made the journey through your dog's senior years happier…for both ends of the leash.
What adaptations do you make for your dear old dog's comfort, health, and happiness?
Please comment below. We can all learn from each other.