An appetite stimulant for dogs can be a great way to restore your pup's joy in eating and give him or her more good days. Learn about at-home strategies and several prescription medications from integrative veterinarian Dr. Julie Buzby.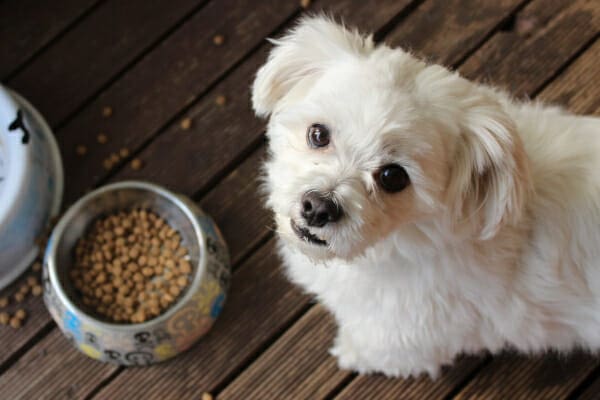 When I talk with my veterinary clients about quality of life for their older or sick dog, we often talk about appetite in connection with "good days" and "bad days." Many times, my clients describe the relationship between appetite and quality of life in one of the two ways:
"When my dog hears me open the bag of dog food and comes running, it's a good day."
Or…
"She used to love her food and treats. Now she just looks at it and walks away."
Much like people, when our dogs have an appetite and enjoy food, it's an indication of good health and happiness. So it makes sense that a good day almost always includes enjoyment of food and treats. But why does a dog suffer from appetite loss, and what are some ways to boost or maintain a dog's appetite? Let's look at both.
Why do dogs lose their appetite?
When appetite starts to fall, it is often due to a disease or condition such as:
Cancer
Kidney disease or liver disease
Gastrointestinal (GI) disease (including pancreatitis in dogs)
Inflammatory bowel disease (IBD)
Pain
Surgical recovery
Unfortunately, these and other common illnesses that accompany old age can cause an upset stomach as a side effect. This may be due to either the disease process itself or the medications necessary to manage the condition. Few things are worse than feeling forced to choose between life-extending treatment and your dog's enjoyment of food. However, dog parents can rest assured that there are ways to help tempt a dog to eat. Often, the initial refusal to eat is easily overcome with the right tools.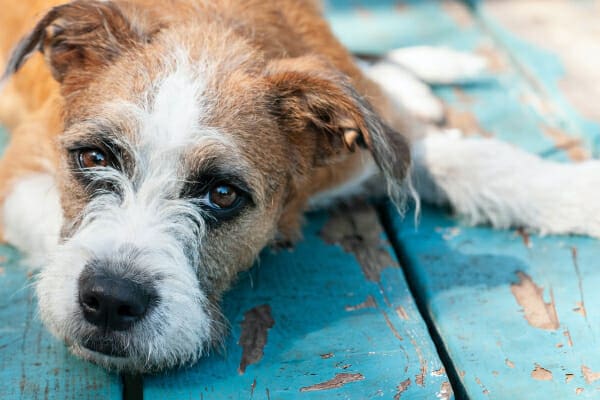 What can I do at home to stimulate my dog's appetite?
Some dogs just need a boost after a surgery, painful event, or stressful life change like a move to a new home or bringing home a new baby. For these cases, an at-home approach is often all the dog needs. The good news is that this usually includes some simple techniques and foods most of us already have access to at home. Here are four helpful tips for boosting your dog's appetite:
1. Warm your dog's canned food.
When something smells good it's more tempting to eat. This is true for both humans and dogs. That's why, if your dog eats wet or canned dog food, try warming it up slightly. How often does the mouth-watering aroma of dinner wafting out of the oven cause a sudden wave of hunger to hit you? The same goes for our pets!
2. Add something yummy to the food.
For dogs who eat dry food, try adding a small amount of canned dog food or even canned pumpkin (not pumpkin pie filling) to the bowl. Depending on your pet's medical condition, it may be ok to also mix in small amounts of tasty foods like cooked lean hamburger, chicken, or cottage cheese (but check with your vet first). Some kinds of baby food can also tempt a dog to eat. However, be sure to avoid any baby foods with onion or garlic as those ingredients are toxic to dogs.
Adding some water to your dog's dry food and allowing it to sit for a few minutes is another option. This creates a gravy effect that many dogs seem to enjoy. Particularly for dogs who are on a prescription or restricted diet, it can be a great way to make the food more appetizing without compromising any benefits of the diet.
It's important to note that all of these options are best used to coat your dog's regular food, so your pet gets a balanced diet of traditional dog food. With the exception of canned dog food, none of these mix-ins provide all the necessary nutrients for a healthy and complete diet.
3. Try hand feeding your dog and giving extra TLC at mealtime.
Sometimes our pets just feel better sitting with us and getting some Tender Loving Care—good old vitamin TLC! Consider hand feeding your dog to tempt him or her to eat. This can also help reinforce your bond.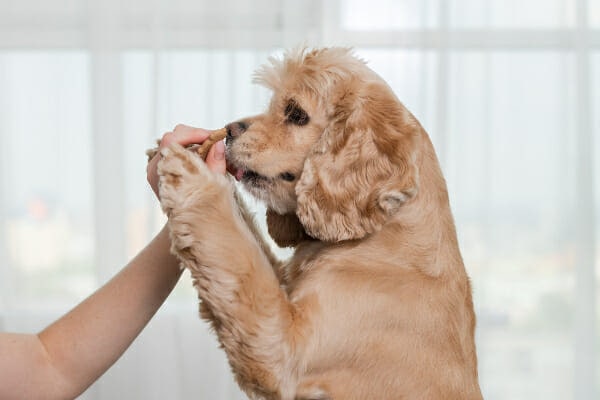 4. Ask your vet about over-the-counter medications.
Some stomach acid reducing medications like famotidine or omeprazole may be enough to settle mild stomach discomfort. However, you should never decide to try this (or any other medications) without speaking with your veterinarian first. He or she can advise you on the correct medication, dose, timing, and frequency for your dog's specific condition. Not all medications are appropriate for all dogs, so rely on your vet's input.
What are some prescription medications that can boost my dog's appetite?
In other cases, the at-home strategies aren't quite enough to get a dog to eat. This is when your vet may decide to prescribe one of the following medications.
Mirtazapine
The anti-nausea and anti-vomiting properties of Mirtazapine can help many dogs regain an appetite. Like most of these medications, it is safe to give every day. Veterinarians have been using Mirtazapine extensively for a long time, so is often a first choice.
Entyce
This is a newer product which is designed especially for dogs. Entyce is available as a liquid and is administered once a day. These qualities are rapidly making it a popular choice among vets and dog parents. Entyce works in a unique way when compared to most other appetite simulant medications.
While other medications largely rely on reducing or eliminating nausea and vomiting to increase desire to eat, Entcye works by directly mimicking the hormone ghrelin. This is a substance the body naturally produces to create the feeling of hunger. As an added benefit, Entyce can safely be combined with other appetite stimulants since it works differently.
Cerenia
You may be familiar with Cerenia if you have a dog who gets carsick or has experienced bouts of vomiting. It is primarily an anti-nausea medication. If a pet is not eating because of nausea, sometimes simply removing the nausea may help improve appetite. After all, we all know how it seems impossible to eat when your stomach doesn't feel good! Often a low dose of Cerenia works well if given daily.
Cerenia also helps eliminate visceral pain. This is the pain our body doesn't always know how to tell us is pain, because it comes from inside our bellies. Blocking this discomfort can make our patients much more likely to eat as well make them more comfortable. Conveniently, Cerenia can be administered in your vet's office as an injection so your dog doesn't need to take a pill or liquid for it to start helping.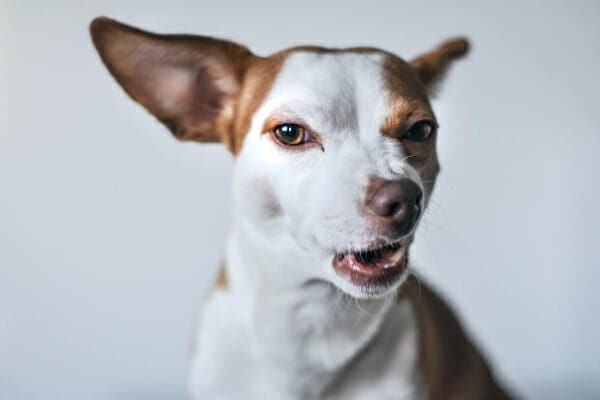 Meclizine
This is another anti-vomiting medication that is especially helpful for treating lack of appetite due to old dog vestibular disease. Vestibular disease interferes with a dog's sense of balance, which can lead to dizziness. Affected dogs may be unable to stand and may not want to eat because their world is spinning. The vertigo, or spinning sensation, makes them nauseous. Meclizine can relieve the nausea and associated loss of appetite.
Dronabinol
Cannabinoids such as dronabinol are a synthetic form of THC. Although there is some possibility of adverse effects like incoordination, cannabinoids can still be worth trying, especially in pets where none of our other choices are helping anymore. There's been some discussion about other CBD products for dogs which are coming on to the market, but they don't currently appear to be useful as an appetite stimulant.
How am I supposed to get medications into a dog who won't eat?
How many times have I heard clients laugh when I suggest a pill to get their dog to eat? I get it! Most of us are using food to hide medication. If you have already tried all the suggestions in my blog Your Dog Won't Take Pills? 5 Easy Solutions for Uncooperative Pooches (and read the comments because there are some great ideas there too), then it might be time to think about compounded medications.
These are prescription medicines that a specialty pharmacy has made into formulations that are not commercially available. This makes the medicines as palatable and easy to give as possible. Sometimes this means the pharmacy will make a liquid or chewable flavored formulation of the medication. A few of the more popular flavors are chicken, beef, or marshmallow (yes, our pets love marshmallow flavor!).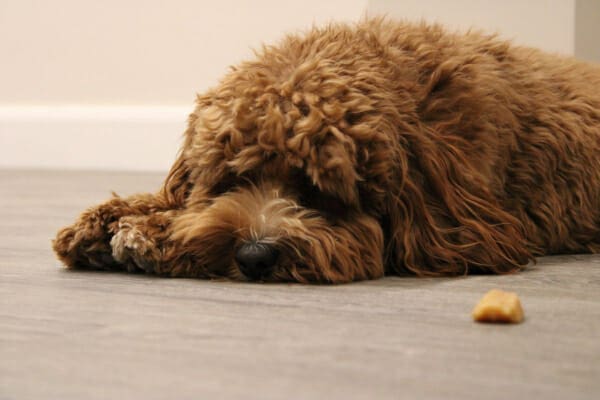 In other situations, the compounding pharmacy may be able to formulate the medication as a cream that you apply to hairless skin, usually on the inner ear. This is known as a transdermal formulation, and relies on the medications being absorbed through the skin. Transdermal medication is especially helpful for a pet who won't eat in the first place.
To learn more about compounded medications, check out the AVMA's compounding FAQs for pet owners.
Do appetite stimulants for dogs actually work?
I firmly believe that when the loving attention of a pet parent is coupled with the diligence of a committed veterinarian, the appropriate medication or combination of therapies can bring back enjoyment of food and a healthy appetite. Finding the right approach can sometimes take time and often changes as a disease progresses. But, it can be done!
The proof is in the (empty) dog dish
One of my favorite patients receiving hospice care was a much beloved older Dachshund with a host of chronic medical concerns. His owners were willing to change and adapt both his and their routines and medications as he progressively changed his very particular old dog habits. Initially, we used just mirtazapine every other day and that was enough to have him back to his meals. That first success phone call was a joy for us all!
When his owners noticed that he was picking out just his favorite treats and leaving his real meals again, we increased his dose to daily use. When that too failed to keep him emptying his dish, we spoke at length about the benefits of using the human medication dronabinol which did gift him some extra happy time with his family.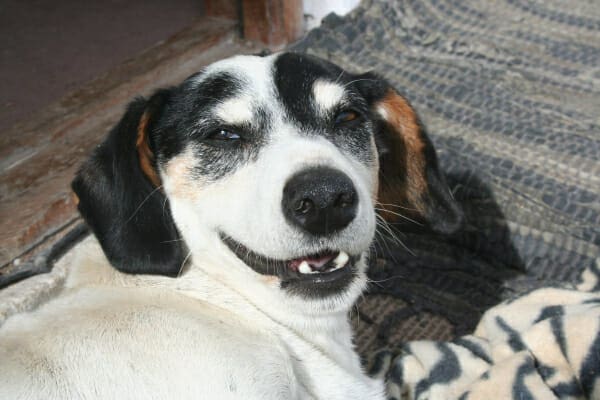 Your veterinarian is here to help
As a vet, it is so gratifying to give a pet back something that gives him or her joy. Hearing from a dog parent that a previously uninterested, not hungry, and sad dog is once again happily licking the bowl clean is one of the most rewarding parts of hospice and older dog care.
If your dog is losing his or her appetite, talk to your veterinarian. There are so many options that can help your dog regain an appetite (and so many reasons dogs lose their appetite). Your vet can help get to the bottom of the problem so your dog can start getting to the bottom of the food dish again.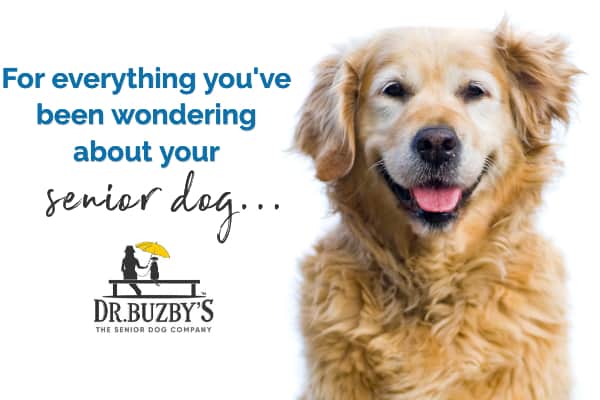 What has worked to give your dog's appetite a boost?
Please comment below. We can learn so much from each other.