Vestibular disease in old dogs can look very scary. A senior dog appears to go from perfectly healthy to completely off kilter in a moment, usually with no warning signs. Integrative veterinarian Dr. Julie Buzby shares her experience diagnosing old dog vestibular disease, and how dramatic symptoms don't always mean a devastating prognosis.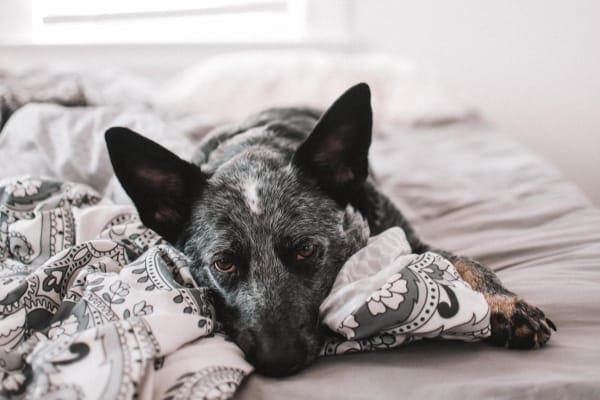 Working as a veterinarian, my days are full of ups and downs—sometimes even in back-to-back appointments. My passion for working with senior dogs means I deal with a lot of very serious health conditions in my patients.
Sometimes, however, dramatic clinical signs are not necessarily an indication of a severe underlying problem. This was the case for one of my very first patients, Lola. She was the first dog I diagnosed with old dog vestibular disease when I was a newly-minted veterinarian 25+ years ago.
Meet Lola: A senior dog with old dog vestibular disease
Lola, a 13-year-old Blue Heeler, arrived at my clinic with very serious symptoms. She was lovingly cradled in her dad's arms with her head tilted distinctively. Her eyes were rapidly scrolling back and forth over and over again, like something you'd see in a Looney Tunes character.
Lola's parents explained the events of the past few days and how suddenly Lola's symptoms had developed with no apparent explanation. Now she could hardly stand up without falling to one side. At 13, they feared that their sick dog would not be going home with them that day.
I gently scooped Lola from her dad's arms and performed a physical examination and then a neurologic examination. Despite initial fears that this appointment would end in euthanasia, I then knew I could offer Lola's parents a glimmer of hope.
A surprising prognosis
Although we still needed to do some diagnostic testing to rule out more serious conditions, I was able to offer Lola's parents some hope that their senior dog would recover with minimal long term effects and possibly none.
Lola was suffering from a common canine condition known as "old dog" vestibular disease, also called idiopathic vestibular disease. Idiopathic simply means the disease's origin is unknown—we really don't know for sure why it happens. The key part of the syndrome's long name is the word "vestibular."
What is the vestibular system?
"Vestibular" refers to the vestibular system—a complex network of structures located in the dog's inner ear. The vestibular system perceives the body's orientation with respect to the earth's gravitational field and facilitates normal movement. The brain, eyes, and body use the information gathered by the vestibular apparatus to maintain proper posture and balance.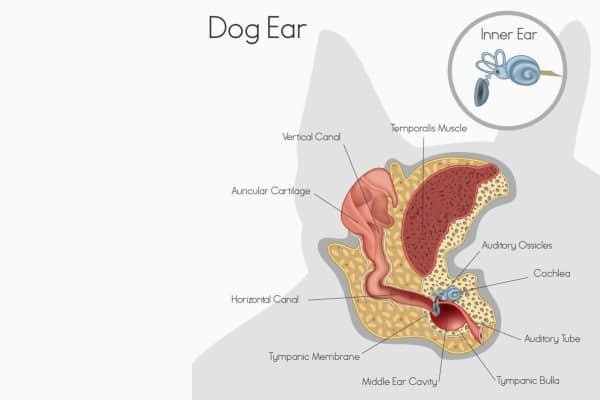 What are the symptoms of old dog vestibular disease?
Because the vestibular system is in charge of balance, dogs with vestibular disease often experience dizziness and have difficulty walking in a straight line. If you're thinking "that sounds a lot like vertigo in humans," you're on the right track. Old dog vestibular disease can be likened to vertigo in humans, and symptoms of doggy vertigo are similar to symptoms of vertigo found in people.
In dogs, classic clinical signs of vestibular disease include:
Abnormal posture, especially standing with legs spread wide
Head tilt
Impaired coordination
Loss of balance
Rapid eye movement when awake, called nystagmus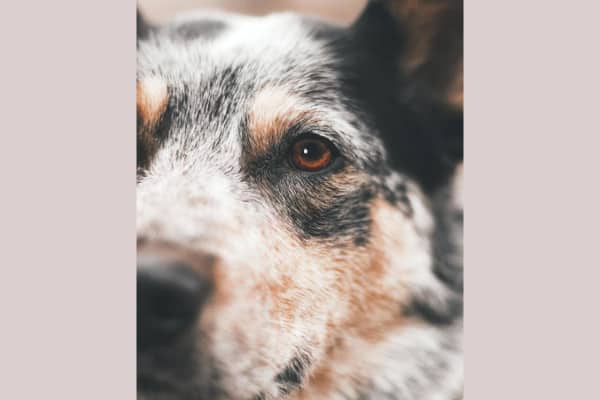 What causes vestibular disease in old dogs?
By definition, the word "idiopathic" means we don't truly know what causes old dog vestibular syndrome.
As an aside, some other conditions can affect the vestibular system and clinical signs for these conditions are similar to those of vestibular disease. These conditions can include:
Ear infections
Trauma
Tumors
Toxin or drug side effects
What dogs are at risk for vestibular disease?
Idiopathic vestibular disease can happen in dogs of any breed, size, or gender. It is most common in senior dogs, and occurs more frequently in German Shepherds and Doberman Pinschers.
Can vestibular disease be prevented?
As the exact cause of idiopathic vestibular disease is unknown, we don't have an effective way of preventing it. Old dogs develop this condition seemingly randomly, out of nowhere. The best thing you can do for your senior dog is to be aware of his or her overall health and notice any changes so they can be addressed quickly.
How is old dog vestibular disease diagnosed?
At your dog's veterinary appointment, your veterinarian most likely will give your dog a thorough physical and neurologic examination, evaluate your dog's medical history, and have routine bloodwork checked. This is usually enough to make a diagnosis of exclusion, meaning the veterinarian has ruled out other causes of the symptoms and is left with a diagnosis of canine idiopathic vestibular disease.
Old dog vestibular disease vs. stroke
The most common concern that my clients share with me when their dogs develop vestibular disease is this, "I think my dog had a stroke." Indeed, with sudden onset of a head tilt, nystagmus, and lack of coordination, the comparison we could reasonably draw to human conditions is signs of a stroke.
Fortunately, strokes are much less common in dogs than in people. Age of onset of these signs is also significant, as canine strokes tend to happen in younger adult dogs. In a senior dog presenting with these clinical signs, idiopathic vestibular disease is much more likely than stroke.
How is vestibular disease treated?
The treatment for canine vestibular disease includes inpatient or outpatient supportive care for the symptoms, lots of TLC, and sometimes alternative treatments like acupuncture for dogs. I also make sure to prescribe anti-nausea medication (like Meclizine for dogs), even in dogs who are not vomiting. That unrelenting dizziness can cause debilitating nausea. (Having personally experienced a period of such dizzying vertigo that I couldn't safely stand up, I've developed new sympathy for dogs with vestibular disease.)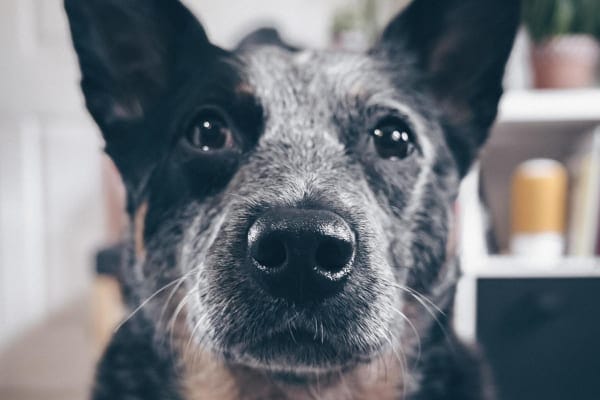 It's important to note that idiopathic vestibular disease affects the peripheral vestibular system (inner ear) and not the central system (brain stem). Because of this, you shouldn't see mental dullness or generalized weakness. If those are present, your veterinarian will likely be thinking about other causes for your dog's clinical signs.
I expect my patients with old dog vestibular disease to maintain their overall strength and mentation even though their balance and equilibrium are terribly out of whack.
Home remedies for vestibular disease
If your veterinarian has diagnosed your dog with vestibular disease, you may be wondering what you can do at home for your dear dog. In addition to following your veterinarian's treatment plan, you can make sure your canine companion is comfortable and safe. Here are several things to consider:
Make sure you have soft, padded bedding for your dog to relax on.
Keep your dog away from potential hazards like stairs or swimming pools.
Some dogs with vestibular disease can have a hard time eating or drinking and may need their food bowls brought to them or even hand fed. (Need more tips? Check out my article on how to feed a dog with vestibular disease.)
Using a sling or towel under your dog's abdomen when he or she walks can prevent falling.
Certain physical therapy exercises for dogs with vestibular disease may also help.
Additionally, dogs with vestibular disease have trouble rising and are unsteady on their feet. Our company's signature product, Dr. Buzby's ToeGrips® dog nail grips, can improve traction on slippery floors for these dogs and may also provide increased proprioceptive stimulus—improving the dog's overall stability through neural pathways to the brain.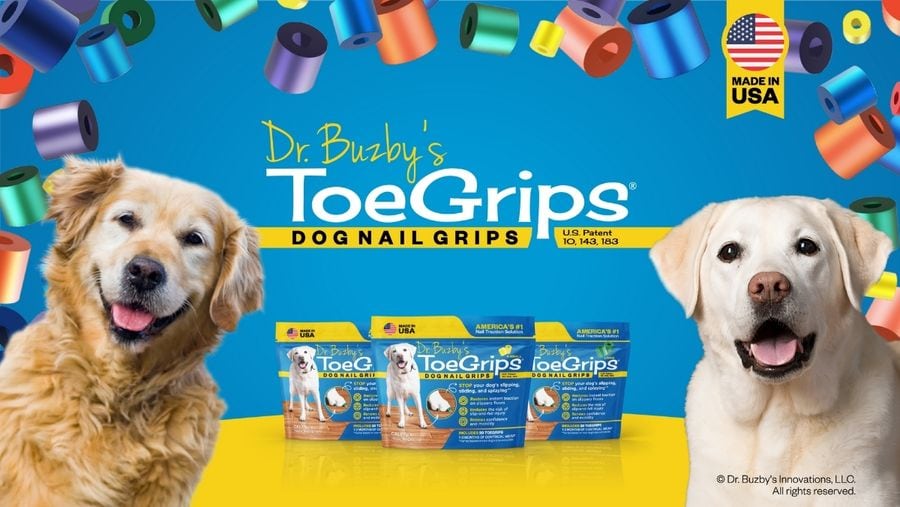 What is the prognosis for vestibular disease in dogs?
Fortunately, despite the dramatic clinical signs, canine idiopathic vestibular disease has an excellent prognosis—prospect of recovery. This non-painful condition is usually self-limiting, meaning it will resolve on its own—generally within one to two weeks. In fact, improvement of symptoms within the first 72 hours also helps confirm the veterinarian's diagnosis.
In many cases the head tilt (a classic sign of old dog vestibular disease) does not go away. But this does not negatively impact a dog's quality of life. Also, dogs who have recovered from idiopathic vestibular syndrome do not typically experience it again.
Old dog vestibular disease does not impact a dog's lifespan, and patients go on to live out the rest of their days as if this scary episode never happened.
As a veterinarian, I often half-joke with my clients that the whole ordeal takes years off the parents' lives though!
Lola's happy recovery from vestibular disease
To this day, Lola holds a special place in my heart. She was the high point of my first year as a veterinarian.
Don't get me wrong. I was sad to see Lola and her owners endure a few tough days, but the outcome was far better than my clients' initial expectations.
A few days after her initial examination, Lola strolled out of our hospital, tail happily wagging. A slight (and endearing, if truth be told) head tilt was all that remained as a reminder of her bout with vestibular disease. Lola and her family went on to share many, many more happy and healthy days together.
Knowledge is power
If your older dog experiences symptoms like Lola's, get to the vet as soon as possible, but proceed with hope. Odds are, your dog can rebound and recover from what can be a dizzying, but not devastating, disease.
Has your dog experienced canine vestibular disease?
Share your story with us!