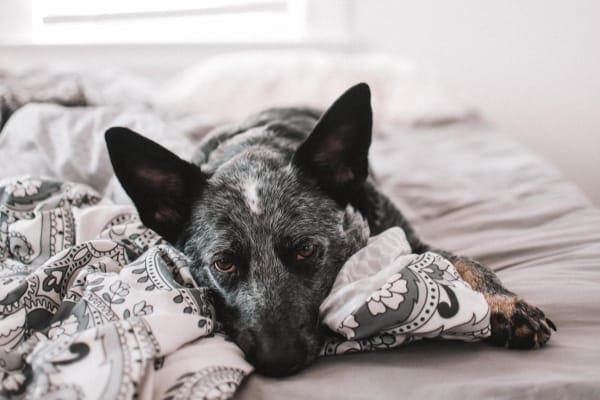 When your senior dog suddenly acts strange and out-of-sorts, it is unnerving. The good news is that dramatic symptoms don't always mean a devastating diagnosis. Dr. Julie Buzby, integrative veterinarian and founder of Dr. Buzby's ToeGrips®, shares her experience diagnosing old dog vestibular disease, a condition with symptoms that can rattle even the most dauntless pet parent…but usually ends in happily ever after.
As a seasoned veterinarian, I've broken devastating news to heartsick pet owners countless times. It is the toughest part of my job. I feel it at my core. And I know first hand the pain of walking through the valley of the shadow of death and saying goodbye to our dog, Luke.
But amidst sad news and dire prognoses, there are stories full of hope. As a veterinarian, sometimes I've gotten the miracle I needed for a patient—and symptoms that appeared catastrophic turn out to be entirely treatable. These dramatic recoveries could be scripts for Hallmark movies.
Lola's resurrection is one of those stories. I was just 23 years old when I met her, having just graduated from veterinary school. It seems like a lifetime ago, but she sticks with me. And I think she'll stick with you too! Through her story, I want to explain a disease in dogs that I firmly believe every senior dog owner should know about.
Meet Lola
Lola was a 13-year-old Blue Heeler whom I'd first met visiting the horse barn she faithfully patrolled. Now, she was in an exam room at our hospital. I could tell by the muffled sobs coming from behind the door that things were serious. As I studied my technician's notes, I sighed—another euthanasia appointment.
I gently knocked and walked into the room. Lola was lovingly cradled in her owner's arms with her head tilted distinctively. Her eyes were rapidly scrolling back and forth over and over again, like something you'd see in a Looney Tunes character.
Lola's parents' eyes were just as pitiful—red and brimming with tears. Her owners explained the events of the past few days and how suddenly Lola's symptoms had developed with no explanation. Now she could hardly stand up without falling to one side. At 13, they feared that their sick dog would not be going home with them that day.
However, a glimmer of hope now flickered in my mind. I gently scooped Lola from her owner's arms and performed a physical examination and then a neurologic examination. (I'm always amazed at how much information can be gleaned from a thorough exam.)
As I methodically checked her over, Lola's family waited tensely. They fully expected me to say: "It's time to say goodbye. Nothing more can be done."
From saying goodbye to more good days
Much to their surprise, and to my complete delight, what I said next shocked them…
"Although I can't make any promises, and we'll need to talk about diagnostic testing, it's very likely Lola will make a remarkable recovery with minimal long term effects and possibly none."
They burst into tears of happiness even though my prediction just didn't seem possible given the shape she was in.

Lola was suffering from a common canine condition known as idiopathic vestibular disease in dogs. It's also known as "old dog" vestibular disease, because it usually strikes dogs in their golden years. Idiopathic simply means the disease's origin is unknown—we really don't know for sure why it happens. The key part of the syndrome's long name is the word "vestibular."
So what in the world does "vestibular" mean?
"Vestibular" refers to the vestibular system—a complex network of structures located in the dog's inner ear and connections to the central nervous system. The vestibular system perceives the body's orientation with respect to the earth's gravitational field and facilitates normal movement. The brain, eyes, and body use the information gathered by the vestibular apparatus to maintain proper posture and balance.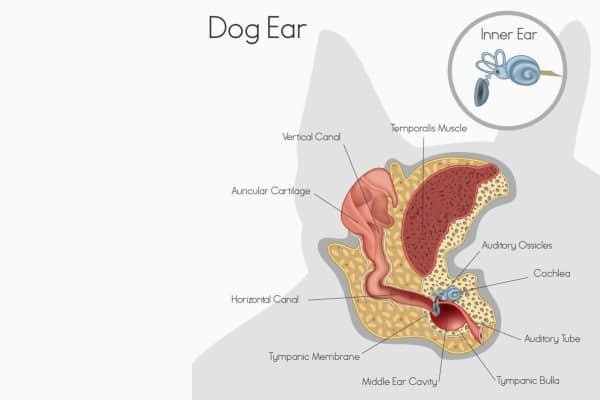 What are the clinical signs of old dog vestibular disease?
If you're thinking "that sounds a lot like vertigo in humans," you're on the right track. Symptoms of vestibular disease in dogs are very similar to the symptoms of vertigo found in people.
In fact, after experiencing a period of vertigo myself last year, I developed new sympathy for these dogs. Just like Lola, my symptoms came on quickly. Toward the end of a busy, normal day, I felt so dizzy that I couldn't safely stand up. Within minutes, I was vomiting and crawled to my bed. My motion sickness was so severe that just turning my head on my pillow was excruciating.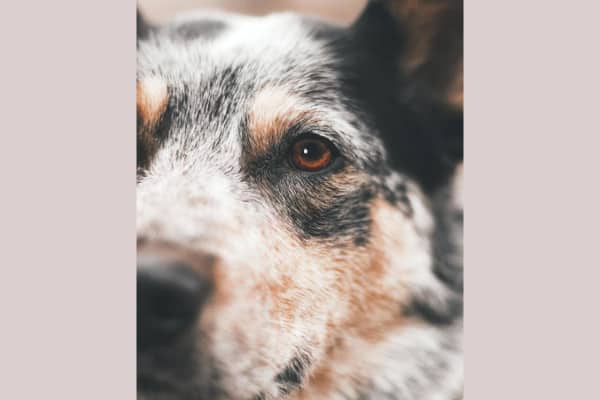 In dogs, classic clinical signs of vestibular disease include:
Abnormal posture
Head tilt
Impaired coordination
Loss of balance
Rapid, uncontrolled eye movement called nystagmus.
As a part of Lola's diagnostic testing, I ran a complete blood panel that included a thyroid profile since there appears to be a link between vestibular disease and hypothyroidism in dogs.
While tickborne diseases, brain tumor, middle ear infection, inner ear disease, trauma, and toxins were all the list of possibilities, based on Lola's age and her owner's story, idiopathic vestibular disease remained my top thought. Part of the reason this condition looks so scary is because it comes on rapidly. However, is typically doesn't get worse after the initial presentation. Symptoms may even improve during the first 72 hours. Full recovery can take days to weeks, but the head tilt often remains permanently.
How do you diagnose old dog vestibular disease?
After a physical and neurologic examination, I feel comfortable making a presumptive diagnosis without advanced diagnostic testing. And while I cannot be 100% sure it's idiopathic vestibular disease without advanced diagnostic testing and CT scan or MRI scans, it is reasonable and common to begin treatment and take a "wait and see" approach. As the dog recovers with treatment and time, I take that as confirmation of my presumptive diagnosis of old dog vestibular disease.
How do you treat vestibular disease?
The treatment for canine vestibular disease includes inpatient or outpatient supportive care for the symptoms, lots of TLC, and sometimes alternative treatments like acupuncture. Supportive care for Lola included IV fluids and a medication called Meclizine to treat motion sickness and nausea.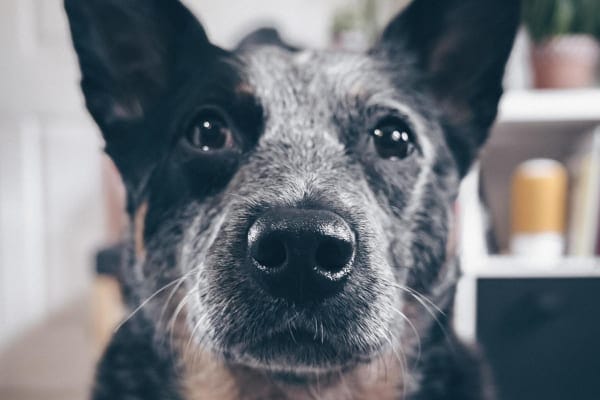 It's important to note that idiopathic vestibular disease affects the peripheral vestibular system (inner ear) and not the central system (brain stem). Because of this, you shouldn't see mental dullness or generalized weakness. If those are present, your veterinarian will likely be thinking about other causes for your dog's clinical signs. I expect my patients' with old dog vestibular disease to maintain their overall strength even though their balance and equilibrium are terribly out of whack.
Ways to treat the whole dog
Dogs with vestibular disease have trouble rising and are unsteady on their feet. Our company's signature product, Dr. Buzby's ToeGrips® dog nail grips, can improve traction on slippery floors for these dogs and may also provide increased proprioceptive stimulus—improving the dog's overall stability through neural pathways to the brain.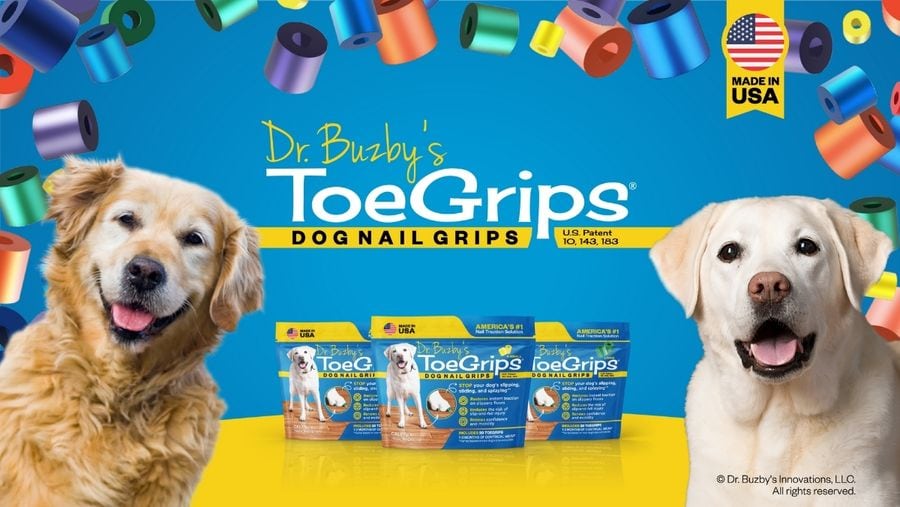 One of our blog readers explain ToeGrips® dog nail grips for dogs with vestibular disease…
Truffles (my 14 year, 3 month old) black labrador has had a significant number of joint, hip, and spine issues for a good number of years. She has suffered from "floor phobia" for just as many years, meaning that she is unable to walk normally on most hard surfaces, without slipping, skidding, or just a plain freezing in place. About 8 months ago, we noticed that she started intermittently "shuffling" he rear legs when she walked, as if she was too lazy to completely lift them up off the floor. She also continued to slip and skid.

Two months ago she suffered from a neurovestibular disorder. During her recovery, I was very afraid that any further slippage could cause her significant physical harm. Sure enough, once she started walking, the slipping and skidding intensified…

It was a that point that my veterinarian told me about toe grips, stating that it was a relatively new product that I may want to try. Truffles was fitted for her toe grips yesterday, and to my amazement, her walking immediately improved.

I cannot get over how she completely picks her rear feet up when she walks. No more "shuffling." In addition, the slipping and sliding has stopped. I only wish that Truffles was able to benefit from this product many years ago when she was younger… Anyhow, this is a wonderful product and long overdue. Wish I had thought of it."

Sincerely, Anna Maria
Lola's happily ever after…
To this day, Lola holds a special place in my heart. She was the high point of my first year as a veterinarian.
Don't get me wrong. I was sad to see Lola and her owners endure a few tough days, but the outcome was far better than their initial expectations.
It took time for Lola's physical condition to match her prognosis. But a few days after her initial examination, Lola strolled out of our hospital, tail happily wagging. A slight (and endearing, if truth be told) head tilt was all that remained as a reminder of her bout with vestibular disease. As her owner again cried happy tears, I gave her a hug. Lola and her family went on to share many more happy, healthy days together.
Knowledge is power
If you see a sudden onset of symptoms like the ones I've shared, remember all is not lost. Had Lola's family known about old dog vestibular disease, it would have spared them so much stress and heartache.

Of course not all dogs who present with a wonky vestibular system are guaranteed this diagnosis and happy ending. Occasionally it turns out to be "something bad." But thankfully in these poor older dogs, who look like have one paw in the grave, that is generally not the case! Seeing a patient recover from idiopathic vestibular disease is like seeing the phoenix arise from ashes.

If your older dog experiences symptoms like Lola, get to the vet as soon as possible, but proceed with hope. Odds are, your dog can rebound and recover from what can be a dizzying, but not devastating, disease.
Have you or your dog experienced vertigo or canine vestibular disease?
Share your symptoms and what you helped you shake off the dizzying condition.