Can you use human toothpaste on dogs? It's a valid question. Some of the medications which veterinarians prescribe for dogs are human drugs obtained from human pharmacies. Also, as pet parents, we share almost everything with our furry friends—from our deepest thoughts to our pillows. So while we might draw the line at sharing our toothbrushes with our dogs, does it really matter if we share our toothpaste? Turns out the answer is, "Yes, it does matter." Do not use human toothpaste on your dog's teeth. Integrative veterinarian Dr. Julie Buzby outlines three reasons why human toothpaste poses a health hazard for your dog.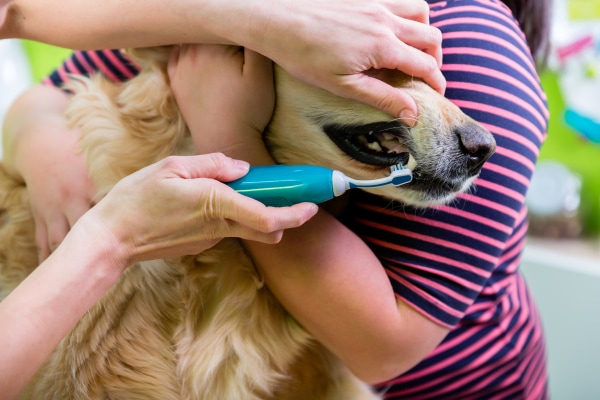 3 critical reasons why human toothpaste is dangerous for dogs
Although we know that some of the medications and supplements we take are safe for use in dogs, human toothpaste is certainly not on that list. There are three components of human toothpaste that make it unsafe for dogs:
1. Fluoride
Fluoride, in high enough doses, is toxic to dogs. Human toothpaste is designed to be rinsed out of the mouth, not swallowed. Do you know how hard it is to convince a four-year-old child not to swallow toothpaste, let alone a Labrador?!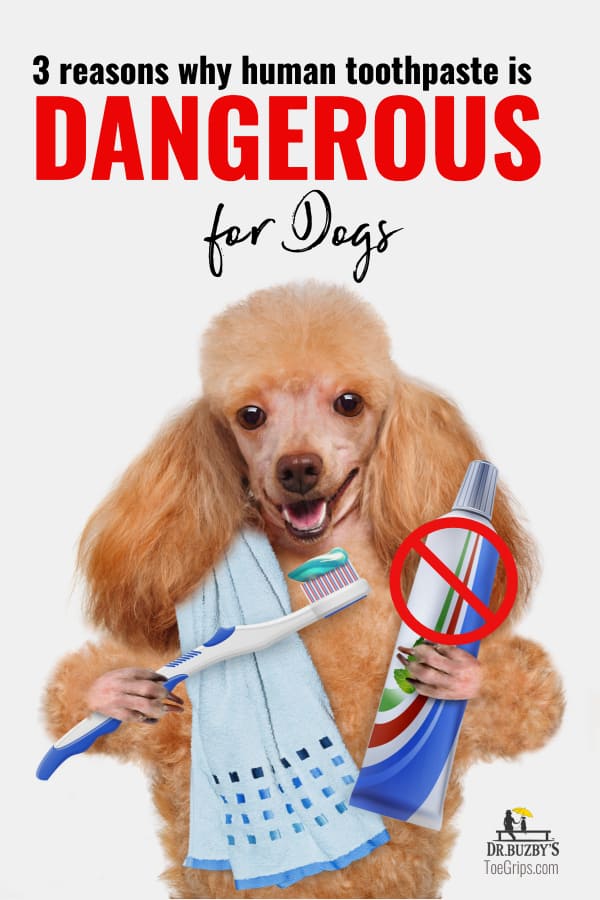 While acute fluoride toxicity is possible (a large dose of fluoride consumed at once), the more likely scenario is chronic toxin exposure, where the fluoride ingestion from frequent use (over the course of months to years) eventually reaches toxic levels in the dog's body. The symptoms are considerably different in the two scenarios.
Signs of acute fluoride toxicity from a dog ingesting a large amount of human toothpaste include:
Drooling
Nausea/vomiting
Rapid, irregular heart rate
Restlessness
Fecal and urinary incontinence
Weakness
Seizures
In severe cases, death may occur
In acute fluoride toxicity in dogs, the fluoride is absorbed quickly, and acute toxic effects may be seen within 90 minutes of ingestion.
Symptoms of chronic toxicity from a dog ingesting a small amount of human toothpaste over time include:
Discoloration and mottling to the teeth
Intermittent limping (high levels of fluoride can bind up calcium and replace some of the calcium in bones)
Poor appetite and weight loss
Even pet toothpaste may contain fluoride
While dog toothpaste is formulated to be swallowed, you still need to check the label on toothpaste formulated for pets before purchase. There are doggie toothpastes on the market that contain high levels of fluoride. I can't understand why, but I liken it to antlers sold as dog chews. I would consider both of these products dangerous for dogs. But sadly, they remain on the market because of the law of supply and demand. People buy them.
(For more information on antler chew toys, check out why "no" is always my answer to the question, "Are antlers good for dogs to chew on?")
2. Sodium Lauryl Sulfate (SLS)
Next, let's look at another component of human toothpaste that's unsafe for dogs: Sodium Lauryl Sulfate.
Human toothpaste is designed to foam. Marketers must have deduced that we humans like a shock and awe experience in the bathroom. Thus, our toothpaste and hygiene products foam and froth.
To create the foaming action, manufacturers add a chemical called Sodium Lauryl Sulfate (SLS). SLS is present in soaps, shampoos, laundry detergents, and toothpaste. The U.S. Food and Drug Administration (FDA) regards SLS as safe for short-term topical use (consumers have not reached a consensus on this point), but no studies have been done to prove its safety if ingested.
In dogs, SLS can cause gastrointestinal upset if swallowed in sufficient quantities. Now you know "the rest of the story" on why pet toothpaste doesn't foam, and another reason why "no" is always the answer to the question, "Can you use human toothpaste on a dog?"
3. Xylitol
There's nothing sweet about our third reason why human toothpaste poses a hazard to dogs.
You may have heard about xylitol, an increasingly common artificial sweetener in human foods and hygiene products. Ironically, xylitol has been associated with preventing tooth decay in people and is therefore added to toothpaste both because it is a sugar-free sweetener and because it may improve oral health in humans.
I think it might surprise you to learn how prevalent this dangerous chemical is in human toothpaste, including some well-known "holistic" brands such as Tom's of Maine®, Trader Joe's®, and Young Living™. (For more human dental products containing xylitol, please refer to Preventive Vet's list of products containing xylitol.)
Sadly, xylitol and dogs are a deadly mix. Xylitol can cause two problems for a dog's system: low blood sugar and irreversible damage to the liver, both of which can be fatal.
Please get in the habit of checking the label (and check in with your vet!) for everything you give your dog. Be sure to watch for xylitol (i.e. birch sugar) in the ingredient list.
Now that you know the three reasons why dogs and human toothpaste don't mix, you may be wondering about toothpaste formulated specifically for dogs. What are the benefits of dog toothpaste? What dog toothpaste should you use? Let's discuss this.
How valuable is dog toothpaste for your dog's dental health?
Here's the truth: the real benefit of routine home dental care for your dog isn't from the dog toothpaste itself. It's the physical act of brushing—the repetitive motion of the bristles scrubbing away food particles and plaque deposits in the mouth—that makes brushing your dog's teeth so valuable.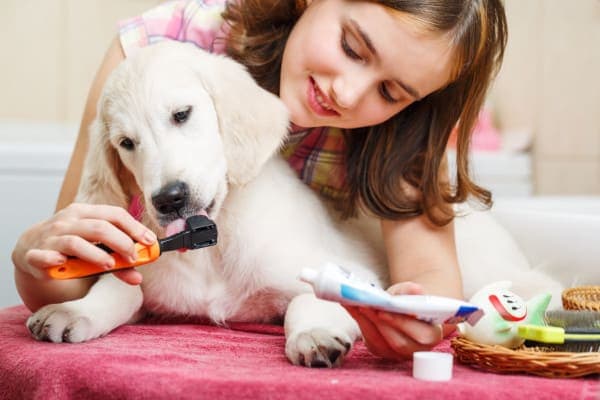 When you take your car to the DIY car wash, is it the pink soap that cleans the dirt and debris from your car, or is it your elbow grease? Consistency and good technique are far more valuable than the animal-safe toothpaste you use. Brushing your dog's teeth with plain water is reasonable.
A dog toothbrush, which can be found at most pet stores, online retailers, or at your veterinarian, is specially designed to reach into your dog's mouth and safely brush plaque and bacteria off the teeth.
If your dog is at risk for dental diseases, your vet may even recommend a prescription dog food to promote oral health!
For some tips on how to incorporate dental care into your dog's daily routine, see my article: Should I Brush My Dog's Teeth? 7 Toothbrushing Tips.
So why do we even use pet toothpaste for dogs?
The manufacturers claim that pet toothpaste does help reduce plaque, but I don't know of any scientific research that proves this. The real benefit of using dog toothpaste when brushing your dog's teeth is probably the flavor. Supposedly, animals don't like the taste of human toothpaste (mint), but veterinarian-recommended pet toothpaste comes in such decadent flavors as poultry, malt, beef, and seafood.
Recently, one of my veterinary clients told me she was surprised by how much her dog liked the taste of the dog toothpaste. In fact, her dog seemed to enjoy having his teeth brushed because of it.
That's the real advantage of doggie toothpaste—keeping the experience a positive one for your canine companion. Tooth brushing can be a little treat!
Which dog toothpaste should I use?
As with many pet products, the market is flooded with options for dog toothpaste. So how do you choose which one to use?
Generally, I recommend an enzymatic cleaning toothpaste, such as Virbac C.E.T. Enzymatic Toothpaste.
As we've learned, the mechanical aspect of brushing is more valuable than the enzymatic action in toothpaste. However, these types of dog toothpastes have potential benefits. Here are common enzymatic ingredients and their respective actions:
Lactoperoxidase, lactoferrin, and lysozyme: These enzymes reduce plaque by killing the bacterial, fungal, and viral components and free radical scavengers which also target the organism's cell membrane or cause iron deprivation. Dental products may contain one, two, or all three of these enzymes.
Mutanase and dextranase: These enzymes keep plaque from sticking to the teeth by breaking apart plaque's glycan bonds, thus causing it to be water-soluble.
Papain: This enzyme reduces plaque build-up by keeping a plaque component—salivary glycoproteins—from accumulating in the pet's mouth.
Dog toothpaste containing these ingredients can give added benefits to the mechanical component of tooth brushing.
Human toothpaste for dogs? I don't think so!
Finally, when someone asks you, "Can you use human toothpaste on dogs?" I hope that you'll respond with an emphatic "No!" and explain the dangers of using human toothpaste. Kudos to anyone enthusiastic about brushing their dog's teeth, but remember to read the label on over-the-counter pet toothpaste before use, or buy from your veterinarian to protect the health of your dog.
What questions do you have about brushing your dog's teeth?
Please comment below.