Your canine companion may love chewing on antlers. But are antlers safe for dogs? Integrative veterinarian Dr. Julie Buzby shares why her answer (and the answer of most other vets) is a resounding, one thousand percent, "No."
Have you ever had one of those moments where what you know and what you actually do in real life don't align? That's what happened to me the day I gave my dog, Luke, a deer antler to chew. A client had given me the antler because her dog wouldn't go near it. But my dog, who must be part T. rex in his ancestral heritage, was more than happy to chomp the antler. And, from the look on his face, he'd probably have answered the question, "Are antlers safe for dogs to chew?" with a happy grin.
Like many dog moms, it brings me great satisfaction to give my dogs something that they enjoy. As an integrative veterinarian, I know what every pet owner knows to be true: What brings my dog satisfaction isn't necessarily what's best for him—even if trade magazines, product popularity, or social media would suggest we think otherwise.
Please learn from my own moment of weakness and "chews" no to antlers for dogs! Let me explain why my stance on this subject is so clear by diving into the types of antler chews, why they are on my list of chew toys to avoid at all costs, and how antlers can fracture (break) a dog's teeth. Then learn safer alternatives and how to determine whether a dog chew toy is too hard for your dog to chew.
Types of antler chews
First, there are many types of antler for dogs on the market. If you walk into a pet store or if you shop online, you've probably seen countless antler chews in all sizes and shapes. Deer antlers, the antler that I regretted giving my dog, are probably the most popular. Other types of antler chews include elk antlers, moose antlers, and split antlers (those that are split in half lengthwise).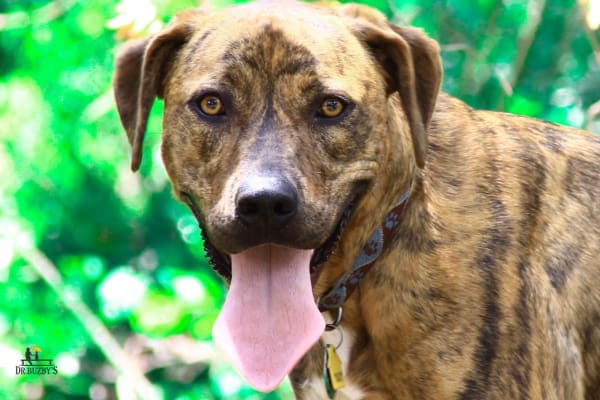 The marketing hype surrounding antlers would have us believe that since these types of chew toys are natural dog "treats" that means they are safe for dogs. Sure, they are natural, since they are from an animal. And you can't argue that they aren't sustainable since deer, elk, and moose naturally periodically shed their antlers.
Veterinarians weigh in on the question "Would you recommend antlers to your clients?"
However, antlers are certainly not safe. End of story. And this isn't just my stance because my own dog fractured four teeth during his hour of antler-chewing.
In a recent poll of over 1000 veterinarians:
93% did not recommend letting dogs chew on antlers
6% indicated they educate clients about the potential dangers of antlers but don't recommend against them and would give them to their own dog
Less than 1% said they were fine with dogs chewing on antlers
It's worth noting that several veterinarians commented that they had previously been aligned with the thinking of the 6% in the poll, but after their own dog fractured a tooth (or teeth) chewing an antler, they had changed their stance. Frankly, that's my story too!
Read on to learn why I (and countless other veterinarians) are vehemently opposed to giving dogs antlers as a chew toy.
Are antlers safe for dogs?
Here's why antlers are NOT safe for dogs: Antlers, regardless of how they are cut or what animal they come from, pose a hazard for dogs for three reasons:
Antlers can cause painful fractured teeth.
Smaller antler pieces could pose a choking hazard.
Ingested pieces of antler chews can cause an obstruction, which may require surgery.
Still unsure? Let's dive into each of these three very real hazards for dogs.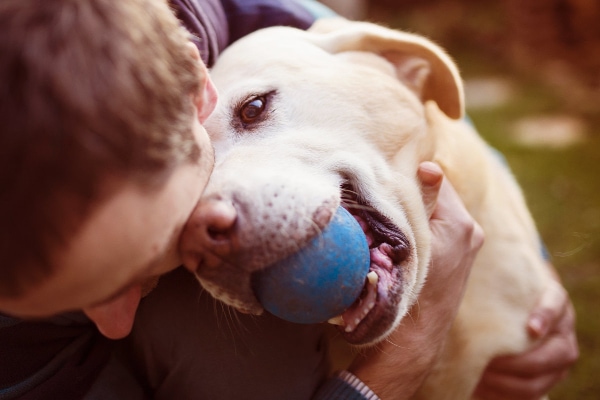 1. Antlers pose a dental risks for dogs.
After attending vet school, I took several advanced dental training courses through a board-certified veterinary dentist. Dentistry is a large part of veterinary practice, and dental disease in dogs is common. Based on my training, I knew that careful selection of dog chews was important. And here's why it's so crucial:
Dogs don't have a lot of enamel on their teeth and they can fracture them easily.
Click To Tweet
Tooth fractures are a very real problem. In fact, a study found that one in four animals presented for a dental cleaning have a traumatic dental injury and 50% of those injuries are fractured or broken teeth. As an integrative veterinarian for over 20 years, it's not uncommon for me to discover a cracked or broken tooth incidentally during a routine head-to-tail physical examination.
What is a slab fracture?
While any tooth in the mouth can fracture, become loose or damaged, or have associated gum problems, the most common tooth to fracture is the fourth premolar. (If you lift up your dog's top lip from the side and retract that lip gently up and back, you'll see on the top arcade a big tooth—it's also called the carnassial tooth. It looks a mountain range upside down.)
Picture your dog's fourth premolar like a big iceberg. Now picture a slab of that iceberg falling into the ocean. That's the kind of fracture that happens to a dog's tooth. The side of the tooth breaks off and you're left with a raw, exposed flat side. This is a common problem typically caused when a dog chews on something that's too hard.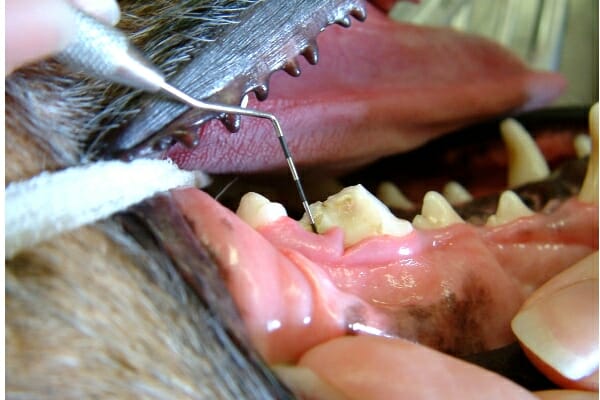 A slab fracture of your dog's tooth can cause
Pain (now the root endings are directly exposed)
Bleeding
A dog tooth root abscess which may rupture through the side of your dog's face
A broken tooth is trouble in the making because it removes the enamel—the natural sealant that protects the tooth from infection. Without the enamel, infection can wick up the tooth and into the roots. This may cause a tooth root abscess. (If you've ever had a root abscess in your tooth, you know that it's excruciatingly painful and can become very serious.) Even if an abscess hasn't formed yet, chewing on a fractured tooth with an exposed nerve is still extremely painful for your dear dog.
Do antlers have any dental benefits?
Proponents of antlers argue that chewing on the antler can help clean your dog's teeth by scraping the tartar off. Sure that might be true, but if your dog cracks a tooth (or teeth) in the process, he or she will end up with bigger dental issues. Plus, there are a myriad of safe and effective ways to keep your dog's teeth clean at home that don't run the risk of also fracturing the very teeth you are aiming to protect.
2. Antlers may pose a choking hazard.
The dental concerns with antlers are definitely the biggest reason that I am anti-antler. However, it is also worth mentioning that antlers chewed small may pose a hazard. Anything that can be chewed down to a small piece may cause true choking (obstruction of your dog's windpipe) or esophageal obstruction (which some people also call choking). True choking, while uncommon, can be life-threatening if your dog can't get enough oxygen.
Next, let's take a look at the hazards of an esophageal obstruction. If your dog attempts to swallow a piece of the antler, it could get stuck in the esophagus. This would keep other food from being able to reach the stomach, and can also damage the walls of the esophagus.
In severe cases, the esophagus could get a hole in it, which would allow the contents of the esophagus to leak into the neck, chest, or abdomen.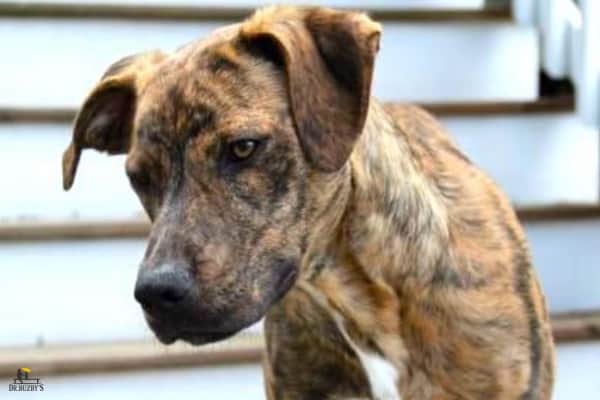 Signs of an esophageal obstruction
Swallowing abnormally hard or more frequently
Acting like it is difficult to swallow
Regurgitating (i.e. bringing up undigested food without retching)
Drooling excessively
Gagging or retching (trying to get something out of throat)
If your dog is showing these signs, contact your veterinarian immediately. Be able to tell your vet if any of your dog's toys are missing or you suspect he or she may have chewed an antler or other toy down to a small piece then tried to swallow it.
If your dog does have an antler stuck in the esophagus, endoscopy is the safest way to remove it. Some veterinary practices have an endoscope (a flexible tool with a light and camera), but other clinics may refer you to a veterinary specialty center for the procedure. Endoscopy typically requires brief general anesthesia. Complications of an esophageal obstruction (and removal) include irritation of the esophagus, esophageal perforation (i.e. hole), and esophageal stricture (i.e. scar tissue that narrows the esophagus).
3. Antlers may cause a GI obstruction.
If a dog swallows a chunk of antler, it could also get stuck in the stomach or intestines. There is some debate among veterinarians on whether a dog's stomach acids can break down antlers. However, even if the antler will eventually break down, it can still cause problems while it is intact. The antler could block food from leaving the stomach or lodge somewhere in the intestines and prevent intestinal contents from moving through.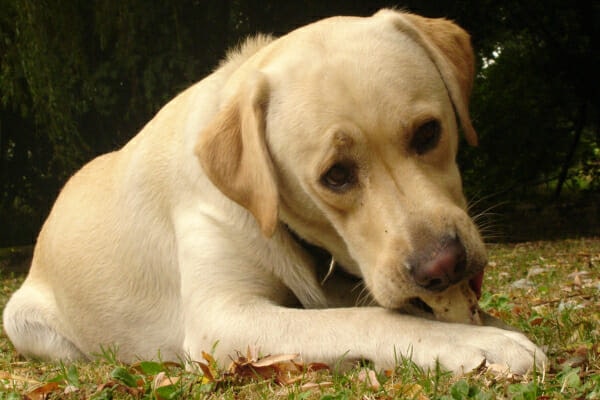 In severe cases, an intestinal obstruction can cause a portion of the intestine to die or create a hole in the intestine. This may allow intestinal contents to leak into the abdomen. Dogs with dead intestines or holes in their intestines are very sick and sometimes die.
Signs of an intestinal or stomach obstruction include:
Vomiting
Abdominal pain
Poor appetite (or sometimes still a good appetite but vomiting shortly after eating)
Weight loss
A variety of conditions, including other GI problems like pancreatitis in dogs, and systemic problems like organ failure can also cause these signs, so they are not specific for an obstruction. Whenever you see these signs, call your vet promptly so he or she can assess your dog and make a plan.
GI obstruction is an emergency and requires surgery to remove the antler (and possibly part of the intestine if it is damaged). Complicated or severe cases may require a several day hospitalization and intensive care. Some obstructions are even fatal, so antlers aren't worth the risk.
What are some safe alternatives to antler chews?
Now that you have the facts about antlers for dogs, you may be wondering what is safe for dogs who like to chew or who are heavy chewers. The good news is that you can prevent a painful tooth fracture by choosing the right chew toy. Even better, determining whether a chew toy is too hard for your dog is not complicated. I learned the following rule from Dr. Fraser Hale, a board-certified veterinary dentist:
If a chew toy or bone is too hard to smack into your own kneecap, then it's too hard to give your dog to chew.
Click To Tweet
The "kneecap smack" rule of thumb limits what your dog should be chewing. For dog owners whose canine companions are heavy chewers, this can be frustrating. However, it can also limit the suffering and pain your dog experiences from a fractured tooth. I have a short list of safe chew toys for dogs that I recommend to my veterinary clients including Kong toys and Zogoflex toys by West Paw. Or you can look for the Veterinary Oral Health Council seal of acceptance.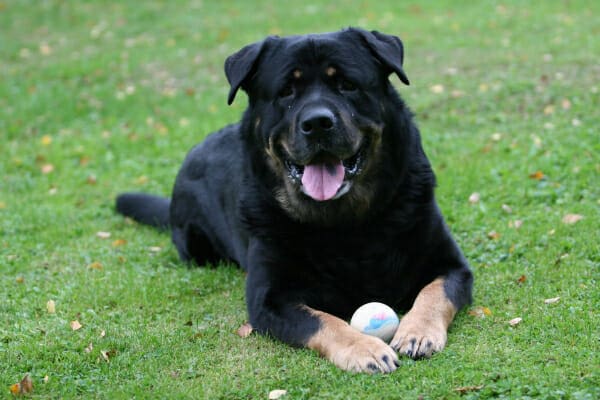 What other hard chew toys should I avoid?
In addition to deer antlers, elk antlers, split antlers, and antlers of all types, for your dogs safety, avoid chew toys that don't pass the "kneecap smack" test. These include:
Nylon bones
Large rawhides
Hooves
Pig ears
Bully sticks
Non-processed large bones
The bottom line: 3 life lessons I hope you'll learn from my experience
In a moment of weakness, I gave a deer antler to my dog to chew. I'm sad to say it. However, I hope that by sharing my experience, you'll learn these three life lessons:
Learn from my mistake. Don't be fooled by marketing gimmicks that sing the praises of antlers for dogs. My dad always said, "The wise man learns from his mistakes and the wiser man learns from the mistakes of others. "I knew the kneecap rule when I gave my dog the antler. But for some reason, popularity of the commercial market, the advertisements in trade journals, and the fact that antlers are "natural" also factored into the equation. Which brings me to life lesson number two…
Just because it's natural doesn't mean it's good for your dog. By giving my dog an antler I'd made him as happy as a clam at high tide. However, within an hour, he'd fractured four teeth. I looked at his broken teeth and immediately recognized what had happened.
Be your dog's biggest advocate and lean on your trusted sources. After my dog's short-lived antler experience, I reached out to a trusted group of board-certified veterinary dentists and asked for their opinions on antler chews for dogs. Here is what I learned:
Veterinary dentists unanimously (there was not one dissenter) agreed that antlers are a sure-fire way to fracture a dog's teeth.
A word of wisdom about antlers
As you are contemplating whether or not to give your dog antlers to chew on, I want to leave you with this quote from veterinary dentistry resident Dr. Emily Baldwin:
"Every dog who ever chewed an antler didn't absolutely fracture a tooth. However, every person who drives a car doesn't get in an accident either. We know that this is a risk every time we get in a car, just like we know chewing antlers risks tooth fractures. If tooth fractures are a risk you are willing to assume, then letting your dog chew antlers is an acceptable decision. But know that if a tooth does fracture, you will likely be faced with the choice of extraction vs. root canal."
Partner with your vet
As your dog's biggest advocate, I urge you to partner with your veterinarian as a trusted source of information for the long-term health and happiness of your dog. Additionally, it is my passion and my mission to help you help your dog live the happiest, healthiest life possible. I'll do my personal best to share information that helps you make informed choices in the best interest of your dog.
Finally, please make selecting safe chew toys an important part of your dog's dental care routine along with brushing your dog's teeth and annual dental exams. What you give your dog to chew really does matter.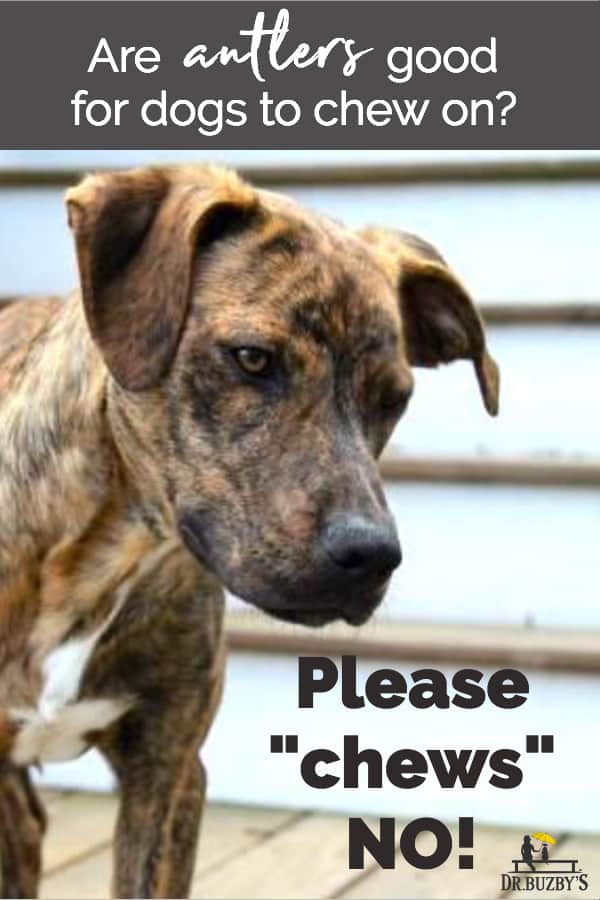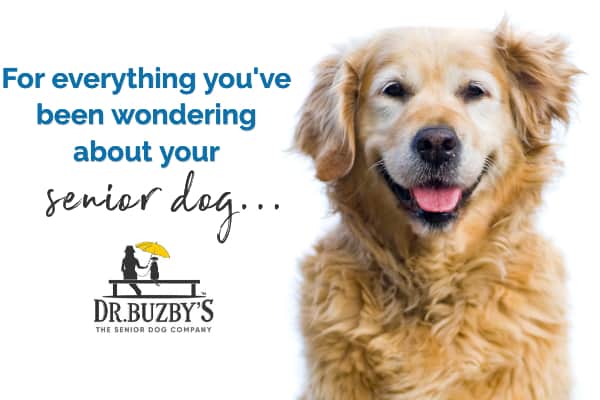 What chew toys do you give your dog?
We'd love to hear. Please comment below.