Realizing "My dog ate a grape or raisin (or a lot of grapes or raisins)" can be scary. To help you navigate this situation, integrative veterinarian Dr. Julie Buzby invited emergency veterinarian Dr. Kathryn Williams to the blog. Dr. Williams explains why grapes or raisins are so dangerous for dogs and discusses what to do if your dog eats grapes or raisins. Plus, she answers five FAQs about grape and raisin toxicity in dogs.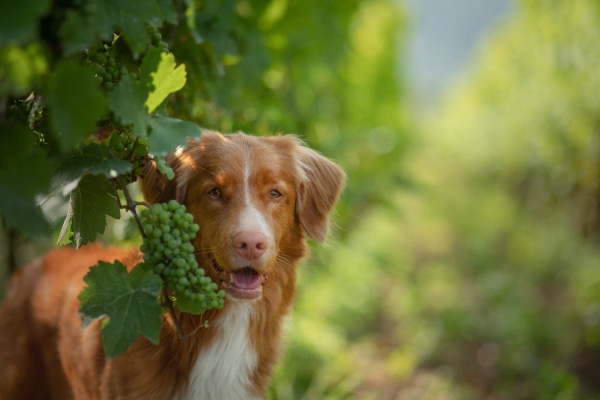 It was a surprisingly quiet day at the emergency hospital when Bingo walked in the door. This lively, happy 5-month-old Beagle puppy was not my typical emergency patient. Most of my patients are lethargic, coughing, limping, or have some sort of wound. But not Bingo! He was wagging his little tail so hard that his whole body shook with excitement.
My veterinary nurse, who had spoken with Bingo's family, reported that the kids in the house had shared their snacks of grapes with Bingo. I evaluated Bingo and determined that all of his vitals were normal. And then I headed out to talk to his family.
Since grapes are toxic to dogs, I recommended that his mom call ASPCA Animal Poison Control Center. While she was on the phone with the toxicologists, we gave Bingo medication to induce vomiting. Thankfully, he vomited up about 10 grapes.
After that, I touched base with the ASPCA toxicologists to discuss a game plan. While this Beagle puppy's prognosis was a lot better after vomiting up the grapes, we decided to keep Bingo in the hospital for fluid therapy and monitoring.
Are grapes bad for dogs?
You may be wondering if grapes or raisins are really that bad for dogs (especially if you know a dog who eats grapes all the time without a problem). The truth is that they are potentially poisonous to dogs. But grapes and raisins are unusual toxins because only some dogs seem to be sensitive to them.
Unfortunately, there is no way of knowing which dogs will react, and which dogs will be fine. For this reason, it is better to err on the side of caution. This means avoiding giving your dog any grapes or grape-containing products (i.e. trail mix, baked goods like raisin bread, etc.). Red grapes, green grapes, seedless grapes, peeled grapes, and other types of grapes are all potentially dangerous. And so are all the forms of raisins.
What makes grapes and raisins so dangerous for dogs?
For years, the toxic component was a mystery. Theories included a fungal toxin or salicylate (an aspirin-like compound). Most recently, a study in the Journal of Veterinary Emergency and Critical Care proposed that tartaric acid might be to blame. The authors of the study noted similarities between grape toxicity in dogs and a case where a dog ingested play dough made with cream of tartar. As it turns out, grapes, tamarinds, and cream of tartar are all high in tartaric acid. And they all cause similar damage to the kidneys.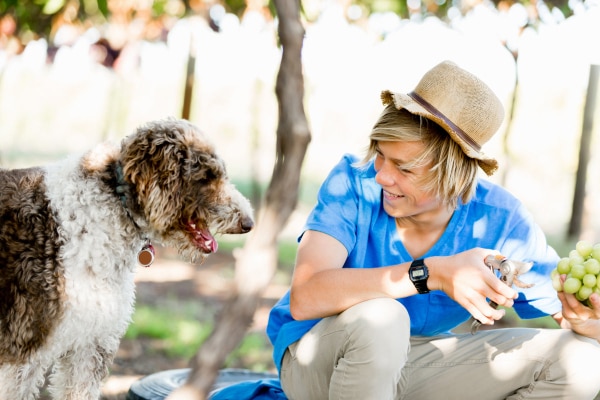 Time will tell, but this could be one of the missing pieces of the puzzle. Hopefully, additional studies will continue to provide insight into how grape and raisin toxicity occurs. And maybe they will shed light on why grapes seem to affect some dogs more than others.
What are the signs of grape or raisin toxicity in dogs?
One thing we do know for sure is that grapes and raisins attack the kidneys and can lead to acute kidney failure in dogs. Usually, dogs will start to get sick within several hours of eating grapes. Like other causes of acute kidney failure (e.g. leptospirosis or pyelonephritis in dogs), symptoms of grape poisoning include:
Vomiting (this occurs in almost all dogs who eat grapes and end up in kidney failure)
Diarrhea (which may contain grape or raisin pieces)
Being a lethargic dog
Dog not eating (loss of appetite)
Dry nose and mouth (or other signs of dehydration)
Breath that smells like ammonia
Abdominal pain
Increased urine production initially, which can progress to decreased urine production or a dog who is not producing urine
Death (in severe cases)
If you see these signs, make an emergency vet visit right away. However, keep in mind that by the time your dog is symptomatic, his or her kidneys have already started to fail. Therefore, it is much better to take action as soon as you discover your dog has eaten grapes or raisins.
What should you do if your dog eats a grape or raisin?
If your dog eats grapes or anything potentially toxic, contact ASPCA Animal Poison Control Center at (888) 426-4435 or Pet Poison Helpline at (855) 764-7661 ASAP. There is a fee for the service, but it is well worth it. The veterinary toxicologists will let you know if your dog needs emergency care or if you can monitor your dog at home. Plus, they will provide you with a case number and discuss a comprehensive treatment plan with your veterinarian.
A word of warning: You may find "grape toxicity calculators" on the internet which follow a rough rule of thumb for toxicity. However, some dogs may react at a lower dose than the calculator predicts. For this reason, it is best to discuss any grape or raisin exposure with the toxicologists at the ASPCA Animal Poison Control Center or the Pet Poison Helpline instead of relying on an online calculator.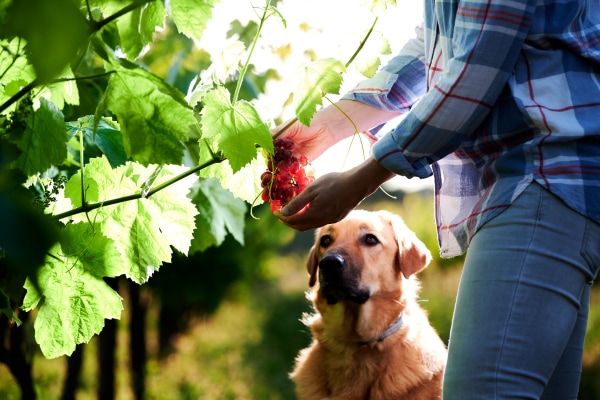 What is the treatment for grape toxicity?
As with any toxicity, an ounce of prevention is worth a pound of cure. The sooner we can intervene, the better the prognosis. When talking about a toxin like grapes that cause kidney failure or even death, that is a big deal.
A lot of dog parents will ask if they can take their dog home and monitor him or her and then return if they start seeing symptoms. Unfortunately, by the time we see signs of toxicity, kidney damage has already happened. Thus, it is far better to intervene early to prevent the damage from occurring.
Treatment usually involves the following:
Inducing vomiting within 4 to 6 hours of consuming grapes or raisins
Monitoring kidney values the first day, then every 24 hours to ensure they are not increasing
Administering intravenous fluids to flush the toxin from the body and support kidney function
Sometimes giving activated charcoal to help bind any remaining toxin in the stomach and intestines
Depending on when your dog consumed grapes, and if the grapes were able to be removed by inducing vomiting, your dog will probably stay in the hospital for 24 to 72 hours.
A happy ending for our Beagle patient
Such was the case for Bingo, who was a favorite during his stay in the hospital. His urine production remained normal, along with his kidney values, and he was soon reunited with his family. Thankfully, his case had a good outcome. This was due in large part to his family proactively taking him to the hospital as soon as they discovered he had eaten grapes.
Grape and raisin FAQs
Over the years, I have gotten many questions about grapes and raisins from my emergency clients. Here are some of the more common ones.
FAQ #1: My dog ate grape jelly. Will he be ok?
At this point, there haven't been any reports of toxicity from grape juice, jelly, or jam. But there is a lot we still don't know about grape toxicity. Therefore, it is best to avoid giving your dog grape jelly, grape jam, or grape juice. If your dog does ingest one of those products, contact your veterinarian, ASPCA Animal Poison Control Center, or Pet Poison Helpline.
FAQ #2: My dog ate raisin bread. Is this bad for her?
Any raisin-containing product, such as raisin bread, cinnamon raisin bagels, oatmeal raisin cookies, chocolate-covered raisins, Raisin Bran cereal, or yogurt-covered raisins could be toxic for dogs. While cooking the raisins may slightly decrease their toxicity, they can still cause kidney failure in many dogs. If your dog eats raisins in trail mix, baked goods, or any other food, please promptly contact ASPCA Animal Poison Control Center or Pet Poison Helpline for advice.
FAQ #3: My dog ate one grape. Can one grape kill a dog?
While just one grape may seem harmless, it could potentially be dangerous, especially for a very small dog. We still don't understand exactly why some dogs develop kidney failure from a small amount of grapes or raisins while others can eat grapes every day and be just fine. Therefore, the best course of action is to consult ASPCA Animal Poison Control Center or Pet Poison Helpline for advice, even if your dog only eats one grape or raisin.
FAQ #4: My dog ate grape stems, vines, or leaves. Are those toxic too?
As of now, it seems that the fruit itself (i.e. the grape) is toxic to dogs. But other parts of the plant—the stems, vines, and leaves—are nontoxic. However, I would still not recommend letting your dog eat grape stems, vines, or leaves.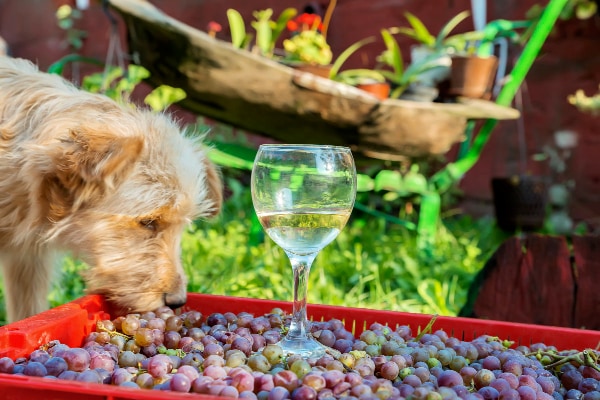 FAQ #5: My dog drank wine. Will he be ok?
There are currently no reports of grape toxicity from wine, but it could still possibly be toxic. In addition to the grape aspect, wine is also a concern due to the potential for alcohol toxicity.
Dogs are sensitive to alcohol and can become inebriated after ingesting even a small amount of wine. Sometimes they can even drink enough wine for it to be fatal. Therefore, if your dog drinks wine, it is best to call the ASPCA Animal Poison Control Center, Pet Poison Helpline, or your veterinarian for advice on how to proceed.
If your dog eats grapes, act now!
As you have probably figured out by now, the most important thing you can do if your dog eats grapes or raisins is the call ASPCA Animal Poison Control Center or Pet Poison Helpline. It is so much better to pay the fee and get advice right away than it is to think, "My dog ate grapes but seems fine" and then have your dog develop kidney failure due to grape or raisin toxicity.
Being proactive now often pays off down the road. And when it comes to your beloved dog's health, you can't be too careful!
Has your dog eaten grapes or raisins and landed himself or herself in the hospital?
Please share your experience.