If you heard your vet say "kidney failure in dogs" and everything else he or she said about your senior dog's diagnosis was a blur after that, this article is for you. Integrative veterinarian Dr. Julie Buzby explains kidney failure in detail—what it is, the types, common causes, which tests your vet may run, the various treatment options, and the overall outlook. Armed with this information, you will be ready to navigate kidney disease with your dear dog.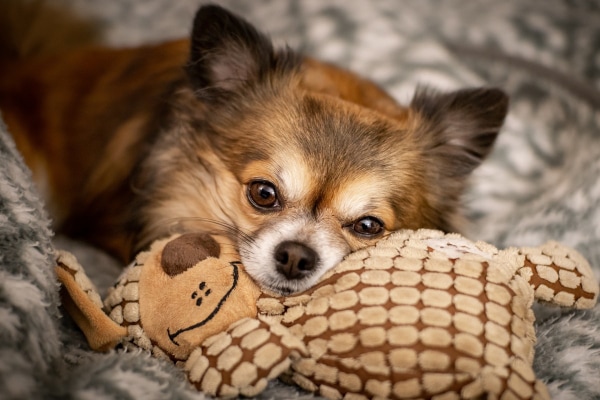 I keep a running list of articles that I want to write. Some are things that I am excited about sharing. Others are pet health topics that I think would be helpful for our loyal dog parent readers. I have had the topic of kidney disease on the list for a while now but hadn't gotten around to developing it yet.
Then, in the space of a few days, I had three reminders of my desire to write this article. Their names were Toby, Stella, and Oscar.
3 dogs with different types of kidney disease
Toby: A Dachshund who suffered from acute kidney failure
First there was Toby, a handsome older Dachshund. He had a bad bout of pancreatitis in dogs and became dehydrated. The combination of dehydration and pancreatitis led to acute kidney failure. Happily, Toby recovered after being hospitalized for five days.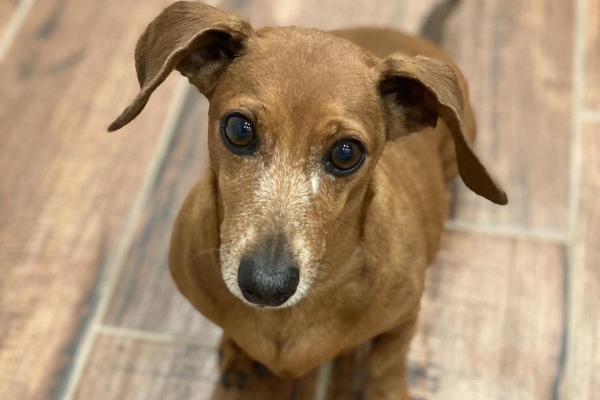 Stella: A Toy Poodle with high kidney values
The very same day I discharged Toby, I saw Stella for her six-month check-up. Stella, a perfectly coiffed 12-year-old Toy Poodle, had borderline elevated kidney values last year. Though Stella was feeling great, her bloodwork from her visit that day revealed that her kidney values were higher than before. I called her parents and let them know it was time to switch her to a kidney friendly diet. After I hung up the phone, I moved the kidney disease article a little further up my mental to-do list.
Oscar: A Frenchie with a history of chronic kidney disease
Then, the very next day, I saw Oscar, a grey-muzzled Frenchie, for the first time, and was immediately smitten. Oscar had a history of chronic kidney disease that had been well-managed for years with a prescription diet. So elevated kidney values weren't a surprise on his bloodwork. But Oscar's testing that day revealed two new problems—protein in his urine and high blood pressure.
I am lucky to care for patients like Oscar (who is doing well on his new medications by the way), but I must admit that after his appointment I was ready for a few days respite from kidney issues.
I can take a hint though, and the universe was obviously trying to tell me something, so without further ado, I give you "Kidney Failure in Dogs: A Comprehensive Guide."
What is kidney failure in dogs?
When you hear the term kidney failure, your mind likely jumps to worst case scenarios and grave prognoses for your dog. To those in the medical community, however, kidney failure doesn't necessarily mean end-stage disease. Veterinarians often use the term "kidney failure" somewhat interchangeably with the term "kidney disease."
You also may hear or see terms like "renal failure," "renal disease," or "renal insufficiency." Without additional context, each of these terms alone doesn't tell you much about how severe the problem might be. However, what they all have in common is that they are various ways to say that the kidneys are not functioning at their normal capacity.
What do the kidneys do?
In veterinary school we had to learn anatomy and physiology before they would teach us the fun stuff (i.e. all the diseases and how to fix them). Though I didn't love it at the time, I guess they did have a point.
So, let's start with a little anatomy and physiology lesson.
Dogs, just like people, have two kidneys, one on the right and one on the left. Your dog's kidneys are in their upper abdomen tucked up under the ribs near their back.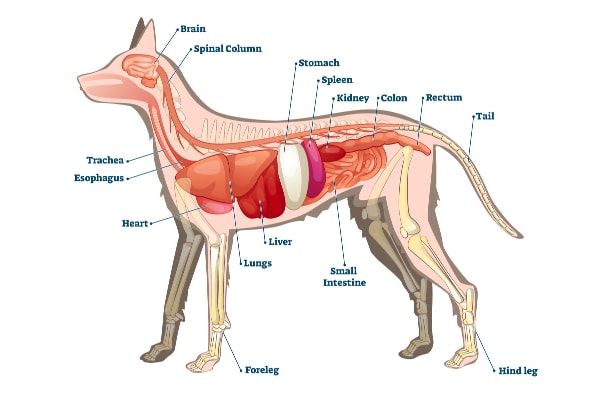 If you have ever potty trained a puppy or rushed home to let your older pup out to potty, then you are all too familiar with the most well-known job of the kidneys—making urine. The urine that the kidneys make, however, is just a by-product of several lesser known but highly vital jobs performed by these powerhouse organs.
The kidneys are responsible for:
Filtering toxic waste products from the blood
Balancing levels of essential electrolytes
Preserving hydration by conserving just the right amount of water
Helping regulate calcium and phosphorus levels
Controlling blood pressure
Stimulating the bone marrow to produce new red blood cells
One of the more important points to note about the kidneys is that kidney cells can't grow back or regenerate. Some other organs, like the liver, can regenerate after they are damaged. But when it comes to the kidneys, dogs aren't going to get any more kidney function than they were born with.
To make up for this fact, the body builds in an impressive reserve capacity. Human kidneys are the same. This explains why you can donate one of your kidneys without experiencing any major long-term health issues or outward signs of decreased kidney function.
What are the types of kidney failure?
However, even with this reserve capacity, it is possible to reach a point where so many kidney cells are lost that the kidneys can no longer do their jobs. Now the dog is in kidney failure.
There are essentially two main types of kidney failure—acute and chronic. A third type, acute-on-chronic, is a bit of a mixture of the first two types. Acute-on-chronic is when a dog with chronic kidney disease that is stable experiences a sudden worsening of their kidney function.
Each type has different lists of potential causes, different focuses of treatment, and different prognoses. For this article, we will stick to acute and chronic kidney failure.
What causes acute kidney failure in dogs?
As the name implies, acute kidney failure comes on suddenly, usually in a matter of days. It is caused by a major injury to the kidney. There are certainly some well-known causes of acute renal failure, but frustratingly, it is not uncommon for veterinarians to be unable to pinpoint the exact cause of the kidney injury.
Some of the well-known causes of acute kidney failure include toxicities, medications, foods, infections, anything that decreases blood flowing through the kidneys, and anything that obstructs the flow of urine out of the body. I will dig into each of these causes in more detail below.
Toxicities
There are several common household products that have the potential to cause acute kidney failure. Most people know that antifreeze (i.e. ethylene glycol) is on this list. Rat poison is another unfortunately common toxicity that veterinarians treat. There are several types of rat poison that each work in different ways, but one specific type (cholecalciferol) exerts its deadly effects on the kidneys.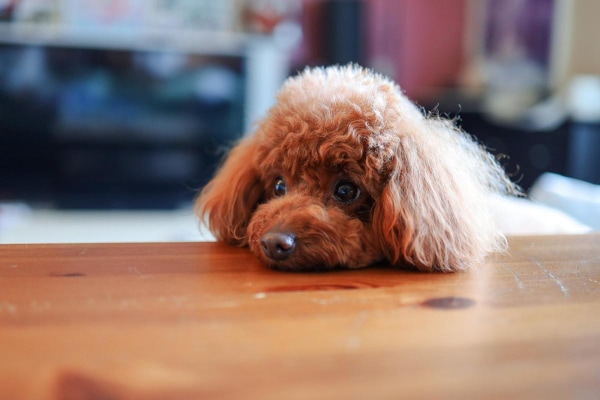 Medications
Over the counter non-steroidal anti-inflammatory pain medications (NSAIDS) like ibuprofen (Motrin or Advil) and Naproxen (Aleve) may be great at relieving your aches and pains. However, you should not give your dog Advil or any of the other medications on that list. These medications, even at modest doses, can cause kidney failure in dogs.
Dog-safe NSAIDS like carprofen (Rimadyl) are generally well-tolerated but can occasionally unexpectedly damage the kidneys, even at the correct dosage. This explains why your veterinarian might want to check bloodwork one to two weeks after starting these types of medications.
Also, many doggy NSAIDS are meat flavored. Severe kidney failure can result if a curious pup accidentally gains access to the entire bottle and ingests too many of the tempting tablets.
Foods
Even seemingly innocuous foods like grapes and raisins can be dangerous for dogs. Unfortunately, they can cause acute kidney failure in dogs.
SAFTEY PSA: It is so important to store all medications and toxins safely away from your dog. Also, it is important to never give your dog any medications without talking to your veterinarian first. If you dog does eat or drink any of the items on this list, you should call a veterinarian immediately. In some cases, quick treatment can prevent severe kidney damage.
Infections
Infections can also cause acute renal failure, typically in one of two ways. The first is when a urinary tract infection (i.e. UTI in dogs) is left untreated. The bacteria can travel up from the bladder to the kidneys, where they set up shop and cause a kidney infection (i.e. pyelonephritis in dogs). The ensuing bacterial infection causes the affected dog to feel ill and can lead to kidney damage.
The second occurs when an infectious disease called Leptospirosis causes acute renal failure. Leptospirosis is caused by a bacteria that is spread in water contaminated by the urine of infected wild animals or rodents. Luckily, vaccines exist for many, but not all, of the strains of leptospirosis.
If you're unsure which dog vaccines are necessary for your pooch, talk to your veterinarian. He or she can suggest a vaccination plan based on your dog's age, lifestyle, and risk factors.
Decreased blood flow to the kidneys
Anything that causes decreased blood flow to the kidneys can lead to acute kidney failure. Low blood pressure deprives the kidneys of vital oxygen and nutrients. If that low blood pressure is sustained for long enough, the kidneys can incur permanent damage. Some specific causes of low blood pressure that might lead to acute renal failure are: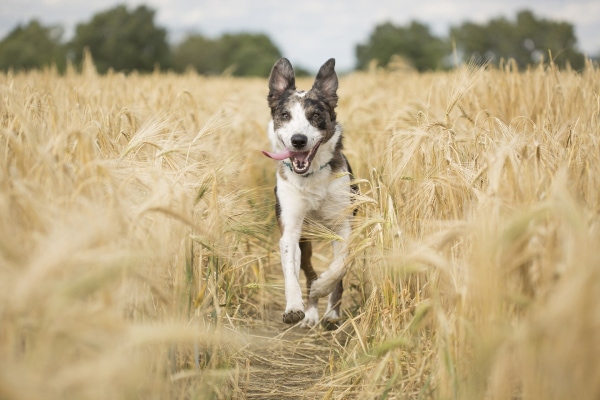 It is important to note that these conditions will not always lead to kidney failure. The thought of your dog going under general anesthesia can be nerve-wracking enough without having to worry about kidney failure, so I want to take a moment to specifically address this potential cause.
Anesthesia and kidney failure in dogs
Veterinarians generally take extra precautions to protect the blood flow to the kidneys during anesthesia. They do this by using the lowest possible doses of anesthetic medications and by giving fluids and monitoring blood pressure closely during anesthesia. The vast majority of dogs who undergo general anesthesia recover uneventfully.
So if you are wondering "Is my dog too old for anesthesia?" or "Is my dog too old for surgery?" don't let the fear of kidney failure get in the way. Instead, have a conversation with your vet about it.
Urinary obstruction
Urinary blockages can also cause acute kidney failure because the kidneys continue to make urine even if a blockage is present. This urine backs up within the kidneys, which have a relatively inelastic outer membrane. The pressure from this buildup can lead to cell death.
The longer the blockage is present, the more permanent damage occurs. Blockages can be caused by kidney stones (i.e. nephroliths and ureteroliths), bladder stones (i.e. cystoliths), or tumors within the urinary tract.
What causes chronic kidney failure in dogs?
Based on the name, you can infer that chronic kidney failure refers to a much more gradual process where the kidney function declines slowly over a long period of time. Unfortunately, a specific cause tends to be more difficult to pin down than with acute kidney failure.
In some cases, the loss of kidney function is due solely to age-related degenerative changes. Basically, more and more kidney cells wear out over time, leading to decreased overall kidney function. In other cases, genetics, immune-mediated disease, or chronic non-kidney related illnesses (like high blood pressure or diabetes mellitus) can play a role in kidney problems.
Remember I mentioned earlier that every dog is born with extra kidney function? Well, this means that chronic kidney disease can be present for quite a long time before any obvious signs of decreased kidney function become outwardly apparent.
What are the signs of kidney failure in dogs?
Increased thirst in dogs and increased urination is often one of the first signs of chronic kidney disease. Let me explain.
The kidneys help maintain hydration by making concentrated urine. With kidney disease, this concentrating ability is the first thing to go, leading to the production of copious volumes of dilute urine. To make up for all this urine, dogs with kidney disease must drink more water.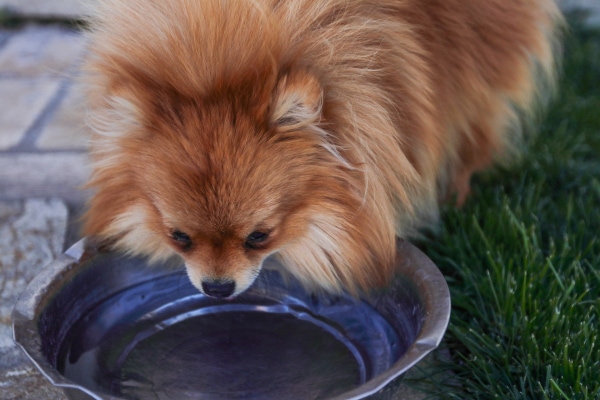 With acute kidney failure, or with late-stage chronic kidney failure, your dog is more likely to feel outwardly ill. He or she may experience any combination of the following symptoms of kidney failure:
Decreased energy (i.e. a lethargic dog)
Weakness
Decreased appetite
Weight loss
Nausea
Vomiting and diarrhea
Hypersalivation
Ulcers in the mouth
Black tarry stools (i.e. melena), which is an indicator of GI bleeding
A specific type of bad breath known as uremic breath (not to be confused with the bad breath from dental disease in dogs)
If you notice any of these signs, please make an appointment with your veterinarian promptly. Early diagnosis can help slow the progression of chronic kidney disease, and it is important to be able to start treatment as soon as possible for acute kidney disease.
How will the vet diagnose kidney disease?
If you or your veterinarian are concerned that your dog may have kidney disease, the first step is a complete physical exam and blood and urine tests.
Bloodwork
Your veterinarian will want to perform a chemistry panel, which includes the two main markers of kidney function, BUN and creatinine. That blood test can also check the levels of electrolytes like phosphorus and potassium. Sometimes those levels are altered in dogs with more significant kidney failure.
Urinalysis
To accurately interpret the BUN and creatinine levels, your veterinarian will also need a urine sample from your dog. It is important to note that the BUN and creatinine can be high in dogs who are dehydrated from non-kidney related illness. In these dogs, their urine will be concentrated, and their urine specific gravity will be high. On the other hand, a dog in kidney failure will have high BUN and creatinine levels with dilute urine.
Low urine specific gravity (i.e. very dilute urine) is actually the first indicator of chronic kidney failure. The urine becomes dilute before the BUN and creatinine levels rise.
Correlation between test results and kidney function
By the time the kidneys lose their concentrating ability, 66% of your dog's kidney function has already been lost. This explains why it often seems like kidney disease has snuck up on you and your furry family member. BUN and creatinine levels finally begin to rise when more than three-fourths of your dog's kidney function has been lost.
Put another way, by the time your veterinarian is able to pick up kidney disease with a standard blood panel, only 25% of your dog's kidney function would remain. Your dog must lose even more kidney function before he or she would show outward signs of feeling sick from the elevated BUN and creatinine (i.e. waste products in the blood).
This explains why it is so important to consider yearly screening labwork for your senior dog and why this labwork should ideally also include a urinalysis. Knowledge is power in this case. Finding chronic kidney disease as soon as it becomes detectable on bloodwork and urinalysis means being able to take steps to slow its progression sooner.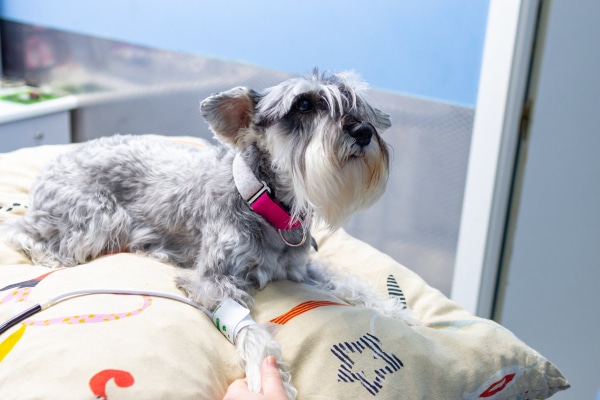 Additional testing
If your vet has diagnosed your dog with kidney failure, he or she may also recommend additional testing such as:
Blood pressure measurement—uncontrolled high blood pressure (i.e. hypertension in dogs) can worsen kidney failure.
Urine culture—to check for evidence of a urinary tract infection.
Abdominal ultrasound—to assess for masses or blockages within the urinary tract and/or look for visual changes to the kidneys that might suggest either an acute kidney injury or more chronic degenerative kidney disease.
Based on the results of the labwork, additional testing, and your dog's history, the veterinarian will determine if your dog most likely has acute kidney failure, chronic kidney failure, or acute-on-chronic kidney disease, and start treatment accordingly.
What is the treatment for acute kidney failure?
Intravenous fluids are the main treatment for acute kidney failure. The elevated BUN and creatinine levels that tell your veterinarian that your dog is in kidney failure also make your dog feel sick. This is because BUN and creatinine are toxic waste products that the kidney normally eliminates. Ideally, IV fluids help flush out the kidneys and bring these levels down.
If you find yourself in this situation with your dear dog, it is best to expect an inpatient hospitalization with multiple days of IV fluids. Each day, your veterinarian will recheck your dog's kidney values to see if they are improving. Once the improvement slows, your veterinarian will attempt to gradually wean your dog off IV fluids to see if the improvements persist.
If your dog is hospitalized for acute kidney failure, your veterinarian will likely consider adding in some other treatments in addition to the IV fluid therapy. He or she may often administer IV antibiotics in case the acute kidney failure could be due to pyelonephritis (i.e. kidney infection) or leptospirosis.
Most other treatments fall into the supportive care category and are aimed at helping dogs feel better during their stay. These might include anti-nausea medications, antacid medications, pain medications, and appetite stimulants for dogs.
Response to treatment
One of the most difficult parts of trying to counsel dog parents through this particular diagnosis is that it's impossible to tell at the outset of treatment how a dog might respond. In some cases, the kidney values will slowly return to normal. In other cases, the values might initially improve but stabilize at a level that is still above the normal range.
And, unfortunately, some dogs do not improve despite appropriate and aggressive treatment. In those cases, dog parents and veterinarians face a difficult choice. Many decide that euthanasia, while heartbreaking, is the right choice to prevent their beloved dog from suffering. While deciding when to euthanize their dog with kidney failure, some dog parents may take advantage of hospice care for dogs. This can help keep their dog comfortable while giving them time to prepare for their dog's euthanasia.
Other dog parents in that situation may decide to pursue dialysis, which can allow extra time for the kidneys to recover from an acute injury. Dialysis requires intensive care and monitoring and is only available at certain specialty veterinary hospitals. The requisite intense level of care and lengthy hospitalization can make dialysis cost-prohibitive for many dog parents.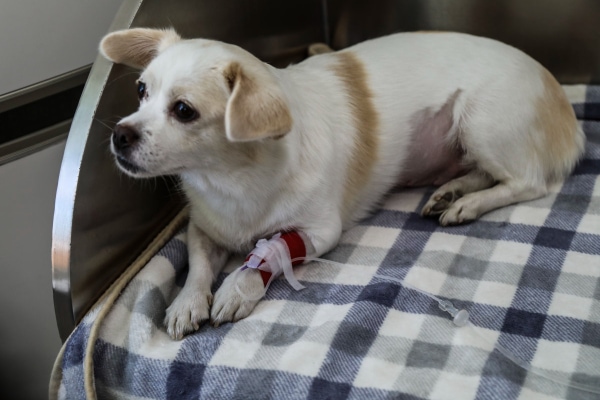 What is the treatment for chronic kidney disease?
While both types of kidney disease involve a loss of kidney function, veterinarians treat chronic kidney disease quite differently than acute kidney disease. Unfortunately, chronic kidney disease is incurable and progressive. No medication or treatment can stop the ongoing loss of kidney function.
The good news is that treatment can slow down the rate of progression in many dogs. The even better news is that a significant proportion of dogs with chronic kidney disease can have a good quality of life for many months to years with proper management and close monitoring.
Your veterinarian will tailor the treatment for chronic kidney disease to your individual dog. Official guidelines exist that lay out the stages of kidney disease in dogs. These same guidelines offer treatment recommendations unique to each stage. Chronic kidney disease treatment may include:
Kidney diets for dogs
Prescription kidney-friendly diets are an important part of the management of chronic kidney disease. These diets have lower protein and phosphorus levels and put less strain on the kidneys.
Blood pressure medications
You veterinarian will also want to closely monitor your dog's blood pressure. If your dog develops high blood pressure, your dog's doctor will likely recommend oral blood pressure medications. We already talked about the fact that high blood pressure can contribute to chronic kidney disease.
But chronic kidney disease can also lead to the development of high blood pressure. Uncontrolled high blood pressure, in turn, can then hasten the loss of kidney function. And so the cycle continues.
Medications to manage proteinuria
Protein loss in the urine (i.e. proteinuria) is a similar chicken and egg phenomenon to high blood pressure causing kidney disease and kidney disease causing high blood pressure. Consequently, vets also try to monitor and address urine protein levels in dogs with chronic kidney disease.
As the kidneys degenerate, the filter portion (i.e. glomerulus) of the kidneys can become leaky. Proteins that the kidney should keep within the bloodstream are then able to leak out into the urine. So, protein in the urine is a sign of kidney disease, but that leakage of protein through the kidneys can also hasten kidney damage.
Your vet may prescribe oral medication to help decrease this protein loss.
Potassium supplements
Some dogs with chronic kidney disease will have low potassium levels, which can make them feel weak and tired. Your vet can easily monitor your dog's potassium levels with routine bloodwork. If levels are low, the vet may recommend oral potassium supplementation.
Red blood cell support
The kidneys make a hormone called erythropoietin that helps tell the bone marrow to make new red blood cells. Some dogs with late-stage kidney disease will become anemic (i.e. have a low red blood cell count) due to decreased production of this hormone.
If your pup is in this situation, your veterinarian may discuss injections of a synthetic version of this hormone to try to improve the anemia. Depending on the severity of the anemia, your dog may also need a blood transfusion. This can be a way to boost red cell numbers while waiting to see if the synthetic hormone injection will work.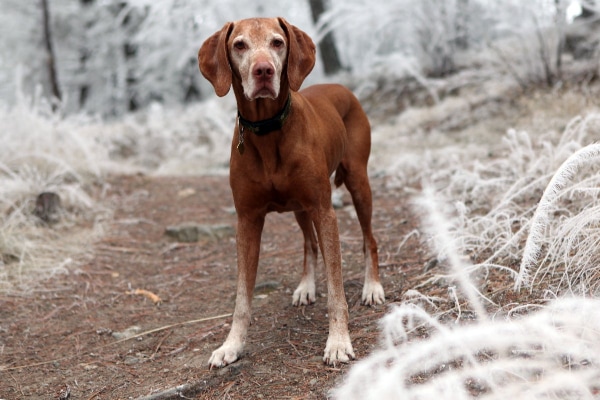 Subcutaneous fluids
Administering fluids under the skin (i.e. subcutaneously) can be a great way to help dogs with later stage kidney disease stay hydrated and feel better for a longer period of time. This can help improve their quality of life. Plus, it can keep them out of the hospital so they may enjoy their time at home with their loving family.
The idea of giving your dog fluids might sound scary. However, many dogs tolerate having this done at home, even on a daily basis, surprisingly well. If your dog has late-stage kidney disease and would benefit from subcutaneous fluids, your veterinarian or veterinary nurse can show you exactly how to give the fluids. The veterinary team can also give you some tips to ensure you and your dear dog are as comfortable as possible with this process.
For a great in-depth explanation and additional support, you can also check out the Veterinary Partner article on giving subcutaneous fluids at home.
Additional support
While end-stage kidney disease is not necessarily painful, it can make affected dogs feel pretty icky. Your veterinarian will work with you to tailor a specific treatment plan to allow your dog to feel well for as long as possible.
As part of this treatment plan, your veterinarian might recommend medications to bind phosphorous in the intestinal tract, medication to help regulate calcium levels, anti-nausea medications, antacid medications, pain medications, or appetite stimulant medications. All of these can help manage the signs of kidney disease.
What is the prognosis for kidney failure in dogs?
As you have probably gathered from the different treatment options, the term "kidney failure" encompasses a wide range of situations—from a dog with non-symptomatic mild elevations in kidney values to the severely sick dog whose kidney values are off the chart.
Overall, the prognosis for acute kidney failure is somewhat guarded. Unfortunately, roughly 50% of dogs in this situation either die or are euthanized because of their condition. The response to treatment in the first few days can help determine how likely your dog is to recover. Your veterinarian can help counsel you through this challenging situation to determine the next best steps based on your dog's unique situation.
For chronic kidney failure, the prognosis is highly variable and depends in large part on the stage of disease at the time of diagnosis. Dogs with early-stage kidney disease can live for years with stable disease and a good quality of life. On the other hand, dogs with late-stage renal failure may only feel well for a period of weeks or months.
Lean on your veterinarian's wisdom
A diagnosis of kidney failure can be scary. Especially when you hear it is acute kidney failure or late-stage kidney disease, both of which tend to have a more bleak outlook. Being blindsided by a diagnosis of kidney disease after a routine senior dog physical exam isn't easy either. All of these situations may leave you feeling worried and alone.
But you are not alone. Your veterinarian knows you and your pup well and is on your side. He or she will play an integral role in providing support and advice as you work together to give your dog the best life possible for as long as possible.
Granted, the treatment options are a bit more limited with acute kidney failure. But with chronic kidney failure, there are many ways to help keep your pup feeling good. In either situation, the best advice I can give is to take heart and talk to your veterinarian.
Have you navigated kidney disease with your beloved dog?
Please comment below.