There are many dog memorial ideas that capture the special bond between a beloved canine companion and pet parent. But which idea best honors your dog? To help guide you, integrative veterinarian Dr. Julie Buzby has invited her friend, end-of-life-care veterinarian Dr. Dawnetta Woodruff, to share 10 touching pet memorial ideas.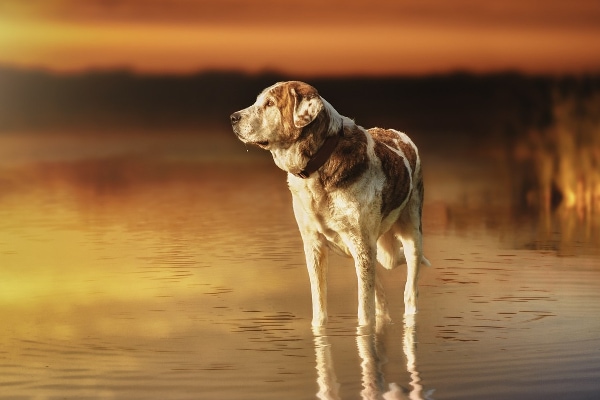 While it is a blessing to have dogs as a part of the family, it means that one day you will have to say goodbye to them. When that time comes, and your heart breaks, you may find yourself searching for ways to keep their memory close.
You know you want something special, something that makes you smile, and something that will remind you of the unique and important bond you shared with your canine friend. But what is the best way to memorialize your sweet dog?
How do you pick a dog memorial idea?
Looking through memorial ideas for dogs can be a little overwhelming. There are a lot of options out there, which might make it hard to decide. But it also means there should be something for everyone.
I recommend starting by asking yourself what type of memorial you would like. Do you want something to wear? Would you like a meaningful item to display in your home? Do you want to place something on your desk at work? Would you like a memorial to place outside in your garden? Or maybe you would like one of each type of memorial.
You should also consider if you want to try a DIY dog memorial idea or commission a professionally-created item. Both can be beautiful and meaningful.
Whatever you choose, don't forget to discuss the various options with the rest of your family too. Each person may have a different idea of what would be the most meaningful for them. Some people may want a more classic memorial item, while others may be partial to the unique dog memorial ideas.
To help with the decision making process, let's take a look at the 10 categories of dog memorial ideas that are most popular with my in-home dog euthanasia clients and/or dog hospice care clients.
#1: Dog memorial tattoo ideas
One popular memorial option is to get a tattoo that serves as a lasting reminder of the bond you and your dog shared. Since this option is permanent, and cannot be easily changed, make sure the design is just right. And try to find an artist who excels in the style you prefer.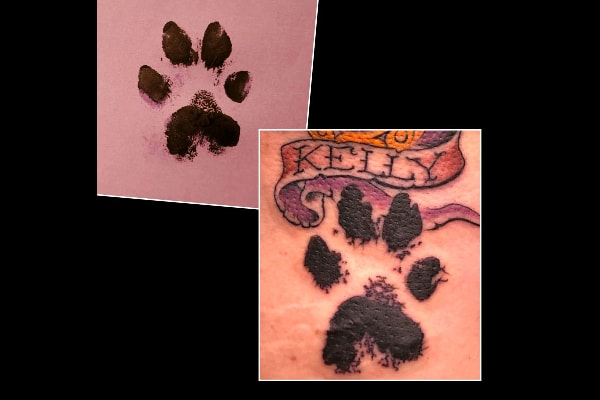 Two common dog memorial tattoo options include:
A realistic or a stylized version of your dog's paw print or nose print. Ink paw prints tend to be the easiest for tattoo artists to use as inspiration, but they may also be able to work from a photo or a clay impression.
A tattoo portrait of your dog. Ensure you discuss the colors and the details with your artist as well as if you want a large or small memorial tattoo. They will also need to know if you want the portrait to be life-like or more like a caricature.
Some people may also wish to include a small amount of their dog's ashes in the ink the artist uses to create the tattoo. However, please be sure ask your individual tattoo shop and your specific artist if this is possible before you book the appointment. Some states or counties (or individual shops) may not permit incorporating ashes into ink due to sterility concerns.
#2: Dog shadow box or memory box ideas
Another beautiful way to honor your dog's memory is to put all of their special items together in a safe display. Then you could place their memory box on your mantle or coffee table. Or you could hang their shadow box on your wall. The items will be protected from dust and humidity by the glass or plexiglass. But they can still easily be admired and shared with others.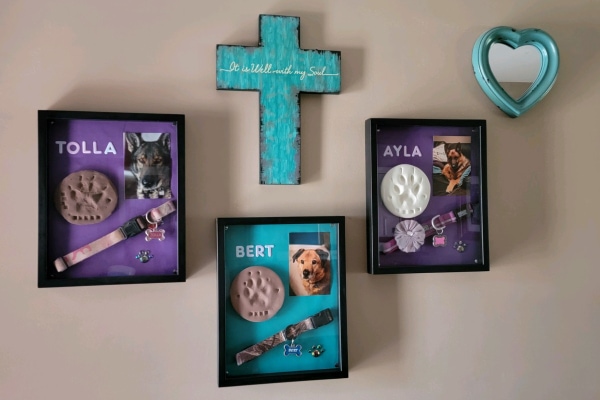 Craft stores sell many different types of display cases and shadow boxes if you'd like a DIY option. You could also seek out a professional service to custom-make a display for you. You can include photos, your dog's collar, bandanas, clothing, special toys, fur, dog bowl, and any other unique items that remind you of your sweet pup.
#3: Outdoor dog memorial ideas
Many families wish to add a memorial stone, wooden plaque, or set of wind chimes to their garden or patio. Or they may decide to design a dog memorial garden where they can be reminded of their departed companion.
If your dog was buried at home (or on a special piece of property) you may also wish to have a grave marker created to honor your dog's physical resting place. Or if you had your pet cremated, perhaps you would like to place a memorial item where you spread their ashes.
DIY dog memorial ideas
If you would like to try your hand at a DIY marker, ensure the material (i.e. concrete, wood, etc.) is weather proof. This way your memorial item can stand the test of time (and the elements).
If you decide to make a concrete marker, it is important that the concrete is the right consistency to capture your dog's paw print or to allow you to add decorative items. Also, once you complete your project, you may wish to add a concrete sealant to the top to preserve the details.
Along the same lines, if you are making a wooden grave marker, you may wish to have it stained or treated to withstand being out in the weather. The same goes for plaques, benches, or other items you include in your dog memorial garden.
Professional memorial markers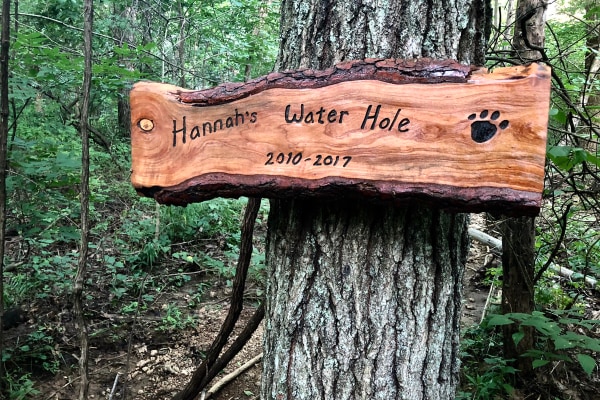 Alternatively, you may decide to choose a professionally created, personalized pet memorial item. Some options include:
A more traditional large grave marker
A smaller upright stone or a flat stepping stone
An item that includes a casting of your dog's paw or nose
A tile mosaic portrait
A wooden sign with your dog's name and/or a portrait
A memorial bench, bird bath, wind chimes, or other decoration
Before choosing an artist, you will want to look at examples of their work. That way you can ensure it is the style that you prefer and get an idea of the options.
#4: Memorial ideas that use your dog's ashes
When a beloved canine family member passes away, you may choose to have them privately cremated so their ashes can return home to you. Then you can scatter the ashes in a special place, bury them in your yard, or keep them safe within your home.
For some families, also using a small portion of those ashes to create a special keepsake can be very meaningful.
Glass art
Sometimes you can find a local artist who would be willing to include some of your dog's ashes in a custom glass sculpture or pet memorial ornament. Or there are a few companies online who offer to create such a piece for you. In either situation, you can choose the shape of the piece as well as the colors they will use within the glass.
#5: Dog hair memorial ideas
After losing a pet, you may want to consider collecting a bit of hair for a memorial item. During your years together, you have studied your dog's markings, brushed them, and commented on how soft their fur is. Having a dog hair memorial item allows you to remember those times and continue to feel their presence.
You can collect hair as you brush your dog or trim a specific patch of fur with clippers.
Touchable hair
Fur that can be touched will bring a bit of comfort and familiarity each time you hold it. You might want to have a special cloth bag that will hold your dog's fur. Or, you may wish to use a glass or plastic container that allows you to easily look at the fur.
Some people display this bag, box, or container in a prominent place within their homes. Others may keep it tucked away in a memory box or drawer.
Preserved hair
While you can't touch it, protecting your dog's fur by placing it inside a resin display piece might bring you a bit more peace of mind. This could be an ornament to display on your holiday tree. Or it might be a piece you put on a special shelf or mantle year round. You could even decide to include some hair with other memorial items in a resin cube or pyramid.
If you are familiar with resin, you may wish to DIY this memorial item. However, resin can be tricky to get just right. So if you haven't worked with it before, it would be best to find an experienced artist. That way you can guarantee your dog's fur, collar, favorite toy, etc. will be made into the perfect memorial item.
Stuffed animals with fur inside
Placing your dog's fur inside a stuffed animal is another option that can be comforting. There are several good options for this. You may choose to put some hair inside one of your dog's favorite stuffed toys. Or you could place a bit of your dog's hair inside a new stuffed animal that you (or your children) will cherish for years to come.
#6: Paw (or nose) print memorials
Paws are one of the most precious and unique things about our dogs. Much like a human fingerprint, a dog's paw print is unique. Having a memorial item that includes your dog's paw (or nose) print can be a wonderful way to remember their unique place in your family.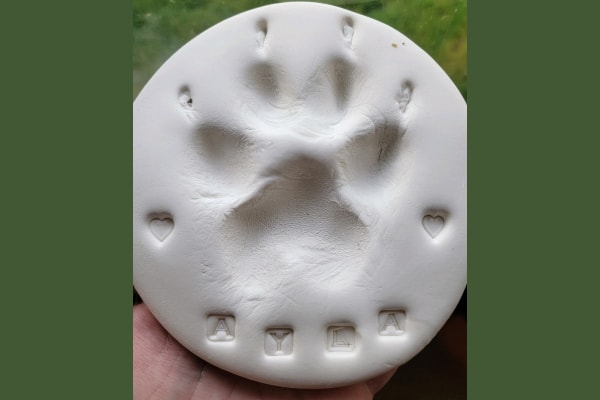 There are many ways to use your dog's paw to make a memorial item. You might choose ink, paint, clay, glass, or even a stone.
Ink paw prints
If you are doing a DIY print, you will want to have a high quality (archival) ink and paper. Be sure to consider what color paper you would like, and use something thick and sturdy like card stock. You can make many individual prints and keep them all. Or you might want to make prints until you get the "perfect" one and then make copies of it.
Commercial products (such as Clean Touch Ink Pads) are also available, and are "no mess" since the ink doesn't touch your dog's paw. However, you can only use these once or twice, so be sure to get enough to try a few times.
Clay paw prints
Air dry clay is available from most craft stores, and can be great for making paw prints (or nose prints). Keep in mind that the "soft and airy" kind like Crayola Model Magic tends to be more durable. However, it doesn't have the same heavy feel of the more traditional clay (such as Crayola Air Dry Clay).
Baked clay is also available from most craft stores. A common brand is Sculpey®, and it comes in many colors and styles. You can also purchase baked clay kits (such ClayPaws®) specifically made and marketed for pet paw prints.
Paw impression kits
If ink or clay is not what you are looking for, there are a few other foam-like products (such as Pawpals®) that have a ready-to-use foam already mounted in a box or a frame. These kits are beautiful. But keep in mind you only have one try, as they cannot be imprinted a second time.
Glass paw prints
Hot Paws is a unique memorial item that allows you to preserve your dog's paw print in a glass display piece. The company sends you a special material to use for the paw impression. You send the print back to them, and they create a one-of-a-kind glass paw print.
#7: Photo memorial items
Photos can be a beautiful way to remember your pet. Your favorite photo of your dog might be when they were young and full of energy. Or it might be a sweet picture of their elderly grey face. Some people find it easy to settle on just one image, and others might have a hard time narrowing it down to 10.
Either way, a photo memorial item can bring a smile to your face each time you look at it and remember the moment that image was captured. Plus, going through your photos to choose a few favorites can be a therapeutic part of grieving the loss of a dog after euthanasia. You may wish to do it alone, or to involve every member of your dog's family.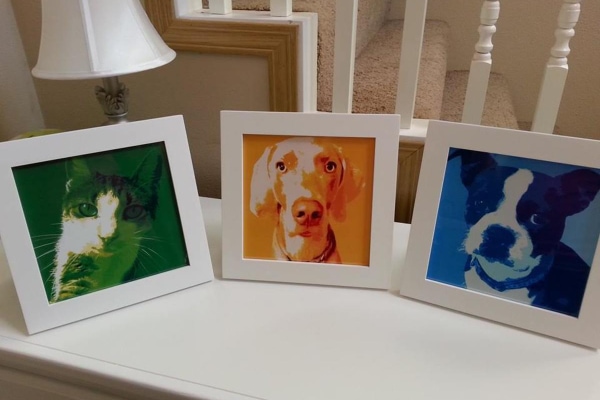 Framed photo or collage
One option is to enlarge a favorite photo of your furry friend and place it in a picture frame that you hang in a special place within your home. Or another is to pick several of your favorite photos and make a printed or digital collage to remember your special family pet.
Cricut design and photo
If you have a Cricut® (or a friend who has one) there are also a variety of Cricut® dog memorial ideas that you can find online. This can be a special way to add a quote, your dog's name, or other meaningful images or words on a picture frame or other photo memorial item.
Glass etched photo
Alternatively, you could choose to have your favorite photo made into a 3D glass etching. These are beautiful and surprisingly detailed and life-like.
Custom portrait
Sometimes a one-of-a-kind portrait of your beloved pet may be more of what you are looking for. That way you can choose the style, size, and even the colors.
You might choose to paint your own by finding a "Paint & Sip" night at a local business. Some rescue organizations also host such events as a way to be social while raising much needed funds for their work.
Or, if you don't feel like trusting your own artistic abilities, you may wish to have a professional portrait made. You could choose a sketch, a watercolor, or an oil painting. Some artists are even able to combine your favorite aspects of several different photos into the work of art they create.
For a more cost-effective custom option, you could also use an online service to transform a picture of your dog or cat into a digital image with a watercolor look.
Memorial video
Sometimes when our dog's life is over, what we want most is to have a memorial that we can easily share with others. There are many options for video editing software available online. Using that, and a little bit of time, you can create a video that includes meaningful music and a combination of video clips and still photos. Then you can share your finished product on social media and treasure it for years to come.
#8: Touchable items
As I briefly mentioned when talking about fur, a memorial item that you can touch and snuggle with is often a great comfort. These items are good for children as well as for many adults.
Blanket
A blanket is a wonderful comfort item in and of itself. You can have one made with a few favorite photos or simply with your dog's name. It is certainly not the same as snuggling with your beloved canine friend. But its warmth and softness will bring comfort and a sense of nearness.
If your dog had a lot of favorite blankets or stuffed toys, you could also choose to have a quilt made from pieces of those items. You might not have enough items to make a full-sized blanket, but a small lap quilt would be equally meaningful.
Stuffed animal
For many people, stuffed animals bring a sense of comfort and nostalgia. After your dog's passing, it could be therapeutic to have a special stuffed animal created to memorialize your loved one. Companies such as Cuddle Clones or Petsies® can even use photographs to create an exact replica of your dog!
Another option is to purchase a new stuffed toy that you can hold when you miss your dog. You could even use a company like Build-a-Bear to make a stuffed toy that includes a recording of your dog barking or snoring, and tuck a bit of their fur inside.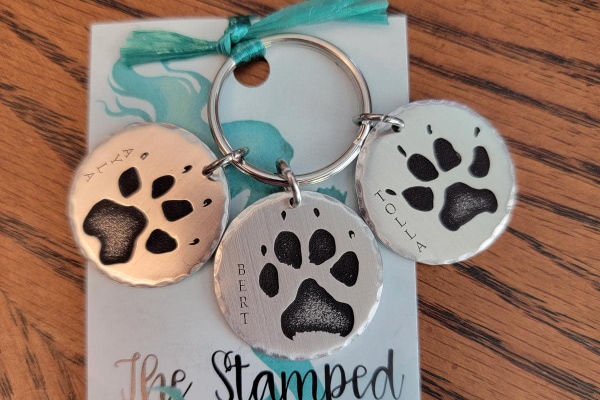 #9: Memorial jewelry or keychains
Our dogs can become a big part of our lives and their loss leaves a void. Sometimes carrying a reminder of them with you can help keep them close and bring you comfort.
Paw print jewelry
Some pet owners might want to keep their dog's paw print with them at all times. Wearing a special piece of unique jewelry, such as a pendant, can be a great way to do this. The pendant can have your dog's paw print or nose print on it as well as their name. Many people wear it on a necklace, but you could also ask to have it made into a keychain.
Cremains jewelry
Another option to keep your dog's memory physically close is to have an artist make a small amount of your dog's ashes into a piece of jewelry for you to wear. The options include glass beads (for a necklace, bracelet, or keychain), rings, or a larger glass pendant.
#10: Donations in memory of your dog
Most of the previous options involved some kind of physical memorial or keepsake to remind you of your pet. However, for some people, the symbolism of a dog memorial is more important than having something to physically hold. If this is the case for you and your family, you may wish to make a donation to honor your pet's memory.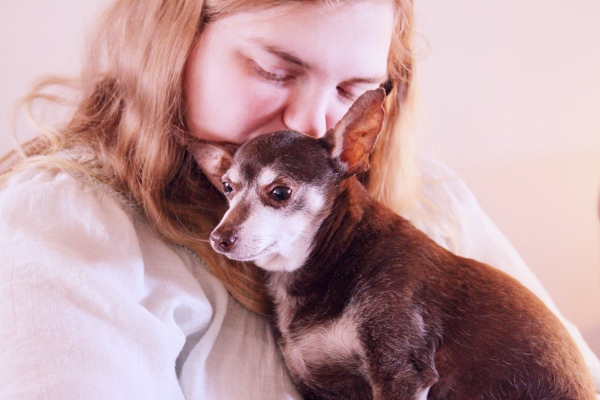 Monetary donations
One option is to donate money to a shelter, rescue, or charity of your choice. There are many people working hard, day in and day out, to rescue, protect, and heal dogs in need. Making a donation to the rescue or shelter that you adopted your dog from could be particularly meaningful. Or if your dog wasn't a rescue, you could choose to help a local rescue or shelter or one whose mission is dear to your heart.
Alternatively, you may wish to make a donation to an organization (such as a veterinary school) that is doing research to help pets live longer and healthier lives. Sometimes you can even find an organization that is studying a disease or condition that affected your departed pup.
Many of these organizations and rescues are non-profit. This means that each donation (no matter how small or how large) makes a big difference!
Donations of supplies
You may also wish to make a donation of supplies to a local rescue or animal shelter. These groups are often working with very meager budgets considering the huge needs that they are striving to meet each day.
Your sweet dog may have left behind dog bowls, blankets, beds, and even food or clothing that you no longer need or wish to keep. Donating used items in good condition, or purchasing new items in honor of your dog's memory, can be a very healing act. The love you had for your dog lives on as you pass your love along to other dogs in need.
Donations of time
Another option is to donate your time to celebrate your pet's life. Maybe you're not ready for another dog but you crave canine love and affection. Donating your time at a shelter or rescue is incredibly kind and helpful. You may walk the dogs, clean cages, wash blankets, stock supplies, etc. Or maybe you will help transport dogs to another rescue or take adorable pictures of the shelter dogs to help them get adopted. No matter what you do, you are honoring your dog's memory and helping dogs in need.
Finding the right dog memorial items is a process
As you can see, there is no one-size-fits-all way to honor your precious dog's memory. And that is part of the beauty of the process of choosing which memorial item(s) will be the most meaningful to you. You may know right away what you would like to do. Or it might take you weeks or even months to decide.
The good news is that you can create something easy at first. Maybe you start with an ink or clay paw print and/or nose print and collecting a bit of your dog's fur. Then you can take your time figuring out the more permanent dog memorial ideas that will allow you to keep your dog's memory close forever.
How have you remembered and honored the dogs you have lost?
Please comment below.