Some dog parents may consider in-home dog euthanasia when faced with the overwhelming task of deciding how to say a final farewell to their beloved companion. Integrative veterinarian Dr. Julie Buzby interviews Dr. Dawnetta Woodruff, a veterinarian who has focused exclusively on in-home end-of-life care for pets for the past nine years. Dr. Woodruff tackles these twelve hard questions with heart and compassion to offer peace and reassurance to dog parents everywhere.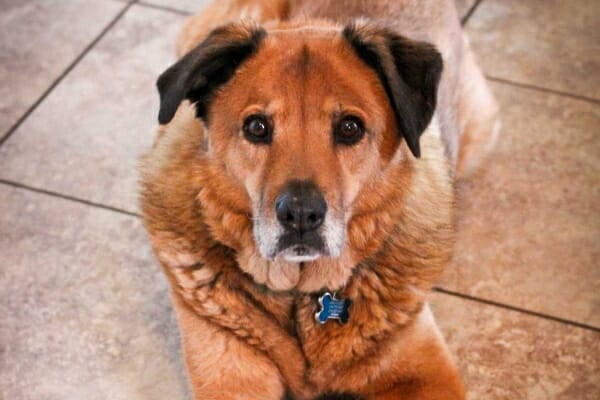 Dr. Buzby: In-home euthanasia has always been a topic I feel strongly about. It's what my family chose when we had to say goodbye to our sweet dog Luke, and what I often recommend to dog parents. No one wants to have to think about losing their dog. But giving this hard topic some thought now can help you be a bit more prepared when that time comes.
I asked my friend Dr. Dawnetta Woodruff to share from the heart about a topic that is so near to her heart—in-home dog euthanasia. The questions I asked her to respond to are ones that dog parents, much like yourself, may have. Dr. Woodruff doesn't disappoint in her answers. Each one is framed with compassion and understanding born of years of experience loving dogs and their parents through the darkest of days.
1. Dr. Buzby: What prompted you to consider focusing on in-home euthanasia for pets?
Dr. Woodruff: At points in my career, I have been a "mixed" animal veterinarian (one who cares for farm animals and pets), a general practitioner, and an emergency veterinarian. Each of these steps in my career was enjoyable and difficult in its own way. But one chord of similarity ran through each job—I loved connecting with clients and helping families through difficult decisions.
It was in 2012 that I first began to consider making house calls for in-home euthanasia. My own parents had a geriatric dog, and his good quality days were coming to an end. They loved Abe tremendously. He'd had a wonderful, long life with them. But, mobility problems and cancer were causing him great difficulty.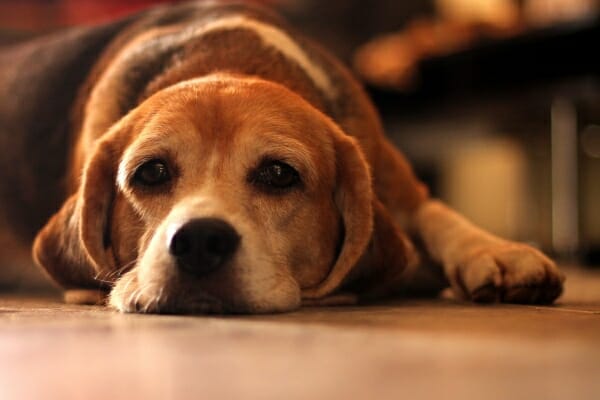 Saying goodbye to Abe
My Dad called one day and said, "I know that the time has come to let Abe go—but I just can't put him in the car for THAT visit." You see, Abe hated car rides! He had always been a dog who loved staying at home. While he enjoyed running beside a farm ATV, car rides made him very anxious. Making a decision for euthanasia was hard enough by itself. My family couldn't imagine an anxious car ride adding more difficulty to the day.
I took what I needed to give Abe a comfortable passing at home. My parents love to watch the sunsets, so we chose that time to sit together in the grass of their front yard. Our whole family was present. Abe was surrounded with love as he peacefully passed away from the comfort of home—with no car ride and no anxiety. It was exactly what my family wanted for him, and it brought them peace.
As I looked back on that day, I realized that many more people and pets could benefit from being at home during their pet's final moments. After all, pets are part of the family, and saying goodbye to them is incredibly difficult. Anything we can do to make it easier is worthwhile.
2. What are some of the benefits of in-home euthanasia?
If your dog is painful or anxious, having an in-home euthanasia means he or she doesn't have to experience a difficult car ride. Home is a place where we feel comfortable, and our dogs feel comfortable there as well. Being at home allows your dog to be more relaxed. It also allows you to experience your grief privately.
Your dog gets to snuggle in his or her bed with a favorite blanket. You can feed him or her some favorite foods, and even give extra yummy treats that are usually "off limits" (like chocolate, grapes, or even a beer!) Being at home allows you to decide to be outside in your dog's favorite shady spot in the yard if you want. You can have your favorite music playing, and look through old photos and videos. The experience can truly become a celebration of your dog's life!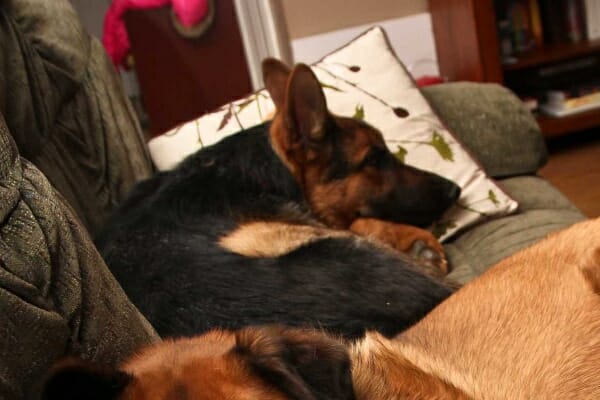 3. Are there situations where an in-home euthanasia may not be a good idea?
Saying goodbye at home is a beautiful option that I am proud to offer to dog families. However, saying goodbye in a vet clinic is sometimes necessary. There is not always time to plan for an in-home dog euthanasia as sometimes our dogs have an illness that worsens rapidly. It may not be in your dog's best interest when your dog is experiencing:
Difficulty breathing
Rapid blood loss
Acute (sudden) onset of severe pain in dogs
In the middle of an emergency situation, getting fast help for your dog is most important! He or she needs rapid care, and that typically happens at the vet clinic. You can find solace in knowing that just hearing you and smelling you close by will be comforting to your dog.
4. Do you have any words of advice about knowing when it is time to consider euthanasia?
The end of a dog's life can feel like a roller coaster. It is difficult to know the best time to set him or her free. One thing that can help is to know that there is not just "one right day." Most often, there is a window of time where it is medically appropriate to end your dog's struggle. Sometimes it is better to make the decision earlier in that window and other times later. Neither time is "right" or "wrong"—just different.
Many things factor into the decision. What is best for one dog may be different for another. Likewise, what is best for one family may be different for another. Do your best to factor in your dog's comfort, your own ability to physically and mentally cope with the situation, and ask for help when you need it.
You may feel alone, but there are many people who understand, and who want to help. Dr. Buzby has also written some beautiful words that can help you know when to say goodbye to your dog.
5. How do you suggest dog parents prepare for the impending loss of their companion?
There is nothing that will make your dog's death "easy"—but there are ways to make it a little better. The more we try to ignore the idea of his or her death, or pretend it isn't happening, the harder it will be when that day comes.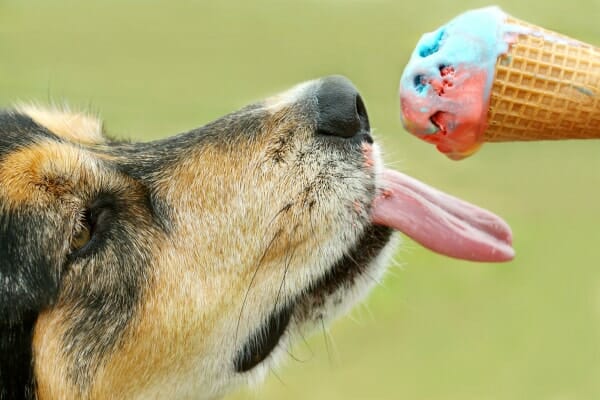 We speak a lot about Quality of Life (QOL) but Quality of Death (QOD) is equally as important. What is most important to you—enjoying every possible day together, or making sure the final day happens in a certain way? There is no "right" answer to this question. Asking yourself what will bring you the most peace as you look back on your dog's death can help you to decide what you want for him or her in the final days.
Make a list of you dog's favorite things and do those things more often! Or make a bucket list of things your dog might enjoy. Commit to one or two items each day or week. Being conscious of how you spend your final time together can bring peace and comfort to your heart after your dog has been euthanized.
6. What do you want dog parents to know ahead of time?
The logical part of your brain will understand that you are making a loving, merciful decision for your beloved dog. But your heart may never feel ready to let them go—and that is normal.
There will come a time when watching them struggle is harder than setting them free—and that is when you know you are as ready as you will ever be.
7. What decisions need to be made before the in-home euthanasia appointment?
You should know ahead of time who would like to be present. Some family members may want to say goodbye, and then leave before the vet arrives. Other family members and friends may want to stay for the entire visit (if this is ok with you). If you have children, you should talk to them about their involvement. Do they want to be present, or do they want to go to the park with a grandparent or family friend?
You will also want to choose a place in your home where everyone can be comfortable, and where your dog is also relaxed and comfortable. Think about some of your dog's favorite places as a starting point.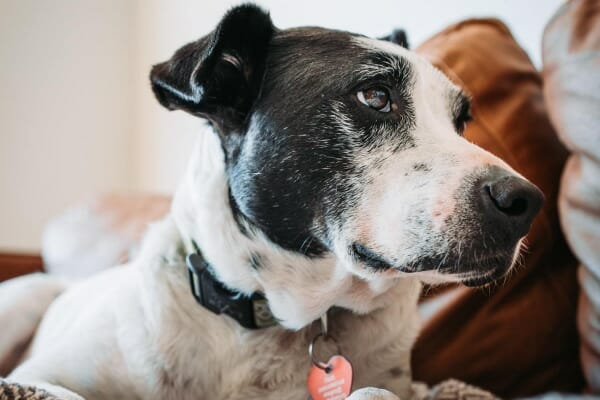 As a family, you will want to discuss your wishes for your dog's aftercare.
Do you want to arrange for a burial? If so, do you have property where a burial is allowed, or do you need to make arrangements with a pet cemetery?
If you want cremation, is it important to you to have your dog's ashes come back home?
Your veterinary team can help you work through these decisions, and can answer any other questions you may have. Dr. Buzby also discusses some of these considerations in her blog on preparing for your dog's euthanasia.
8. What can dog parents expect during the euthanasia process?
Euthanasia means "good death." Your dog's veterinary team cares deeply about helping you through this difficult day. They will do everything they can to make things as easy as possible for you and your cherished friend. If you have questions, don't be afraid to ask.
Your dog will likely receive some pain medication, or something to help relieve anxiety. This medication may just "take the edge off" or it could allow him or her to fall into a deep sleep. Once your dog is relaxed and comfortable, your vet will give a high dose of a strong anesthetic medication. This medication can be given in many ways—it may be given through an IV in the vein, or it could be given as an injection in the abdomen.
No matter how it is given, it does not cause stress or pain—it causes the brain to go so deep asleep that it stops. When the brain has stopped, then your dog's heart and breathing will stop. Sometimes this happens quickly, and sometimes this happens more gradually. Occasionally your dog will need an extra dose of medication, and that is ok too.
Every dog is a little different, so each time you say goodbye to a dog, it may be a slightly different experience. Rest assured that your dog is in good hands. Remember that helping him or her pass with lots of good medication is the best way to give him or her a peaceful, comfortable goodbye.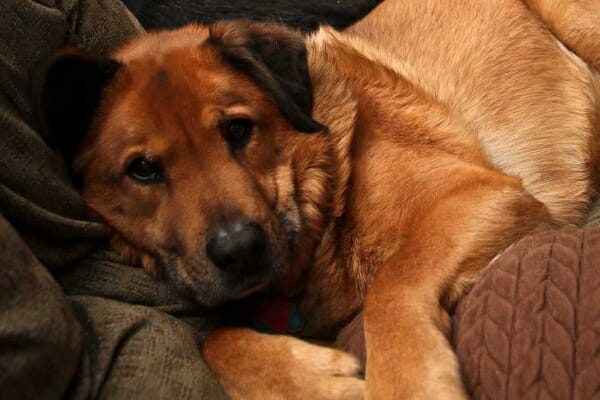 9. What happens to my dog's body after the euthanasia?
Your dog may stay with you if you have made the decision to arrange a home burial. If your veterinary team is making arrangements for you, they may wrap your dog in a comfortable blanket, or in a favorite towel or special article of clothing. If you have a blanket or a toy you want to send along with your dog, make sure to ask your veterinarian what items are allowed.
Depending on your dog's size, they may use a blanket, a basket, or a stretcher to carry your dog safely to their car. Often, potty pads or absorbable cloths will be placed under and around your dog to keep him or her clean in case the bladder or bowels relax after death.
When your dog gets to the cemetery or crematory, he or she may be placed into a casket or a burial bag, similar to those used for humans. Your dog may also be placed in a temperature controlled storage area until the burial or cremation happens. This is done to be respectful, and to keep the body from quickly going through natural post-mortem (after death) changes.
10. How can dog parents find someone to perform an in-home dog euthanasia?
Ask your normal veterinarian if they offer in-home euthanasia, or if they can recommend someone who does. You might talk to family and friends to see if they can give you a personal recommendation. And, if needed, you can also look for providers online. A Google search will likely give you some options in your area. I am part of Lap of Love Veterinary Hospice and In-Home Euthanasia, an organization made up of veterinarians who specialize in end-of-life care. Lap of Love has veterinarians in many areas of the U.S., so you may be able to find a Lap of Love veterinarian near you.
11. What are some of the ways dog parents may choose to memorialize their dog?
Many families want to keep a bit of their dog's fur. They might keep it tucked away in a safe place, or make a special ornament to display the fur. Dog parents might like to have ink or clay paw prints—and some people even make artwork out of their dog's painted paw prints!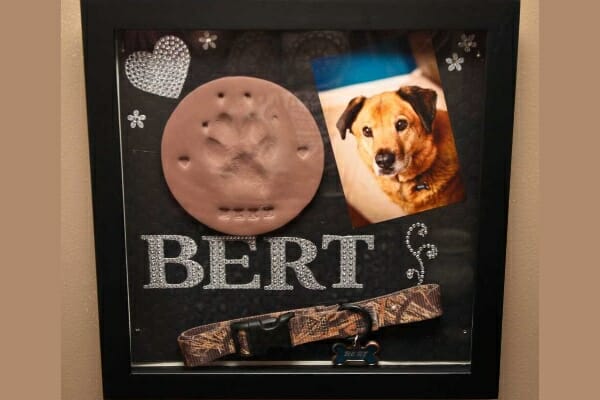 I often see families make a shadow box with their dog's paw print, a fur clipping, a collar, a photo, or even a special toy. Other families may pick out a special urn for their dog's ashes, create a headstone or a stone marker for the garden, or choose to have a unique piece of glass art made from their dog's ashes. A paw print or a nose print can be memorialized as a necklace, a key chain, or even as a tattoo!
You may choose to have a portrait session with a local photographer during your dog's final months of life. Or you may decide to have a special painting made from one of your favorite snapshots. The possibilities are nearly endless, and finding something that is unique and sentimental can be an important part of your healing process while grieving the loss of your dog after euthanasia.
12. What is the most rewarding part of your job as an in-home euthanasia vet?
I love hearing stories about a pet's life! I love when a family smiles or laughs as they recall their favorite memories. And, I love knowing that I can help to make a difficult day a little bit easier. That makes all of the tough parts of my job more than worthwhile!
Final thoughts from Dr. Buzby
Facing your pup's passing is every shade of difficult. I get it. But I hope that in reading Dr. Woodruff's beautiful and eloquent answers to these twelve questions about in-home dog euthanasia, you can find a measure of hope and comfort. Remember—you are not alone. Your friends, family, and veterinary team are there to support and love you every step of the way.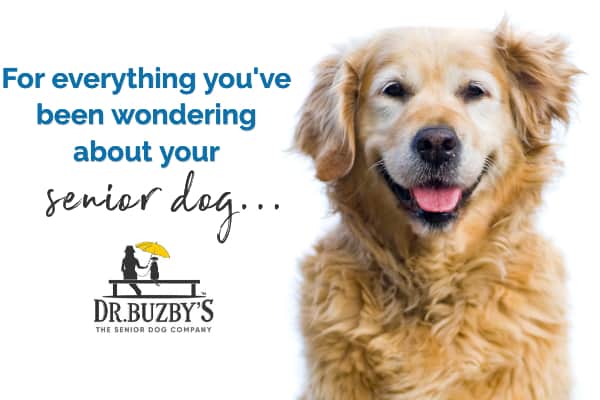 How did you say farewell to your beloved dog?
Please comment below. Sharing your dog's story can be a beautiful way to remember your departed companion.