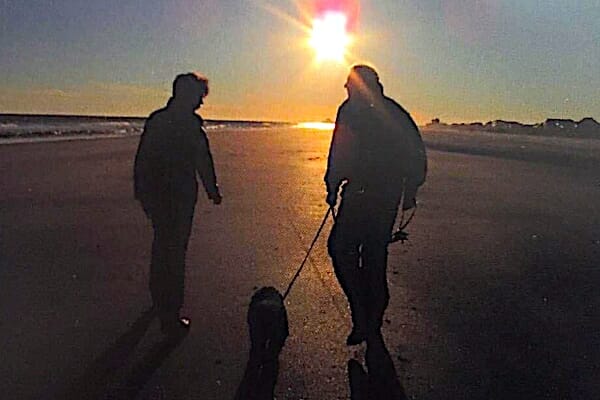 Finding peace in your heart after the goodbye
Grieving the loss of a dog after euthanasia is every shade of difficult. After listening to a dear friend express the guilt she felt following her dog's euthanasia, integrative veterinarian Dr. Julie Buzby shares a heartfelt message on finding peace after the goodbye.
I learned something this week that broke my heart. My friend Jamie has been living with needless guilt for years over the way her dog was euthanized.
Having been a part of hundreds of dog euthanasias, I'm melted each time by the grief, but I've also come to terms with the value of a peaceful, gentle euthanasia. However, it never occurred to me that a client might linger in doubt or guilt about the way their pet was euthanized.
So I think it's worth having a hard conversation about grieving the loss of a dog after euthanasia. After Jamie and I talked, she sent me the sweetest message:
"Thank you for the kind words. It puts peace in my heart."
Whether saying goodbye to your dog is a part of your past or your future, I want you to have peace in your heart too.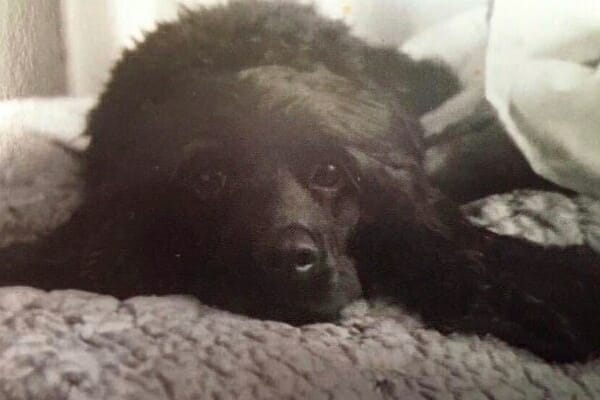 Two senior dogs and two different goodbyes
So let's back up to beginning. In the midst of a recent string of texts Jamie and I exchanged about senior dog care, she asked me this question about dog euthanasia:
I had two different experiences with saying goodbye to my two dogs. And I keep questioning which one was right?"

This clearly wasn't a conversation to be had via text. So I called her and asked for the backstory before I offered my thoughts.
Here is Jamie's story about grieving the loss of her dogs:
Saying goodbye to Sabrina: Jamie's story
"When I lost my first dog, Sabrina, it was winter. My parents were snowbirds and living in south Florida. I had planned on driving to stay the holiday with them as Sabrina and I always had.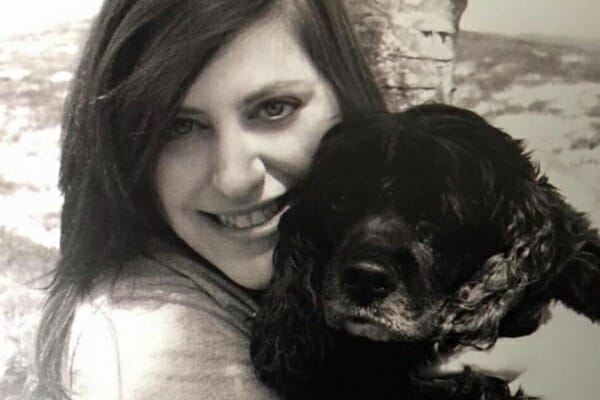 It turned out to be the longest trip of my life as I stopped at various veterinary hospitals along the way since Sabrina was not breathing well. I finally made it to my destination and for a few days Sabrina perked up. But when we had two nights in a row without sleep due to her labored breathing, no longer wanting to eat nor even sit in the room with our family, I knew it was time.
Related article: Signs Your Dog is Dying
The next morning, I went to a local veterinary office while Sabrina stayed home with my parents. The vet came out and spoke with me, read Sabrina's records that I'd brought along, and we scheduled her appointment for later that same day.
When the vet met Sabrina, he said she was so calm that only one shot would be needed. He explained that once he gave the injection, it would take no longer than 10 seconds to work.
I looked into Sabrina's beautiful brown eyes and told her that I loved her and everything I wanted to say. My mom and sister-in-law were at my side also telling her how loved she was. Within what felt like two to three seconds, she dropped into my arms. The vet then listened for a heartbeat and softly told me she was gone. I held her for ten minutes and then my father and brother came in and helped me to the car.
Ruminating over the guilt of my dog's passing
It was not until years later that I would feel guilt about my decisions and the questions I did not ask.
When I knew my next dog, Rémedy, only had a little time left, I was blessed to be able to take almost two weeks off work to be with her. Rémedy was a blind/deaf dog I had rescued.
Related article: Meet Rémedy—10 Tips for Whole Pet Healthcare
I always sensed Rémedy felt so alive at the ocean. She would put her head up in the breeze and sniff the oceans smells. She even had an extra pep in her step when we would walk along with our feet/paws in the ocean.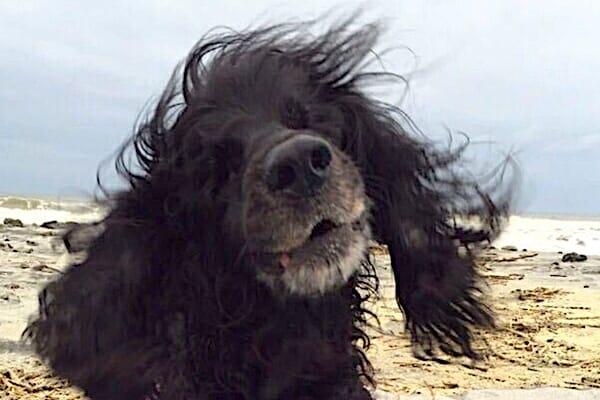 So we traveled to Folly Beach. We also went to our favorite spot at the river. We spent time with family. And of course I spoiled her with her favorite treats.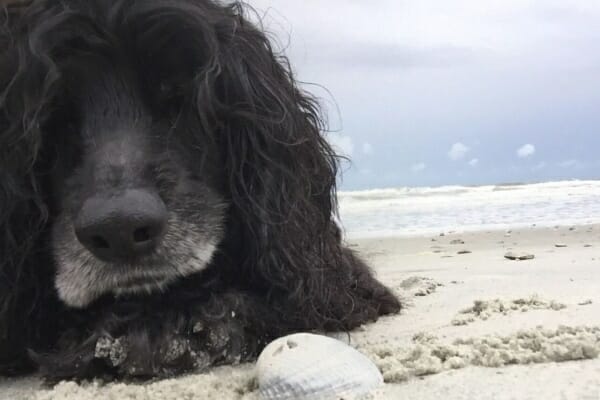 Making arrangements for Rémedy's goodbye
I had made arrangements with my local vet to say goodbye in a specific way. I told the vet I wanted Rémedy to be on my lap, and I wanted to hold her the whole time. We went in to the room—my mom was at my side. The room was lit softly, and the vet came in and told me there would be two shots. One to relax her and then the final injection. I said ok. But once the first injection was given, her head dropped and she was completely out of it. Not relaxed…gone.
Before the euthanasia injection, the vet asked me, "Are you ready?" Then a second time, "Are you sure you are ready?" even though I had answered yes the first time. I held my girl and told her how I loved her. Then the vet listened for a heartbeat and told me she was gone. I held her for ten minutes and then my parents helped me leave.
I left that experience with a lot of guilt and sadness. The first shot did not just relax her. She was limp.
Grieving the loss of my sweet dog after euthanasia
If I had known she would be that out of it, I would have said the things I wanted to say to her before that first injection. Or maybe I would have requested just one shot, like Sabrina. Or I would have said my last words to her first and then told the vet to immediately give the second shot and not ask me and wait in between.
I've often replayed it in my mind.
Since then, I have discussed my experiences with others who are making the difficult decision for their dogs. I'm still left not knowing what is right and what is wrong so that I may be prepared better for the next time.
I do know I should have asked many more questions. For example, does one method cause pain while the other is painless? I don't know why this question didn't come to me at the time, but who is thinking clearly when they are about to lose their best friend?"
Dr. Buzby shares a heartfelt message of comfort
As I listened to Jamie share the differences between Rémedy's and Sabrina's passing, my heart ached for her. It was clear that her unanswered questions had lingered and guilt had bubbled up over the years causing her unnecessary pain.
However, I also knew that words of reassurance, comfort, and truth could help. Here's what Jamie needed to know:
There is no "right" way to perform a euthanasia in terms of standard operating procedure. Ultimately, euthanasia is about what is best for the dog. Period.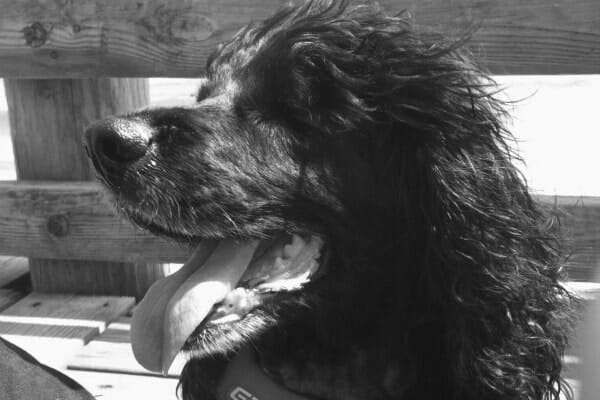 And after that, it's about determining the preferences of the dog's family. Like most of veterinary medicine, helping a dog transition out of this life is more of an art than a science. This is precisely why Jamie had two different experiences, and why she was conflicted.
The guiding principle for end-of-life care
While there is no "right" protocol for dog euthanasia, there is a "right" guiding principle. The "right" way to perform a euthanasia is to make it physically and emotionally pain free for the dog. Dog euthanasia is euphemistically referred to as "putting a dog to sleep" for a reason. That's the goal.
Sabrina's vet opted to give her one injection because he believed that, in her debilitated state, she would go right to sleep without any struggle from the euthanasia solution, which essentially induces general anesthesia and then gradually stops the heart.
With Rémedy, the vet opted to "take out an insurance policy" to guarantee a perfect process. Dog euthanasia has to earn a procedural perfect 10 every single time. There is no room for error.
By administering a sedation injection in advance, this vet followed the protocol that the vast majority of vets use today. I almost always administer a sedative injection before the final injection for these reasons:
any anxiety or pain the dog is feeling melts away under the influence of the medicine
when the dog relaxes, the owners also tend to visibly relax
and, if I'm honest, the vet is more relaxed too because a quiet, calm goodbye is almost guaranteed once the dog is sedated.
Facilitating a compassionate goodbye
A euthanasia appointment is such a precious, vulnerable time for the hearts of all present. I've obliged all kinds of special requests because there is no "right way."
My final answer to the question Jamie texted me is this: both vets were right. They both facilitated a compassionate, peaceful goodbye.
Honoring your dog by giving yourself peace
If the guilt of your dog's goodbye lingers in your heart—whether your dog's passing was recent or years ago—I hope that by sharing Jamie's story, you find peace. Ultimately, you were there for your dog in those final moments when he needed you most.
If you're preparing for your dog's passing
If your dog's passing is looming on the horizon, please read part two of this series: Preparing for Your Dog's Euthanasia: 10 Thoughts for Peace. We're here to offer comfort and support during this difficult time.
Finally, if you're navigating your dear old dog's senior years, I invite you to sign up for my weekly updates, tips, and articles dedicated to senior dog care.