A fecal test for dogs is an important—yet easily overlooked—part of your dog's wellness exam. It is also a critical part of the diagnostic process when your dog has GI issues like diarrhea. Integrative veterinarian Dr. Buzby tackles the topic to help dispel ten myths about fecal tests for dogs.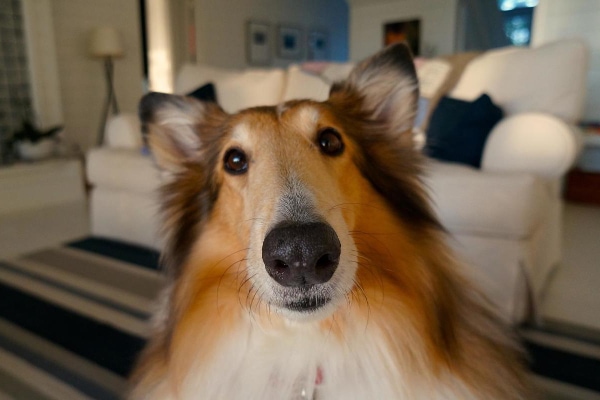 "Please bring a fecal sample to your dog's appointment." You've probably heard that phrase from the receptionist at the veterinary clinic or read it on your dog's wellness exam reminder postcard plenty of times. But do you really need to bring in a fecal sample? After all, you would know if your dog had worms…right?
Not necessarily! That and other misconceptions about fecal tests are fairly common, which is why I'd like to debunk ten of them.
Myth #1: Fecal tests only diagnose worms.
When dog parents hear the words "parasites" and "fecal test for dogs," many of them think of worms immediately. This makes sense because worms are one of the main gastrointestinal tract parasites that affect dogs.
To understand fecal testing, you need to know a bit about the life stages of a worm. Most of the time, the adult worms are hidden from view in your dog's intestines. They live there and release eggs, which end up passing out of your dog's body in the feces.
This means fecal tests are designed to look for worm eggs, not adult worms. When your vet diagnoses your dog with roundworms, hookworms, whipworms, etc. using a fecal test, this means he or she found the eggs of that particular worm in your dog's feces. And where there are eggs, there are probably adults.
However, finding worm eggs isn't the only use for a fecal test. These tests can also detect disease-causing protozoa (i.e. small single-celled parasites) such a Giardia or coccidia. Plus, abnormal bacteria can also show up on certain types of fecal tests for dogs. Thus, fecal testing is not just for finding worms (or rather their eggs).
Myth #2: My dog doesn't need a fecal test because I've never seen any worms in his or her poop.
It would be handy if you could look at your dog's poop and know for certain your dog didn't have worms. But, with the exception of potentially seeing tapeworm segments (which do pass in the feces and look like a grain of rice), or the occasional situation where a dog passes an adult round/hook/whipworm in the stool, it isn't that simple.
As you learned in myth #1, microscopic worm eggs are generally all you can "see" in the feces of a dog with worms. Plus, fecal testing isn't just for finding worms anyway.
When your vet talks about a "fecal test" it is typically one (or more) of these tests, all of which require more than a set of eyeballs to complete.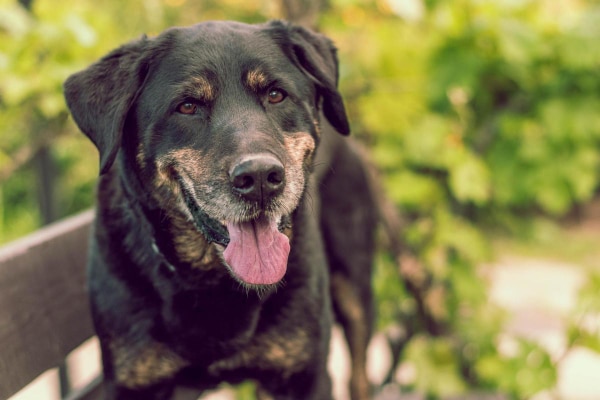 Fecal flotation
This test involves mixing a small amount of the pet's feces with a special solution. Fecal solution is designed to help break up the feces and cause parasites or parasite eggs to float to the surface. Sometimes the veterinary team members will also centrifuge the sample (i.e. spin at a high rate of speed). This helps concentrate the eggs or parasites at the top of the solution for better diagnostic accuracy.
Then the team will give the parasites or eggs time to transfer to a microscope slide placed in contact with the top of the solution. Finally, the vet or vet nurse will examine the slide under a microscope to look for parasites or parasite eggs.
Direct smear
For this test, the veterinary team member will mix a small amount of fresh feces with saline and smear it on a microscope slide. The the vet or vet nurse will examine the slide for the presence of motile parasites like Giardia.
Alternatively, the team members may apply special stains to the fecal smear to make bacteria easier to see. This allows the vet or vet nurse to detect abnormal disease-causing bacteria in the feces.
Giardia antigen test
The protozoan Giardia can sometimes be difficult to visualize on other fecal tests. For improved detection, the vet may use a specific test that looks for the presence of Giardia antigens (i.e. proteins). These tests typically indicate a positive result using a colored dot or line so they are easy to interpret.
Some veterinarians will perform fecal tests "in-house" (i.e. in the veterinary clinic). In that case, results are usually available fairly quickly. Others will send the fecal sample to an outside laboratory for testing. If this is the case, it will usually be a couple of days before your veterinarian has the results.
Myth #3: Any poop from my dog works fine for a fecal test.
While it is technically possible to run a fecal test on pretty much any poop (other than maybe petrified poop), there are a few things to keep in mind that will improve your dog's lab tests to give the most accurate diagnostic results.
The dog's stool sample needs to be fresh
Freshness is absolutely key when submitting a fecal for your dog. This helps ensure none of the possible parasites or bacteria have died after sitting outside for several days. Sometimes an older stool sample could result in a false negative result (we will talk more about this later). Ideally, the sample would be less than 24 hours old.
Collect a "clean" stool sample
I know the words "clean" and "feces" don't usually go together. What I mean by a "clean sample" is one that is free of large amounts of weeds, dirt, gravel, or litter (if your dog is litter trained). Highly contaminated feces can make it difficult for your veterinarian to see the parasites, which adds to the false-negative rate.
Now, I don't expect you to "catch it" as your dog is going poop. But, you should try to pick up the stool sample shortly after your dog deposits it (which helps with the fresh component too).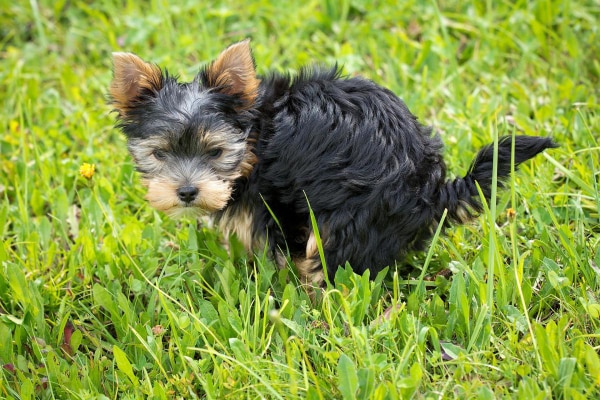 Myth #4: I should bring a big bag of my dog's feces to the vet appointment.
This is partially a myth. The true part is that bringing a stool sample to your dog's appointment—whether on the advice of the veterinary team or because you suspect your dog has a parasitic infection—is very helpful. By having the stool sample with you, your veterinarian can get it tested sooner. This means he or she also can determine if your dog needs treatment sooner.
If you show up empty-handed but your vet needs do to some fecal testing, you may end up trying to walk your dog outside in hopes your dog will provide a fecal sample. If he or she is too nervous or doesn't have to go, you may have to to drive back to the vet clinic later to drop off the sample. Alternatively, the vet can try to get a sample with a finger or a fecal loop. But those methods don't always provide a sufficient quantity of feces to get accurate results.
Speaking of quantity of feces, while it takes more than a smear, it is a myth is that you need to bring a big bag of poop.
In fact, your veterinarian needs an approximately 1 to 2 inch sample to run the fecal test. You can bring the sample in a plastic bag or disposable container.
Sometimes your vet may also provide you with a special container that shows you how big of a sample to bring.
Myth #5: A negative fecal result guarantees my dog is parasite-free.
Just like many other diagnostic tests in human and animal medicine, fecal tests are not perfect. This means that you can get false negatives. A false negative is when the diagnostic test comes back negative (i.e. says there are no parasites), but the dog actually does have a parasitic infection.
This can happen for several reasons:
The feces are not fresh (as discussed in myth #3) so the parasites are destroyed or damaged.
An insufficient amount of poop was used for the test (see myth #4).
Although there are adult worms or other parasites that live in your pet's intestines, they are not currently shedding eggs/life stages into the feces.
The infection is so new that no adult worms are present yet (immature worms don't produce eggs).
Some parasites such a tapeworms have very heavy eggs that don't float well. This means they may not show up on a fecal flotation.
Protozoa can be very small, making them hard to see on a fecal test.
If the number of intestinal parasites is low, there may be too few worms to create a detectable number of eggs.
If your vet suspects your dog does have a parasitic infection but the results of the fecal test are negative, he or she may recommend repeating the test with another stool sample or submitting a different test type.
Myth #6: Only puppies need routine fecal testing.
This myth is based around the fact that puppies are prone to developing intestinal parasites. They can acquire worms from their mom in utero or via the milk. Puppies can also pick up parasites from the environment. They have a weaker immune system than adult dogs, putting them at increased risk for many different types of diseases.
However, it is a myth that puppies are the only ones who need regular fecal testing. In fact, dogs of any age can have intestinal parasites. Fecal testing is an important part of all dog wellness exams.
Parasites are common in the environment and your dog can easily pick them up. While they can cause symptoms like diarrhea or weight loss, there are many parasites that mask their presence. Therefore, without periodic fecal testing for dogs of all ages, you may never know that your dog has a parasitic infection until clinical signs become severe.
Myth #7: Senior dogs don't need routine fecal testing because they are too old for parasites to be a problem.
As we just finished discussing, all dogs can benefit from fecal tests. so this goes for senior dogs too. They will come in contact with parasite eggs in the environment, especially if they live with a young dog or puppy. This means they can develop a parasite infection.
It is important to do everything you can to safeguard your senior dog's health. Part of that is ensuring he or she has routine fecal testing and is on a flea, tick, heartworm, and intestinal parasite preventive each month.
Myth # 8: Dogs only need a fecal test if they are sick.
It is true that dogs do need a fecal when they show symptoms of intestinal parasites such as:
Diarrhea
Blood in feces
Constipation
Vomiting
Discomfort when the abdomen is touched
Potbellied dog appearance
Visible worms in the feces
Sudden weight loss
However, this is far from the only time your dog should have a fecal test. Dog parents sometimes ask me "How often should a dog have a fecal test?" My answer is, "At a minimum, every year but more often if your dog is sick or at higher risk."
We established in myth #6 that puppies are prone to parasites, so your vet may want to check a fecal at each of the puppy wellness visits.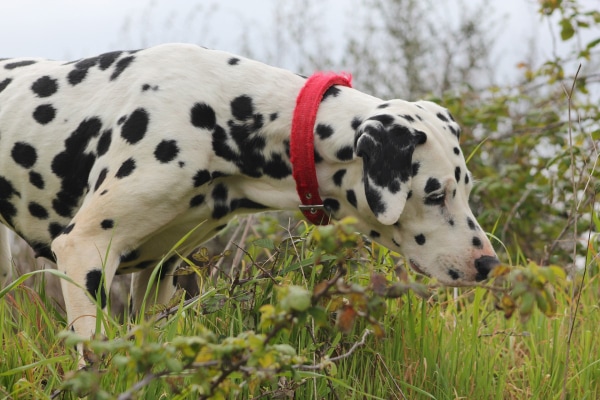 Additionally, dogs who spend more time outside may need more frequent fecal testing. This is the case for several reasons:
Consuming small mammals like rabbits and squirrels can transmit certain parasites to your dog.
Dogs who drink from ponds, lakes, or other outside sources of water can be at increased risk for Giardia in pets. This protozoan can cause diarrhea and other gastrointestinal health issues for your dog.
Dogs who frequent the outdoors have more contact with wildlife, livestock, or other animals. These animals can carry and transmit various parasites to your dog.
Finally, dogs who have a history of having high parasite loads or exposure may need fecal tests more often to ensure that they don't develop an infection again.
Myth #9: Fecal testing only benefits my dog.
As you have gathered, having an annual fecal exam is extremely important for pet health. But it is also important for human health.
Some of the dog intestinal parasites detected on a fecal test are zoonotic. This means animals can spread them to humans. Usually, coming into contact with contaminated feces is the main mode of transmission. This can happen when:
Picking up feces
Gardening or playing in the yard
Your dog licks your hand and then you touch your mouth or eat
Your dog licks your face
If you have children living in your house, it is especially necessary to monitor your dog for intestinal parasites. Among many other things, having eight kids has shown me exactly why young kids are more susceptible to contracting parasites from a dog. They love to get dirty, will pick up anything on the ground (including poop) in a split second, and hate washing their hands. Plus, they may be more likely to think it is funny when the dog licks them in the face.
By cleaning up your dog's feces regularly and performing annual fecal tests, you can help keep both your pet and your household safe from intestinal parasites.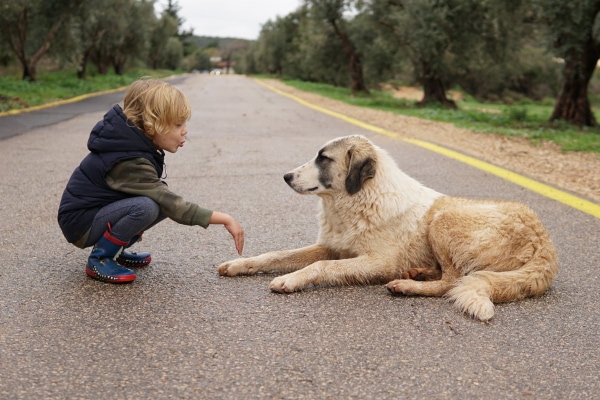 Myth #10: There is no need to bother with a fecal test since you can buy dewormer over the counter.
It may be tempting to think you can save some time and money by periodically giving your dog an over-the-counter deworming medication instead of having your vet run a fecal test. However, using a fecal test to determine which intestinal parasites live in your dog is important for several reasons.
First off, not all intestinal parasites are worms. Sometimes what you think might be a worm problem is actually a protozoa problem like Giardia or coccidia. These protozoans require a different treatment approach than worms.
Also, if the fecal test indicates your dog is suffering from a harmful bacterial infection of the GI tract, he or she may need antibiotics, not a dewormer.
Secondly, even if worms are the problem, not all dewormers are created equal. Some dewormers may be effective against hookworms and roundworms but not whipworms. Or your dog could have tapeworms, which only respond to certain deworming medications.
Third, some dogs with intestinal parasites may require additional tests or treatments. For example, hookworms feed on your dog's blood, so a severe infection may lead to anemia (i.e low red cell numbers). In these cases, the vet may want to run some bloodwork to check red blood cell levels.
Also, dogs who are showing symptoms of parasitism may benefit from supportive care. This may include anti-nausea drugs, appetite stimulants for dogs, anti-diarrheal drugs, bland diet for dogs, and other medications or treatments. Having access to those medications is another benefit of working with your vet rather than trying to address suspected parasites at home.
Follow-up fecal tests
If your vet is treating your dog for intestinal parasites, he or she will probably recommend one or more follow-up fecal tests. This allows the vet to evaluate how well the treatment is working and determine if your dog's infection is resolved.
Fecal testing is a valuable tool
I hope that busting some of these common dog fecal test myths has helped you understand the value of fecal testing, both for your dog and for your family. Collecting a fresh sample of poop and bringing it to your dog's wellness exam or a vet visit for GI problems is easy. Plus, if your dog does have an intestinal parasite, fecal testing can go a long way toward getting your dog the treatment he or she needs in a timely fashion. The end result is a happy healthy dog who is free of problematic parasites.
What questions do you have about fecal tests for dogs?
Please comment below.