Ever wonder what a "bland diet for dogs" really means? After all, it sounds rather vague. Integrative veterinarian Dr. Julie Buzby explains everything you need to know about bland diets so that you can confidently feed one to your dog should the need arise.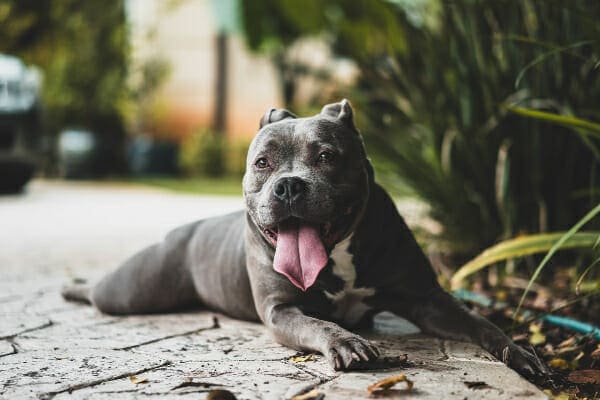 Dogs love to eat things they shouldn't—rotten food, dead animals found in the woods, swampy water, etc. The smellier the better. A few hours later, they may pay the price for their little treat with abdominal pain, vomiting, and/or diarrhea. When this happens, your veterinarian will likely recommend you feed your dog a bland diet.
What is a bland diet for dogs?
Rather than using the word "bland" you could also call this sort of diet "highly digestible." It is typically low in fiber and fat and designed to help give the GI tract a chance to recover. Less fat means the body doesn't have to work as hard to break down the food and less fiber means less bulk.
When explaining the purpose of a bland diet to my veterinary clients, I compare it to when we are recovering from the stomach flu. We aren't going to order a pizza. Instead, we usually eat chicken noodle soup, crackers, and maybe lightly-buttered toast.
Why pick a bland diet for your dog?
Since a bland diet is designed to be easy on the GI system, it would make sense that GI problems are one of the main reasons a dog may need to eat a bland diet.
Dietary indiscretion
If you're the parent of a garbage-scrounging hound or a dog who just can't say "no" to tasty tidbits on a walk, you may already know that the fancy medical term for eating gross things is "dietary indiscretion."
As we discussed (and you may have experienced), these seemingly tasty "delicacies" can wreak havoc on your dog's digestive system. If your dog has gastroenteritis (i.e. inflammation of the stomach and intestines) from eating something bad, a bland diet may help with the diarrhea and vomiting.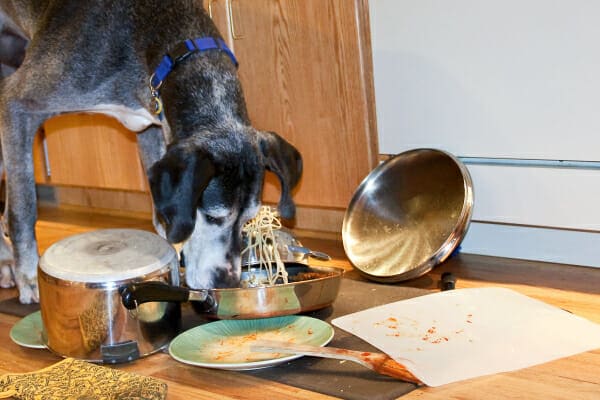 Recovery from GI surgery
Bland diets are also essential to patients recovering from gastrointestinal surgery. This is especially the case if the dog had a foreign body removed from the stomach or intestines. My mentor taught me that "a healthy gut is a working gut." The intestines heal much quicker when food is passing through. However, because the GI tract is recovering from surgery, we want an easily digested diet that won't make the gut work too hard.
Stress diarrhea (and other types of diarrhea)
Some dogs develop stress diarrhea at predictable times, such as during holidays, when boarding, or on road trips. In these cases, starting a bland diet before the stressful event may help to prevent stress diarrhea from developing.
Additionally, a bland diet can be great for dogs with diarrhea.
Pancreatitis
Your vet may recommend a low-fat bland diet for cases of pancreatitis in dogs (i.e. inflamed pancreas). Since a high fat treat can trigger a pancreatitis episode, it would make sense that a low fat diet could be part of the solution.
Miscellaneous medical conditions
Additionally, certain medical conditions may require you to feed a bland diet. Vets often treat protein-losing enteropathies (i.e. conditions where the dog loses protein through the GI tract) such as intestinal lymphangectasia in dogs (i.e. dilated lymphatic vessels in the GI tract) with a low fat, highly digestible diet in addition to medication. Also, a bland diet may help lessen the signs of inflammatory bowel disease (i.e. IBD in dogs).
Your veterinarian may try a bland diet for management of patients with megaesophagus in dogs (i.e. a dilated and poorly functioning esophagus), megacolon (i.e. a dilated and poorly functioning colon), gastric ulcers, or acid reflux in dogs. Again, these medical conditions may respond to a bland diet, but each dog is different. Some dogs with the conditions listed may need a hydrolyzed protein diet (i.e. one where the protein is broken up into tiny pieces the immune system shouldn't react to) or a higher fiber diet. Follow the guidance of your veterinarian to determine the best food for your dog.
Where can I get a bland diet for my dog?
Some pet parents prefer the convenience of purchasing a bland diet from their veterinarian while other people would rather cook a bland diet. There really isn't one best bland diet for dogs. Instead, there are many great options.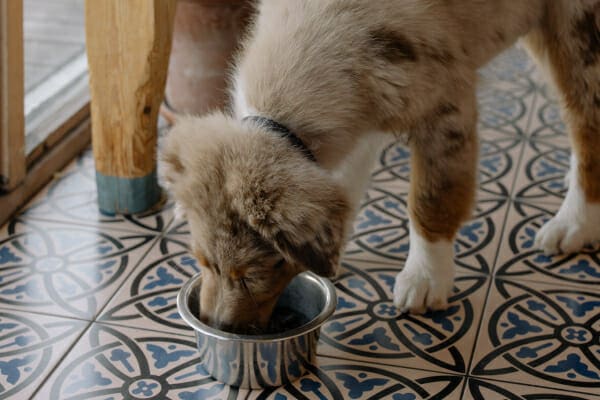 Prescription bland diets
Because GI problems are so common in our patients, most veterinarians have bland diets readily available. These foods are specifically formulated prescription diets that are manufactured by trusted pet food companies. Some of the options include:
Hill's Prescription Diet i/d Digestive Care (which also comes in i/d Stress, i/d Low Fat, i/d Sensitive, and i/d Small Bites)
Hill's Prescription Diet Gastrointestinal Biome
Purina Pro Plan Veterinary Diets EN Gastroenteric formula (also available as EN Gastroenteric Low Fat, EN Gastroenteric Fiber Balance, and EN Gastroenteric Naturals)
Royal Canin Gastrointestinal (also comes in Gastrointestinal Moderate Calorie, Gastrointestinal Low Fat, Gastrointestinal Puppy, and Gastrointestinal High Fiber formulas)
Additionally, there may be other diets available in your area. Ask your veterinarian for recommendations.
Homecooked bland diets
Alternatively, you can cook a bland diet for your dog with simple ingredients you have at home. The bland diet recipe consists of a carbohydrate and a protein such as chicken and rice. White rice or brown rice are the most commonly used carbohydrates. Other carbohydrate choices include plain noodles, sweet potatoes, or white bread.
Good protein sources include baked chicken breast with the fat removed or boiled lean ground beef. While boiled hamburger doesn't sound or look very appetizing to us, it is a good way to remove most of the fat from the meat. Other protein sources include scrambled or hard boiled eggs, ground turkey, or low-fat cottage cheese.
These homemade diets are not balanced for long-term use and lack important nutrients. However, feeding them for a short course of one to two weeks is acceptable for most dogs.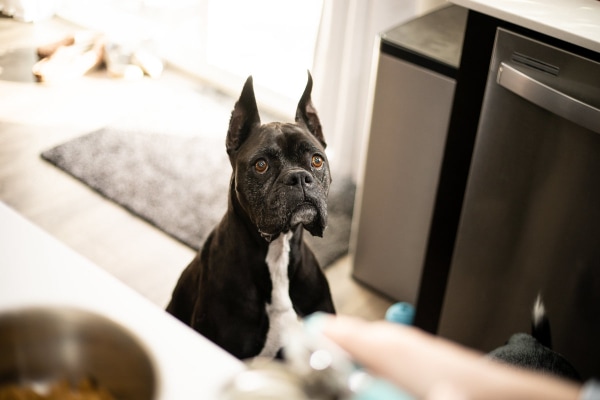 How much of the bland diet should I feed my dog?
Once you have purchased or cooked the diet, I recommend feeding your dog small frequent meals so you don't overload the GI tract. Instead of two meals a day, divide a day's worth of food into 4 to 8 meals. If there is any vomiting, take food and water away for a few hours then reintroduce a small amount of both.
How long should I feed my dog a bland diet?
In some cases, the dog will only need the bland diet for a short period of time. For example, for dietary indiscretion, the vet will often recommend a bland diet for four to five days. After this time, you can typically transition your dog back to the regular diet. To do this, mix the bland diet with his or her regular food over the next two to three days. If your dog continues to have GI upset after two days or if the signs return once you resume feeding the regular dog food, contact your veterinarian.
However, some medical conditions such as IBD, chronic pancreatitis, or megaesophagus may require the dog to be on a bland diet (or other special diet) for the rest of his or her life. If this is the case, you should either purchase a prescription diet that is already nutritionally complete or work with a board-certified veterinary nutritionist to formulate a complete and balanced homecooked diet for dogs.
How else can I support my dog's digestive health?
In addition to feeding a bland diet, there are several other tools your vet may recommend. These include:
Probiotics for dogs— In most cases of diarrhea, the dog has bacterial dysbiosis in the intestinal tract. That means the bacterial balance in the GI tract has been disrupted. Probiotics contain "colony forming units" (i.e. bacteria) that help replenish the good bacteria lost in the GI tract. They are often available from your veterinarian or through an online pet care retailer as a powder that you can sprinkle on your dog's food or as a chewable tablet.
Prebiotics for dogs—This "bacterial food" is often included with probiotics. Unlike probiotics, prebiotics do not contain bacteria. Instead, prebiotics improve the environment of the gut so that the healthy bacteria are more likely to grow. You may find prebiotics in some commercial dog foods. For example, Hill's Prescription Diet Gastrointestinal Biome contains prebiotics in addition to being easy to digest. Canned pumpkin for dogs also contains prebiotics to promote GI health.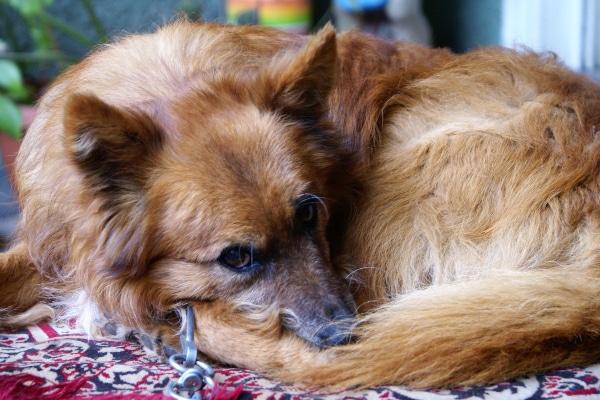 What do I need to watch out for?
While feeding the bland diet (plus giving any medications recommended by your vet), keep a close eye on your dog. Contact your vet if you notice any of the following signs:
GI signs that last more than 48 hours without improvement
Bloody vomit or diarrhea
Signs of pain in dogs (such as standing stretched out or in a play bow position, both of which may indicate abdominal pain)
Worsening GI signs such as profuse vomiting
Return of GI signs once you finish the medication or bland diet
Abdominal distension
Signs of dehydration (dry or sticky gums, skin that remains tented when lifted, sunken eyes, or noticing your dog's nose is dry)
Work with your veterinarian
As always, your veterinarian is the best resource whenever your dog is sick. While it isn't wrong to try out a bland diet for your dog prior to making a veterinary appointment, please remember the guidelines above. And even after the initial visit, keep your vet apprised of your dog's condition. Sometimes what seems to initially be a touch of GI upset can be an indication of bigger and more serious problems (including Addison's disease in dogs).
My goal in saying that isn't to scare you, though. Chances are good that with some TLC and a bland diet, your dog's digestive woes will be a distant memory in no time. But if they aren't, ensure that you are in close contact with your veterinarian.
Which bland diet(s) seemed to work best for your dog?
Please share your experience below.