Heartworm disease in dogs is a life-threatening, preventable condition. Unfortunately, a lot of myths and misunderstandings are widespread—particularly on social media—regarding heartworms. From home remedies to coconut oil for heartworms, integrative veterinarian Dr. Julie Buzby helps separate the myths from facts when it comes to preventing and treating heartworm disease in dogs. Fair warning: The heartworm pictures in dogs that follow are graphic.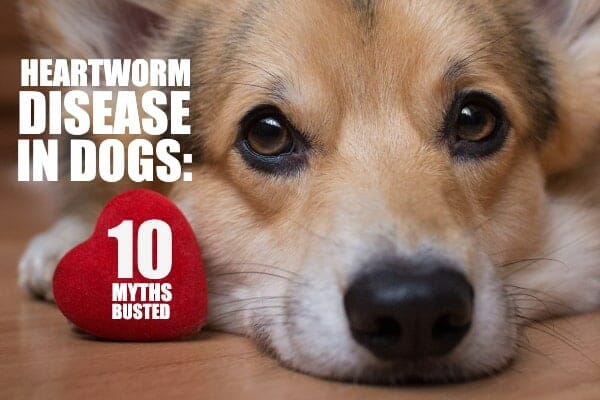 Practicing in the south, I've seen PLENTY of heartworm disease in dogs. Heartworms are spread through mosquito bites, so we definitely don't get a break from it. The tragedy is that preventing this condition can be so simple.
Currently, the biggest obstacle facing heartworm disease is misinformation. Widespread myths—fallacies like dogs can't get heartworms in cold weather or home remedies can treat heartworms—aren't just dangerous but can be deadly for dogs.
Let's break down some of the most common myths I've encountered regarding heartworm disease in dogs. As your dog's biggest advocate, you can be empowered to make the best choice for the health of your pets.
1. MYTH: Heartworms in dogs do not exist. Veterinarians and drug companies made them up.
FACT: Heartworms are real worms that can grow up to a foot long, and can live for five to seven years in the heart of a dog.
Unfortunately, even if you don't believe heartworms exist, they are real. See the pictures of heartworms in a dog's heart and lungs below as proof.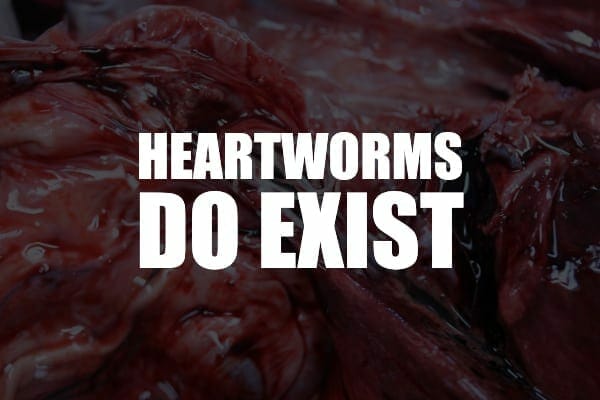 A heartworm picture is worth a 1000 words. These heartworm pictures from a necropsy (animal autopsy) of a dog's heart and lungs post-mortem aren't easy to look at, but they clearly show that heartworms exist. You can see the mass of heartworms in and around the dog's heart.
These are foot-long worms that lived in the heart, the lungs, and the associated blood vessels. Left untreated, heartworms can live from five to seven years in dogs. The worms reproduce inside the host dog, meaning dogs can get several hundred worms in that amount of time.
Remember that your veterinarian is there to help you and your pets. Veterinarians do not and will not make up health conditions to make a profit or for whatever other nefarious reasons may be suggested. Vets want to help you take the best care of your pets so they can have the longest, healthiest lives possible!
2. MYTH: A home remedy will protect a dog from heartworm disease.
FACT: There is no effective "at home" or "natural" heartworm prevention for your dog.
Essential oils. Pumpkin seeds. Lemon juice. Vinegar. Turmeric. Coconut oil. I have heard about every single concoction that has been posted on social media as a potential natural heartworm preventative. There is no home remedy that a dog owner can mix in any form that will prevent a dog from getting heartworms.
While I have a healthy respect for some home remedies when used appropriately (and certainly, it is very important that you use the right ones with veterinary guidance), they are not an appropriate prevention (or treatment) for heartworm disease.
And since I've mentioned essential oils, if they are in your consideration set for your dog in any way, it is crucial to do your research. Certain types of essential oils are dangerous for dogs. There are a few that are safe, but they need to be used judiciously. Please ask your vet before exposing your dog to oils at home.
Herbs, pumpkin seeds, and other "natural" remedies do not protect dogs from heartworms.
Also, various foods and herbs have been suggested to prevent or treat heartworms in dogs as well. I had one client tell me she had read that she should be feeding her dog pumpkin seeds for heartworm prevention. As far as I could ascertain, the fibrous seeds were meant to flush the worms out of the digestive tract. Not only do heartworms not live in the digestive tract, but feeding pumpkin seeds would not be an effective method for ridding a dog of intestinal parasites either.
We have so many effective options for heartworm preventions: oral, topical, injectable. I have yet to find a dog that didn't have some viable option for effective heartworm prevention, no matter the breed or other health conditions. Please administer FDA-approved heartworm preventative monthly for your dog.
Use FDA-approved products specifically labeled for preventing heartworms
While discussing the topic of preventions, make sure the FDA-approved prevention you're giving your dog is labeled specifically for preventing heartworms. Some products protect against other parasites, such as intestinal worms, fleas, and ticks. But not all flea and tick medicine prevents heartworms. If you're not sure, check with your vet to make sure your dog is receiving the prevention he or she needs.
3. MYTH: There are home remedies that can get rid of heartworms in dogs.
FACT: It is not possible to treat heartworms in dogs at home. Once a dog is infected, he or she needs a course of injectable medication to get rid of the heartworms.
Once a dog is diagnosed with heartworms, we are too late for the preventing stage. The worms have taken residence in the dog's heart, lungs, and thoracic vessels, and we need to take action to clear the infection as quickly as possible to mitigate damage to the heart.
As much as I might wish there to be a quick and easy home remedy to get rid of heartworms in dogs, that is not the case. Heartworm treatment involves a series of intramuscular injections of a compound called melarsomine, deep in the muscles of the dog's back.
Proposed home remedies such as garlic, herbs, black walnut, etc. have not shown any impact on heartworms in dogs. In fact, garlic (which is what I've most commonly heard as a proposed home remedy) can be toxic to dogs. So again, please use caution with home treatments for your dog, and discuss them with your veterinarian first.
4. MYTH: Coconut oil can cure heartworms.
FACT: Coconut oil does not cure heartworms in dogs.
As discussed, the only effective treatment for heartworm disease in dogs is a series of injections of melarsomine.
For some reason, a few years ago, coconut oil emerged as a fabled silver bullet in pet care. My clients were using coconut oil to try to treat everything from heartworm disease to allergies to skin infections. Coconut oil can be used as a moisturizer (I've sometimes recommended it for older dogs with crusting on top of their noses), but its usefulness is more limited than the internet would have you believe. I can say with confidence that coconut oil cannot cure heartworms in dogs.
Again, as with all potential home treatments, consult your vet.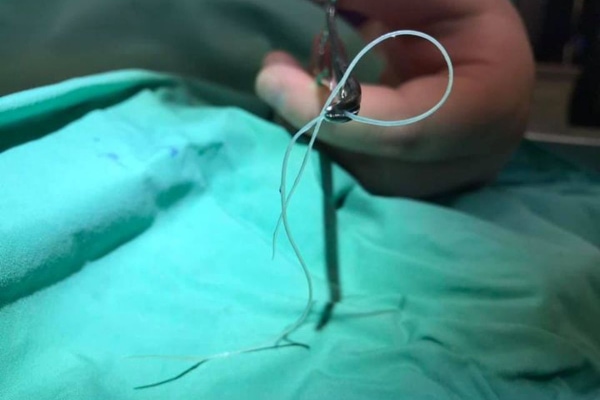 5. MYTH: Indoor dogs don't need a heartworm preventative.
FACT: All dogs in areas affected by heartworms should be on heartworm prevention.
This is a discussion I've had with pet parents many times. Do indoor dogs need heartworm prevention? The answer is a resounding YES.
Unfortunately, mosquitoes know no man-made boundaries. Whether it is a house or a fenced in yard, mosquitoes can fly. They're also blown by the winds, so certainly, they can travel the country. They can get indoors and bite unprotected dogs inside the house.
Even an indoor dog who rarely goes outside for more than a walk or potty break is still at risk for heartworms. It only takes one bite from one mosquito to infect a dog with heartworms. There are up to 30 different species of mosquitoes that transmit heartworms and they can all slip into a house quite easily. I have diagnosed heartworms in dogs who are paper trained and don't even go outside to relieve themselves. Yes, mosquitoes bite inside our homes.
Please keep your dog on heartworm prevention, even if he or she stays primarily indoors.
Along similar lines, spraying for mosquitoes is not enough to prevent heartworm disease. And yes, dogs who live in gated communities should still be on heartworm prevention.
6. MYTH: Dogs don't need heartworm preventative during the winter months because it's cold outside.
FACT: Dogs can be infected with heartworms year-round.
Cold temperatures do not safeguard dogs from heartworm disease and the insects that carry it. I've seen many sad cases of dogs who have tested positive for heartworms. The dogs' owners stopped giving preventative during the cooler half of the year—the winter months.
So can dogs get heartworm in the winter? Unfortunately, yes. Some species of mosquitoes are adapting to colder climates. Heartworm disease exists year-round in the host animal—such as a coyote, fox, wolf, or an infected dog. It is really important to give year round prevention.
Is the risk of contracting heartworm disease decreased in colder temperatures? Maybe. But I am not willing to gamble my pets' or my patients' health on an unknown. The risk is not zero, and heartworm disease is so much easier, cheaper, and less invasive to PREVENT than it is to TREAT.
I recommend to all my clients to keep their dogs on heartworm prevention year-round.
7. MYTH: A dog's thick fur will protect him or her from mosquito bites and thus heartworms.
FACT: Heartworms are spread through mosquito bites. Dogs with thick fur are still at risk of being bitten by mosquitoes, and therefore potentially becoming infected with heartworms.
"My dog has a really thick coat. There's no way the mosquito can bite through it." This is a common misconception that a dog's thick fur protects him or her from getting heartworm disease. I've heard this from my veterinary clients with Chows, Huskies, and other long, thick-coated dogs.
The truth is that mosquitoes bite pets where the hair is thinnest. Often the hair, even in a thick-coated dog, is still thin on the legs or the belly. And that's where the mosquito is going to bite. I have personally treated heartworm positive Pomeranians, Huskies, and other breeds that are known for their thick undercoats. It's not a protection. Mosquitoes will find the dog's soft inner groin, belly, and skin where the coat is thinnest.
8. MYTH: We don't have heartworm disease in our state.
FACT: All 50 states (and worldwide) have documented cases of heartworm disease in dogs. Not only has it been recorded, but it is also on the rise.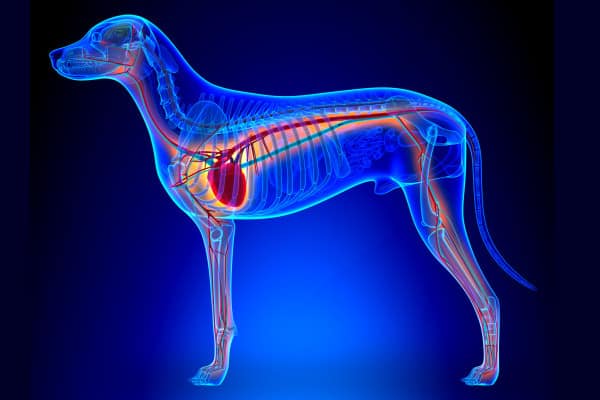 Here is a true story that illustrates why this is the case: A client came to me with a dog that needed to be treated for heartworm disease. The dog and pet parent had moved into the area about three years prior. Not only was I sad for the dog, but I was also sad because that dog, during those three years, had served as a "reservoir of infection" for the area. That means that if a mosquito bit the infected animal, then that mosquito would then become infected and potentially infect other dogs. It is a domino effect.
Secondly, the convenience and ease of travel in today's world fans the spread of heartworm disease. After hurricane Katrina, for example, over a quarter of a million pets—many of whom were heartworm positive—were shipped around the United States in this great concerted rescue effort. As encouraging and uplifting as this was, it also guaranteed the increase of heartworm incidents around the country.
At this point, no state is heartworm-free. If you'd like to learn more, check out the American Heartworm Society's heartworm tracking incidence map.
9. MYTH: If a dog's fecal test is negative, heartworm testing isn't necessary.
FACT: Testing for heartworm requires a blood sample, and is a separate test from a fecal test, which is generally used to diagnose intestinal parasites.
Many other species of worms (hookworms, roundworms, and tapeworms, for example) are internal parasites that live in the intestines, in the gastrointestinal tract. Heartworms live in the circulatory system—the lungs, the heart, and the associated blood vessels. And because they are found in the heart and the circulatory system (not the intestine), a blood test is needed to detect their presence.
Veterinarians administer a specific antigen test (not a fecal test) where they draw a few drops of blood from the dog. Often the lab test results are available in just 10 minutes.
10. MYTH: Heartworm pills are toxic to dogs.
FACT: Heartworm preventives have been extensively studied for both efficacy and safety, and have wide safety margins.
I understand the concern about what we are putting into our bodies and our dogs' bodies. But I always tell my clients that with everything in life we have to weigh the benefits versus the risks.
There are many safe FDA heartworm preventatives on the market. My own personal dogs get a monthly heartworm preventative, and I'd never open them up for the risk of contracting heartworm disease. The potential risk posed to them by the preventive medications is far less than the risk of either heartworm disease or treatment.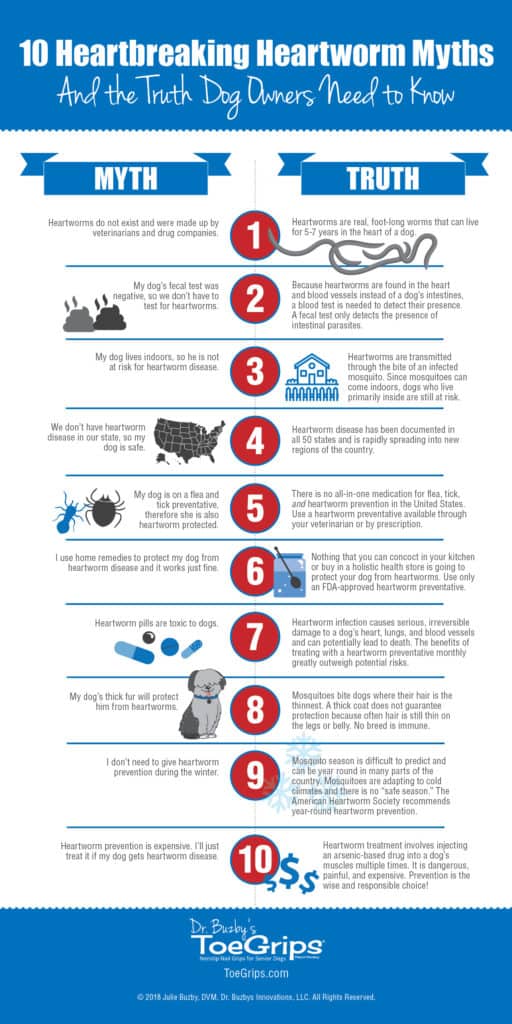 BONUS MYTH: Herding breeds should not take heartworm prevention
Certain dog breeds—Border Collies, Australian Shepherds, Shelties, and others—have a mutation in a gene called MDR1 that impacts their ability to metabolize certain drugs. One of the drugs that has been well documented to give these dogs trouble is ivermectin. Many heartworm preventions are ivermectin-based.
That being said, the dose of ivermectin in monthly heartworm preventions is much lower than the amount of ivermectin that would make a dog sick, even one with the MDR1 mutation.
The dogs I've seen with ivermectin toxicity usually get sick after following around their owner who's deworming horses. As you might imagine, the dose for horses is much larger than for dogs, and horse deworming paste is usually apple flavored or something else enticing to a precocious pup. The horse spits some out, the dog licks it up, and it makes them sick. As an integrative veterinarian with 25 years of experience, I have not seen a dog get ivermectin toxicity from an FDA-approved heartworm preventive that was prescribed to them.
Let's bust these myths about heartworm disease in dogs together
If you see these myths about heartworm disease in dogs being propagated in social media, please help set the record straight. Ultimately, dogs are the ones who suffer when we get this wrong. That's why it's so important to bust the myths about home remedies such as coconut oil and pumpkin seeds for heartworms in dogs. And it's why it's so important to correct misunderstandings such as indoor dogs don't need heartworm preventative.
Finally, the benefits of a heartworm preventative outweigh the risks. If you are interested in more information, I encourage you to check out my companion article, Do Senior Dogs Need Heartworm Medications and my podcast episode, 10 Heartbreaking Heartworm Myths.
Also, speak with your veterinarian about heartworms or which heartworm preventative is the best choice for your dog. Together, you and your vet can keep your dog safe from this preventable disease.
What other myths about heartworm disease in dogs have you heard?
Please comment below.