Pyoderma in dogs (i.e. a bacterial skin infection) may lead to irritated and uncomfortable skin for your canine companion. To help you recognize this common condition, integrative veterinarian Dr. Julie Buzby reviews the causes, signs, diagnosis, and treatment of pyoderma in dogs.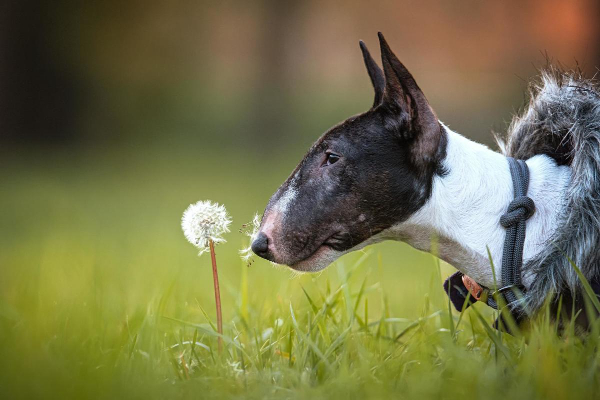 Your canine companion can itch and scratch for any number of reasons. When itching occurs every so often, it is a normal part of helping to shed dead skin cells to make room for new ones. But what if your pup's itching and paw licking is keeping you both awake at night? It could be a sign that your furry friend has a skin infection.
What is pyoderma in dogs?
The medical term for certain bacterial skin infections is pyoderma. If you break the word down, it literally means pus (i.e. pyo) in the skin ( i.e. derma). Most of the time though, you can't see any pus with your naked eye.
There are three main types of bacterial pyoderma, which are classified based on their location:
Surface pyoderma—These infections occur on top of the surface of the skin.
Superficial pyoderma—This infection affects the outermost layer of skin (i.e. the epidermis) and sometimes the hair follicles. Due to involvement of the hair follicles, this may also be called superficial bacterial folliculitis.
Deep pyoderma—In this case, the infection involves the deeper layers of the skin.
What causes pyoderma in dogs?
As established, bacteria are the main cause of cases of pyoderma. More specifically, the bacterium Staphylococcus pseudintermedius is the leading cause of bacterial pyoderma in dogs. However, other bacteria such as Staphylococcus schleiferi, Streptococcus, Corynebacterium, Micrococcus, Proteus spp., Escherichia coli, and Pseudomonas aeruginosa are also capable of causing pyoderma.
Interestingly enough, Staphylococcus pseudintermedius also happens to be a normal inhabitant of the surface of the skin and mucous membranes. So the issue really lies with where the bacteria is located, not with the bacteria itself. You see, the normal bacteria on the surface of your dog's skin actually has a protective effect. By its very presence, it can help block other pathogens (i.e. disease causing agents) from invading.
Plus, just like in humans, your dog's skin acts as a physical barrier to keep water in and pathogens out. As long as the barrier is intact, the normal skin bacteria such as Staphylococcus pseudintermedius will stay on the surface of the skin and not cause any problems.
However, broken or injured skin lets the surface bacteria invade the skin layers and set up an infection. And since Staphylococcus pseudintermedius is also found in the the mouth, licking and chewing at the skin can further seed the area with bacteria. The end result is pyoderma.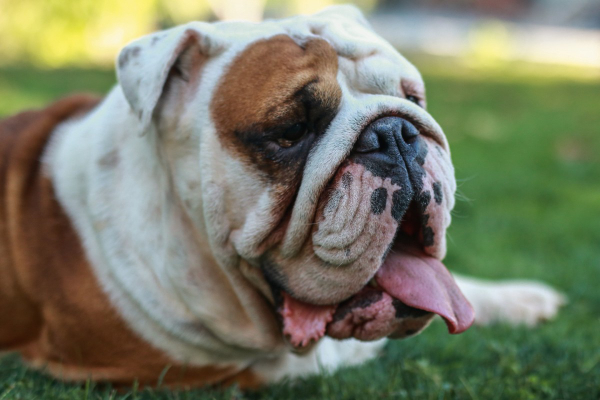 What damages the skin barrier?
Some conditions may contribute to the breakdown of the skin barrier and make a dog more prone to pyoderma. These include:
Allergies (e.g., flea allergy, food allergy, atopy)
Chronic exposure to moisture (like in between facial folds and skin folds)
Problems such as water loss from the skin, seborrhea (a condition leading to dry or oily skin), or impaired inflammatory cell function, which increase the chances of bacteria adhering to the skin
Impaired blood flow to the skin
Immune system suppression
Endocrine disorders (e.g., hypothyroidism in dogs, Cushing's disease in dogs)
Which dogs are more likely to develop pyoderma?
Based on this list of factors that damage the skin barrier, it isn't a surprise that certain dog breeds are more likely to have the right kind of skin or skin conditions to predispose them to pyoderma. For example, English bulldogs and Shar Pei dogs tend to have lots of skin wrinkles. Their facial folds, tail folds, and very short hairs (especially between the toes) are the perfect environment for trapping moisture. They also have an increased risk for developing environmental and food allergies, thus increasing the risk of developing a pyoderma.
Puppies tend to develop pyodermas slightly more often than adult dogs. They often get a specific type of superficial pyoderma called impetigo or puppy pyoderma. Dogs with other skin diseases such as demodectic mange (i.e. a mite infestation that can also cause folliculitis) and ringworm i.e. a fungal infection) have an increased risk of developing pyoderma too. Plus, adult dogs with endocrine disorders may have poor skin health, contributing to frequent bacterial infections.
Is pyoderma in dogs contagious?
Since this is a bacterial infection, people may wonder if the rest of the dogs (or cats or people) in the household can get pyoderma. However, remember that something typically damages the skin barrier to allow the bacteria to invade. So in most cases, pyoderma is not contagious to other dogs and humans.
However, infections like methicillin-resistant Staphylococcus pseudintermedius or MRSP (i.e. the dog version of MRSA or methicillin-resistant Staphylococcus aureus in humans) can technically be shared between dogs, cats, and humans.
What are the symptoms of bacterial pyoderma?
When bacteria invade a dog's skin, they can cause a variety of abnormalities. Since you can see your dog's skin with the naked eye, it is usually pretty easy to pick up on signs of pyoderma if you know what you are looking for.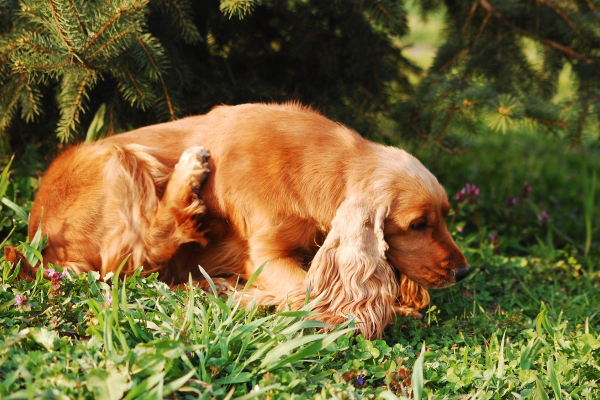 Pyodermas can occur virtually anywhere on a dog's body. However, bacterial pyodermas most commonly occur in areas where there is little fur to protect the skin (e.g., over the lower belly) or where moisture is easily trapped (e.g., facial folds and skin folds). So those are good places to look for symptoms of pyoderma, including:
Papules—tiny red bumps
Pustules—pimples or whiteheads
Erythema—an increase in the pinkness or redness of the skin
Comedones—blackheads
Hair that sticks up in short-haired dogs (looks like hives)
Alopecia—hair loss
Flakes and crusts of dry skin
Collarettes—circular areas with flaky borders
Ulcerated areas on the skin surface
Hyperpigmentation—darkening of skin surface
Lichenification—thickening of the skin
Itching, especially if the dog also has allergies (note that "itching" includes scratching, licking, biting, chewing, rubbing along the floor, and scooting)
Abnormal smell to the skin
Pinkish-yellow or cloudy drainage from the skin
Symptoms help point to the type of pyoderma
These lesions can appear in one location (i.e. focal pyoderma) or in many locations (i.e. generalized pyoderma).
Certain types of pyoderma also tend to go with certain symptoms on this list. For example, lip fold pyoderma (which is a type of surface pyoderma) may involve alopecia, erythema, and crusting of the lip folds. On the other hand, a dog with superficial bacterial folliculitis may have papules, pustules, collarettes, crusts, and erythema of the armpits and groin. And a dog with deep pyoderma may exhibit painful thickened skin with crusts, alopecia, and drainage.
If you notice any of these symptoms, it is important to get your dog to the veterinarian promptly. Early diagnosis of pyoderma can lead to better and faster treatment results.
How is pyoderma diagnosed?
Based on looking at your dog's skin, the vet may have a pretty good idea that your dog has pyoderma. But he or she may use skin cytology testing to confirm the diagnosis. Cytology testing involves collecting some of the debris from the affected area of skin and examining it under the microscope. Seeing inflammatory cells and bacteria makes a pyoderma likely. And bacteria identified inside of cells is a slam-dunk for a diagnosis.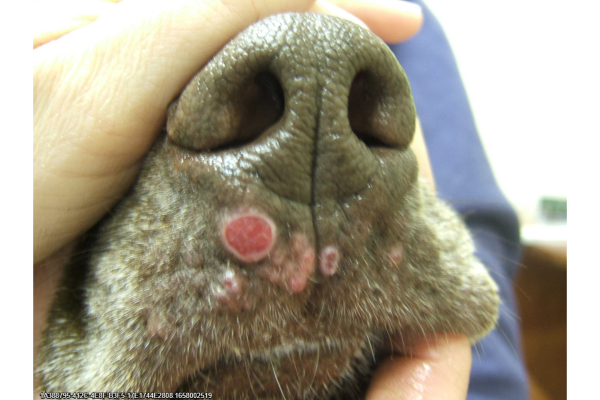 Dogs with repeated skin infections should have a skin culture and sensitivity test too. This involves the veterinarian rubbing a sterile culture swab along your dog's skin (or sometimes inside a lesion like a pustule). Then he or she will submit the swab to a laboratory for special testing. Unlike skin cytology, cultures can identify the exact species of bacteria present. Also, the laboratory will provide a list of antibiotics that will, or will not, effectively treat that particular bacteria.
Finding the underlying cause
There is almost always an underlying cause for this kind of skin disease, so finding that cause as early as possible is another important part of the diagnostic process. Failure to do so can lead to chronic skin issues or, in some cases, methicillin-resistant bacterial infections.
Research suggests that the more courses of antibiotics used over time, the greater the chance of resistance. This is a concern because methicillin-resistant infections like MRSP (methicillin-resistant Staphylococcus pseudintermedius) are immensely difficult to treat. They do not respond to typical pyoderma therapies.
To find the underlying cause, your vet may recommend:
Blood work to evaluate your pup's white blood cell count and rule out diseases like hypothyroidism and Cushing's disease in dogs.
Additional skin tests to rule out skin diseases like ringworm (via fungal culture) and demodectic mange (via skin scraping).
Allergy testing to guide therapy in cases of seasonal allergies.
Food elimination trials to isolate the source of food allergies.
How do you treat pyoderma in dogs?
Once the vet finished the diagnostic process, he or she can start formulating a treatment plan. Treatment for pyoderma will depend on the type of pyoderma present, the underlying cause, and the intensity of your dog's signs.
Some dogs with surface or superficial staph pyoderma may only require topical therapy. Others dogs, especially those with deep pyoderma, will need a combination of topical treatment plus systemic antibiotics. There isn't any "one size fits all" treatment for pyoderma. But studies show that topical therapy can slow down the development of bacterial resistance, so vets will try to use it when possible.
Topical therapy
Most topical treatments consist of antimicrobial sprays, ointments, mousses, wipes, and medicated shampoos. Active ingredients such as chlorhexidine, benzoyl peroxide, and sulfur with salicylic acid are useful because they can:
Disrupt bacterial cell membranes
Flush hair follicles
Facilitate the removal of dead skin cells
Treat excessively oily skin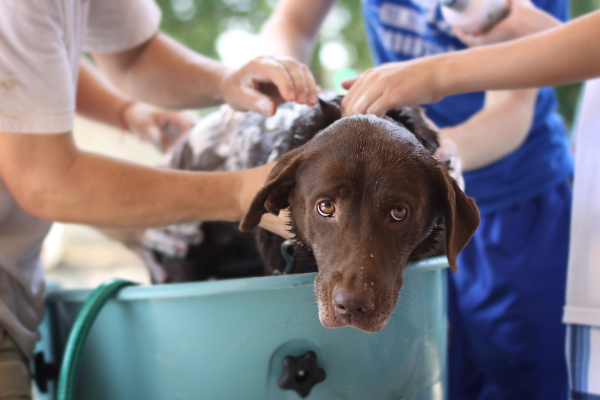 Topical therapies tend to have few side effects. However, it is important to watch for skin reactions, which tend to look like acute worsening of the skin's appearance.
For more stubborn bacterial pyodermas, like the kind caused by MRSP, topicals with sodium hypochlorite may be necessary. Since this can be very drying for healthy skin, many vets also use topicals with moisturizing effects. Ingredients like phytosphingosine (abbreviated PS on most products) are very good at this. You can also consider omega-3 fatty acids for dogs because of their anti-inflammatory effects and coat and skin benefits.
Oral antibiotics
In some pyoderma cases, especially deep pyoderma, vets may recommend oral antibiotics for treatment. Sometimes the vet will empirically select an antibiotic. That means he or she will pick one that is likely to be effective based on the most common bacteria found in that location. These are sometimes called "first-choice" or "first-tier" antibiotics.
In other situations, the vet may want to use culture data to help choose the right antibiotic. However, because culture testing can take a week or longer for results, your vet may use a first-choice antibiotic while waiting for results.
If culture and sensitivity results indicate that a different antibiotic is needed, the vet may switch to second-choice antibiotics. These are drugs that ideally should not be used without culture data to support their use.
In order to successfully treat your canine companion, and to avoid future resistant infections, you must finish all the antibiotics your vet prescribed. Also, it is important to go to the recommended follow-up visits with your vet.
That way he or she can see how your dog is responding. It also allows the vet to ensure your dog is treated with antibiotics about 7 to 10 days past the resolution of clinical signs. For example, if your pup's papules and pustules vanish on day 10, he or she should receive antibiotics for at least another week. Dogs with superficial pyodermas often need three to four weeks of therapy while chronic cases or deep pyoderma can require up to 12 weeks of antibiotics.
Address the underlying cause
As discussed earlier, it is critical to take steps to manage the underlying cause of the pyoderma too. This may involve medications such as trilostane for dogs with Cushing's, thyroid medications, or allergy medicine for dogs. Your vet may also want you to try other methods of managing allergies such allergy shots for seasonal allergies or hypoallergenic diets for dogs with food allergies.
Is there a home treatment for pyoderma in dogs?
As we have discussed, it is important for dogs with suspected pyoderma to see the vet for appropriate treatment. This ensures they get the right treatment at the right time to get the pyoderma under control. However, there are a few things you can do as home treatments while you are waiting to get into the vet or on the recommendation of the vet. They include:
Ensuring your dog is up to date on flea and tick prevention. External parasites can trigger itching which can lead to a pyoderma.
Washing your dog's bedding at least once a week to reduce contact with allergens.
Bathing your dog (up to twice a week for most dogs) to remove allergens and make it harder for bacteria to adhere to the skin. Consider using a moisturizing shampoo or talking to your vet about the medicated shampoo options that are best for your dog's particular problems.
Using Benadryl for dogs or other antihistamines to reduce allergy-related itching (under the direction of your vet).
Giving medications for hypothyroidism, Cushing's disease, or allergies as prescribed and following up with your vet to ensure the meds are working as expected.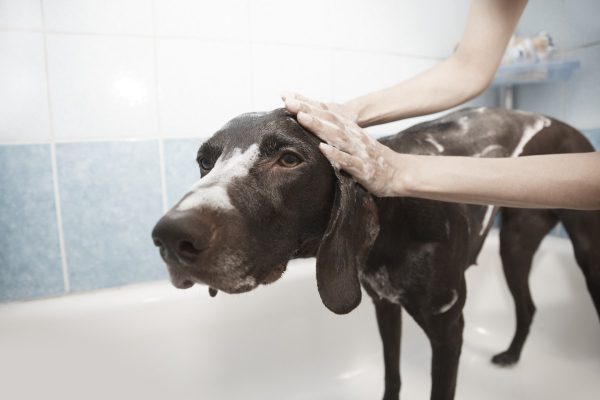 As a word of warning, do not decide to give your dog leftover antibiotics from a previous infection, another dog, or yourself. Doing this is a good way to promote antibiotic resistance. It also isn't going to be effective if your dog actually has ringworm, mites, or some other skin problem instead of pyoderma. Your vet is still the best source of information for how to treat pyoderma.
Be proactive about pyoderma
The vast majority of dogs with pyoderma have a very good prognosis because they respond well to treatment. If you catch it early and follow your veterinarian's recommendations, chances are good your dog will be back to normal before you know it.
While pyoderma in dogs isn't usually fatal, it is uncomfortable for your dog. So it is a good idea to be proactive about it. Get in the habit of routinely looking at your dog's skin as you pet and snuggle him or her. Then, as soon as you notice a skin issue, contact your veterinarian so you can start the treatment process. While you are at the appointment, you can also talk to the vet about making a prevention plan based on the underlying cause of your dog's pyoderma.
What questions do you have about pyoderma in dogs?
Please comment below.