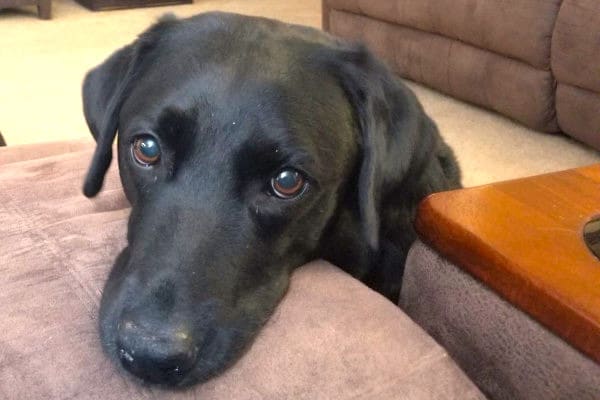 Discovering your senior dog has cancer is always heartbreaking — even more so when you realize it's an aggressive type like a hemangiosarcoma in dogs. Who better to lean into when wrestling with this diagnosis than a veterinarian who has walked in your shoes. Dr. Julie Buzby, integrative veterinarian and founder of Dr. Buzby's ToeGrips®, welcomes friend and fellow veterinarian, Dr. Erica Irish, to share her story of loving her senior dog through a canine hemangiosarcoma diagnosis.
Lulu was a special little lady, a 10-year-old black Labrador Retriever. She was what I would call my "heart dog" — a dog with whom your connection is so special and strong that it forever leaves an imprint on your heart.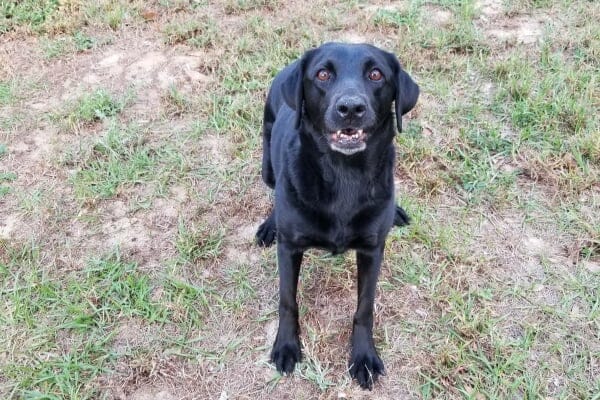 I adopted Lulu when she was only a year old. I had never owned a Labrador Retriever before, and I was so nervous. "They're way too active," I thought to myself. "I don't think I can keep up with one!"
After adopting Lulu, I realized I was completely wrong. I am 100% a Lab person. In fact, I don't think I could go through life without one.
Lulu was always game for any activity whether a walk to the dog park, a game of fetch, or a trip to the kitchen for a snack. She slept at the foot of my bed every night, was always in a good mood, and was by far the most well-behaved of all my dogs.
Although Lulu was a healthy and lively girl, I knew from vet school that hemangiosacromas were common in Labrador Retrievers. In fact, there were days when I would come across information about hemangiosarcomas in dogs and immediately think of Lulu.
Wishfully, I'd look right into her eyes and say, "Don't you dare even think about getting one of those!"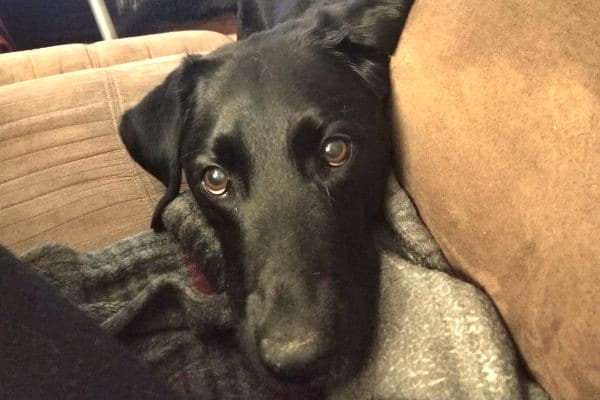 Lulu's hemangiosarcoma diagnosis
On the evening of September 4, 2019, Lulu was eating her dinner just like she did every night. Suddenly she stopped half-way through her meal. Any Labrador Retriever owner will tell you this is highly unusual behavior!
She seemed to be okay as I patted her head and checked her for any obvious problems—she even gladly accepted one of her favorite treats. Unsure what was going on, I made a mental note to watch her closely for the next several days. Clarity would come way sooner than I expected.
The next morning, she didn't want to eat anything. She was lethargic, sluggish, and tired. I had a sinking feeling that something serious was going on.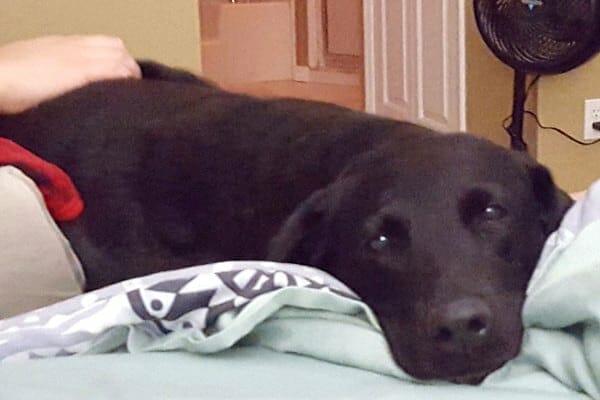 Since hemangiosarcoma in dogs causes blood loss and therefore, pale gums, I moved toward Lulu to check her gums. My heart dropped. Her gums were pale. I loaded Lulu into the car and took her to work with me that day, readying myself for whatever news the day would hold.
Little did I know, surgery to remove a bleeding hemangiosarcoma in her spleen was in the very near future.
What are hemangiosarcomas in dogs?
Hemangiosarcomas are malignant tumors originating in the blood vessels of a dog's liver, heart, and spleen. While scientists don't know what causes these tumors to form, they do know dog breeds like German Shepherds, Golden Retrievers, and Labrador Retrievers have a genetic predisposition to them.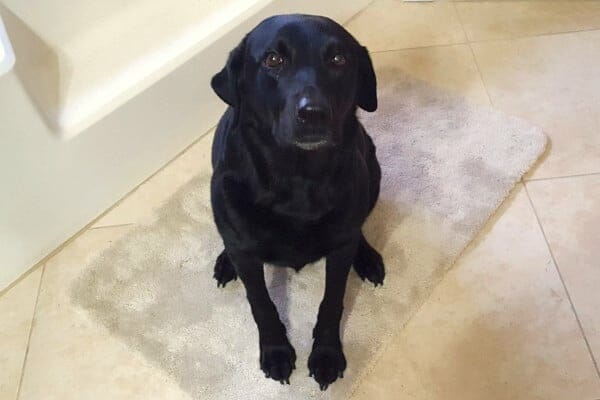 Sadly, hemangiosarcomas are highly invasive and can quickly spread to other parts of the body. Hemangiosarcomas on the skin are also possible, but they have a significantly lower chance of moving elsewhere in the body (metastasizing) and rupturing.
What are the symptoms of a hemangiosarcoma in dogs?
A dog's symptoms will depend on the affected organ and if the disease has expanded to other parts of the body. Hemangiosarcomas of the heart cause symptoms commonly associated with heart disease like coughing, weakness, lethargy, exercise intolerance, and difficulty breathing. These tumors can also cause your dog to collapse and, if the tumor ruptures inside the chest cavity, lead to sudden death.
Symptoms of a hemangiosarcoma in the liver or spleen tend to follow a similar path. They also have the potential to spontaneously rupture and bleed. If a rupture occurs, your dog may excessively pant, appear weak, refuse to eat, and possibly collapse. If not treated immediately, prolonged bleeding in the abdominal cavity will almost certainly lead to death.
How do you diagnosis and treat hemangiosarcoma in dogs?
Diagnosing hemangiosarcoma in dogs begins with a thorough physical exam by your veterinarian. If a tumor of the liver or spleen is large enough, your veterinarian may be able to feel it while palpating your dog's abdomen. Your vet may suspect a cardiac tumor by listening to the heartbeat through the chest cavity.
An ultrasound is one of the best ways to confirm these kinds of tumors, but because hemangiosarcomas appear quickly, routine screenings for early detection are often cost-prohibitive. Other diagnostic tests may hint at the condition, but by themselves are inconclusive.
For example, blood work may indicate mild to severe anemia (low red blood cell count), and X-rays might show an abnormal heart, enlarged liver, or enlarged spleen, but that doesn't automatically equal a cancer diagnosis. Additionally, some tumors are too small to recognize and go undetected until a dog presents with life-threatening symptoms.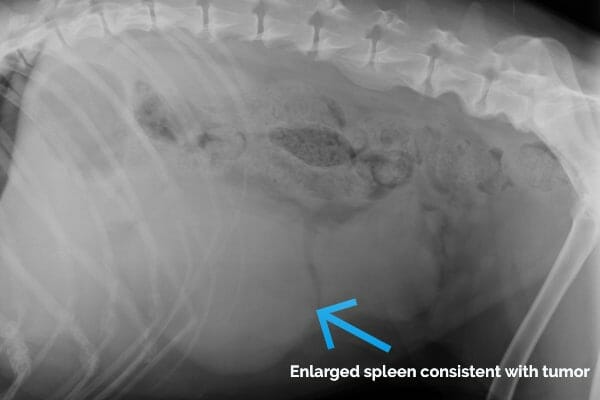 Treatment for hemangiosarcoma in dogs
Dogs diagnosed with a tumor that is suspected to be a hemangiosarcoma have several treatment options. Your vet will be able to explain each option and provide realistic expectations to help you decide what is best for your dog.
1. Surgery
After a tumor is found, your vet may suggest surgery to remove the tumor, preferably before it ruptures. If the tumor is in the spleen, your vet will remove the entire spleen and submit it to a laboratory to reach a final diagnosis.
It is important to send the tumor to the laboratory because not all tumors are cancerous. Hemangiosarcoma in dog is a malignant (cancerous) tumor, but there's always the chance the splenic enlargement is due to a benign tumor or process—which are "good" diagnoses.
It's important to note that tumors on the liver and the heart are more difficult to remove surgically, as are hemangiosarcoma tumors that have spread to other body parts like the lungs, kidneys, brain, and spinal cord.
2. Chemotherapy
Chemotherapy is recommended in cases where surgery is not an option. Dogs with severe anemia will need blood transfusion(s), and all hemangiosarcoma patients need to avoid blood-thinning medications. Twice daily use of a unique herbal supplement known as Yunnan Baiyao may help prevent further bleeding.
Understanding "median survival time"
When determining the outcome for cancer in dogs, veterinarians look at the median survival time (MST). According to the National Cancer Institute, MST is the "length of time from either the date of diagnosis or the start of treatment for a disease, such as cancer, that half of the patients in a group of patients diagnosed with the disease are still alive." In other words, MST represents how long patients (or our beloved dogs) survive with a disease after a certain treatment.
I'm sad to share that dogs with hemangiosarcoma who undergo both surgery and chemotherapy have a MST of six to nine months while those who undergo surgery alone have a MST of two months. Overall, only 29% of dogs diagnosed with hemangiosarcoma survive one year. How long a particular dog survives also depends in part on if their tumor had already metastasized (spread) at the time of diagnosis.
Lulu's outcome
After running a few tests on Lulu that September day, I discovered she was actively bleeding in her abdominal cavity, increasing the odds of a hemangiosarcoma. Because she was severely anemic, surgery was extremely risky. Humane canine euthanasia would have been a loving and logical choice, but I chose surgery to give Lulu one last fighting chance.
A wonderful colleague started a blood transfusion for Lulu and performed her surgery. She found a large tumor on the spleen, the source of Lulu's bleeding. At the time, we didn't know if it was a hemangiosarcoma tumor, but because there were abnormal lesions on the liver also, the likelihood was the tumor was malignant — and the cancer had already spread. We submitted her spleen to the pathology lab for testing. A week later, the lab results confirmed her hemangiosarcoma.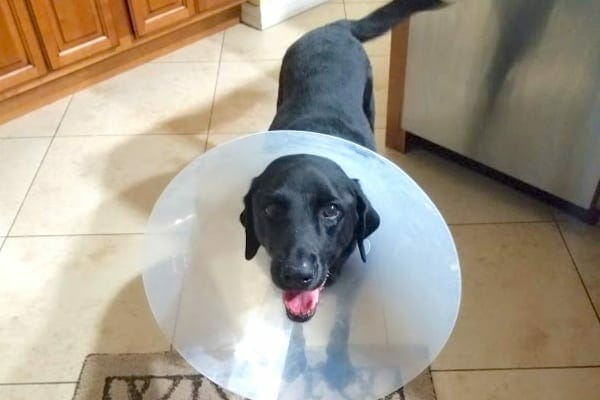 Post-surgery, I chose to forego chemotherapy and focus on Lulu's quality of life. Just like before, I gave her plenty of tasty treats, loads of attention, and gentle games of fetch with her almost every night.
Three weeks after surgery, over the course of several days, Lulu grew increasingly tired, lethargic, and uninterested in her food. My family and I knew it was time. We decided to say goodbye to our beloved dog.
Hemangiosarcoma in dogs
Hemangiosarcoma tumors are among the worst kinds of cancer in dogs. They are difficult to detect on wellness exams and may only become obvious when your dog is in an emergency situation. Hemangiosarcomas usually have a guarded to poor prognosis because they spread quickly or abruptly rupture without any trauma.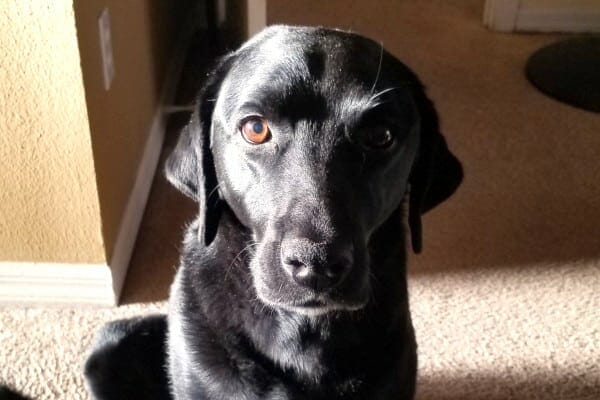 By sharing Lulu's story, I hope you are now better equipped to recognize the signs and seek immediate medical treatment if you find yourself in a similar situation with your beloved canine companion.
While I do miss her dearly, I was happy Lulu could pass peacefully while my family said their goodbyes. She's left nothing behind but treasured memories and tremendous love for all things Labrador.
Additional resources
If you're making the difficult decision to say goodbye to your beloved dog, you may find comfort and answers in these resources:
Dr. Buzby's complimentary ebook: Saying Goodbye to Your Dog: Counsel, Care & Comfort for the Journey
Preparing for your Dog's euthanasia: 10 Thoughts for Peace
Grieving the Loss of a Dog After Euthanasia
Has a diagnosis of canine hemangiosarcoma touched your life?
Share your experience below. Our community is here to offer you comfort and support during this difficult time.