Knowing how to wrap a dog's paw is an important skill for dog parents. Integrative veterinarian Dr. Julie Buzby lists the necessary supplies, gives detailed instructions about how to wrap a paw, and includes some bandaging tips.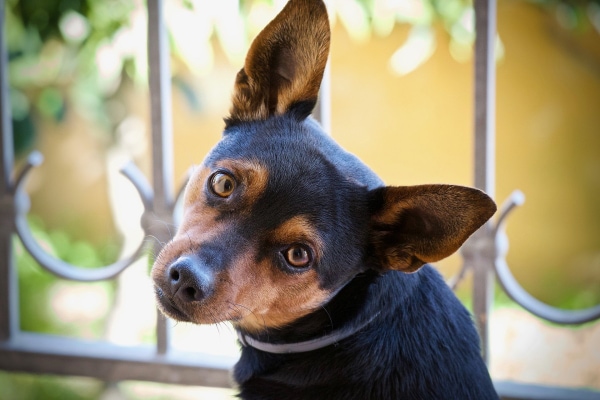 Being a dog parent is extremely rewarding. However, it can be scary at times too. Especially when our beloved dogs injure themselves and we aren't sure what to do.
However, knowing some basic dog first aid can help you remain calm if your sweet pup gets injured. One skill that is useful to know is how to properly bandage your dog's paw.
My friend Shannon found this skill useful when her 8-year-old Jack Russell Terrier named Jackson injured his paw pads. While on a nighttime walk, the normally happy Terrier yelped. Shannon immediately picked up her pup.
Poor Jackson had cut his paw pads on a metal object that had blown onto the dark sidewalk, and his paw pads were bleeding.
Unfortunately, since it was so late at night, my clinic, along with other veterinary clinics, were already closed for the day. Thankfully, Shannon was prepared. She had supplies at home to make a bandage for Jackson and knew exactly what to do for him until she could get him to the vet in the morning.
Should a similar situation ever happen to you, I want you to be prepared. So let's dive into why you might need to bandage a paw, what supplies you need, and how to wrap a dog's paw. I know bandaging can sometimes be tricky, so pay attention to some of my bandaging care and troubleshooting tips at the end too.
Why might a dog need a paw wrapped?
Dogs use their paws for all kinds of activities, including running, jumping, digging, and playing. Thankfully, their paws are durable and designed for these tasks. However, since they don't wear shoes as we do, dogs can injure their paws and nails.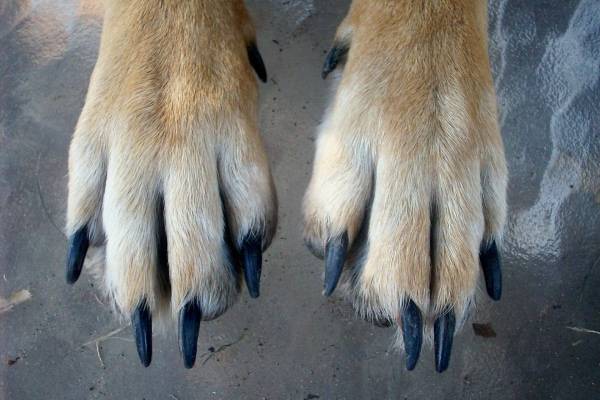 While there are many different situations that may require you to wrap you dog's paw, some of the most common include:
Toenail ripped off
Burnt or scraped paw or paw pad
A puncture wound on the paw
Bite from another animal
As part of first-aid for bee stings or insect bites
Paw pad injury with a flap
Paw infections or nail infections
To prevent your dog from licking the paw
To protect a healing surgery site
What supplies do you need to wrap a dog's paw?
If one of these problems is affecting your dog, it is likely that you will need to wrap his or her paw in a bandage until you can take your dog to a veterinarian. The first step to placing a bandage on your dog is to be sure that you have all the necessary supplies.
The bandage supplies you need may vary a bit depending on your dog's injury. However, I recommend keeping these basic supplies in your dog first-aid kit :
Square gauze pads, non-stick (telfa) pads, or bandage padding
Rolled gauze bandage
Adhesive bandage roll (such as vet wrap, coban, or athletic wrap)
Adhesive tape for bandages
Clean cloth
Warm water with gentle soap, chlorohexidine, or betadine
Antibiotic ointment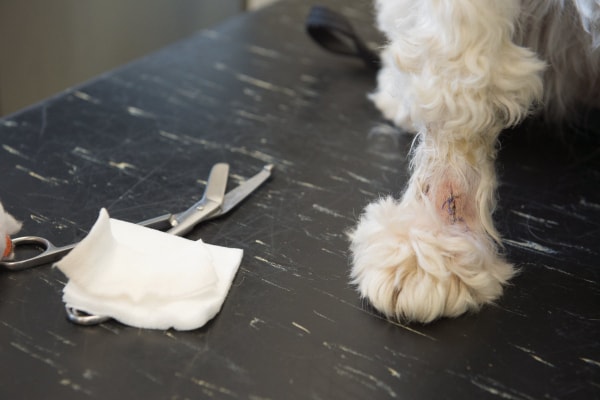 How to wrap a dog's paw
Before wrapping your dog's paw, you should always assess your dog and the injury. If your dog's injury is severe (i.e. deep cuts, profuse bleeding, potential for broken bones, large areas of skin lost, etc.), please contact the closest veterinarian immediately for an emergency vet visit.
Also, if your dog is very painful, it would be best to have someone help you with the bandage. Even the sweetest and most well-trained dogs can be reactive when they are in pain.
If you decide it is safe for you to bandage your dog's paw, you can now follow these steps:
1. Clean the wound
Use a clean cloth to gently clean the affected area. Often moistening a washcloth with warm water will work well. However, if you think there are debris and bacteria in your dog's wound, you may also want to use mild soap, chlorohexidine scrub, dilute chlorohexidine solution, betadine (i.e. povidone iodine) scrub, or dilute betadine solution to disinfect the wound.
2. Dry the area
After cleaning the injured area, ensure that it is dry before you start placing the bandage. It is important not to trap moisture in the bandage, because this could cause further infection and irritation.
3. Place the gauze square on the wound
If your dog has an open wound such as a cut or scrape, place a square gauze pad over the wound. This will give the wound extra padding and protection.
A non-stick pad is particularly helpful for open wounds because it keeps the gauze from getting stuck to the wound. You can apply a layer of antibiotic ointment on the gauze pad, which will also help keep it from sticking and provide some antimicrobial action.
4. Wrap with rolled gauze
Take the rolled gauze and gently start wrapping it around your dog's paw and up the leg, overlapping each layer by about 50%. This is the first layer. Repeat the process again, starting at the paw and moving up the leg.
Having two layers of bandaging helps keep the gauze in place and provides more protection.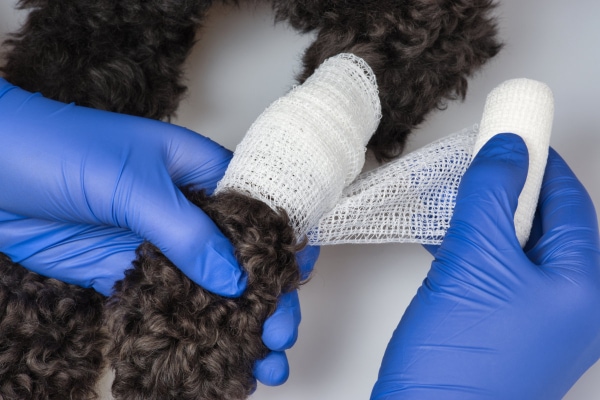 If your dog's middle two toes are not injured, I recommend letting them stick out of the bandage. This will allow you watch the toes for swelling or coolness, two signs that the bandage is too tight.
5. Wrap with adhesive bandage material
Next, take whatever adhesive bandage material you are going to use. Wrap the bandage around your dog's paw the same way as the rolled gauze. Start at the top, go all the way down the paw (leaving the toes exposed if possible), and then coming back up.
It is easy to pull vet wrap, coban, and similar stretchy products a bit too tight when wrapping them. You want to wrap with a mild stretch but should not be stretching the wrap significantly.
Bandaging the paw too tightly can cut off circulation, which is dangerous, so it is extremely important you do not pull the adhesive bandage material too tight.
6. Use tape to secure the end of the bandage
Many types of adhesive bandage material will stick to themselves. But if needed, you can place a small strip of bandage tape on the end of the adhesive bandage material to secure it in place.
Remember that your bandage may vary slightly depending on your dog's injury and the location of the injury. However, these basic steps will apply to most bandages on the paw.
Bandaging tips and troubleshooting
Now that you have your dog's paw bandaged, there a few things that you should keep in mind:
Keep the bandage clean and dry
This is important to prevent infection. If it is wet or muddy outside, place a plastic bag over the bandage when your dog goes outside. Alternatively, you can place a PawZ dog boot over the bandage when going outside for potty breaks. Ensure that you remove the bag or boot as soon as you come inside.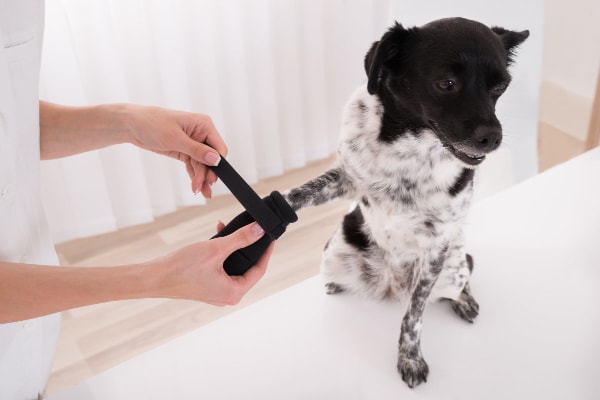 Ensure the bandage is not too tight
If possible, keep your dog's toes exposed. This will allow you to check for swelling that would indicate that the circulation of your dog's paw is being cut off. Normally the two middle toenails of a dog's foot are close together. If you notice them spreading apart, this is a sign of swelling. You should also check the exposed toes for discoloration or coolness, both of which can also indicate the bandage is too tight.
Ensure that you can fit one to two fingers into the top of the bandage. This is a good way to check that the bandage is tight enough to stay up but not so tight that it will cut off circulation. Especially if your dog's toes need to be covered by the bandage, this is a great way to assess bandage tightness.
Accidentally making the bandage too tight is the most dangerous bandaging mistake you can make. In some cases, dogs have even lost toes or a limb to a too-tight bandage. So I cannot emphasize enough the importance of carefully monitoring your dog's foot to ensure the bandage is not too tight.
Keep your dog from chewing the bandage
Don't allow your dog to lick or chew on the bandage. You don't want your dog to accidentally ingest the bandage materials and develop an obstruction in the GI system. Additionally, licking can cause further infection and irritation.
If you catch your dog trying to chew on the bandage, an Elizabethan collar (i.e. E collar or "cone") might help deter him or her. If you do not want to use a cone for your dog, sometimes using a bandage deterrent product (i.e. something that makes the bandage taste bad) can help instead. You can often purchase one through your veterinarian or local pet store. The most common flavor is bitter apple.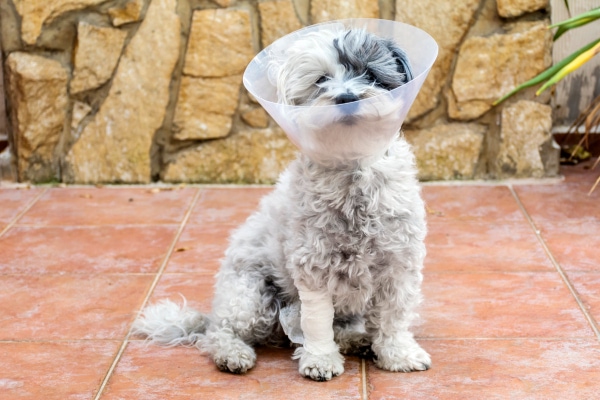 Change the bandage regularly
Unless your veterinarian instructs you otherwise, change the bandage every one to two days. You should also change the bandage if it becomes wet or dirty.
Keep an eye on healing
Every time you change the bandage, be sure to inspect your dog's wound. Sometimes it is helpful to take pictures of the wound so you can monitor the healing process. Your vet may also find the pictures helpful. If it seems like the wound isn't healing as expected, if it develops a yellow or white discharge, or if your dog suddenly seems more bothered by it, consult your veterinarian.
When should I take my dog to the vet?
A properly placed bandage can be very helpful when trying to care for your dog at home. A bandage is a great way to protect a minor cut or injury that may not require a trip to the vet. Bandages also can be useful for more severe injuries. However, it is important to work closely with your veterinarian when you need to wrap a dog's paw, especially for more significant injuries.
When the injury first happens or anytime in the bandaging process, promptly contact your veterinarian if you notice:
Persistent or large amounts of bleeding
Yellow, green, or white discharge from the wound that resembles pus
Redness or swelling around the wound
A potentially broken bone
Swelling of the toes from a tightly wrapped bandage
Signs your dog is in pain such as limping, crying out, or growling when touched
The wound is not healing or is worsening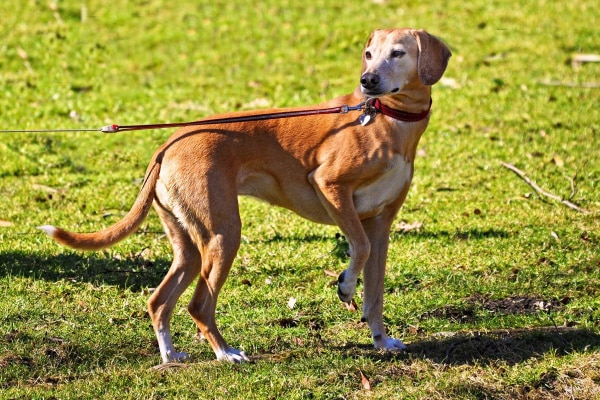 These are the most common reasons that you may need to seek help from a veterinarian. However, anytime you have questions or concerns about your dog, even if they aren't on this list, remember that your veterinarian is your best resource.
Get your first-aid kit ready
The next time you are at the store (or shopping online), I suggest you pick up the supplies that you would need to wrap a dog's paw. Then put them somewhere that you can find them—ideally with the rest of your dog care supplies. That way, should the need arise, you will be prepared to jump into action.
Remember to stay calm, enlist the help of a friend or family member if needed, and follow the steps and precautions I have outlined. You can do it!
Do you have any tips or trick for wrapping a dog's paw?
Please comment below.