Discovering your dog ripped a nail off and is now limping and covered in blood can be distressing. Luckily, integrative veterinarian Dr. Julie Buzby is here to help. She explains what to do if your dog rips a nail, why dogs tend to rip nails off, and how to prevent it from happening in the future.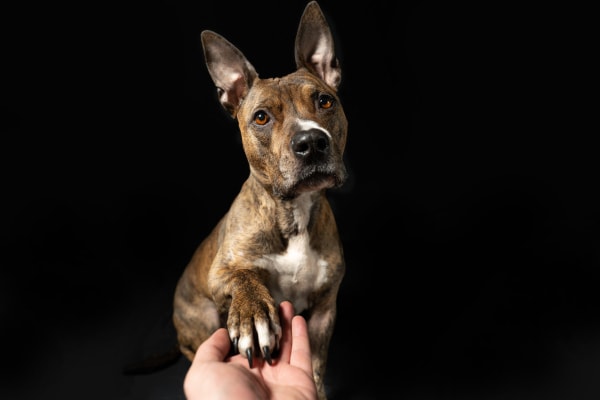 Last week, my family and I joined our dear friends, the Pelcher family, for dinner. They have a very sweet yellow Labrador named Thumper. We were eating a wonderful meal when Thumper limped into the dining room. He had been running and playing with our dog a few minutes prior. Mrs. Pelcher left the table to look at Thumper. I heard her exclaim that his front foot was covered in blood.
I stood up to help her examine Thumper. Sure enough, his front paw was bloody. I quickly discovered that the source was his dewclaw. It was torn and barely hanging on. I assured my dear friend that Thumper was going to be okay and asked her son to grab some cornstarch for me.
I quickly packed the bleeding nail with cornstarch and wrapped Thumper's paw with a napkin. Mrs. Pelcher was very worried and asked if Thumper's torn nail was serious. I explained that toenails can bleed a lot and look scary, especially on a light-colored dog. I went on to reassure her that while Thumper's nail was painful, I could help her manage this injury for the night. Then tomorrow she could bring Thumper into the clinic so his ripped nail could be treated properly.
Unfortunately, it can be very common for dogs to rip nails off just like Thumper did. Thankfully, this is usually a problem that is fairly easy to treat and dogs typically heal well. Let's explore this further!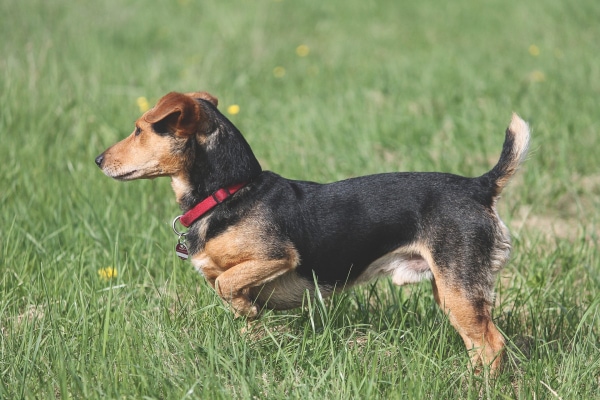 What should you do if your dog rips his or her nail off?
First things first. I'm sure some people are frantically reading this article because their dog is bleeding or limping from a ripped toenail. So let's get you and your pup some help before we dive into the details of how and why nails rip.
Once you suspect your dog ripped a nail off, there are a couple of steps you should take to help your dog. The first four can be done at home, but the last step involves making a vet appointment.
Step 1: Find the damaged nail
The first step is to locate the affected nail. Carefully examine each of your dog's feet to look for the torn nail. Don't forget to look at the dewclaws as well if your dog has them.
How severely your dog tore his or her nail can influence how easy it is to find the broken nail. If the dog has ripped the nail off completely, the nail will be missing, and it is likely that the affected area will be bleeding. However, a loosely attached nail may or may not be bleeding.
Remember to be careful as you look at your dog's foot. Broken nails in dogs can be very painful and sometimes even the sweetest dog will bite as a defense mechanism.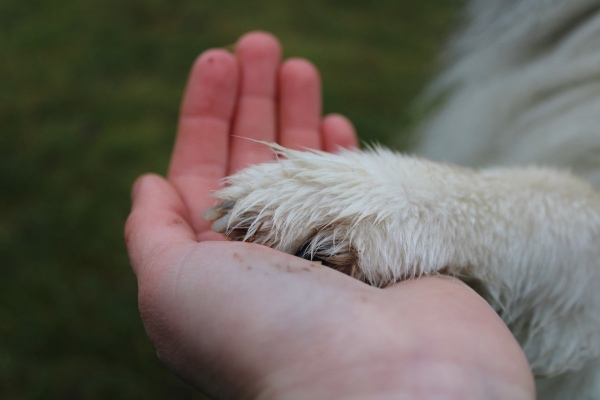 Step 2: Stop the bleeding
Now that you have identified the injured nail, the next step is to stop the bleeding. Gently applying pressure with a paper towel, gauze, cotton ball, or your finger will help.
However, the most effective way to stop the bleeding is to use a styptic pencil or styptic powder. These are antiseptic clotting agents that will help prevent infection as well as stop the bleeding. You can usually purchase them at your local pet store, online, and sometimes from your veterinarian. Dr. Buzby's Nail Trimming Kit also contains a bottle of styptic powder.
If you don't have styptic powder or a styptic pencil at your house, you can use cornstarch in a pinch, like I did with Thumper. It won't help with pain or preventing infection, but it will help the bleeding stop.
Regardless of which you use, ensure you pack a decent amount of the powder or cornstarch onto the broken nail. There needs to be enough to create a layer of protection.
Step 3: Clean the area around the ripped off nail
Once you have stopped the bleeding, carefully clean your dog's broken nail and foot. Use a clean cloth and warm water to gently remove any debris and dirt. It is important to clean the area and keep it clean to help prevent infection.
As you wipe your dog's paw, it is possible that some of the clotting powder will come off too. If this happens, apply more in order to prevent the nail from bleeding again.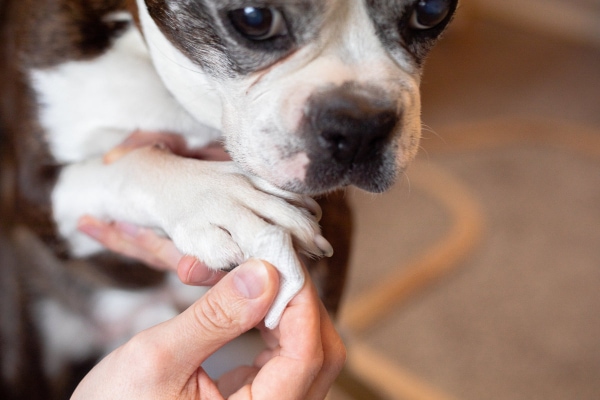 Step 4: Place a bandage on your dog's foot
Finally, depending on the severity of the broken nail, you may need to wrap your dog's paw. If you are wondering how to wrap a dog's paw, the easiest method is to use gauze, bandage material, and bandaging tape. Carefully, wrap your dog's paw with the gauze or bandage material and secure the end of the bandage with the tape.
You will want to make the bandage snug enough to provide protection to your dog's paw and ripped nail without falling off.
However, it is critical to ensure that the wrap is not too tight. Tight bandages can cut off circulation, which may cause significant damage to your dog's paw. You should be able to fit at least a finger or two inside the top of the bandage. If you can't, the bandage may be too tight.
Also, you need to change the bandage every 24 hours. This is important because moisture under the bandage or a dirty bandage could increase the chances of infection. By taking the bandage off, you also can check the color and appearance of your dog's toes. If the toes are swollen, cool to the touch, or discolored, this may indicate the bandage was wrapped too tightly. Contact your veterinarian promptly if you notice any of these changes to the toes at any time in the healing process.
Step 5: Make an appointment with your veterinarian
While a nail injury in dogs doesn't usually require an emergency vet visit the instant it happens, it can be very painful and there is a risk of infection developing. For these reasons, you should always consult a veterinarian in case your dog needs pain medication or antibiotics.
Following steps 1 through 4 will help you keep your dog comfortable until you can get him or her to the veterinarian. However, I want to be clear that they are not a substitute for a trip to the vet or a conversation with your veterinary team.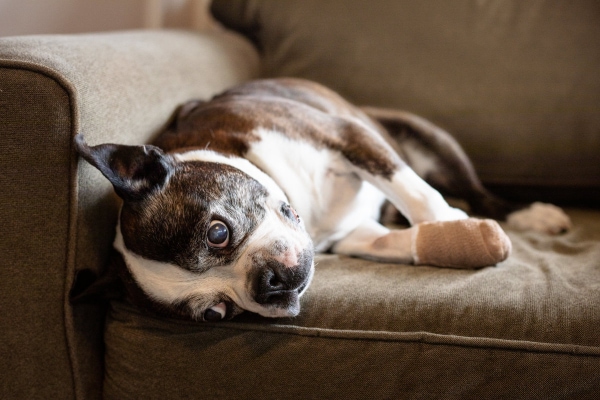 What to expect at the vet visit
When you take your dog to his or her appointment, the veterinarian will likely ask you some questions and examine your dog's injured nail. The veterinarian will base his or her treatment recommendations on the severity of your dog's nail injury and how painful your dog is.
In the simplest injuries (i.e. a crack or chip in the nail or a break that is far from the nail base), your veterinarian will have a veterinary nurse hold your dog. Then, your dog will get his or her nails trimmed to the appropriate length. With this scenario, it is likely that your dog would not need a bandage or any medications.
In other situations, your dog may need the nail removed the rest of the way, especially if it is dangling or broken close to the base. With a loosely attached nail, sometimes the vet can quickly but carefully remove it while your dog is awake.
However, if your dog has severely torn the nail or is very painful, it is possible that your veterinarian will recommend sedating your dog to remove the nail. This is usually a fairly quick procedure, but the sedation is necessary for the safety of your dog and your veterinarian. It also helps prevent your dog from feeling pain or becoming stressed during the procedure.
Medications and monitoring at home
Depending on how severely your dog broke the nail and which nail it was, your vet may prescribe a few days of pain medication. Also, if your veterinarian notices signs of infection, such as redness or discharge from the affected area, he or she may prescribe antibiotics as well. It is very important to follow the directions closely if your vet prescribes any medications for your dog.
Finally, your veterinarian may decide to replace the bandage for extra protection. If so, he or she will give instructions on bandage care. It is possible that your veterinarian will want to see your dog again for rechecks or bandage changes. If at any point you have concerns about how the nail is looking or how your dog is acting, don't hesitate to reach out to your vet.
Why do a dog's toenails rip off?
Now that you know what to do if one of your dog's nails break, we can dive into more of the "hows" and "whys" of torn toenails. Dog toenails are very similar to our fingernails, except dog nails are longer and stick out further past the toes than most human nails. So it is no surprise that a dog can injure or damage his or her toenails much like we can. A dog may rip a toenail partially or completely off, or have cracked, brittle, or bruised nails.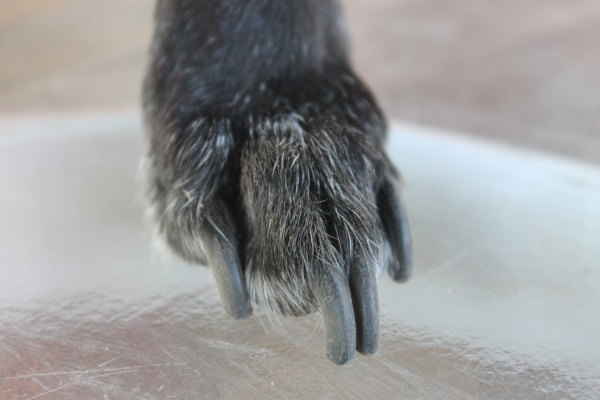 How often have you broken, smashed, or bent back a nail when doing different tasks? The same holds true for dogs. A dog is most likely to tear or break a nail when being active. This means that dogs who play hard, jump on and off furniture frequently, or love to dig in the yard have a higher chance of snagging a nail on something.
If a dog has separation anxiety and digs at the walls, doors, or crate in a panic, it can be easy for him or her to catch and rip a nail. Dogs can also have a bruised nail if someone accidentally steps on their paw or shuts it in a door.
Sometimes nail problems also can occur due to a nutritional deficiency that doesn't allow the nails to form properly, thus making them prone to injury. Affected dogs may have flakey or brittle nails. The nails also might be uneven in length and texture.
What makes a dog more likely to rip off a nail?
The biggest risk factor for dogs to have a toenail ripped off is having overgrown nails. Dog with long nails are simply more likely to tear them or snag them on something. This is one of the many reasons it is so important to keep your dog's nails an appropriate length by trimming them regularly.
Out of all the nails, a dog is most likely to rip off a dewclaw (i.e. the "thumbnail"). Not all dogs have dewclaws. For those that do, the dewclaws can be on the front legs, back legs, or both. They are categorized as being either "loose" or "attached." This refers to how closely the nail is associated with and attached to the paw. Dogs with "loose" or "floppy" dewclaws are more likely to snag them on something because they dangle further from the paw.
Additionally, dogs who have a history of toenail injuries, brittle nails, or abnormal nail growth are also at increased risk of ripping a nail off. This is because the nail is more likely to be weaker and easier to damage. Plus, nails that are growing abnormally may not contact the ground appropriately. This may change a dog's gait and prevent the nail from wearing down normally. The result is a long nail that sticks out at a funny angle and can easily catch on something.
Why do ripped nails bleed and hurt?
In order to understand what happens when a dog rips a toenail, it is helpful to have an understanding of dog toenail anatomy Just like our fingernails, dog toenails have two main parts. The first is the outer, hard sheath that protects the nail. This is the part of the nail that you can see when you glance at your dog's foot. It may be dark or light colored.
The outer shell of the nail protects sensitive inner part of the nail (i.e. the quick). This is where the blood vessels and nerves are located within the nail. It is the part that bleeds when you accidentally clip your dog's toenail too short or it breaks off. The nerves in the quick are also what make a broken or ripped toenail so painful.
What are the signs a dog ripped a nail off?
You can see now that depending on how and where the toenail rips, the nail may look different and your dog may show different signs. Torn toenails generally fit into one of three categories:
Completely detached from the foot—This tends to be the most painful since the quick is fully exposed and may be damaged as well.
Broken but still partially attached—These can still be fairly painful depending on how much quick is exposed and how attached the nail still is. Sometimes the outer shell of the nail can push into the quick and cause more irritation and pain.
Cracked/chipped but firmly attached—Typically, these are the least painful (or not painful at all) because more of the outer nail shell remains intact and there is a lower chance that the quick will be exposed or damaged.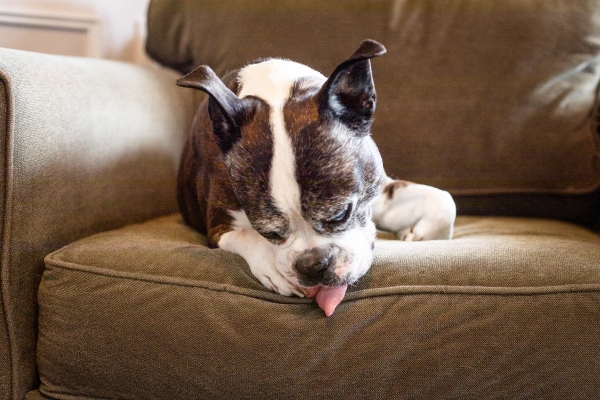 Depending on the severity of the nail injury and your dog's pain tolerance, you may see various symptoms including:
Bleeding from the nail
Excessive licking of the nail or foot
The dog limping
Discomfort when the paw or nail is touched
A raw spot where the nail should be
Swelling/redness around the affected nail
A nail that is sticking out at a funny angle or dangling
If you notice any of these signs, please closely evaluate your dog to find the source of the pain. Should you find a torn nail, follow the five steps outlined above.
How can I keep my dog from ripping a nail off?
Generally, I am in the camp of saying that prevention is the best medicine. I still believe it in this case. However, I also want you to know that accidents happen. Sometimes a dog will catch and break a toenail no matter how careful you try to be. So don't be too hard on yourself if your dog tears a nail off.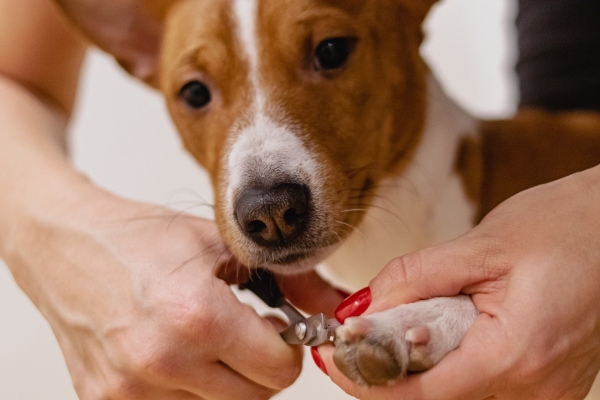 To help reduce the chances your dog will rip a nail off, consider taking the following precautions :
Keep your dog's nails trimmed to the appropriate length—This one is HUGE! Nail trimming doesn't have to be a traumatic ordeal for you and your dog. Please reach out to your vet for help, check out my Ebook "How to Trim Your Dog's Nails Without Blood, Sweat, or Tears" or consider signing up for Dr. Buzby's Nail Trimming Master Class.
Monitor the toenails closely for signs of cracks, peeling, or breaks.
Maintain your dog on a healthy, well-balanced diet.
If your dog is prone to ripping off nails, work with your vet to figure out why it is happening and create a plan to minimize future risk.
Use training methods to reduce digging.
Consult your veterinarian for ideas about helping dogs with separation anxiety (or other types of anxiety) if your dog is ripping nails due to anxiety-related behaviors.
While it won't necessarily help prevent your dog from ripping a nail off, it is also a good idea to regularly practice handling your dog all over. This can help him or her feel more comfortable and confident with you touching his or her paws and toes should a nail injury occur. Additionally, it will reduce the stress of nail trims, vet visits, medication administration, paw bandaging, or other procedures.
Stay calm! You (and your vet) can help your dog!
I know it can be difficult not to panic a little when your dog is painful and bleeding. But should your dog rip a nail, pause for a moment, take a deep breath, and remember the steps we talked about. Then calmly take action and reassure your dog (and yourself) that everything is going to be ok.
As always, please be careful and safe when examining and caring for your dog. Torn nails can be quite painful. And even the best and sweetest dogs can react when they are scared and hurt.
Finally, remind yourself that soon this will be a distant memory. The good news is that ripped nails are not usually life-threatening and typically heal quickly. Together, you and your vet can help your pup's paw feel better in no time!
Has your dog ever ripped a nail off?
Please share his or her story below.