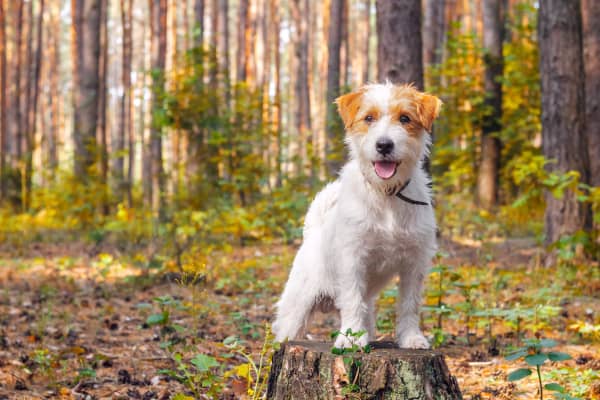 In Part I of this blog series, we covered the five most common tick-borne diseases and what you can do to limit your dog's exposure. And while it's valuable to have a basic knowledge of "the big five," the sinister superstar of the group, Lyme disease in dogs, deserves special attention. Thus, Dr. Julie Buzby, integrative veterinarian and founder of Dr. Buzby's ToeGrips®, dives deep into Lyme disease in Part II of the series. Learn ten facts every pet owner needs to know about this prevalent and persistent disease.
Having practiced for most of my career in central Pennsylvania, which has been dubbed "Lyme Central," I saw dogs test positive for Lyme disease every single day. Whether you live in a Lyme endemic area or not, Lyme disease should be on your radar. If Lyme is prevalent in your region, both your dog and your family are at risk. If Lyme is not prevalent in your area, it may only be a matter of time until it is.
A few years ago, I had the privilege of learning from Dr. Richard Marconi, a professor of medicine at the Virginia Commonwealth University Medical Center, about developments in our understanding and treatment of Lyme disease. The 10 points below are important facts I learned from Dr. Marconi, as well as highlights from recent research.
Ten facts about Lyme disease every dog owner needs to know
1. Dogs all over the world contract Lyme disease.
Lyme disease is not just a U.S. problem. According to Dr. Marconi, there are three variants of Lyme that are rapidly spreading into Canada and Europe—possibly due to migratory birds carrying the infected ticks to far-off places and across the ocean.
Lyme is named for Lyme, Connecticut, and while we typically think of the northeast as being a hotbed for Lyme cases, every state in the country has reported documented cases.
There is a misnomer that because I live in X state, my dog can't have Lyme disease. People make the same mistake, assuming they are safe based on geography. Sadly, nothing could be further from the truth for both dogs and their human owners.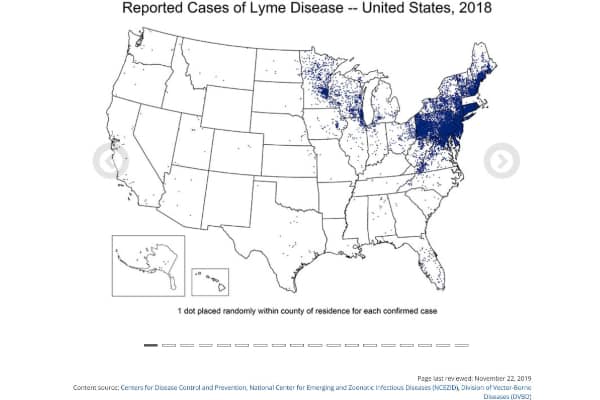 I've heard horror stories of humans having a tough time getting a diagnosis—having to go for a second, and third, and even fourth opinion—because a doctor may think, "We don't see tick-borne disease in this area, so it's pointless to test for it." The reality is that Lyme is rapidly becoming a serious problem throughout the United States and worldwide.
Lyme disease in dogs: the statistics
The Companion Animal Parasite Council (CAPC) is a non-profit organization dedicated to reducing the number of parasites in dogs and cats and reducing the risk of transmitting these parasites and diseases to humans.
Based on research from the CAPC, Dr. Marconi shared there are around 915,000 antibody-positive Lyme disease tests in dogs annually. Let that sink in. There are almost a million positive Lyme tests in dogs every year!
2. Lyme disease exposure in dogs is cheap and easy to diagnose.
What do I mean by "Lyme disease exposure"? I say exposure here because the tests we use to "diagnose" Lyme disease actually detect antibodies in dogs, proving that they have been exposed to natural Lyme infection and their immune system has responded. However, most of these dogs are what we call "assymptomatic"—90% will never develop clinical signs.

While that is great news, recognizing that a patient has been exposed is super helpful to me in caring for their health (present and future). One of the reasons is that dogs with Lyme disease can develop joint inflammation and arthritis that is not readily apparent. Knowing a dog has tested Lyme positive puts me on guard to be hypervigilant about subtle clinical signs.
In veterinary medicine, we are lucky to have what's called the SNAP 4Dx test. This inexpensive test is run with just a few drops of blood and the results are ready in the office within minutes. Additional tests, such as one which measures the dog's antibody levels to a special peptide (C6), are great tools for veterinarians seeking to diagnose and track Lyme positive patients.
Incidentally, nothing like the SNAP 4Dx test exists for humans, so the road to a human diagnosis is often more complicated.
3. Lyme is not transmitted animal-to-animal.
I briefly touched on this last week, but it's worth revisiting: once Lyme infects your dog, your furry companion cannot transmit it to other animals or people (ie. you).
However, if your dog is positive, you are also at risk because you and your dog live and play in the same places. So if your dog tests positive, it's a red flag to indicate that you should be concerned about exposure for you and your family as well.
If you are experiencing symptoms of the human form of Lyme disease, make an appointment to talk with your doctor as soon as possible.
4. You don't have to see a tick to get Lyme disease.
Years ago at a veterinary conference, a lady stood up and asked a pretty common question:
"Wouldn't I see the tick on myself? How can I get Lyme disease if I never see a tick on my body?"
Essentially, she was saying, "I use good hygiene, so there's no way I could ever get a tick-borne disease."
The speaker politely replied, "People rarely see the tick, but it happens—just look at the thousands of cases we diagnose annually in the U.S." About 30,000 cases each year are reported to the CDC; however, the majority of Lyme diagnoses go unreported. It is estimated that 300,000 people contract Lyme disease each year.
A painless bite
One of the reasons this happens is that tick bites are painless. There's no significant irritation right away (though later, inflammation at the site of attachment is common). Tick bites fly under the radar of the body's defenses.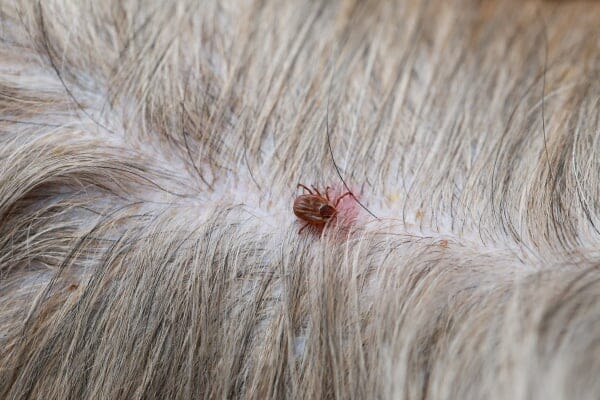 The 48-hour window
Ticks need to feed for 48 hours to transmit Lyme disease. This is why I stressed last week that you need to frequently check yourself and your pets for ticks—particularly after you've been in a high-risk area like grassy fields or woods.
Timing matters immensely. If you remove a tick that has only been attached for a few hours, there's little chance of tick-borne disease transmission.

This is also how tick preventative products work to protect (mostly) against tick-borne disease. Usually the products will cause the tick to die or fall off before the 48-hour mark.

To summarize, just because you've never seen a tick on your dog does not mean that he cannot have contracted Lyme disease. Most of the time we never see the tick that transmits the disease.
5. Lyme disease presents differently in dogs than people.
When you hear the words "Lyme disease," perhaps the thing that pops into your mind is the classic red bullseye rash.
The scientific name for that is erythema migrans, but in dogs the rash is commonly missed since it's hidden under the hair.
If you do see a rash, it will continue to grow because the bacteria, which are called spirochetes (and look like little corkscrews), are literally screwing themselves through the tissue. At some point (scientists aren't sure when or why), the bacteria stops disseminating through the skin, turns, and goes into the rest of the body—the joints and the nervous system. Really no body system is off-limits.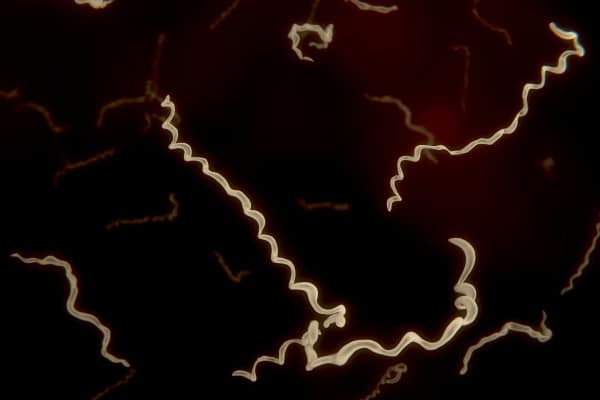 However, Lyme disease symptoms and the progression of those symptoms are quite different between dogs and people. According to Dr. Wendy Brooks of the Veterinary Information Network, "After being bitten by a tick that has transmitted Borrelia burgdorferi, 80 percent of humans will develop a rash and/or flu-like symptoms. In the next few weeks, joint pain ensues with 15 percent of people developing neurologic abnormalities associated with Lyme disease and five percent of people developing a heart rhythm disturbance…At this same point in the infection timeline, dogs have yet to develop any symptoms at all and 90 percent of infected dogs never will."

While this is great news for dogs, don't let your guard down. Dogs who manifest clinical signs are sick, painful dogs, and a small percent can go on to develop a potentially fatal kidney disease called Lyme nephritis, which I explain in point 7 below.
6. Symptoms of Lyme disease can be very serious.
A dog may also test positive for Lyme, but have no symptoms at all. In fact, this is most commonly the case! Clinical signs only develop in 5-10% of infected dogs, but they can be very serious.
Symptoms of Lyme disease in dogs include:
Fever (as high as 103+)
Joint inflammation and pain
Lethargy or ADR (our fancy veterinary term that stands for "ain't doing right" and means that the dog is just "off" without specific symptoms)
Shifting leg lameness (lameness that moves from leg to leg)
Swollen lymph nodes
7. Dogs can develop a life-threatening complication called Lyme nephritis.
A small percentage of dogs (less than 2%) who test positive for Lyme go on to develop a condition called Lyme nephritis. The suffix "itis" means inflammation. Think tendonitis, plantar fasciitis, and bursitis. In this case, the "nephron" refers to the functional unit of the kidney, so we put that all together and see that "nephritis" is inflammation of the kidneys.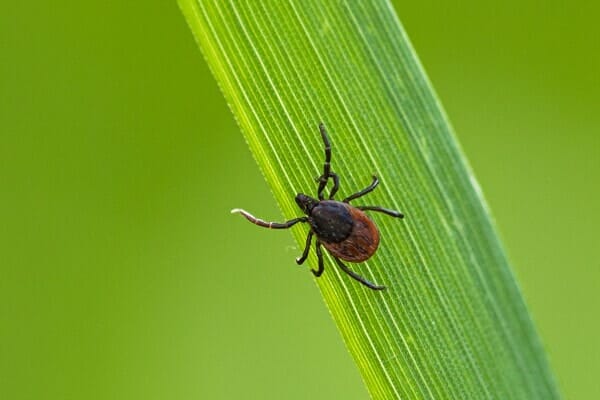 However, this is a unique kind of kidney insult that we believe is related to the way the immune system fights the disease, which causes damage in the kidneys. The prognosis (expected outcome) for these dogs is sadly not good. The majority are euthanized because they go into sudden, progressive, renal failure. This is most commonly seen in Labrador and Golden Retrievers, but we do not know if this is a true breed-specific statistic or if it's just that those are the most popular breeds of dogs living at-risk lifestyles and, therefore, are overrepresented.
Even if "classic" Lyme nephritis is not diagnosed, one research study reported that dogs who tested positive for Borrelia burgdorferi exposure had a 43% increased risk of later developing some form of chronic kidney disease later in life. This is an intimidating statistic that should motivate any dog owner to take tick control seriously and vaccinate for Lyme disease for dogs who are at-risk. It's also why, as a veterinarian, I closely monitor a Lyme positive dog's urine for protein on an ongoing basis.
8. Dogs with Lyme disease are not protected against future Lyme disease.
This is sometimes a hard concept for clients to understand because it's unlike diseases which play by traditional rules—once you've had it, you are immune. Think chickenpox.

On the contrary, infection with Lyme does not create protective immunity, so a dog can contract Lyme disease more than once. This is called superinfection.
Therefore, if your dog has tested positive for Lyme disease in the past, you are not off the hook. Talk with your vet about protecting your dog against another Lyme infection.
9. There is a vaccination for Lyme disease in dogs.
Just like any disease or illness, preventing it is a million times better than treating it. And although there's no Lyme vaccine on the market for humans, there are several types of vaccinations for Lyme disease in dogs.
Types of Lyme vaccinations
Bacterin vaccines
The original type of Lyme vaccination is called a bacterin vaccine. Scientists take the spirochete bacteria that cause the disease and, essentially, grind them up. They don't use a blender, but it's that same concept.
When the dog receives the vaccine, he gets everything in that bacteria—the good, the bad, and the ugly. It's a bacterial soup and not a very "clean" vaccination.
Side effects are common with this type of vaccination because there are more proteins for the body to react to than other types of vaccines. I think you'd be hard pressed to find a veterinarian who considers this type of vaccine to be superior to the next two options.
Subunit vaccines
The next type of vaccine is subunit vaccines. Scientists use technology that is more refined to make recombinant vaccines.
They take a sub-portion of highly purified proteins and use those specific proteins to create an immune response—not hundreds of proteins like the bacterins. These are very "clean" vaccines, and when I owned my practice, I used this type of vaccination with good results.
The theoretical downside to these subunit vaccines is that they only target one specific outer surface protein of the Borrelia bacteria; however, the jury is still out on whether that level of simplicity is optimal or could be improved upon.
The Vanguard® crLyme vaccine
Dr. Marconi and his colleagues created a new vaccine in 2016, called the Vanguard crLyme, by joining together different types of proteins. In fact, the C and the R in the name stand for the vaccine's "hybrid" status.

Vanguard crLyme contains proteins from a wider variety of outer surface protein types than other brands of Lyme vaccinations. This is designed to provide more thorough protection and was based on research that recommended diversity in the design of Lyme disease vaccines.
The USDA-approval trial for Zoetis' Vanguard crLyme consisted of 96 dogs. The dogs were exposed to ticks from Massachusetts—half received the vaccine and half received a placebo. Forty-seven out of 48 dogs who were given the crLyme vaccine later tested negative for the disease after being exposed.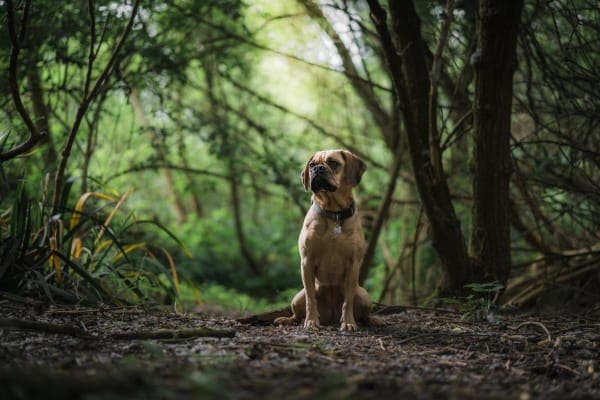 If you're wondering about #48—he tested positive on day 30 of the blood testing. But on day 60, and again on day 90, he tested negative. This study was followed by a field safety study of 620 dogs.
If your veterinarian recommends the crLyme vaccine, even if your dog has been previously vaccinated for Lyme with another brand of vaccine, your furry companion needs two vaccinations, 3 weeks apart, to be fully immunized. Annual revaccination is recommended, which is true for all of the Lyme vaccine options (no matter the manufacturer).
From the trenches…
It seems like there is active debate among veterinary professionals between the two most popular vaccinations: Merial/Boehringer Ingelheim's Recombitek Lyme (subunit vaccine) or Zoetis' Vanguard's crLyme. Dr. Mary Zee, who practices in the Lyme endemic state of Connecticut, says, "CrLyme is clear. I like it. Compared to all other Lyme vaccines I have used in the past, I have seen the least reactions." Other veterinarians tout the safety and efficacy of the Recombitek Lyme vaccine and have no desire to switch to something new when they're happy with their current results.

Although nothing in the field of veterinary medicine is 100% perfect for 100% of dogs, both vaccines seem to be safe and do their job well.
10. Your vet is your best ally for preventing Lyme disease in your dog.
One thing all vets agree upon is this: the best protection against tick-borne disease is not vaccination but diligent tick control. As we discussed in Part I of this blog series, ticks often carry more than one disease, and vaccines do not exist against most of them.

I encourage you to talk to your veterinarian about your dog's Lyme risk. I would never want recommend something different than what he or she believes to be best for your dog. But if hasn't already been resolved, this question needs to be addressed at your dog's next wellness visit:
Does my dog need a Lyme vaccine?
Lyme vaccine is considered a non-core vaccination. This means that it's not recommended for all dogs, unlike the core vaccines which protect against common diseases like parvo, distemper, and rabies.
If you live in an apartment in New York City, and your dog goes out to the curb to the bathroom and back in, I'm not going to recommend a Lyme vaccine for your dog. Even a dog that lives in suburban America, but spends time exclusively on a well-manicured lawn, may not need the vaccine.
Related podcast: Dog Vaccinations: Everything You Want to Know.
I wholeheartedly believe that vaccination protocols should be entirely based on individual risk. This is why it's imperative for you to understand your dog's lifestyle, investigate the prevalence of the disease in your region (but seek to stay ahead of the curve!), and make an informed decision based on your veterinarian's recommendations.

One word of caution is this: don't forget to consider your dog's travel history and potential travel plans when determining whether or not your dog is at risk for Lyme disease.
Hope for a world without Lyme disease in dogs—and people
I'm delighted and grateful that scientists, veterinarians, and doctors are making progress in the fight against Lyme.
I hope that in the next decade, the same technology we're using for Lyme vaccination in dogs will be available and effective in people. I truly believe the stage is set. Wouldn't it be wonderful if, in just a few short years, Lyme disease is an illness of the past for both dogs and humans?
Do you have firsthand experience with Lyme disease?
Please share your story in the comments below. We'd love to hear how you've faced—and overcome the all-too-common illness.