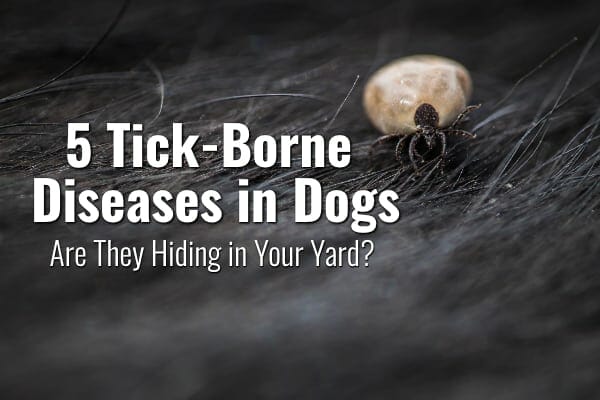 If your dog loves the outdoors, it's crucial to know the five main tick-borne diseases in dogs and how to limit your furry friend's exposure. In this week's post. Dr. Julie Buzby, an integrative veterinarian and founder of Dr. Buzby's ToeGrips®, shows you how to enjoy the fresh air and sunshine while keeping a wise eye on the silent — and oft-hidden — risks of tick-borne diseases.
Few sights warm your heart more than seeing your dog explore the outdoors, fetch a favorite toy, and roll around on the green grass simply enjoying life (if only we all could be as exuberant!).
And while outside play and exercise are always beneficial for your dog, there may be an unseen danger lurking outside your back door — one too important for you to ignore: ticks and tick-borne diseases.
How tick-borne diseases happen
Tick-borne diseases in dogs happen when an infected tick attaches itself to your dog, feeds on his blood, and then transmits the infection to your dog's body. And it's not just ticks — mosquitoes, sandflies, and blackflies transmit over a dozen infections, known as vector-borne diseases. Both animals and humans are susceptible to these diseases.
As veterinarian who practiced for over a decade in a Lyme endemic part of Pennsylvania, I've seen hundreds of dogs sickened by tick-borne disease. So it's high on my list of concerns for my patients, particularly in the warm spring and hot summer months. To that end, I'm always reading and researching the latest information to educate myself and my clients on how to keep their furry companions healthy and safe.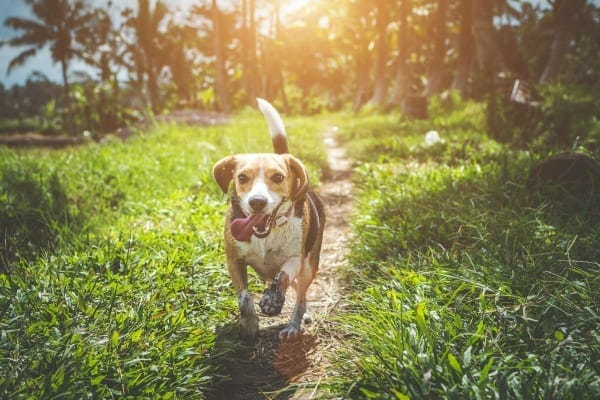 If your dog loves the outdoors, you need to understand the basics of these illnesses in dogs. To help you do that, I've compiled a crash course on the five main tick-borne diseases in dogs and what you can do to limit your dog's exposure.

You may be asking yourself, "Does this blog even apply to me? I'm faithful in giving my dog's monthly flea and tick control, so don't I just earn a free pass?"

The answer is "no." I've diagnosed countless dogs with tick-borne diseases whose owners were religious about their flea and tick preventative. Don't get me wrong—it's a very important part of keeping your dog protected, but it's not a guarantee.
5 most common tick-borne diseases in dogs
If you're like most, Lyme is the first disease to come to mind, but there are other debilitating and potentially fatal tick-borne diseases. Let's first discuss Lyme and then move on to the other lesser-known diseases.
1. Lyme disease
Lyme disease is the most well-known and widespread tick-borne disease — comprising nearly 82% of all vector-borne illnesses.
Blacklegged ticks, also known as deer ticks because of their preferred host, spread the disease. They hide out in tall grasses, woods, shrubs, and weeds waiting for unsuspecting passers-by.
Symptoms of Lyme disease in dogs
The vast majority of dogs who are infected with the bacteria that causes Lyme disease will actually never show symptoms. However a small percentage of dogs become sick, sometimes very sick. Symptoms of Lyme disease in your dog may surface weeks or even months after infection. Symptoms include:
Fever
Joint inflammation
Recurrent lameness
Lethargy
Loss of appetite
Swollen lymph nodes
Interestingly, the dog often goes lame in the leg nearest the tick bite. Then joint inflammation leads to swelling and lameness that can migrate from one leg to another — a hallmark sign of bacteria moving through the body. In its most severe form, Lyme disease can impact the kidneys and quickly become fatal.
Prevention of Lyme disease in dogs
Particularly, if you live in a heavily-wooded area or frequent wooded trails and parks, keep in mind the following:
Make it a habit to check your dog for ticks before heading home. Look for unattached ticks on your dog's fur, and run your fingers along your dog's skin to check for any small bumps
If you see or feel a tick, remove it correctly. Swift removal of an attached tick is the best way to prevent Lyme disease.
It is thought to take 24+ hours of attachment (feeding) for a tick to transmit the disease; therefore, if you remove that tick within that time frame, Lyme disease transmission may not happen.
You cannot contract Lyme disease (or any other tick-borne disease) directly from your dog. However, it's always a good idea to check yourself and your family for ticks after being outdoors. The same ticks that infect dogs can infect you too.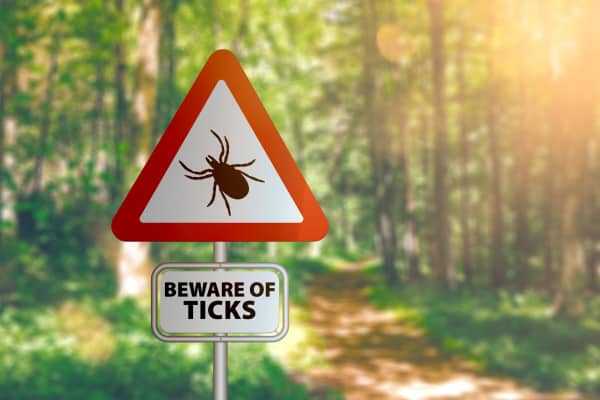 One of the biggest myths I encounter about Lyme disease is that it's only found in certain areas of the country. This is patently untrue; there are ticks in every state in the U.S.
While not all ticks carry Lyme, no one should be lulled into a false sense of security by thinking there is no chance of Lyme in your neighborhood.
Learn about the prevalence of vector-borne diseases in your state by visiting the CDC's website Vector-Borne Disease in the United States.
Like most health issues, early detection and treatment is vital. Discuss appearance of suspicious symptoms with your veterinarian as soon as possible.
Please talk with your veterinarian about routine flea and tick prevention and remember to check your pet for ticks after you visit marshy, wooded, or grassy areas.
For more information on this prevalent disease, please check out part 2 of this blog post series, Lyme Disease in Dogs, for a thorough discussion of diagnosis, treatment, and Lyme vaccination options.
2. Ehrlichia
If you've never heard of Ehrlichia (pronounced ur-LICK-key-uh), you're not alone. In contrast to Lyme disease, Ehrlichia is a virtually unheard of tick-borne disease in dogs, most commonly caused by a bacteria called Ehrlichia canis.
Named after Dr. Ehrlich who first reported the distinct bacteria, the brown dog tick and lone star tick (easily identified by a white dot on its back) spread the disease. Both tick species can serve as hosts to millions of the Erlichia organisms that must live in cells in order to survive.
There are three types of Ehrlichia presentations:
Acute Ehrlichia
Initially mimicking Lyme, decreased appetite, fever, and lethargy characterize Ehrlichia in its acute form.
Where acute Ehrlichia differs from Lyme is in the changes it causes to a dog's blood profile. Erlichia results in low platelets — the type of blood cell responsible for clotting — and can lead to bruising, nosebleeds, and blood in the urine. Often dogs with this disease have low red and white blood cell counts.
Subacute Ehrlichia
When a dog shows no outward signs of illness, but tests positive for the disease, a vet may suspect subacute Ehrlichia. A SNAP test — an inexpensive blood test also used to test for heartworm disease — and a test to determine low platelets confirms this diagnosis.
Chronic Ehrlichia
Finally, there is the chronic form of the disease.
Dogs with chronic Ehrlichia will have low red and white blood cell counts, weight loss, anemia, potential bleeding, and kidney damage.
Studies show that dogs exposed to Ehrlichia have a 300% increased risk of developing kidney disease later in life. Sadly, kidney disease can only be managed not cured. It will eventually be fatal even with extended disease management.
3. Anaplasmosis
Like Ehrlichia and Lyme, anaplasmosis is transmitted via a tick bite.
Similar to Lyme disease, anaplasmosis takes about 24 hours for disease transmission to occur, and it bears similar symptoms:
Lameness
Lethargy
Fever
Diarrhea
Vomiting
Respiratory difficulty
As with other forms of tick-borne disease in dogs, anaplasmosis transmission and infection may present no outward symptoms. Only a blood test can confirm diagnosis.
It's interesting to note the breeds that most commonly contract anaplasmosis are Labrador Retrievers and Golden Retrievers. This is also true for Lyme. Whether this is due to the popularity of these breeds, a genetic predisposition, or overrepresentation in studies has yet to be determined.
4. Babesia
Commonly diagnosed by looking at a blood smear under a microscope, Babesia is a tick-borne disease that infects the red blood cells. The typical symptoms associated with babesia are anemia, weight loss, fever, and low platelet and red blood cell counts.
Additionally, some dogs will have red or brown urine due to the breakdown of the red blood cells flushed out through the kidneys via the urine.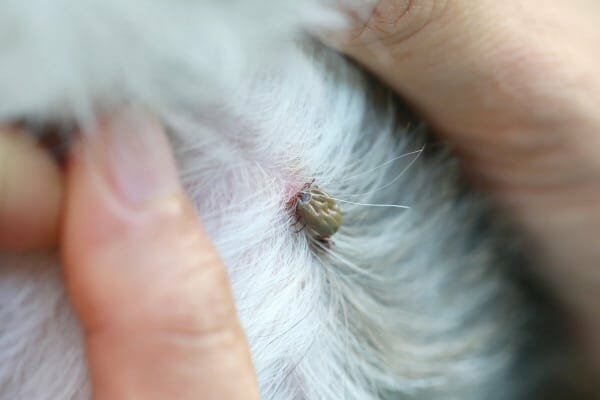 Dogs who recover from babesia are what we call "carriers" and may be infected for the rest of their lives — even without symptoms. As with Lyme disease, a dog successfully treated for babesia is not disease-free; the disease simply goes dormant in the tissues.
It is extremely difficult to kill this tiny parasite, which often hides in joint capsules and the tissue of the spinal cord. Unfortunately, babesia and Lyme can become active again at any time—a phenomenon which doctors refer to as recrudescence.
Even though a dog may go on to live a healthy, normal life, the parasite will always be present in his body.
It's important to note that although humans can contract babesia, the species that infects humans is different from the type that affects dogs.
5. Rocky Mountain spotted fever
Despite its name, Rocky Mountain spotted fever (RMSF) is not limited to the Rocky Mountain range. Interestingly, RMSF is most prevalent in the southeastern and Gulf Coast states but present in every other state as well.
Like Ehrlichia and babesia, RMSF causes fever, decreased appetite, vomiting, bleeding, swollen lymph nodes, and joint and muscle pain.
Additional signs of RMSF include breathing difficulties and neurologic symptoms.
Diagnosing Rocky Mountain spotted fever
To diagnosis RMSF, I look for low red blood cells, platelets, and RMSF antibodies. A couple of weeks later, I take another test and look for a fourfold increase in antibodies. The rise in antibodies indicates that white blood cells are fighting an active infection.
Once again, you can't contract RMSF from your dog, but humans are capable of getting it. I frequently remind my clients your dog is not going to infect you — ticks are what infect you. But if your dog has been exposed, you likely have been too.
3 steps to prevent tick-borne diseases in dogs
While tick-borne diseases are serious and can be fatal, you don't have to stop enjoying the outdoors with your dog. By following these three steps, you can limit your dog's exposure, and keep him healthy — and totally preoccupied with his frisbee, ball, or squirrel chasing.
1. Talk with your veterinarian about tick-borne disease prevention.
I am a huge proponent of flea and tick control medications. There are many effective products on the market, so ask your veterinarian what he or she recommends to determine the best choice for your dog.
With a three-month supply of medication averaging about $50, prevention is a far less expensive option than treatment for tick-borne illness.
2. Check, check, and check again.
A tick, lurking on a blade of grass, can sense your dog's presence. So how does a tick know there's a delicious meal passing by?
Ticks and other insects like mosquitoes are living carbon dioxide detectors. Once CO2 is detected, ticks capitalize on opportunity. They "reach out" and snag the nearby host with their front legs. Then they use the hook-shaped tip of these legs to hang on, climb up, and dig in.
That's why it's so important to be diligent in checking your dog for ticks after exposure to high-risk environments. Remember, in many cases, removal of the tick before the 24-hour mark can prevent transmission of the disease.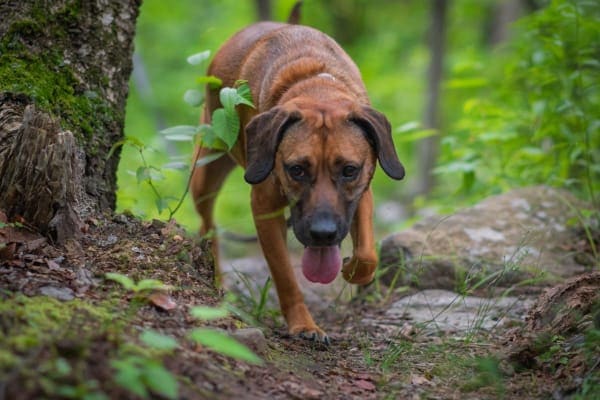 The CDC recommends looking for ticks in the following areas:
In and around the ears
Around the eyelids
Under the collar
Under the front legs
Between the back legs
Between the toes
Around the tail
If you find a tick, there is a right (and wrong) way to remove it. Ticks have a structure on the front of their head called a hypostome. A hypostome is like a harpoon near the tick's mouth. It allows the tick to dig into the host's tissue for feeding.
This is part of the reason why it's so challenging to remove ticks. They attach like a fish hook lodged in your hand. It's so difficult to get out because of the barbing. Likewise, the barbed hypostome embeds right into the skin.
As if that weren't bad enough, ticks also secrete a substance called cementum from the tip of the hypostome. Cementum, as its name implies, acts like a glue to further attach the tick to the dog.
Gentle removal is key. While you can remove a tick with household tweezers, I prefer to use a simple tool specifically designed for tick removal, such as my personal favorite—the "Ticked Off" tick remover.
3. Know the symptoms of tick-borne diseases in dogs.
Knowing the different forms of tick-borne diseases in dogs puts you at a tremendous advantage. Because you're reading this article, you're off to a great start. Early detection, early diagnosis, and early treatment almost always means a better outcome for your loyal companion.
Enjoy the outdoors with one eye on the risks
Don't give up your dog's favorite past time just because uncertainty lingers outside your door. Keep one eye on the risks and both eyes on your beloved dog. I'm pretty sure he wouldn't want it any other way!
What is your dog's favorite outdoor activity?
Share in the comments below. We'd love to hear!