A recessed vulva in dogs may only be a cosmetic problem for some dogs. But in some cases it also can contribute to urinary tract infections, vaginitis, and superficial skin infections. Integrative veterinarian Dr. Julie Buzby is here to explain. Discover how to recognize a recessed vulva (i.e. hypoplastic vulva), when surgery (vulvoplasty) may be the optimal treatment, and what you can do to help prevent secondary issues for your dog.
My client, Mrs. Jefferson, adopted a 6-year-old German Shepherd, Nova, and brought her in for an appointment. When I asked how things were going at home, I could see Mrs. Jefferson was stressed. She explained that Nova was house-trained when she was adopted.
However, over the past week, her dog had started having accidents in the house, even if she had just been outside. Mrs. Jefferson also noticed that her dog was licking her hind end more than normal.
Overall Nova appeared to be an extremely healthy and happy-looking girl. But while I was examining her, I did notice the dog had a recessed vulva. My client was quite surprised when I told her this may have been contributing to her dog's recent accidents in the house.
What is a recessed vulva in dogs?
A recessed vulva is a common problem in female dogs—especially those who are overweight. Also known as a hypoplastic vulva, hooded vulva, or juvenile vulva, it can affect any dog breed. However, it tends to be more common in medium to giant breeds. Also, there may be a genetic component.
What causes a recessed vulva in dogs?
A recessed vulva in dogs occurs when the conformation of the vulva is abnormal. More specifically, a recessed vulva is one that is tucked up further between the dog's hind legs and/or buried by the skin folds that surround the vulva. This is in contrast to a normal dog where the vulva is fairly distinct when looking at the dog from behind, especially if the dog has short hair.
Other than appearing different visually, a hooded vulva in dogs may or may not cause any issues. In fact, most dog parents do not even know that their dog has a recessed or juvenile vulva until a veterinarian discovers it during a physical examination. Sometimes it is an incidental finding. But in other cases, the recessed vulva can cause other problems that may prompt a vet visit.
Before we go any further into the specifics of recessed vulvas in dogs, I want to run through some relevant anatomy to ensure everyone is on the same page.
The word "vulva" denotes the cone-shaped haired skin that sits between a female dog's hind legs. Inside the vulva is the opening of the vagina. Plus, the external urethral opening lies on the floor of the inside of the vulva. The vulva is the common exit for products from the urinary tract (urine) and the reproductive tract (bloody discharge or puppies).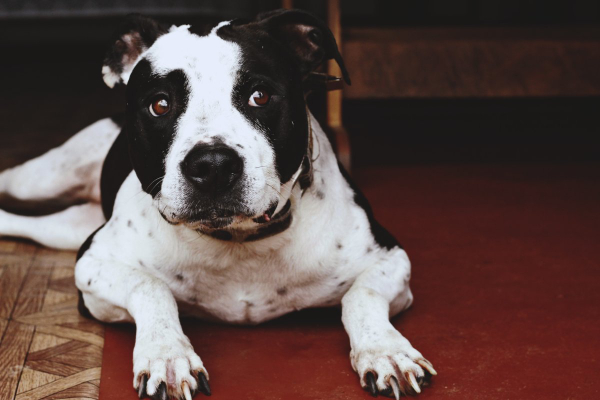 What are the signs of a recessed vulva?
To understand the signs of a recessed vulva, first we need some basic anatomy of the vulva. This can help predict various conditions that may occur because of a recessed vulva.
The biggest issue is that the folds of skin around the vulva can trap urine, debris, and bacteria in the vulva and skin folds around it. As a result, a recessed vulva can lead to skin problems, vaginitis, and urinary tract infections (UTIs) in dogs. Each of these conditions has slightly different symptoms.
Inflamed skin
Inflammatory skin disease tends to be the most common symptom in only mildly affected dogs. This might show up as red, irritated skin which results in scratching and excessive licking of the area.
Skin infections
As inflammation progresses, it may develop into a skin infection (i.e. perivulvar dermatitis). This is especially likely to happen in dogs who already have allergies or skin disease, but can occur in any dog.
These skin infections are very similar to those that dogs can develop in other places, like their ears (i.e. otitis in dogs), armpits, or belly. Due to the excessive skin folds, the vulva is a moist, warm environment that is ideal for bacterial and yeast growth. One or both of those microbes can cause a skin infection.
Unfortunately, this issue tends to snowball. This is because scratching and licking breaks down the skin's natural barrier, which can lead to further infection and inflammation. This intensifies the itchiness, which leads to more licking and scratching, which only continues to worsen the moist dermatitis.
Vaginitis
As bacteria continue to live on the surface of the dog's vulva, they can eventually migrate up into the vagina, causing vaginitis (i.e. inflammation of the vagina). Signs of vaginitis include:
Excessive licking of the vulva
Staining/color change of hair around the vulva
Scooting on the floor
Foul odor
Urinary tract infections
The infection can also progress to a female dog's urinary tract since the opening of the urethra is located in the vulva. If this happens, the resulting urinary tract infection can cause signs such as:
Inappropriate urination
Excessive urination
Straining to urinate
Blood in the urine
A change in urine smell or color
These symptoms may give you a starting point. But as with any problem or disease, the clinical signs will vary with every dog. If you suspect that your dog may have a recessed vulva or a problem secondary to it, please consult your veterinarian.
How is a recessed vulva diagnosed?
During a physical exam, your vet will evaluate the conformation of your dog's vulva. Then he or she can decide whether or not your dog has a recessed vulva. No further diagnostics are needed to diagnose a hooded vulva in dogs.
However, your vet may recommend a variety of additional diagnostics if he or she suspects the recessed vulva may be causing secondary problems.
In order to diagnose skin infections, your veterinarian may use a skin cytology or a skin culture.
For a cytology, the vet will collect cells and debris from the surface of the skin. Then he or she will examine the collected material under a microscope to look for bacteria or yeast. If an infection is present, a culture and sensitivity test may be needed to guide antibiotic selection.
If your vet suspects your dog has a UTI, he or she may start with a urinalysis. This test will look for red blood cells, white blood cells, and bacteria in the urine. A urine culture and sensitivity test can help with choosing the appropriate antibiotic.
Additionally, your vet may suggest an X-ray to look for bladder stones, an ultrasound to look for bladder cancer in dogs, or bloodwork to assess your dog's overall health.
What is the treatment for a recessed vulva?
Once the vet diagnoses your dog with a recessed vulva, he or she will discuss what—if anything—should be done about it.
If the hooded vulva is an incidental finding on the physical exam and the dog is asymptomatic, the plan might simply involve watching for signs of skin infection, vaginitis, or urinary tract infections.
If the dog has one of these secondary problems at the time the vet diagnoses the recessed vulva, then the vet will recommend a treatment plan specific to that problem. This may include oral antibiotics to treat a skin or urinary tract infection. Treatment may also include special medicated shampoos, mousses, sprays, or wipes if your dog has a skin infection.
For mild cases, a hooded vulva may be improved with weight loss. Fatty tissue in the perineum (the area between the vulva and anus) can cause deeper skin folds around the vulva. Losing weight may help to minimize the appearance and clinical signs of a recessed vulva in some dogs.
In a dog with a severely recessed vulva that is causing secondary issues, surgery is usually the most recommended treatment option. This surgery is called an episioplasty or a vulvoplasty surgery.
Vulvoplasty: Surgery for dogs with a recessed vulva
Think about vulvoplasty in dogs as medically necessary plastic surgery. In this procedure, the veterinarian removes the extra skin around the vulva in a crescent moon shape. Suturing the incision back together tightens the remaining skin, which pulls the vulva up and out.
To see a vulvoplasty dog before and after surgery, check out the photos below of one of my colleague's patients.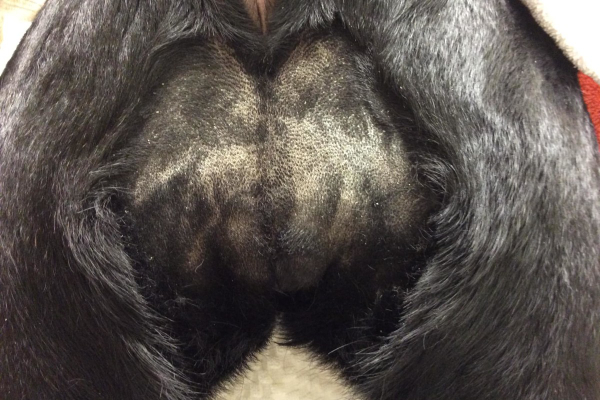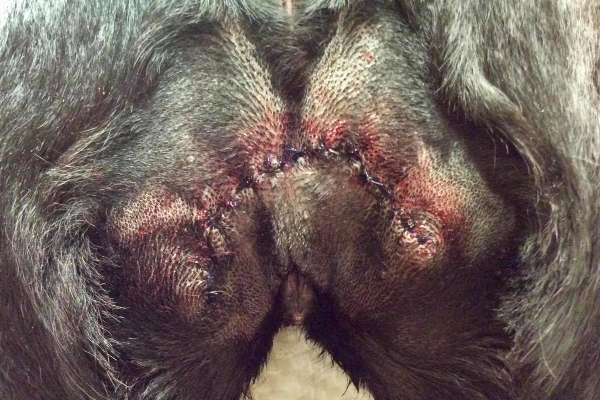 Dog vulvoplasty aftercare
If your pup has been diagnosed with a hooded vulva and surgery is planned, you may be wondering what post-op care looks like. How painful is vulvoplasty for dogs? How long before she can go back to normal activity?
After canine vulvoplasty surgery, the recovery time is usually about 10 to 14 days. During this time, it is important to follow your veterinarian's directions. One important step is administering the pain medications and anti-inflammatories as directed so your dog can heal comfortably.
Although it may look gruesome in the photo above, vulvoplasty in dogs is not a particularly painful procedure. The veterinarian performing the surgery is only cutting skin and fatty tissue, so they don't need to disturb any muscle layers. While I certainly send home all my vulvoplasty dogs with post-op pain meds, I don't consider this procedure more painful than, say, a spay.
For dog parents, a very important post-op care consideration is keeping the incision clean and dry during the healing period. This means the dog should not have baths, go swimming, or lick the incision.
Many dogs are itchy and licking this area before surgery due to skin infections and inflammation; stitches only make them more prone to licking! The safest way to protect the incision is for the dog to wear an E-collar (i.e. cone).
Also, it is very important to keep your dog calm. If she is too playful after surgery, this may pull on the sutures and irritate the incision. When this happens, the incision can open up and heal inappropriately.
Dog vulvoplasty success rate
The good news is that for many dogs, if they heal properly, a vulvoplasty is curative. A study published in the Journal of the American Animal Hospital Association showed that 82% of dog parents indicated the results of a vulvoplasty were at least satisfactory.
In the sample population (which was admittedly small with only 34 dogs), UTIs, vaginitis, and skin infections all decreased significantly after the vulvoplasty. However, urinary incontinence, while reduced after surgery, did remain more of a concern than the other problems.
Dog vulvoplasty cost
Canine vulvoplasty surgery generally costs anywhere from $700-$3,000. The wide range in price is due to many variables. These include the severity of the recessed vulva, the size of the dog, and whether the surgery is performed by a general practitioner or a board-certified surgeon.
Although recessed vulva surgery costs money, keep in mind that continually treating secondary infections is costly too. Over several years of continued infections, treatments may even end up costing more than the surgery. Plus, these infections cause your dear dog discomfort. This can cost you and your dog some good days. When considering all these factors, surgery for a recessed vulva may be the right decision for some dogs.
Are there ways to prevent issues with a hooded vulva in dogs?
As explained above, surgery can reduce secondary problems in dogs with significantly recessed vulvas. However, there are some other steps you can take to manage a recessed vulva if your dog has a milder case. They include:
Keeping the vulva clean and dry.
Wiping your dog's vulva with medicated wipes or baby wipes after she goes outside.
Taking your dog to the vet whenever you notice excessive licking or scooting. Your vet can manage mild irritation of the vulva before it turns into an infection.
Managing underlying allergies with allergy medicine for dogs and other strategies suggested by your vet.
Using medicated shampoo for bathing your dog.
Managing your dog's weight. (I recommend starting by finding your dog's body condition score and talking to your vet about how to help a dog lose weight.)
Talking to your vet about the right time to spay your dog. Hooded vulvas are more common in spayed dogs. But this must be weighed with the risks of developing other conditions such as mammary cancer and pyometra that can be reduced or prevented by spaying early.
Avoiding breeding your dog. While a dog with a recessed vulva can have puppies just like a normal dog, recessed vulva may have a genetic component. This means there is a chance the female puppies would have a recessed vulva, too.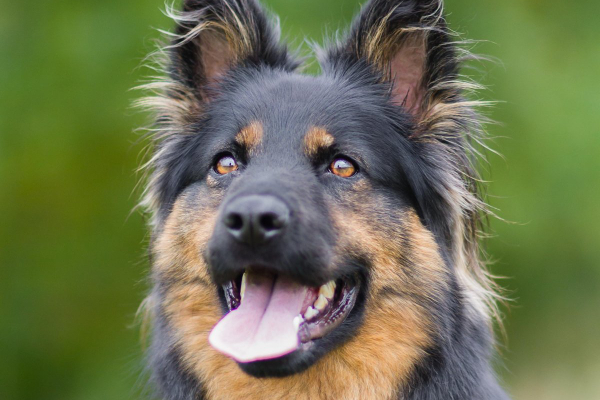 Back to Nova
Now that we finished discussing much of the same information as I did during my appointment with Mrs. Jefferson, let's go back to Nova. As it turns out, Nova had a UTI, which is why she was having so many accidents in the house. I prescribed some antibiotics to treat the UTI and recommended my client use medicated wipes around Nova's vulva.
Even though my client was very diligent about keeping Nova clean, her dog had a few more episodes of recurring UTIs and mild skin infections. This lead me to recommend pursuing a vulvoplasty surgery for Nova. Thankfully, Mrs. Jefferson had purchased pet insurance for her dog upon adoption, and she was able to move forward with surgery.
Nova had her vulvoplasty and recovered very well. Since then, my client said that her dog is much happier because she is not dealing with an irritated vulva and recurrent UTIs.
Work with your veterinarian
If your dog has a recessed vulva, work closely with your veterinarian to figure out the best plan. Maybe you just need to keep an eye on your dog for symptoms. Or perhaps the vet will want you to use some of the management steps we just discussed. Maybe a vulvoplasty is the best option.
Regardless of which category your dog falls into, you can feel confident that together you and your veterinarian can keep a recessed vulva from interfering with your dog's health and comfort.
Does your dog have a recessed vulva?
Which management strategies have worked best? Please comment below.
Editor's note: This post was originally published July 7, 2022. It has been updated to include more information on vulvoplasty surgery.