Urinary incontinence in older dogs (or any dog, for that matter) is never normal. Integrative veterinarian Dr. Julie Buzby dispels this myth, shares common causes, and explains what you can expect when you seek veterinary care for your dear old dog's incontinence.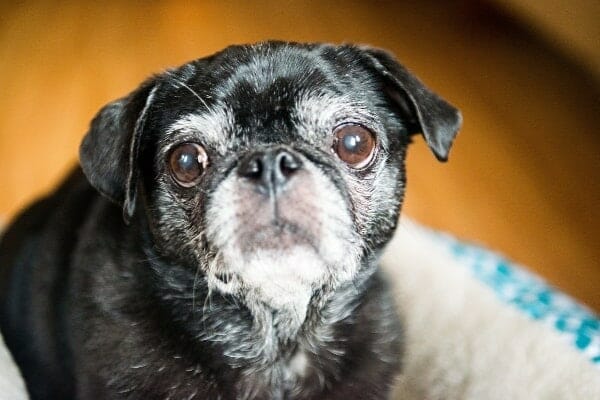 What is urinary incontinence in dogs?
By definition, urinary incontinence in dogs is the involuntary leaking or dribbling of urine. It's important to point out that "involuntary" is the key operative word that sets urinary incontinence apart from a dog having an accident in the house. Let me explain…
A dog who suffers from urinary incontinence does not have knowledge of the accident—at least not initially—because peeing is not done consciously. The incontinent dog is "taken by surprise" by her damp hind end. In the case of accidents, a dog typically is aware that urination is taking place while the accident happens.
With incontinence, think relaxed dog lying on the bed or couch experiencing leakage. With an accident, think dog posturing and urinating in an inappropriate location.
What are the signs of urinary incontinence in older dogs?
An incontinent dog doesn't know he or she is urinating while it's happening and has no control over it. If you notice your dog exhibiting any of these signs, contact your veterinarian for an evaluation:
Dribbling urine while walking
Urinating while sleeping, or wet bedding after getting up
Urine-soaked fur
Puddles of urine after getting up from sitting or lying down
Is incontinence a "normal" sign of aging in dogs?
No, incontinence is not a normal sign of aging in dogs. In fact, this is a common myth, and one that I hope you will help me dispel.
Myth: Urinary incontinence is normal in older dogs.
Truth: Incontinence is never normal for old dogs, or dogs of any age for that matter.
If your dog leaves "wet spots" on the bedding (a common sign of incontinence), it's important to talk with your veterinarian.
What causes urinary incontinence in dogs?
Next, let's look at the causes of urinary incontinence in dogs, including older dogs.
If your dog is suffering from urinary incontinence, your veterinarian will consider a host of underlying causes or a combination of causes. As an integrative veterinarian, when my client shares that their beloved dog is incontinent, I will consider a list of possible medical conditions and issues including the ones below.
Diabetes, Cushing's disease, and kidney disease
These diseases— diabetes, Cushing's disease in dogs, or kidney disease— cause tremendous thirst. Since dogs with these conditions drink more water, urination increases. It's simply an input-output equation.
Thyroid disease and other types of metabolic diseases
Dog incontinence can be one symptom of thyroid disease or other diseases related to a dog's metabolism.
Urinary tract infection (UTI)
Urinating in the house—whether it be in the form of accidents or leakage—is a classic sign of a UTI in dogs. Fortunately, UTIs are very treatable. However, left undetected, they can be very serious.
Bladder stones (often go hand-in-hand with urinary tract infections)
Bladder stones irritate a dog's sensitive bladder lining, leaving it susceptible to infection. They may have a genetic component, and may also be related to your dog's diet.
Arthritis or other mobility-limiting conditions
Incontinence is not a specific symptom of canine arthritis or other mobility-limiting condition. However, when a dog has difficulty rising and walking, "housebreaking accidents" and even incontinence may be a result.
Neurological conditions
Since the bladder and the sphincter (the outflow gate that opens and shuts during urination) are under control of nerves, a nervous dysfunction may lead to incontinence in your dog.
Spinal injuries
Our poster child for spinal injuries is a "down" Dachshund. If the nerves of the spinal cord are injured or severed, this has a cascading effect to other parts of the body. I often see urinary incontinence with severe cases of IVDD in dogs.
Estrogen deficiency
Especially for older, spayed female dogs, a lack of estrogen (hormonal imbalance) may result in incontinence.
Prostate issues in male dogs
An enlarged prostate or prostate disease may cause difficulty urinating or urinary incontinence in male dogs.
Bladder cancer or urethral cancer
Signs of bladder cancer in dogs or urethral cancer are similar to those seen with a UTI and include incontinence. This is why it's important to seek veterinary care—don't wait!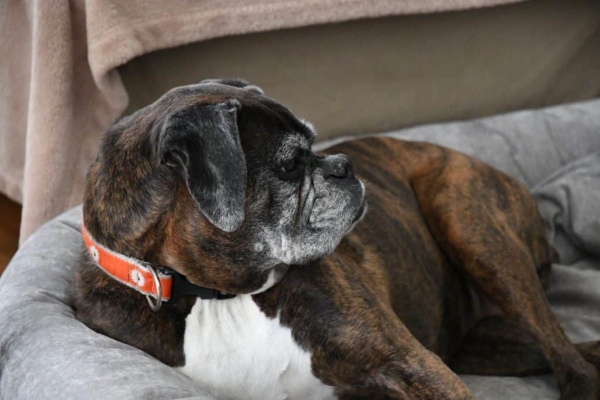 Another condition worth mentioning is Canine Cognitive Dysfunction. Although this condition does not cause urinary incontinence, it does often lead to regression in house training. It can sometimes be hard for pet parents to distinguish accidents from incontinence in older dogs, especially if they are not seeing them happen and are only finding the "evidence" after the fact.
Can medications cause urinary incontinence in dogs?
Although this cause is a bit more obscure, certain medications have been associated with incontinence in dogs. Specific categories of medications include seizure medications and even some pain medications.
Before your dog's veterinary visit, make a list of medications your dog is taking. Then discuss them with your vet to see if there could be a correlation between incontinence and medications.
It's worth mentioning here that prednisone is a "bad actor" when it comes to housebroken dogs having accidents in the house. Side effects of prednisone can include dramatically increased thirst, resulting in a fuller bladder and more chance of accidents and even urine leakage.
Diagnosing incontinence in dogs
If your dog is suffering from either incontinence or having accidents in the house, it's important to contact your veterinarian and make an appointment for your dog. In some cases, your vet may ask you to bring a sample of your dog's urine to the appointment. (For instructions on how to collect a clean urine sample, please read my tips for improving dog lab tests.)
What you can expect at the vet visit
During your dog's appointment, your dog's doctor will perform a physical exam and check your dog from nose to tail. To determine the underlying cause for your dog's incontinence, your veterinarian may run tests including:
Blood work (CBC) to check red blood cell count and white blood cell counts
Biochemistry panel to look at kidney values, liver enzymes, proteins, blood sugar, and electrolytes
Blood pressure testing for an indication of certain types of diseases including kidney disease
Urinalysis (analysis of the urine)
Urine culture to check for bacteria in the urine—the gold standard diagnosis for UTIs
X-rays and/or ultrasound to look for bladder stones or masses, and to evaluate for arthritis or back injuries
Specialized blood work to rule out certain diseases such as Cushing's disease or thyroid disease
These tests help your dog's doctor assess the health of your dog's organ systems, including the urinary system.
What can you do for old dog incontinence?
The treatment for old dog incontinence will depend on your veterinarian's assessment based on the results of the testing. That's why it is so important to talk with your vet sooner rather than later. Your veterinarian's diagnosis is the foundational piece that identifies the trajectory for treatment.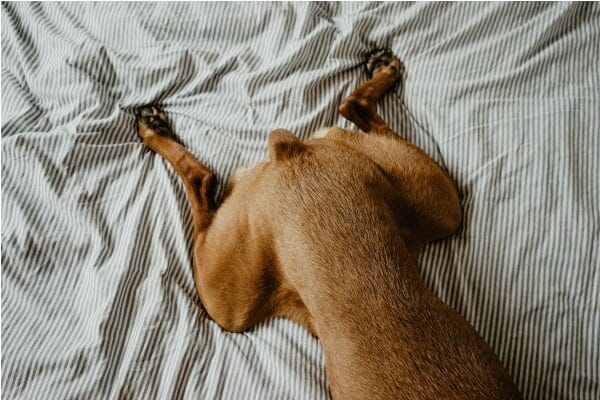 Some causes of urinary incontinence in older dogs can be managed with medication. This of course depends on the results of diagnostic testing, and your veterinarian will discuss these treatment options with you.
Some causes of urinary incontinence are not easy fixes, and some causes, such as spinal injuries, may be permanent. In these cases, I discuss with pet parents options and considerations for managing urinary incontinence to maintain a good quality of life.
Here are 4 tips for helping your incontinent dog:
Prevent urine scald!

This is probably the biggest issue I counsel dog owners about when managing incontinence. Urine is extremely irritating to dogs' skin, and if they are left with skin contact, even sometimes for short periods of time, it can essentially burn them. Urine scalding can lead to very dangerous skin infections, and is quite painful. I cannot stress enough the importance of ensuring incontinent dogs are kept clean and dry to keep urine scald at bay.

Consider dog diapers.

No one wants to constantly clean up urine in their house, and an incontinent dog can even threaten the human-animal bond due to frustration of frequent messes. In some cases dog diapers (or even belly bands for male dogs) may be helpful to contain the mess in dogs whose incontinence cannot be controlled or managed otherwise. It is EXTREMELY IMPORTANT to be fastidious about hygiene if using diapers to prevent compounding issues. For this reason, diapers should be used with caution.

Place waterproof covers over bedding.
Take your dog on frequent walks and "potty breaks." The more your dog pees outside, the less your dog will pee inside.
Why I DO NOT recommend limiting water intake
If you notice that your dog is leaking small or large amounts of urine, limiting your dog's water intake may seem like a common-sense solution. However, it is definitely the wrong thing to do.
In my 25+ year career as a veterinarian, I can count on one hand the number of times I've performed a water deprivation test. In those few cases, it was done only after other diseases had been ruled out and with very specific safety instructions.
At home, limiting water intake can make certain dogs very sick, even to the point of a life-threatening crisis.
Primary and secondary UTIs
The last thing I will note is that incontinent dogs are more prone to developing urinary tract infections, even if they didn't start with one as a part of their problem. Leakage occurs because the process of the urine moving from the bladder to the outside world is not appropriately "secure." Unfortunately, this also impacts the dog in reverse. Bacterial pathogens from the outside world are more likely to ascend the path into the bladder on the inappropriately "open highway."
Female dogs are especially susceptible to these ascending urinary tract infections, due to the female dogs' shorter urethras.
Incontinent dogs, therefore, may have a primary or secondary urinary tract infection, and it's hard to know what came first—the chicken or the egg. No matter the cause, incontinence should be taken seriously.
You are your dear dog's biggest advocate
You know your dog better than anyone else, and your observations are your dog's first line of defense in keeping her healthy.

Finally, here are three things that you can do right now to help your dog:
Be observant. If you notice that your dog is dribbling or leaking urine (spots on the bed, blankets, etc.), talk to your veterinarian.
Remember, incontinence in dogs is never normal. Help spread the word and dispel this myth.
Don't wait or hesitate. Your veterinarian is your teammate in caring for your dog's health.
What questions do you have about urinary incontinence in dogs?
Please comment below.