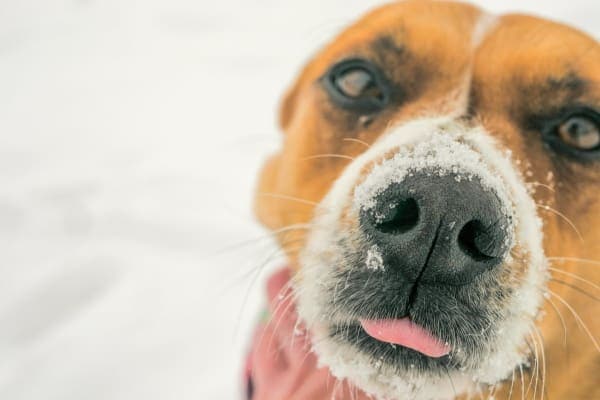 With freezing temperatures fast approaching, you and your dog are bracing for the frigid weather. If you're the conscientious owner of a senior pup (especially a toy or thin-coated breed), it's even more important to exercise caution as the temperatures drop. Dr. Julie Buzby, integrative veterinarian and founder of Dr. Buzby's ToeGrips®, answers common questions about keeping senior dogs safe and comfortable in the cold weather this winter.
As the temperatures drop where you live this winter, are you and your senior dog beginning to exchange "the look" when it's time to go out? You know the one…the expression that has you both asking, "Isn't it too cold for this?"
Just like you and me, extreme temperatures impact your dog's enthusiasm to spend time outside. But can cold weather also cause harm to your beloved dog?
Absolutely.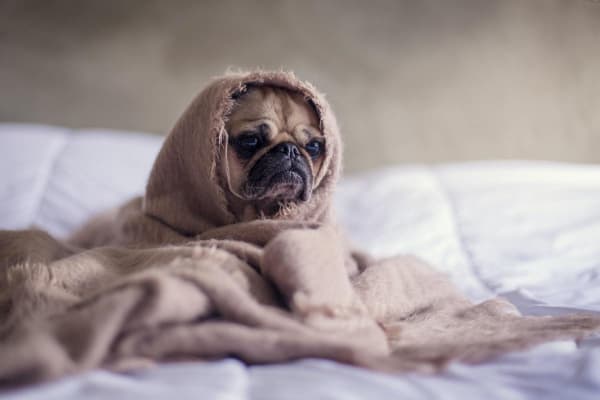 Older dogs are less tolerant of the cold than their young, robust counterparts, but keep in mind that once temperatures drop into the teens, it's dangerous for all dogs regardless of age.
So before you bundle up to head outside with your canine companion, check out my answers to seven common questions about dogs and cold weather.
Q&A: Senior dogs and cold weather
1. What temperature is too cold for my dog?
Many factors impact your dog's ability to tolerate the cold. These include breed, age, weight, canine body condition score, hair coat, and health status.

There's also the issue of acclimation — what temperature norms your dog is used to. The year our family moved from Pennsylvania to South Carolina, we were entertained by the way our neighbors handled 40 degree weather. They would don their arctic gear to walk their dogs or retrieve their mail. Meanwhile, my husband was gleefully running around outside in a T-shirt and shorts because he had endured snow-filled, sub-freezing winters all his life.

The same holds true for our pets. A healthy husky who is used to chilly temperatures will fare significantly better in cold weather than a grey-muzzled greyhound who is used to life in sunny San Diego.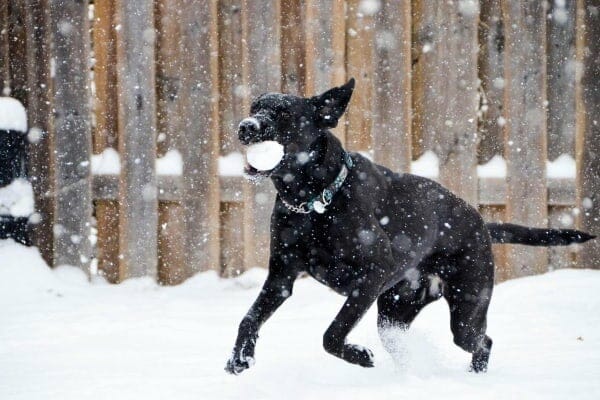 2. How will I know if my dog is cold?
Common sense prevails! If your dog is standing on the sidewalk shivering, then he's cold!
Granted, there are plenty of other reasons an old dog may shake and shiver, but for the purpose of this article, let's attribute it to the cold weather.
Other signs your dog is too cold may include reluctance to move, ice on his coat, or your dog lifting his or her paw intermittently.
3. Can my dog get hives from the cold weather?
As crazy as it sounds, the answer is yes. Typically, hives appear after exposure to an allergen such as peanuts or an insect bite. But there is another little known cause of hives in humans — cold weather. This condition is known as cold-induced urticaria. (Urticaria is the medical term for hives.)

This rare, but legitimate phenomenon occurs in dogs, too. Treatment involves keeping the dog warm and administering an oral antihistamine like Benadryl as needed.
4. Does cold weather make my dog more susceptible to other health problems?
It most certainly can! Here are a few of the ones I encounter frequently.
Slips and injuries
When my mom was nearing retirement age, she slipped and fell on the ice outside of the school where she taught. It took a huge toll on her body (and her confidence)!

Injury is a primary concern for senior dogs who are out walking, running, and playing in winter weather since like senior humans, senior dogs have slower reflexes and less balance than dogs in the prime of youth.

One solution to this issue may be our company's signature product, Dr. Buzby's ToeGrips®. ToeGrips were born and bred in coastal South Carolina, so I cannot personally attest to their function in the snow, but I have received a few testimonials over the years regarding their usefulness in colder climates.
Here's one from Joanne in Canada:

"I am very happy to report that your ingenious invention is working wonders for Pepper, our 10-year-old, three-legged cancer survivor. As I watched him carefully this morning for the full 80-minute walk, I was amazed at his ability to stay upright. He never fell once!"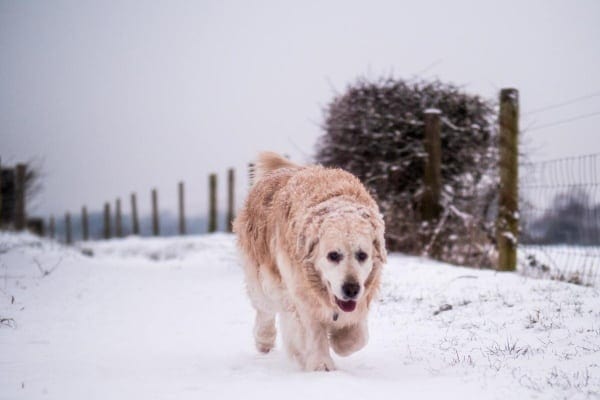 "I knew all the slick spots and watched him yesterday (without the ToeGrips) and his poor hip bones went crashing to the ground every time that hind leg slipped. Today, with the ToeGrips, he rarely slid, and never fell. When he walked over pure ice, his foot would begin to slide, then the grips "gripped" and kept him upright!
Today, I saw a patch of ice and walked around it; Pepper walked right over it, started to slide, then got a grip. That is amazing. Pepper has been falling on the icy hard-packed snow, and now he is not! Thank you so much!"
ToeGrips are designed for senior dogs who struggle and slip on hard surface floors, not snow and ice, but they are probably worth trying if your older dog struggles also struggles to walk on slick surfaces outdoors.
Stiffening of arthritic joints
In addition to injuries, arthritic joints become more stiff and painful in cold weather. Making a concerted effort to intentionally protect your senior dog from the cold will translate into a more comfortable winter for your dog.
Higher risk of IVDD
Research has shown that there is also a greater incidence of IVVD (intervertebral disc disease) in cold weather.
Frostbite
Lastly, frigid temperatures can cause frostbite on your dog's ears, tail, and paw pads. The next question in our Q&A addresses what you can do to protect your dog's paws in the snow.
5. How can I protect my dog's paws from frostbite in the snow?
Though frostbite can occur on a dog's paws, it's pretty rare. More often than not, dogs are able to play in the snow for a reasonable amount of time without suffering any ill effects.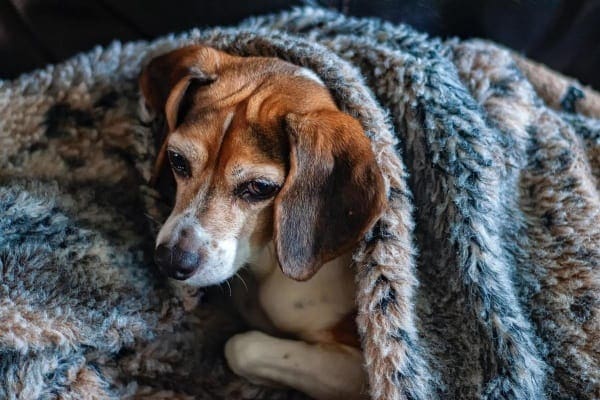 How is this possible? The secret lies in the makeup of your dog's paws — specifically, the thick fat paw pads which are considerably more "freeze resistant" than his other body tissue. The paw pads also possess a mechanism called the counter-current heat exchange which helps the paw temperature stay within a normal range.
6. What are the best dog boots for cold weather and snow?
I dislike dog boots, and I never recommend them for traction. Dog boots and booties destroy your dog's ability to "feel" the ground with his paws and disable much of the natural proprioceptive input from the many receptors in his toes.

However, I will admit that dog boots are the practical solution if you desire to protect the paw pads and lower legs from ice melt, salt, and other harsh chemicals.

Whatever you decide about your dog's footwear, please take the time to visually and manually inspect your dog's paws after every outdoor outing. It should just take a moment to run your hand over each paw and feel for ice or snow chunks lodged in his fur.
7. Should I be concerned about antifreeze poisoning?
The short answer is "yes" in flashing neon lights. The long answer involves a memory I'll never forget. In veterinary school, one of my classmate's dogs was exposed to antifreeze at the farm where she kept her horse. I don't remember all the details, but I remember the dog didn't respond to the treatment for antifreeze poisoning because she'd discovered the truth too late. So she chartered a small plane on a moment's notice to fly her heart dog to a specialty care facility. She spent tens of thousands of dollars trying to save her dog, and her poor pup passed away anyway. So devastating.

Antifreeze is a sweet-tasting temptation; even a few licks can be fatal. Should your dog ingest antifreeze, it's a serious veterinary emergency where minutes count.

The active ingredient in antifreeze is called ethylene glycol. It's absorbed very quickly in the bloodstream where it then travels to the liver and is broken down. This is where the danger lies — the byproduct of that breakdown process shuts down the dog's kidneys.

There is treatment, but treatment must begin within 8-12 hours after ingestion to be successful. If you suspect your dog has licked or consumed antifreeze, head immediately to your veterinarian or local veterinary ER facility for diagnostic testing and treatment.
Baby, it's cold outside
Cold temperatures and freezing precipitation can present a variety of threats to your senior dog. But that doesn't mean you can't sensibly enjoy the fun things the season brings. Enjoy the coming winter months with your four-legged companion — but as you do, let these cold-weather tips be your guide.
What do you love about winters with your senior dog?
Share in the comments below — we'd love to hear!